The information shared here is the best I can gather from online and in person sources. It seems this year there are few iftars offered and the ones that are have gone up quite a bit in price.
Morocco doesn't have the reputation of over the top Ramadan iftar (ftour) buffets as Dubai however more and more restaurants and hotels are offering iftars. If you're planning to visit Marrakech during Ramadan and have no idea what I'm talking about, let me explain.
At the end of the fasting day, the meal is called the iftar (or ftour). There are traditional Moroccan foods eaten in homes. It's often very difficult for visitors to experience what an iftar is all about. So, I decided to collect as many of the iftar meals being advertised in Marrakech so that they're easy to find and join!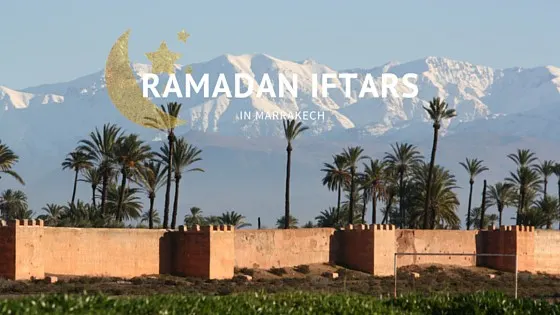 I haven't personally eaten at all of these places (though have at many) so please don't consider this my endorsement – I simply wanted to offer a single place to find them. You'll find a variety of price ranges and offers. When possible I've also left a little description.
**I have updated this list from last year wherever I could find new information. Please double check directly.**
Ramadan Iftars in Marrakech
Under 200 Dirham
Le Colisee Restaurant – small family-owned restaurant near L'Colisee movie theatre. Serves traditional Moroccan Ramadan fare (no pricing info likely under 100dh per person)
Bazz'Art Lounge – A large buffet offering of traditional Moroccan foods plus international dishes too. Their offerings include sushi too. Main dish tajines plus cheese and charcuterie and desserts available. 190dh per person.
Argana – Located in Jemma el Fna an option for those staying nearby. Head to the upper levels for a good view with the sunset. Three menus available starting at 40dh per person.
The Amal Women's Training Center and Restaurant– If you want the closest thing to an iftar at home, make sure to visit Amal in Gueliz. Nightly iftar opens at 1900 (except Monday's). Iftar only for 60dh or Iftar + dinner for 100dh.
MasQTapas – Arab Andalusian blend iftar offer with live music. (uncertain price)
NewsCafe – In Gueliz located near the train station, NewsCafe has 6 different iftar menus nightly as well as an a la carte menu. They're one of the only places I've found with a gluten free iftar menu. 29dh – 199dh per person.
Babakish – Lebanese-style iftar with some Moroccan items. 149dh/pp
Cassanova – An Italian restaurant in Gueliz well known for it's pizzas, they offered an iftar last Ramandan. No menu information yet. 100 dh per person.
La Table du Marche – A great cafe in a few locations around Marrakech. The restaurant in Hivernage (320d pp), Menara Mall (160d pp) and near Carre Eden (100 d pp) will have iftar options.
Le Maitres de Pan – Gueliz across from Victor Hugo. Moroccan iftar with pastries and full counter selection (extra). Base price from 50dh.
Over 200 Dirham
Le Douar – Set menu of traditional and forgotten recipes with starters, mains and desserts – 380dh/pp
Zushi Marrakech – Not a traditional iftar but offering a 30 piece sushi menu during Ramadan for 250dh. Located across from the Marrakech train station.
Fairmont Royal Palm – Is on the outskirts of Marrakech and will have an iftar buffet open to residents and non residents. 400 dh per person.
Le Grand Cafe de La Poste – For a Moroccan/French inspired iftar in a gorgeous colonial building head here. In Gueliz across from Zara. 340 dh per person.
Royal Mansour – Join the staff at La Table for an iftar with live music. Sweet and savory offerings and a build your own crepe bar are on offer. 550dh per person.
La Mamounia – Enjoy traditional Moroccan fare at one of the most iconic Marrakech hotels. Nightly for 410dh pp
Sofitel Marrakech – At the Restaurant L'orangerie a buffet will be offered nightly. 400 dh per person
Movenpick Mansour Eddahbi – Nightly traditional iftar for 320dh per person.
Four Seasons Marrakech – Join the staff from the Four Seasons nightly in their Azzera restaurant for an iftar buffet of traditional Moroccan foods. 390 dh per person. Full day pool pass + iftar also available for 800dh per person.
Mandarin Oriental – One of my favorite hotels and restaurants Mes'Lalla at the Mandarin Oriental offers a sunset buffet daily during Ramadan. They have a day pass and pool option for 680dh per person or the iftar only option of 480dh per person. After iftar there is also a live Gnaoua performance.
Radisson Blu Marrakech – Located in Gueliz on top of the Carre Eden shopping center. They'll offer an iftar at their restaurant Lila for 340dh per person
Le Selman – Luxury hotel Le Selman will hold a ftour buffet nightly on their terrace with sweet and savory traditional Moroccan dishes. 390dh per person. They also have a pool pass + iftar for 690dh.
The Pearl– In Hivernage, The Pearl will be open for iftar nightly at Restaurant Jouhara and have live music to accompany the buffet. 420dh per person
Palais Mehdi – Will be open for Ramadan buffets each night. 280dh per person
Palmeraie Palace – An evening buffet is available for 299dh per person with kids under 12 50% off.
Palais Namaskar – This stunning hotel offers a Ramadan buffet as well as other special offers during Ramadan. 438dh per person.
Marrakech Food Tours – offering a Ramadan experience with small groups and traditional Moroccan foods in the medina. More information and reserve online here.