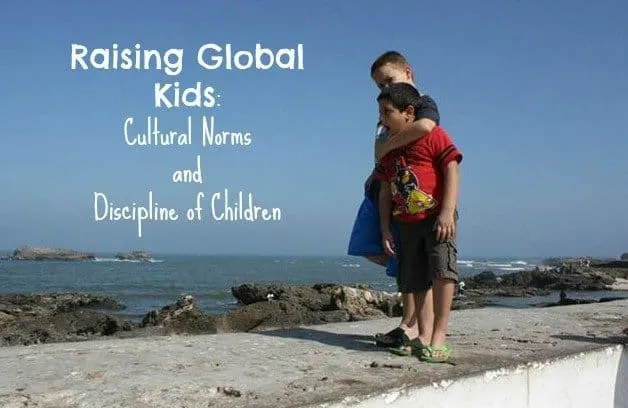 There's an old addage "when in Rome, do as the Romans do." but one thing I'm learning is sometimes "doing as the Romans." really isn't the best idea – especially when it compromises your values. We live in an upstairs apartment in my mother-in-laws home and there are always a lot of people around. One of the issues with this is that a lot of kids + a lot of parents = a lot of personalities. I've noticed that kids here, well at least the ones around us, physically fight a lot. They think nothing of slapping each other on the back of the neck or head, especially when they are upset or angry.
Parents more or less stay out of it, until it escalates. Then the parents will physically punish the child. Maybe with a shoe or with their hand. After seeing this cycle a few times I scratched my head. My kids aren't perfect and they do their fair share of arguing but I don't think it ever crossed their mind to physically attack a child they are playing with when things go awry. I casually mentioned to MarocBaba after seeing a kid-vs-kid and then parent punishing child cycle that I can't see our kids ever doing this.
I'm not a psychologist but the whole behavior issue makes sense. If you as child see that when your parent is angry with your behavior or actions they exert physical punishment, why wouldn't you do the same thing in a child-child context? Parents by physically punishing their children when they show this behavior reinforce the child's actions. These children then grow up and do the same thing to their children, or their spouses. It's all very confusing.
I don't believe in physically punishing my kids. They might have gotten a single spank on their bottom when they were smaller if they really misbehaved but that was as far as it ever went – and very rarely at that. I've found that there are other ways to show my disapproval, and/or discipline kids for bad behavior. Even though MarocBaba was raised in Morocco we've never really differed when it comes to disciplining our own children. I know many other cross-cultural relationships where this is a major issue.
I really don't want this to come off as judgmental. I understand that people do what they have learned to do and don't neccesarily see the connections. I know that they are equally as confused about our lack of physical discipline (though our children haven't shown any reason to do this -yet). In my polite, individualistic American sense I don't comment on how other people choose to parent however, Moroccan society and even more so family structure is community based so they don't hesitate to share their opinion. I can honestly say that I will not now, or ever adopt this practice in my home or with my kids. I respect my children, they respect me, and I believe they are much more at ease knowing this. I hope that teaching them there are other ways to solve their problems will help them to become happier and healthier adults. Moving into another culture, especially one where there are family ties requires the ability to be flexible and adapt however, I am also learning what I will not compromise – this is a line in the sand for me.
Where do you fall on this issue? Have you been challenged in a cross-cultural parenting situation on a resolution to this issue?