If you are looking for some great places to stay in Al Hoceima, Morocco, this post is a must-read. From simple and comfortable to wonderfully luxurious, there are all kinds of great places to stay when visiting Northern Morocco.
Places to Stay in Al Hoceima
The beautiful seaside town of Al Hoceima sits perched along the Meditteranean coastline, just on the northern edge of the Rif Mountains of northern Morocco. The local population is primarily Berber, but this city is also a popular tourist destination. Known for exquisite beauty and great temperatures year-round, Al Hoceima also has a reputation as one of the safest cities in Morocco.
In Al Hoceima, it's all about the beach. Whether you wish to take a barefoot walk, relax in the sand, head out on a boat to do some diving, or simply relax on your private balcony to watch the ocean waves, the Meditteranean coastline is the star of the show. Each of the following places to stay in Al Hoceima will help you make the most of your beach vacation!
Suites Hotel Mohamed V
The Suites Hotel Mohammed V by Accor is a seafront hotel with breathtaking views of Quemado Beach and the Mediterranean sea. Unpretentious yet stylish, this hotel is perfect for travelers looking for modern conveniences and simple elegance. It's a great place to hang your hat while taking in all of the local sights – especially if you want to spend time at the beach, which is only a five-minute walk away.
Rooms and suites are available with incredible views of the city, sea, mountains, or the hotel garden. Your accommodations offer clean and modern decor and all kinds of amenities to make your stay as comfortable as possible. From soft bathrobes and free toiletries in the bathroom to flat-screen TVs with satellite channels you can enjoy in your air-conditioned room, you'll feel right at home. And if it's cold outside, rooms have heat and electric blankets, too. In the morning, they offer a delicious halal breakfast to start your day off right.
When you aren't hanging out on the beach or exploring the local area, you'll find the Suites Hotel Mohammed v by Accor a nice place to just "chill" for a while. Relax in the beautiful restaurant where you'll get lost in the view of the water while enjoying your favorite international cuisine and seafood. And if you have a cocktail in mind instead, there's an onsite bar. If the outdoors is calling your name, you'll love the terrace and garden, too.
Mira Palace
The aptly named Mira Palace glistens like a magical palace overlooking the Mediterranean Sea. Modern and elegant, magical and romantic, this lovely hotel is conveniently located near the Al Hoceima town center as well as the beach. (It's also just a five-minute walk to the nearest supermarket if you're looking for fresh foods.)
Featuring an outdoor swimming pool, garden, and a lovely terrace with lounge chairs, the staff at the Mira Palace want to help you relax. Kick back and enjoy the peaceful view of the deep blue Caribbean Sea while using the free Wi-Fi to send pictures to the folks back home. After all, half the fun is making them jealous, right?
Rooms and suites at Mira Palace feature a TV, seating area, air conditioning, and a private bathroom with a bath or shower with helpful extras like free toiletries and a hairdryer. And if you book a suite, you'll also have your own private balcony. (It's a great place to enjoy breakfast if you request them to bring it to your room.)
Whether you partake in your room, on the terrace, or in the restaurant, breakfast is served every morning at Mira Palace. And if you get hungry later in the day, the cafeteria and hotel restaurant offers scrumptious Moroccan cuisine. Once you are well-fed, the friendly staff will happily help you find your way to the beach or anywhere else you wish to go.
Hotel Souani (Al Hoceima Bay)
If you are looking for a lovely beachfront hotel with "beachy", yet luxurious feel, the Hotel Souani may be just what you need. This stunning hotel is beautiful and modern, filled with vibrant colors and natural light from the many windows. The beach is only a three-minute walk away, and if you prefer freshwater, there's an outdoor swimming pool that is open year-round.
Choose from a nice selection of spacious and attractive rooms and suites. Each room offers air conditioning, a TV with satellite channels, and private bathrooms. A delicious buffet breakfast is available every morning, too, ensuring that your day starts off just right.
Conveniently located, Hotel Souani is only minutes from all kinds of fun activities – from water sports in the ocean to shopping and dining experiences. But if you'd like to stay in one day, there is a wonderful hammam, a fitness room, and more. Feel free to pamper yourself for the day in the spa and wellness center. Get a massage and a pedicure and then head over to the bar for a refreshing cocktail before enjoying an incredible meal in the onsite restaurant. At the Hotel Souani, there is no such thing as a bad choice.
Hotel La Perla
Conveniently located in the city of Al Hoceima only minutes from the beach, the Hotel La Perla is a glistening multi-story hotel waiting to welcome you home. This modern hotel is great for vacationers and business travelers alike. There are meeting facilities available for conferences, banquets, and other special events, free Wi-Fi, and an onsite restaurant where you can get a great meal. A delicious breakfast is available each morning, too.
Choose from rooms and suites that sleep from one to five people. Your accommodations include air conditioning, comfortable beds, flat-screen TVs with satellite channels, and private bathrooms with bath or shower and many extra amenities including a bidet and hairdryer. Rooms are tastefully decorated, spacious, and offer incredible views of the surrounding area. And when you're ready to get out and explore the city and beach, the multi-lingual staff is happy to help you find your way!
Mercure Quemado Al-Hoceima Resort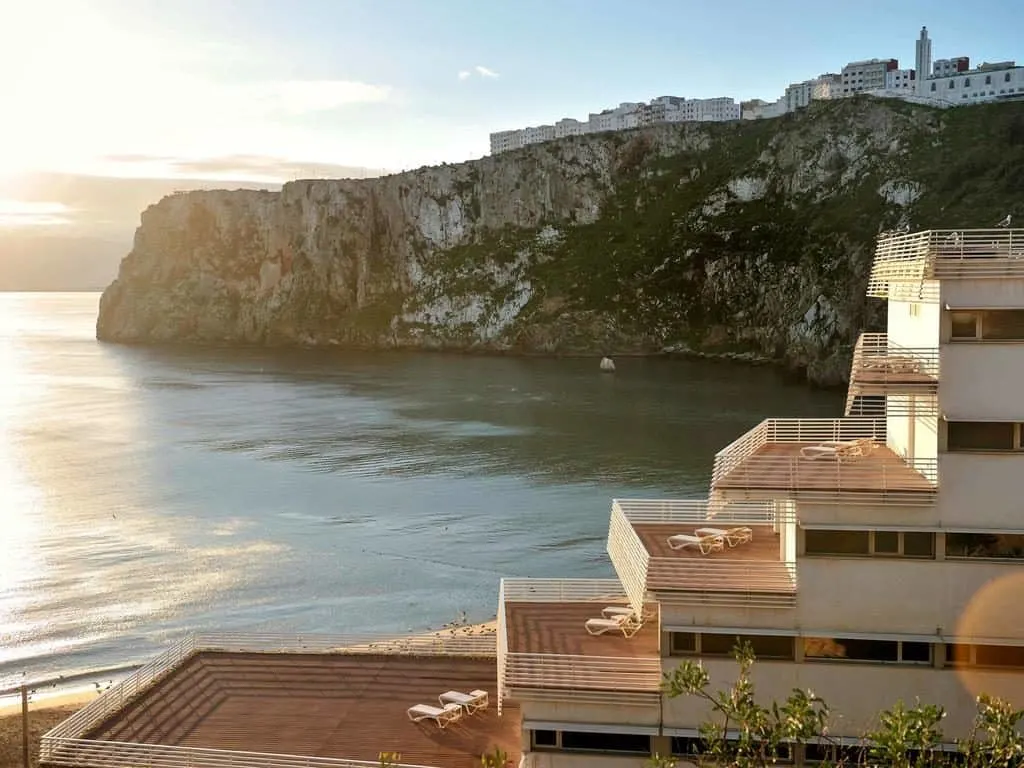 If you are hoping to spend most of your time in Morocco luxuriating along the Meditteranean coast, the Mercure Quemado Al-Hoceima Resort has everything you need. This all-inclusive hotel is just a one-minute walk to Quemado Beach, and the views of the Mediterranean are simply breathtaking.
Choose from a lovely variety of rooms, suites, or apartments, depending on how much room you need and how long you plan to stay. Each spacious unit features attractive, modern decor, comfortable extra-long beds, private bathrooms, and all kinds of extra perks for your enjoyment. If you choose an apartment, you'll enjoy one to two private bedrooms, a living area, a dining table, and a fully equipped kitchen where you can cook your favorite foods.
Of course, the on-site restaurant and bar are available, if you'd rather that someone else handle the refreshments. There's a lovely terrace and an outdoor pool. If you feel like working out, there's a great fitness center available for your use, as well. And for the ultimate relaxation, head to the spa for a massage or to the Hammam to enjoy the traditional Moroccan bathing experience.
The Mercure Quemado Al-Hoceima Resort really does have it all. From a nightclub with a DJ to fishing and biking on the beach, the variety of available experiences is wonderful and extensive. And with free Wi-Fi available everywhere you go, you'll have plenty of opportunities to share your adventures with the folks back home!
When visiting the Mediterranean coastline of Morocco, your comfort is of utmost importance. I hope that you will find the perfect accommodation for you and your family with this list of great places to stay in Al Hoceima, Morocco. Happy travels!