When we went to Fez last month there was one activity I was most looking forward to. Not that everything wasn't amazing but we had arranged to visit an organic farm that produced goat cheeses and I could hardly stand the wait! The boys were equally excited. This might not seem like something kids would look forward to but my kids were raised on a healthy diet of cheeses, and lots of them before we moved to Morocco. Here, cheese is tough to come by – especially when you don't live in the mountains. It's just not very popular.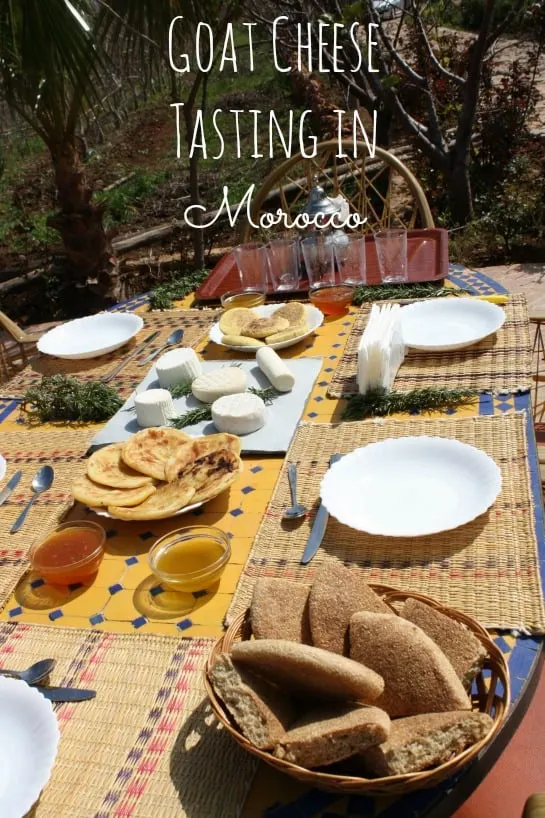 It makes sense. In order for a cheese making culture to be established there needs to be the right environmental conditions. Really hot temperatures with little shade and few refrigeration options are not ideal for making cheese. But in the mountain areas the story is much different. With the help of Plan-It Fez we visited Domaine de la Pommeraie outside of Fez in the rural community of Immouzer. Having a car has really opened up our options as we were able to drive ourselves the 45 minutes outside of Fez to the farm. (If you're interested in doing this Plan-It Fez can arrange transport for you!)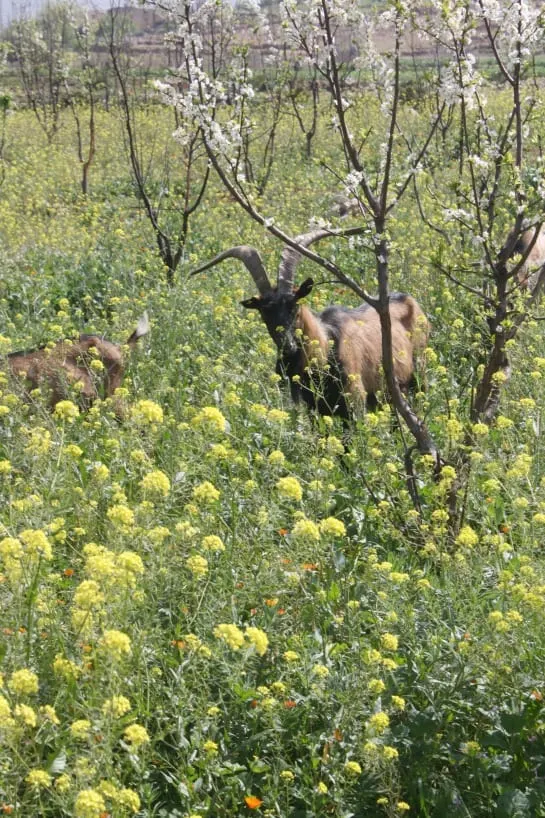 It was early spring and while there's usually snow a little further up the mountains we found everything to be green and in full bloom. To say it was beautiful would be an understatement. After months of dusty reds and browns seeing fields of green, hills covered in blossoming trees, and grass as far as we could see was a very welcome sight! While we drove up to the farm our boys were so excited they couldn't wait to jump out of the car. We were met at the road by Btissame who would be our guide (and who shared a very similar story to ours having lived in the US for many years before returned to Morocco). She spent time explaining the premise of the farm, its goals, and the products made here. As we walked we were greeted by some of the goats enjoying their lunch in the orchard.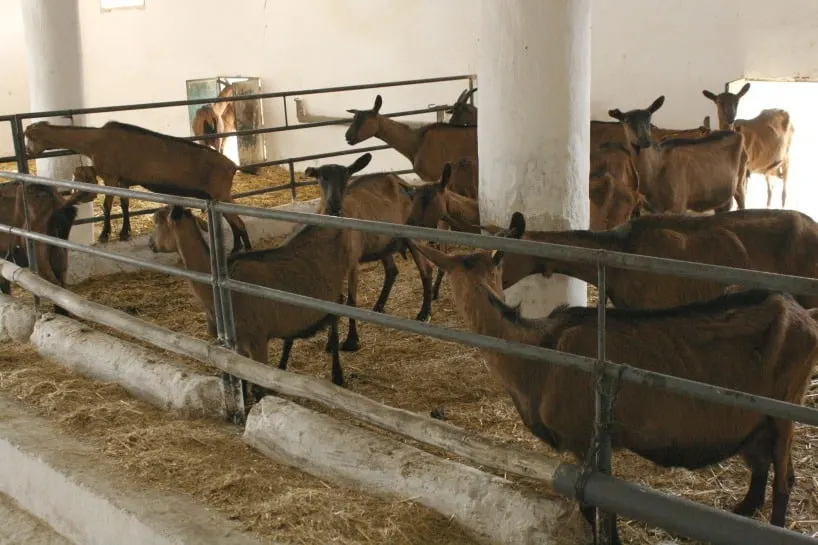 Next we went into the barns to see the new baby goats that were being born. What great timing! When I asked my boys what their favorite part of the visit was they both readily said "the goats!" These are not your average Moroccan goats. Alpine goats from Europe are bred with Moroccan goats to create two generations of hybrid animals. By the third generation a genetically Alpine goat is born. Wherever we turned we met goats who were going about their day. They have free range over where they go and while under some supervision, they largely stay close to home. After taking lots of time to play with the goats, it was time to get down to business – cheese eating business!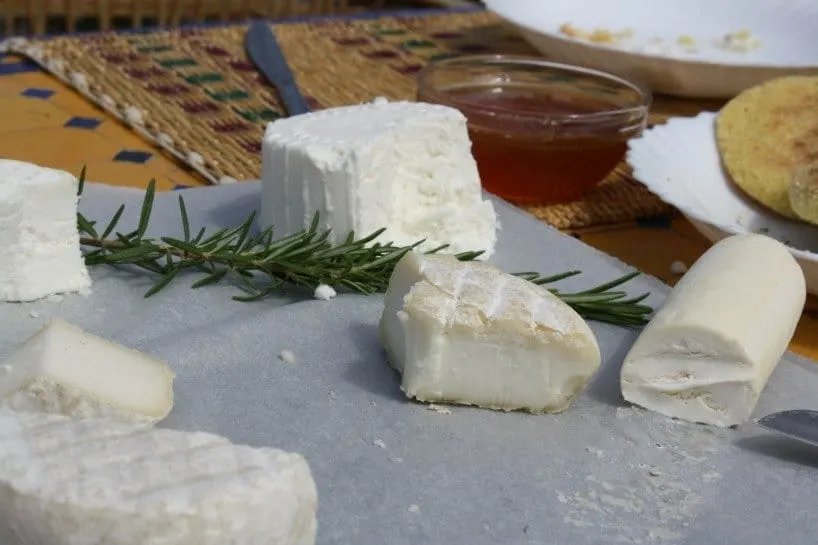 A Guide to Cheese Tasting in Morocco
But there was more than just cheese. We sat down to a table that not only had 5 different cheeses waiting for us but rghaif, harsha, honeys, olive oil, and fresh bread. Btissame walked us through each of the cheeses;
Jnane Douar – a round cheese that is aged aged 1 week
Kandri – aged a bit longer for 1-2 weeks
La Bouchette – a log shaped cheese that is aged 21 days
La Berbere – this is a special cheese, made only in Morocco and full of superstition. It's only made at night when there's no moon present.
Mimouna – a cheese similar to Camembert
We took turns trying each one slathered on our choice of bread. Drizzling some with honey or olive oil. I was so proud of my boys who dug in without even questioning. They worked to remember the different names and took turns comparing the different cheeses and what they liked and didn't like.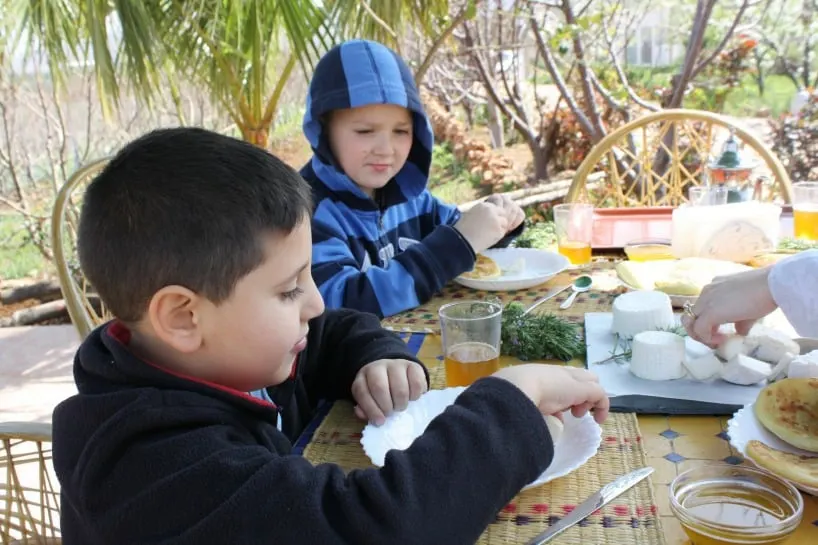 We decided that La Berbere was our very favorite. It surprised me the kids chose this because while it has a very nice taste it's not as mild as the Jnane Douar or Kandri. They also ate plenty of harsha and we've decided it's made much better in northern Morocco than southern. Our least favorite was La Bouchette. It wasn't bad but it was much stronger than the others. Honestly, I enjoyed all of them!
Domaine de la Pommeraie makes many different varieties of goat cheeses in small artisanal batches. The famous La Mimounia hotel (as well as many others) in Marrakech special orders cheeses from here to serve. We very happily took home several cheeses and honey. In talking with Btissame I discovered that the (Moroccan) owners of the farm are working with local schools to educate children more about nutrition and organic foods. Dairy is not a big part of the Moroccan diet. Milk is available and consumed and yogurt is eaten, but cheese is rarely found. If it is it's highly processed or often stored improperly leading to spoilage. The farm also offers cooking classes – something that I hope I can return soon to take part in. (How fun would a girls cooking/relaxing trip be?!) On-site you'll also find a swimming pool and villa that can be rented. We couldn't imagine a more wonderful place to spend a weekend!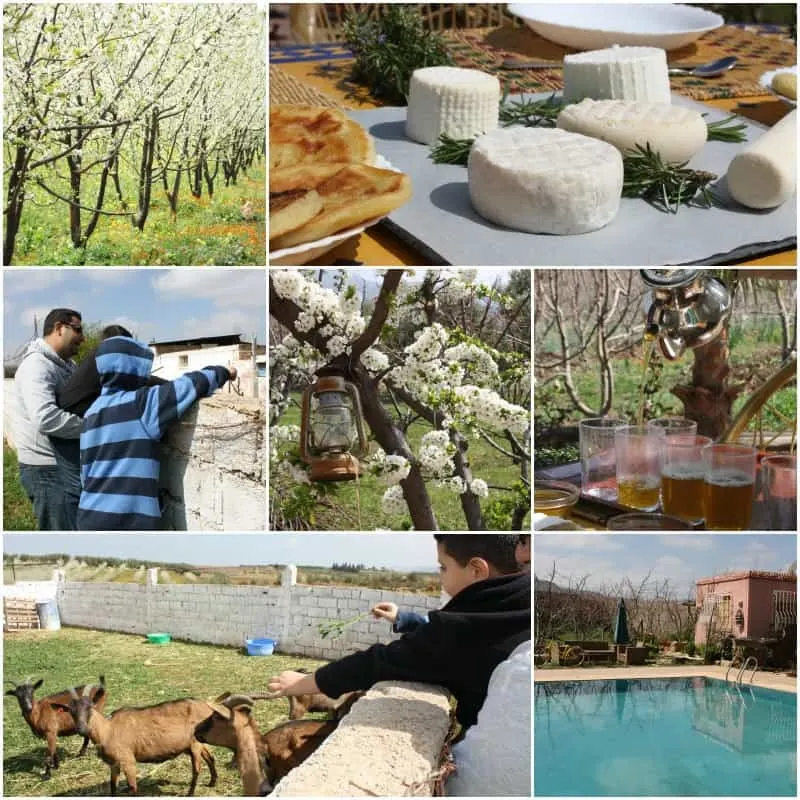 If you're visiting Fez, this is a partial day trip outside the city. You'll be surprised to see how much the landscape changes and the different side of Moroccan life you will encounter. It was a great activity for us as adults and for our kids, who still ask when we'll be going back.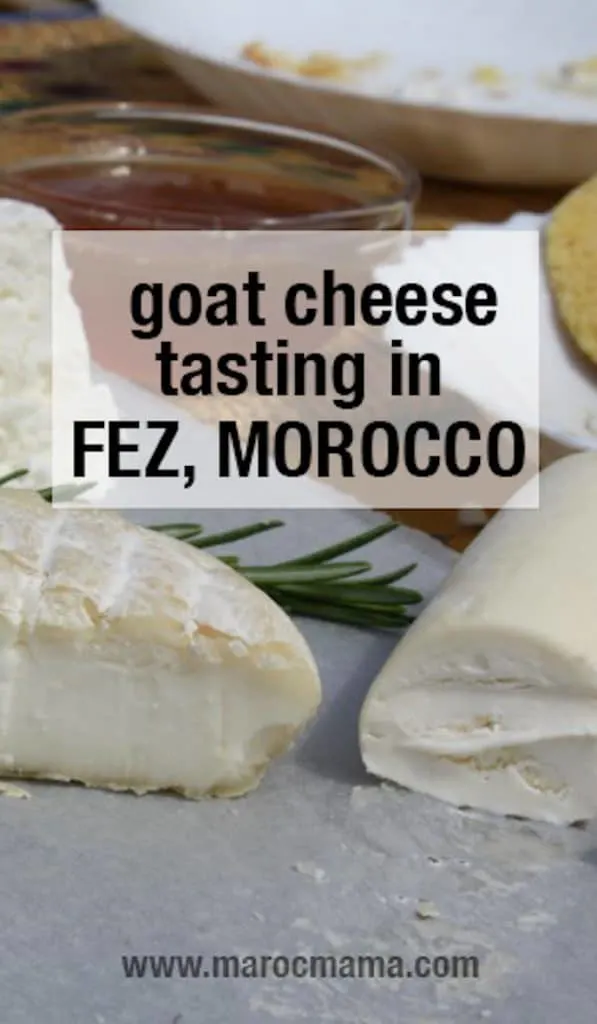 Domaine de la Pommeraie Route Imouzer Kandar, Ain Chiffa, Ain Sbaa – contact for rentals and cooking courses +212 65 38 52 488
We organized our visit with Plan-It Fez