We took our 13 and 15 year old boys to Japan on vacation. While we hadn't planned to spend a week in Tokyo, we ended up doing this due to a few personal reasons and a major hiccup when our pre-ordered train passes never showed up. If you're planning a week in Tokyo with teens this is a great itinerary!
Tokyo is a huge city with over 9 million people. Even after being there a week we still felt like we didn't even see close to everything. For this post I am going to share our process of exploring the city and give you some ideas of things your teens may like too.
Before I share here are the things to keep in mind;
my kids have traveled a lot, they're very laid back and they also don't need to be entertained all the time.
they are used to living in and being in large cities.
when we travel we are not big on tours or museums. We will do something if it's really special but we don't spend a lot of time doing this. while we are not against spending money, we also try to save where we can and weigh what's important to us.
my kids are used to using public transportation like subways and buses.
we really like to eat, especially local foods.
jet lag is real. Japan was 8 hours ahead of our home time zone and this did have an effect on us. We embraced it instead of fighting it.
I wanted to share those things just to give some context. I think that an experience really varies depending on where the participants are at coming in.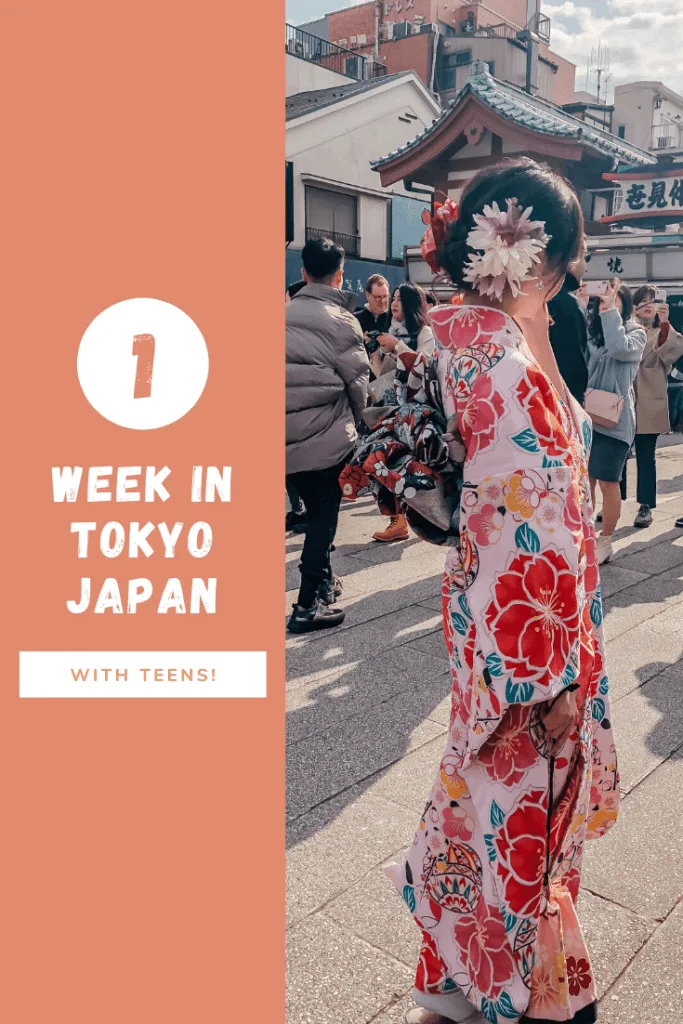 One other note, we didn't try to jam in as much as possible. We knew that by 6pm our kids were done, and we hardly ever left our hotel before 10am. It was the middle of January and while the weather was very nice for us most of the time, we're not big on doing things after dark – so we didn't!
My main theme for tackling Tokyo was to break things down by neighborhood. Each day we'd visit a different neighborhood and explore it! I often use this technique when in large cities and it typically works well. We also end up finding interesting things we wouldn't otherwise discover. Below you'll find the things we enjoyed in each neighborhood and if you decide to use our technique pick a day and an area (or two) to build your trip.
Looking for where to eat? Find all that information in this post on where to eat in Tokyo halal and/or pork-free.
How to Get Around
The number one question you'll probably have is how in the world do you move around Tokyo? Easy my friend! The Tokyo metro is pretty easy to navigate. The lines are color-coded and the stops are numbered. We used it to go everywhere.
You can purchase a PASMO card at any station. There is a 500 yen deposit on the card and then you just charge it as you go. It is so easy to use and you can charge it at any stop and either on entering or exiting the station.
When you leave you can exchange your card at the station or at the airport train station to get back the balance plus your deposit amount. This was great because it gave us some extra spending money at the end to pick up some food before we left!
The other mode of transport we used? Our feet! Yup lots of walking!
Finally, there are taxis in Tokyo of course. Sometimes it really was cheaper for us to use a taxi instead of the subway for 4 of us. It's worth checking the cost of getting around.
Getting from the airport to the city
We arrived at Narita Airport which is quite a distance from Tokyo proper – about an hour drive! When we arrived I had booked a transfer and I am SO glad I did. We were not in any shape to figure out the train and get to our hotel. Yes, this is the more expensive option but if there are 4 "adults" it really isn't so much more expensive.
On our way home, we did use the train and found it fairly easy to use. Depending on which station is closest to you, it will vary how you get there. The Keisei Skyliner is one option. There is also a bus that you can take from Shinjuku station.
Ueno
We stayed near this area of Tokyo (by chance) at the start of our trip and we really liked it. When we extended our stay we tried to stay in the same area however we couldn't find availability. We stayed at the Mimaru Tokyo Ueno Inaricho and LOVED it. It was perfect for our family.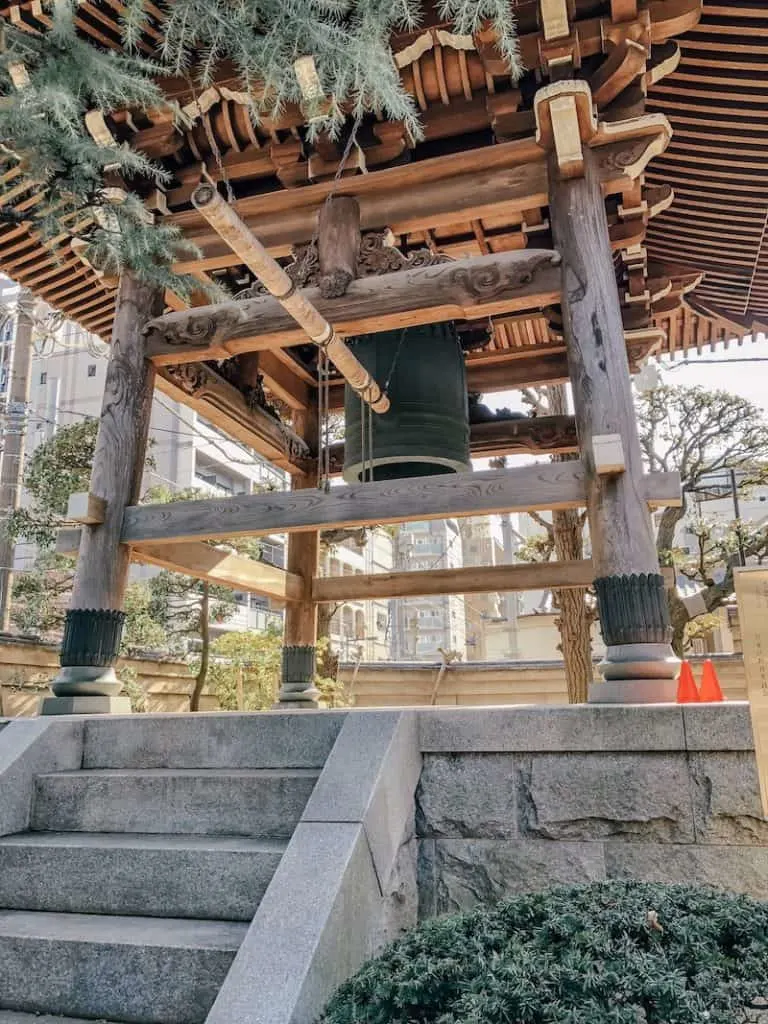 We liked this neighborhood because it was a quiet residential area, but it was a very short walk to the Ueno Night Market as well as to the Asakusa. Ueno Park is particularly nice in springtime due to the numerous cherry blossom trees. One thing that we picked up on quickly was that there are temples EVERYWHERE! This bell was at a temple a few buildings away from us. Just a temple, in a residential neighborhood with a bell that's hundreds of years old!
Near Ueno Park you can also visit the Nezu Shrine which looks an awful lot like the famous tunnel of tori gates in Kyoto!
Ameyoko Shopping Street was another highlight for us. On our second night in Tokyo, our kids were completely exhausted and wanted to sleep so my husband and I went out in search of some food for everyone. We literally just happened to stumble on this area when we saw the street lights from a distance. So glad we did!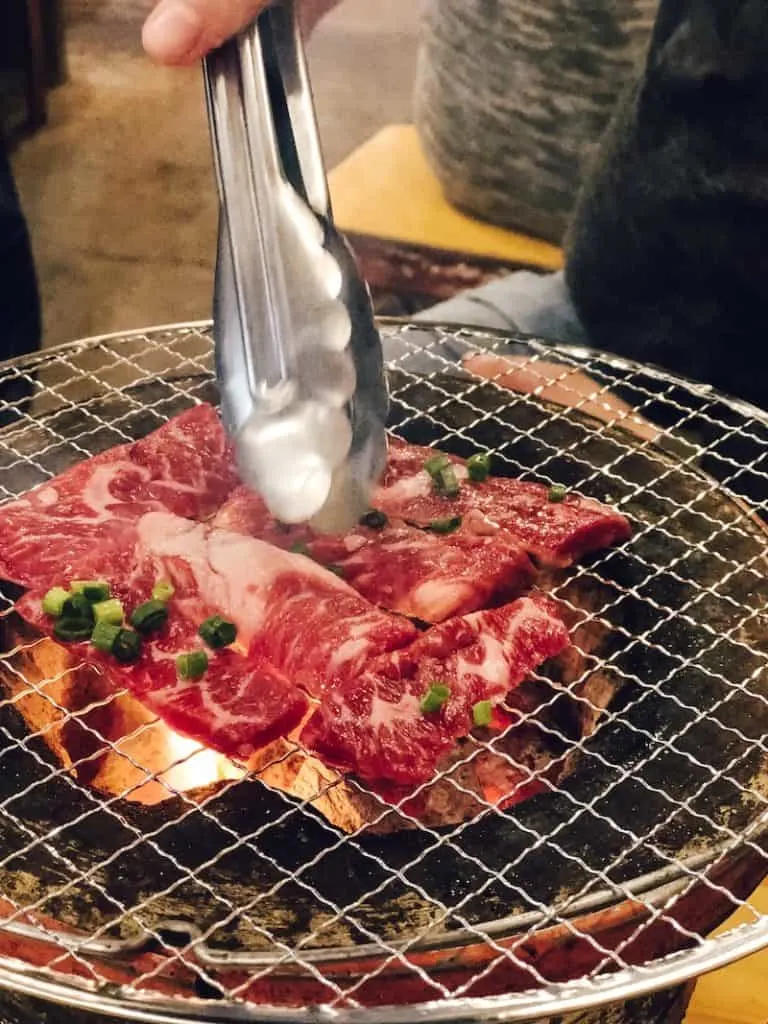 There were so many different restaurants that we had a really hard time deciding where we would eat. But, finally, we chose to try Japanese barbecued meat – we didn't go for wagyu beef and I can't even imagine how good it must be because the meat we chose tasted like butter! We really wanted to go back with our kids but never made it – highly, highly recommend it! (Read more eating suggestions in this post)
Harajuka – Kawaii Land
Originally we had planned to take a guided tour here so that we could find all the crazy foods. Sadly, I was sick the entire trip to Japan and the first day (when we had scheduled it) so we ended up cancelling. But, we went on our own! This is an area popular with teenagers and I think if I had girls it would have been a bit more exciting for them.
Takschita Street is the main street that runs through the area that has all of the shops this area is known for. This photo was taken in the middle of the day on a weekday so you can imagine how crowded it gets on the weekend. A few of the things that you may want to make a note to hit here;
Daiso Store – this is a 100 yen store (though some things cost more) and you'll find them all over Japan. This one was pretty big and had a lot of foods and kitchen items. It's a decent place to buy unique food items if you want to try them.
Totti Candy Factory – they make the giant rainbow cotton candy. I can't say I was overly impressed, it's expensive cotton candy at the end of the day and we had a really bad experience with one of their staff members that was beyond rude.
Eiswelt Gelato – do you want to eat super cute gelato in animal shapes? Stop here!
Reissue – a cute cafe where you can get your latte foam in the shape of a hamster!
Calbee potato + chips – these potato snacks are really popular and you can get them fresh here. I didn't like them but my oldest son loves them.
Kiddy Land – if you're looking for character goods (like stuffed animals, stationary etc) stop in here. They've got tons of different characters and a wide variety of products.
Animal Cafes
I know that many people take issue with these types of cafes and I also understand why but I wanted to see for myself what the hype was and what the conditions were. Also there is a mini-pig cafe and I have wanted a mini-pig since I was about 16 years old. Only one of my kids went with to the cafe (there are animal cafes for literally any animal you can imagine). We paid and were given a timed entry as only a certain number of people are allowed in at any time.
When we entered we could pick a "free drink" from the drink machine. It's certainly not the fanciest in respect to cafes. You change your shoes and they go over how to interact with the pigs; like don't chase them and don't pick them up. If they come to you, you can pet them or let them sit on you. You also can only stay for 30 minutes.
Final verdict? It's on you to decide if this is something you want to do or not, it was something unique and also I learned I no longer want a mini pig pet!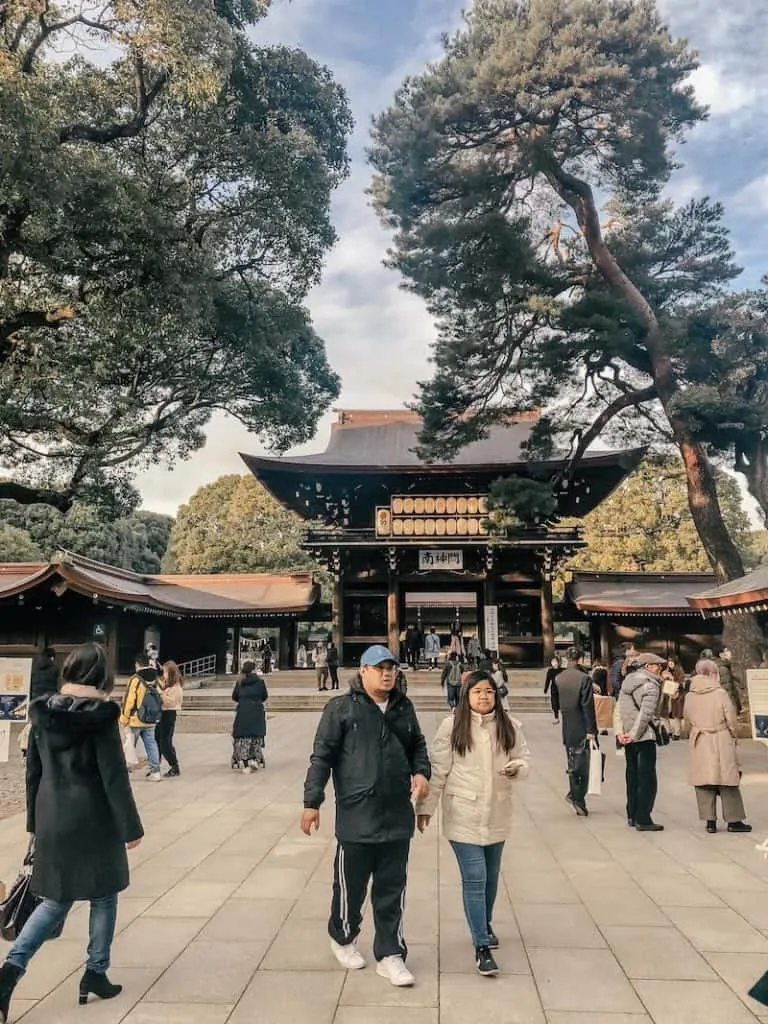 Meiji Shrine
This wasn't on our original plan for visiting the neighborhood but when I saw how close it was on the map decided it was worth visiting. I think what we liked the most about this shrine was that it is in a beautiful natural space. There are lots of walking paths and trees, and while the main shrine area has a LOT of people just a few meters off the main walking areas were quiet and serene.
Akihabara
If you have teenagers who are into gaming than you better have this area on your list. You may also hear it called Electric City. What you'll find here is a mixture of modern and eclectic. Our favorite thing? The arcades.
Most all of the games are 100yen ($1) so we suggest going with a pocketful for you and your kids. My husband and I had an absolute blast playing the vintage video games we grew up playing – while our kids laughed at the shoddy graphics.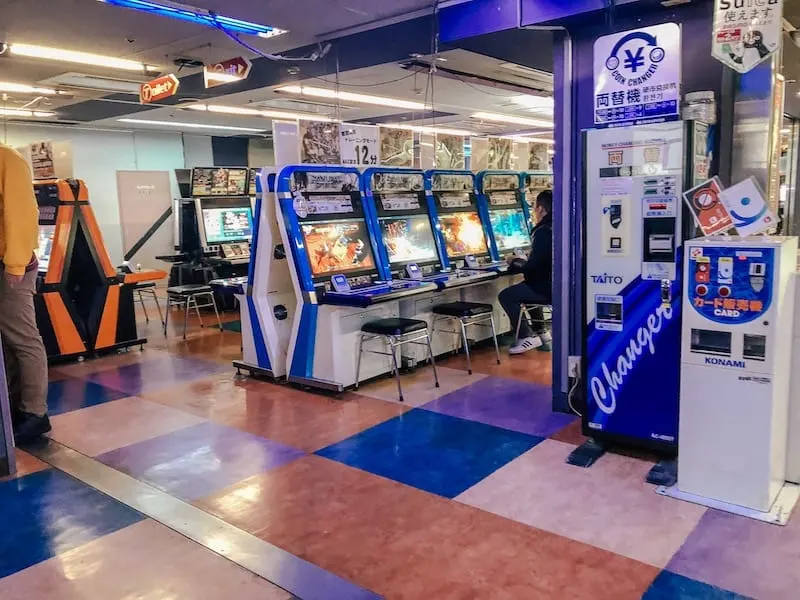 You will want to be on the lookout because there are gaming areas that are not for children and will be marked as such. Also the very scantily, sexually suggestive anime girls are hard to get around. Yes, they are cartoons but it can be awkward with teenage boys – but they are sort of all over in Japan so may be a good conversation to have with your kids.
If you want to go shopping and video games, anime or comics are your thing you will have NO shortage of things to look at. This store had all types of Nintendo games and systems for sale. Did you know you can buy a used Game Boy Color for $85?
VR Ninja DoJo
Want a really cool gaming experience? We found this ninja training activity using VR! You train and fight like a ninja but it's all done using virtual reality.
Yodobashi Camera
Planning on shopping for electronics in Tokyo? Than you'll want to stop here. Even if you're not buying it's so interesting to look and see the variety of things that are available!
Maid Cafe's
I'll admit the whole concept behind this is a little strange to me. It's part of the culture of this neighborhood though. Women dressed in maid costumes serve customers. We didn't go, my teenagers were mortified at the idea!
Akihabara Anime & Gaming Tour
If you feel like you might be overwhelmed with all the options that are available Magical Trip offers a guided tour of this part of Tokyo. We did their Asakusa tour and really found it helpful (read more about it below!
This was one of the hotel options we had considered for our return to Tokyo (before our plans changed). They offer an affordable rate with multiple room configurations and also have an on-site onsen.
Asakusa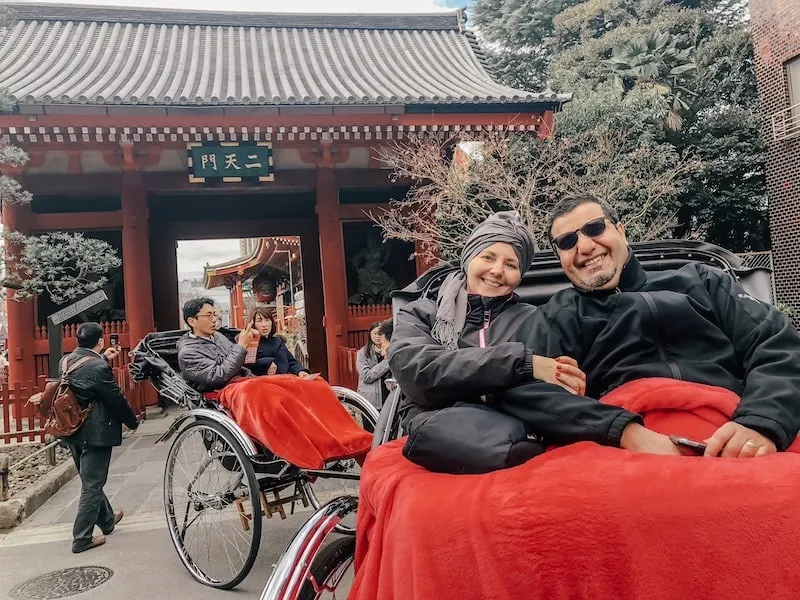 This is probably tourist central in all of Tokyo. You can easily spend a day or two here without getting bored! We went one day by ourselves and on another day we took a guided tour that we really enjoyed.
Skytree Tower and Skytree Tower Mall
This is 600+ meter high communications tower with observation decks and a shopping mall. It's a great place to get an amazing view of the city if the weather is clear. You can purchase your ticket ahead of time to skip the lines too.
Don Quijote
There are more than one of these shops and they're really popular with tourists because the are tax-free shops. They also are known to have all kinds of Kit Kat flavors which are a unique thing about Japan. I'll be honest, I wasn't that impressed with the store, I think I was imagining something else. That being said we did find a few things here that we liked and picked up some snacks and other items we needed. My kids also found root beer which is a treat for them because we don't have it in Morocco.
Senso Ji temple and Nakamise Dori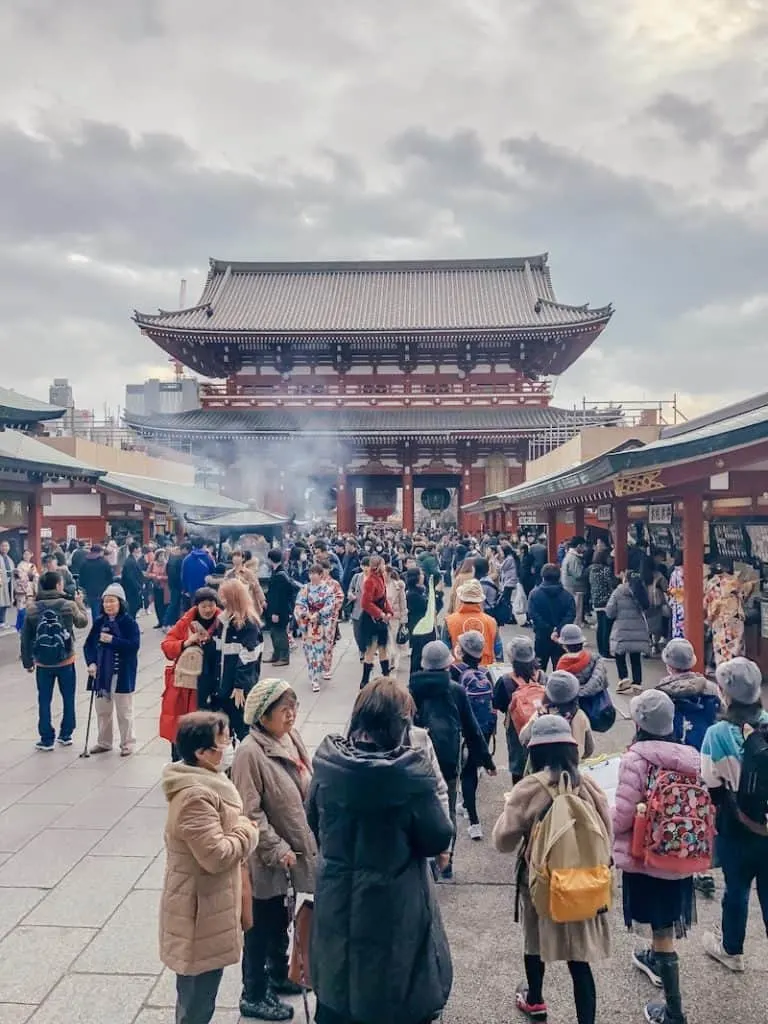 Fun fact, shrines in Japan can be Buddhist or Shinto – this one is Buddhist. On the tour we took with Magical Trip we learned that many Japanese people will go to a shinto shrine when a baby is born, a Catholic church when they get married and a buddhist temple when they die. It's totally normal to be multi-religious. I found this fascinating and also it explained why we found in Japan people are very accommodating to all faiths.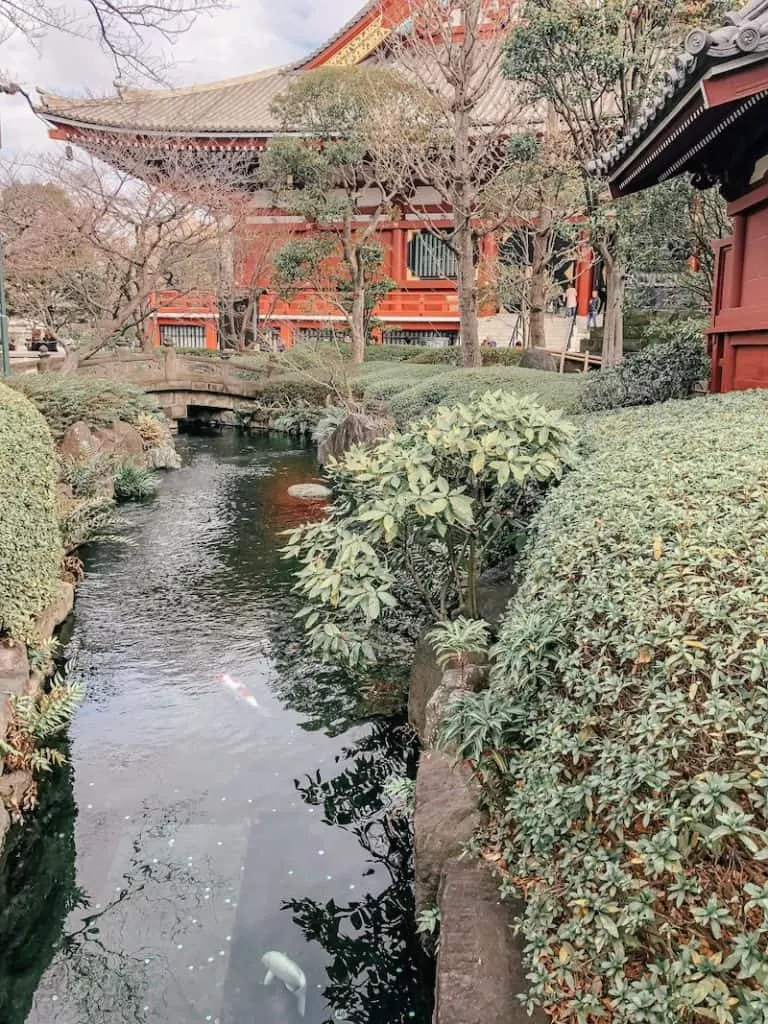 We really, really liked this shrine and the nearby shopping streets (Nakamise Dori). There is tons of food available and also interesting shops selling all kinds of things!
We did Magical Trip's Asakusa Cultural and Street Food tour and it was really cool to learn all about this area, try street foods and also eat our favorite meal the entire time we were in Japan! We highly recommend this tour for visitors who want to learn a little while eating!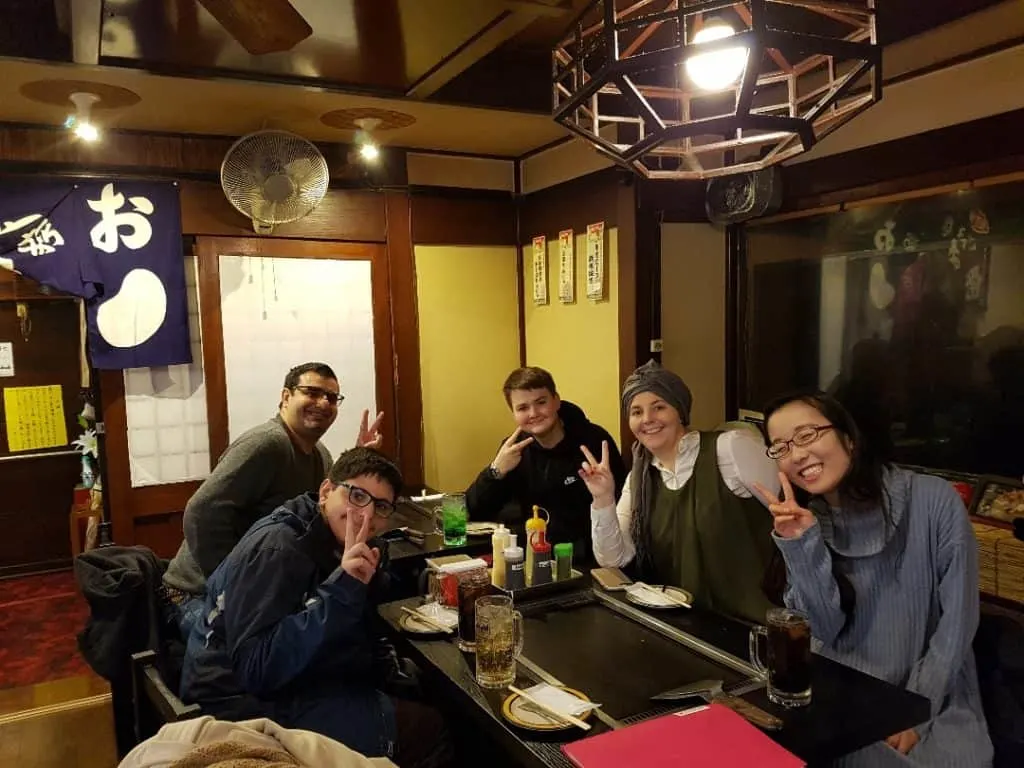 Nishi Sando
This is another shopping street that runs in the opposite direction of Nakamise Dori. It is entirely covered making it a good bet for a rainy day too.
Kappabachi
This street is known as kitchen street because it's where all the chefs and restaurants go to buy their supplies. If you have any interest in food or food culture is pretty interesting! Also if you want to buy an amazing Japanese knife? Go here! That was the souvenir I bought for myself! One of the really unique things about Japan are the wax dioramas in restaurant windows displaying what's on offer. You buy them here! You can even get keychains of your favorite little foods!
Tsukiji Market
I am really sad to admit we didn't make it here. My kids do not like fish at all and when I brought up a visit they refused to go. We could have left them at the hotel but at the end of the day we just skipped it. There was an inner market (that closed in 2018 and relocated to Toyosu Market) and an outer market that is still in operation.
If you want to eat fresh seafood and really get a sense of the traditional culture around seafood go. But go early because it operates starting at 5am! There are a lot of restaurants in this area and if you want to try real, fresh Japanese sushi you can't beat it.
Hanayashiki
Right behind the Senso-ji Temple is Japan's oldest amusement park! There are 25 different attractions and it's certainly not Disney Tokyo but it is something fun to do with kids even if you just take a few rides.
Where can you eat in Asakusa? So many places! Check out my post on eating in Tokyo for all the info!
Shinjuku
Your first introduction to this neighborhood will probably be Shinjuku station – which is gigantic. We were here for over an hour and hadn't even left the train station because we kept going into the little shops and restaurants that fill it up.
We did some shopping here because there are a lot of stores. My husband's favorite store UNIQLO had a big shop here and he had to pop in to pick up another of their ultra-lightweight down vests (or jackets). Meanwhile, the kids and I wandered into a cafe to try the Insta-famous Japanese fluffy pancakes. Guess what – they taste like a pancake but fluffier.
This area in general is really big and also includes the Olympic stadium area – which is where we spent the rest of our trip. We booked the remaining nights at the Mitsui Garden Jingugaien Tokyo Premier
If you're into wandering and getting lost – you'll love this area!
Shibuya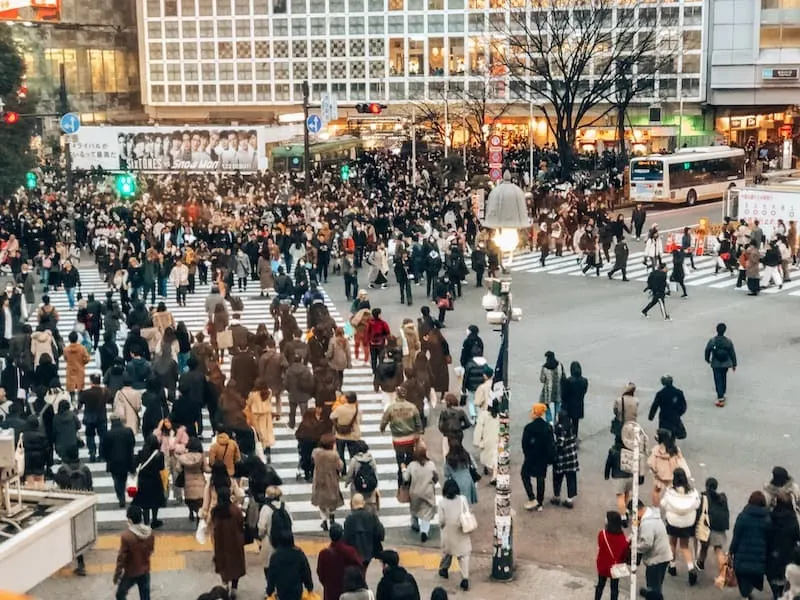 Our 13 year old had one request, he wanted to see the Shibuya Crossing. If you're not familiar, this is an insane intersection- the busiest pedestrian crossing in the world – that crosses multiple lanes of traffic and 2,500 people at a time. I'll admit it's a little crazy in a fun and weird way. But once you cross it once or twice…well…. I mean it is just a street crossing!
We went into the Starbucks here to see the crossing from above but there are a few restaurants and cafes in the area that you can go to. Starbucks was packed and we struggled to even get a seat – or stand by the window for that matter. I'd try the L'Occitane Cafe across from Starbucks instead – it looked much calmer.
We truly went here just to see the crossing at the end of one of our days. There is a lot of shopping, cafes and restaurants nearby. There are also many capsule hotels. But, we did find many of the activities here were a bit more geared towards adults.
That's where we went and what we did during our week in Tokyo! We also ate a LOT! That post on eating is coming really soon and you'll be able to use it to compliment this post with where we ate in each of these different areas.