When you're throwing a Moroccan themed party you need to have the perfect invitation to match. These invitations feature a wide variety of Moroccan styles and party types but I've stayed away from "Aladdin" or other stereotypical styles.
Moroccan-Themed Invitations
I found some beautiful and fun invitations to help set the right tone for your Moroccan-themed event. The following links are sorted by invitation type.
Moroccan Birthday Invitations and Other Parties
Arabian Nights Birthday Party Invitations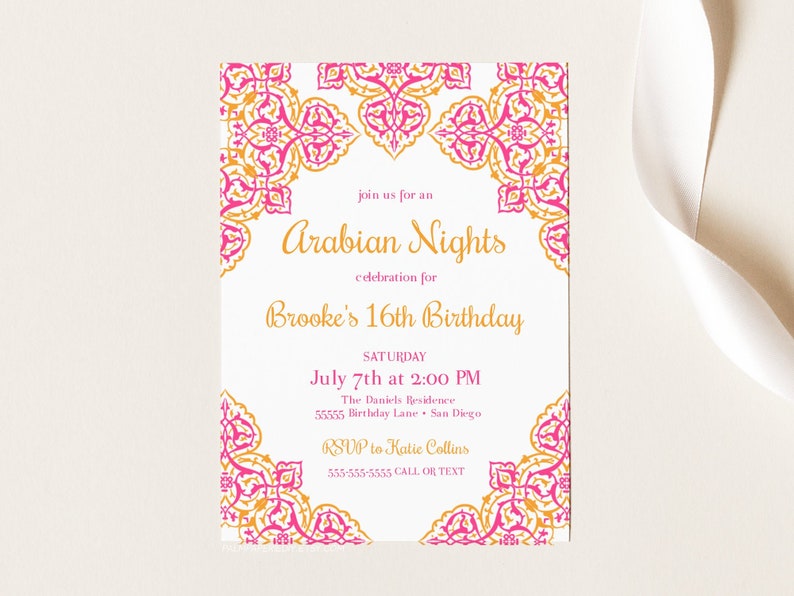 A cute style for a teenage birthday party or even a younger child. The pink and yellow really pops and brings a light, fun feel to the event.
Arabian Nights Birthday Party Invitation – Dark Background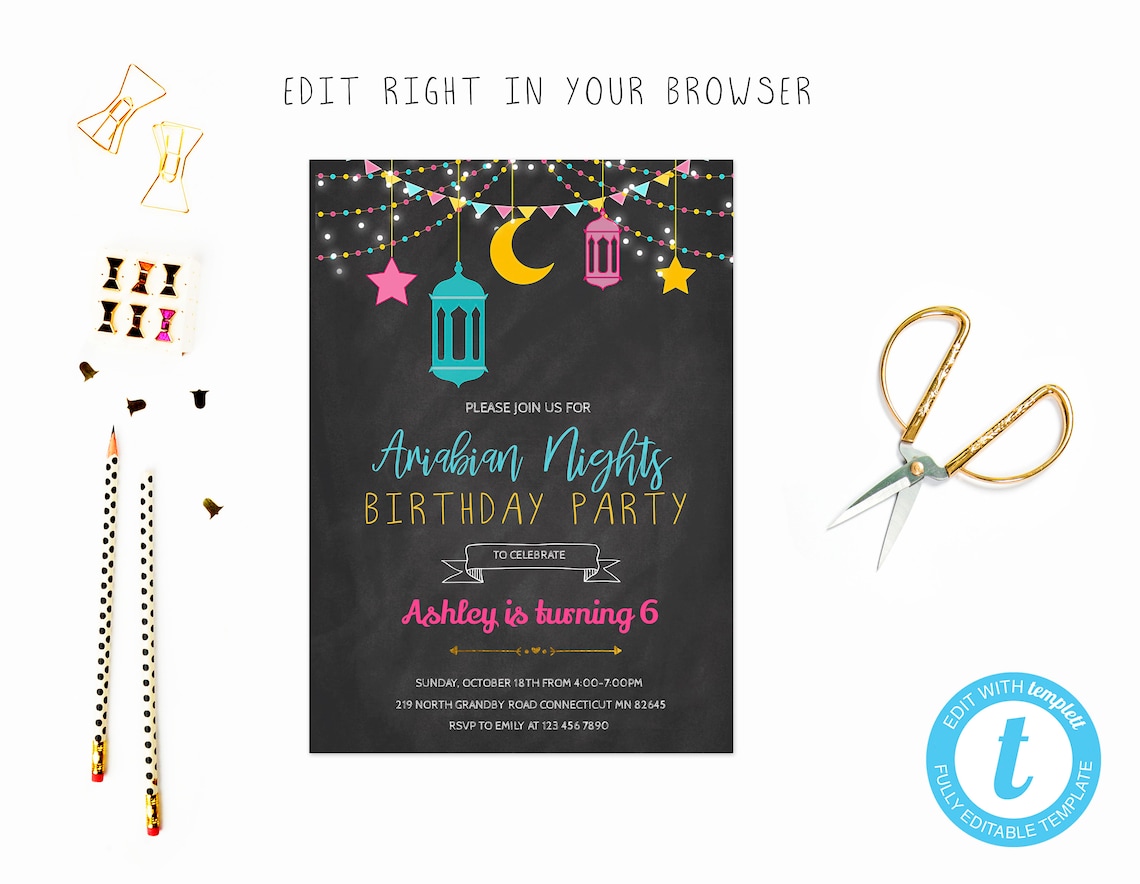 Similar to the pink and yellow invitation but in a darker, moodier style this is a great invite for your next party. I love the idea of carrying the theme through and doing an evening event with lots of twinkle lights like in the image.
Printable Moroccan-Themed Party Invitations in Pink and Gold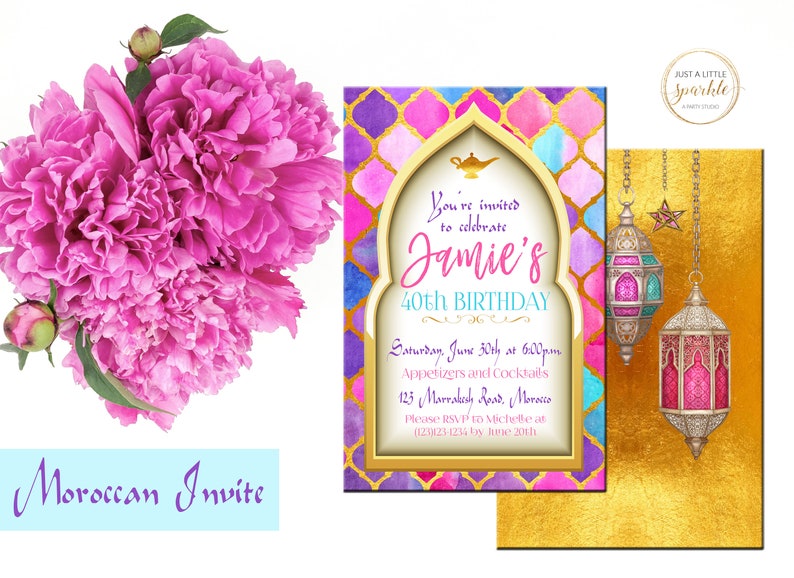 These printable invitations are full of color and style. They would work great for either a child or adult party. The jewel tones make it feel fun and festive.
Morocan-Themed Party Invitation in Grey and Blue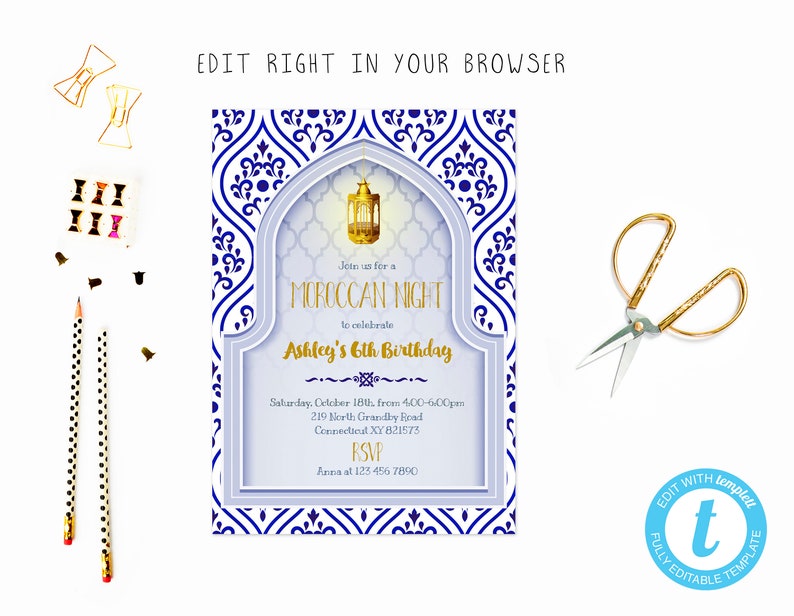 A more understated and subtle Moroccan feel, these invites can be customized and printed directly after purchasing in your browser. Great for last minute invitation needs!
Moroccan Wedding Invitations and Save the Dates
Modern Desert Wedding Invitations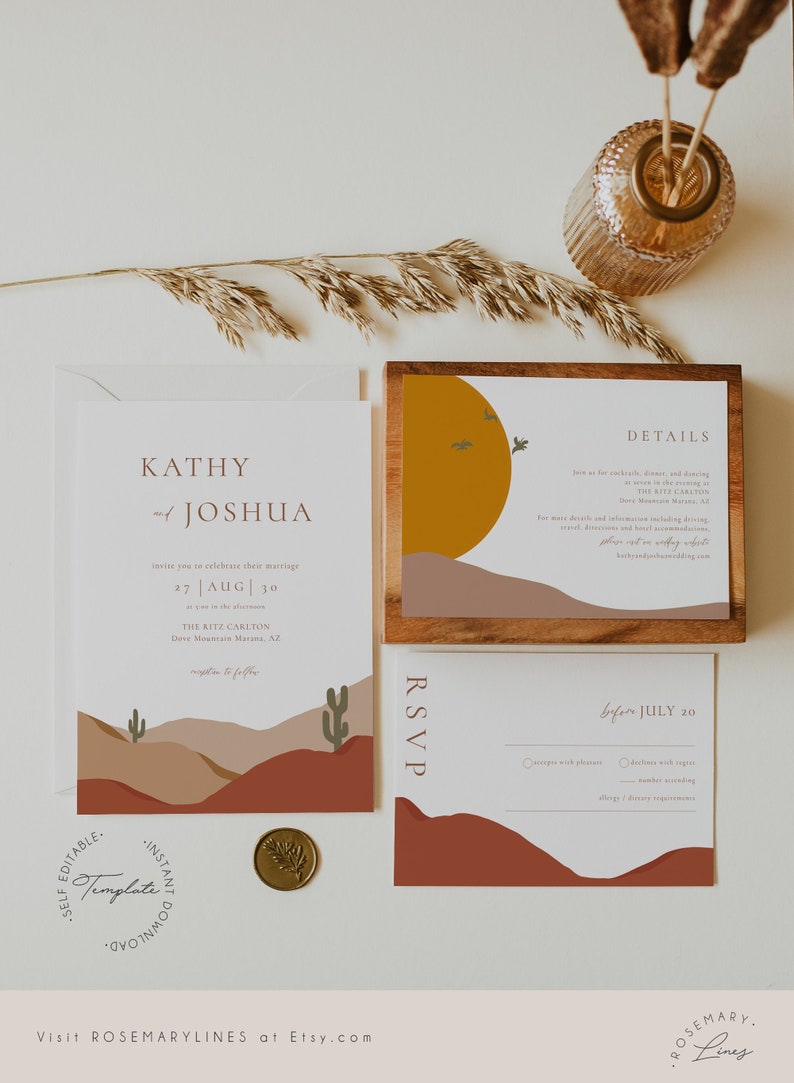 A very simplistic theme for these invitation that brings in the colors of Morocco (or really any desert location). Perfect for the minimalist couple who is going for a natural palette for their celebration.
Moroccan-themed Wedding Invitation and Save the Date Cards – Blue Watercolor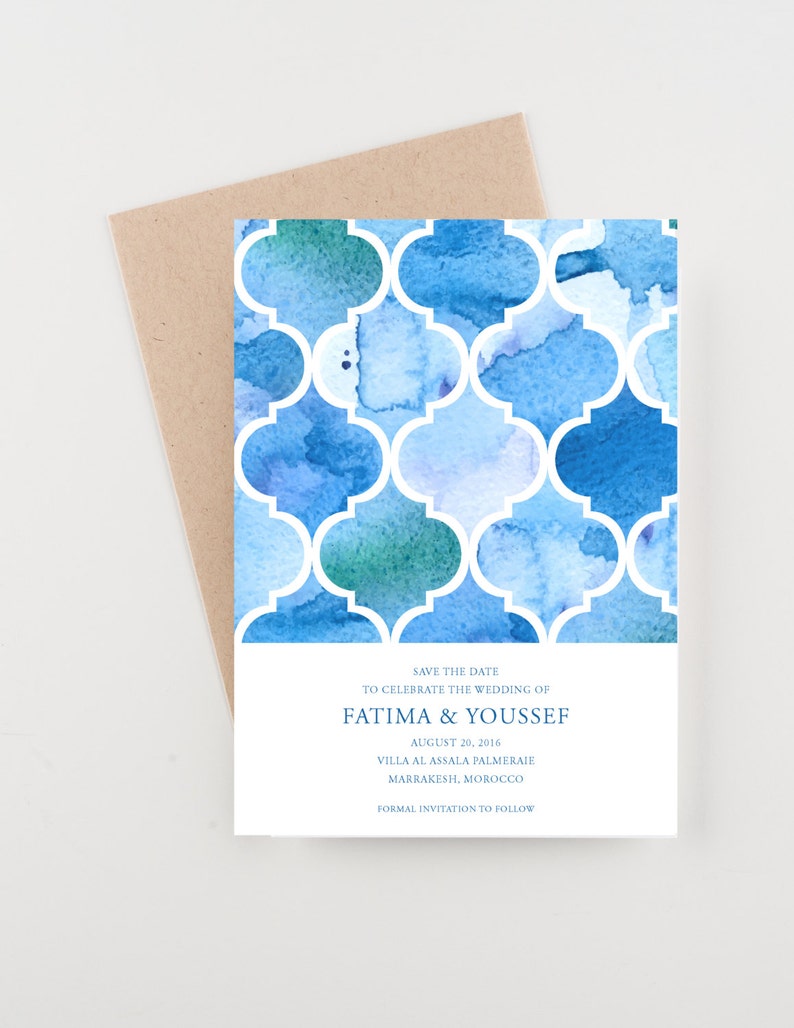 These beautiful save the date cards feature a monochromatic blue pattern with traditional Moroccan zellige patterns. These are the perfect, simple cards to let your guests know about your upcoming nuptials.
Morocco-Themed Save the Date and Wedding Invitations in Pink and Purple Watercolor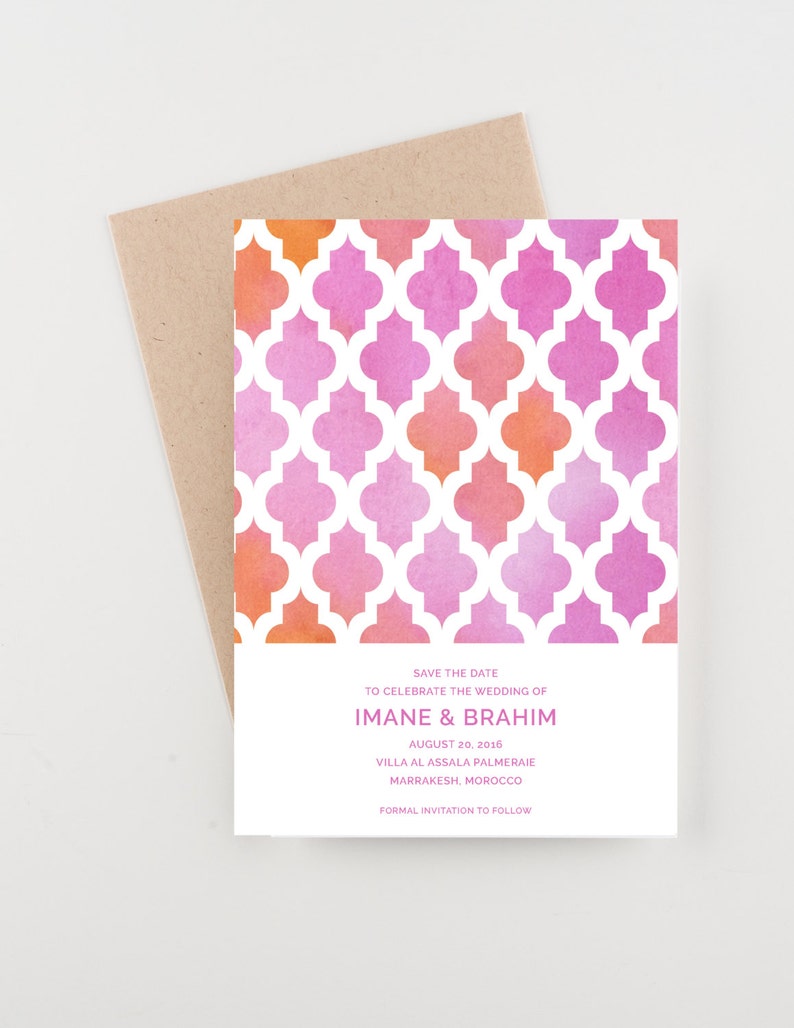 Similar to the teal cards these are a watercolor style design but in pinks and reds. They are a very cute save the date card.
Peacock Feathers Wedding Invitation in Gold and Navy
Inspired by peacocks, these invitations are beautiful and a lovely way to invite guests to your wedding. They come with a themed RSVP card as well.
Moroccan-Themed Arabian Desert Wedding Invitations in Turquoise and Teal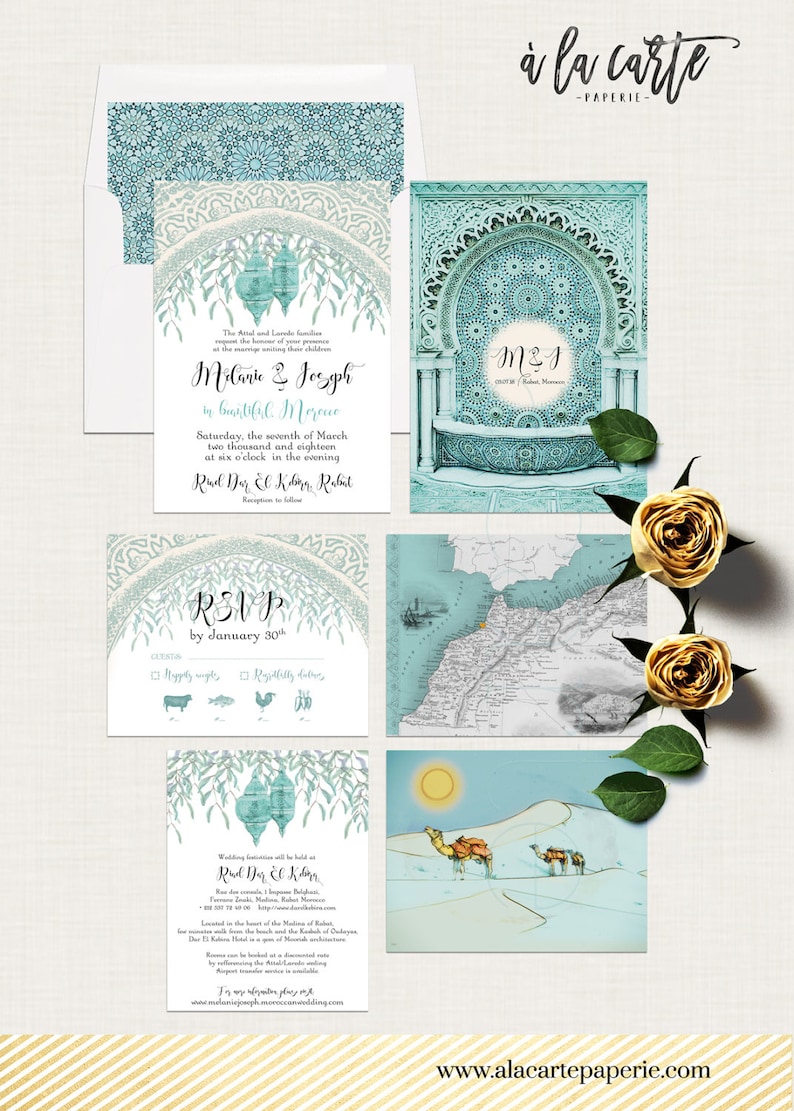 Gorgeous teal invitation cards that bring Morocco to life in your mailbox! With these you can order invitations, invites and RSVP cards, or invites, RSVP cards and save the date cards.
Moroccan-Themed Arabian Nights Wedding and Party Invitation in Blue and Gold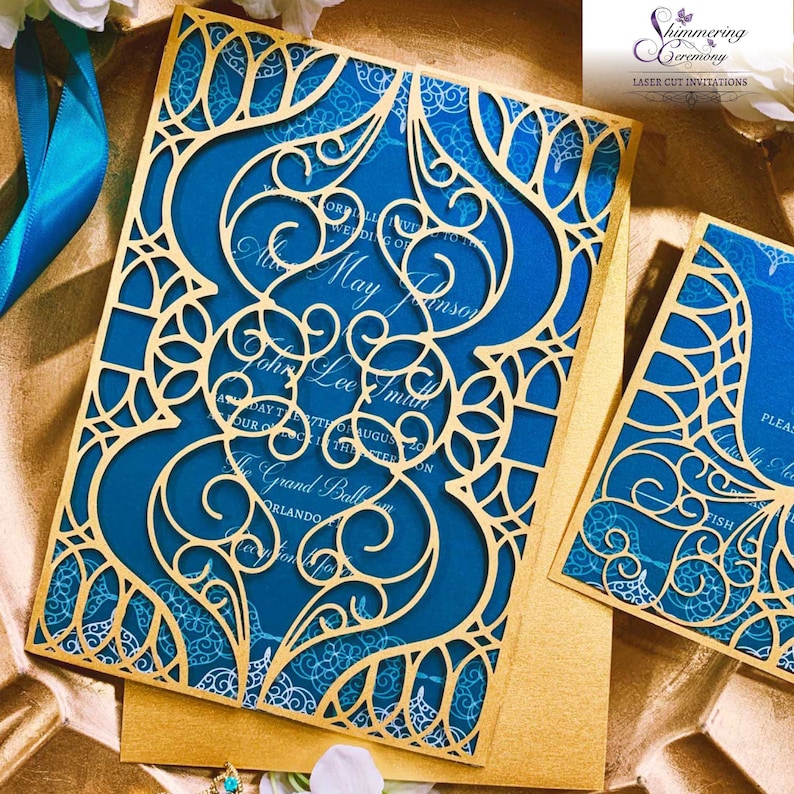 These are quite possibly my favorite invitations because they're just so unique and stunning. They really remind me of the laser cut wood and metal designs you can find in the souks. These are perfect if you really want to make a statement.
Laser Cut Pocket Wedding Invitation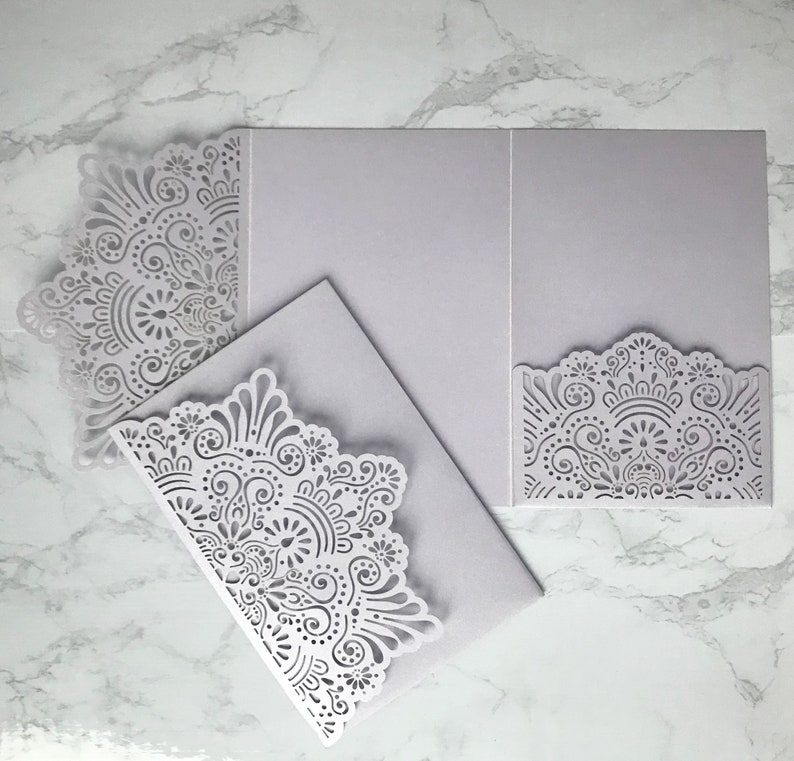 These gorgeous wedding invitations are ideal for minimalists who still want to have a decidedly Moroccan feel to their invites. They do not come with printing and are just the cut paper. You can choose from 14 different colors.
Morocco-Themed Save the Date and Wedding Invitations – Blue Tiles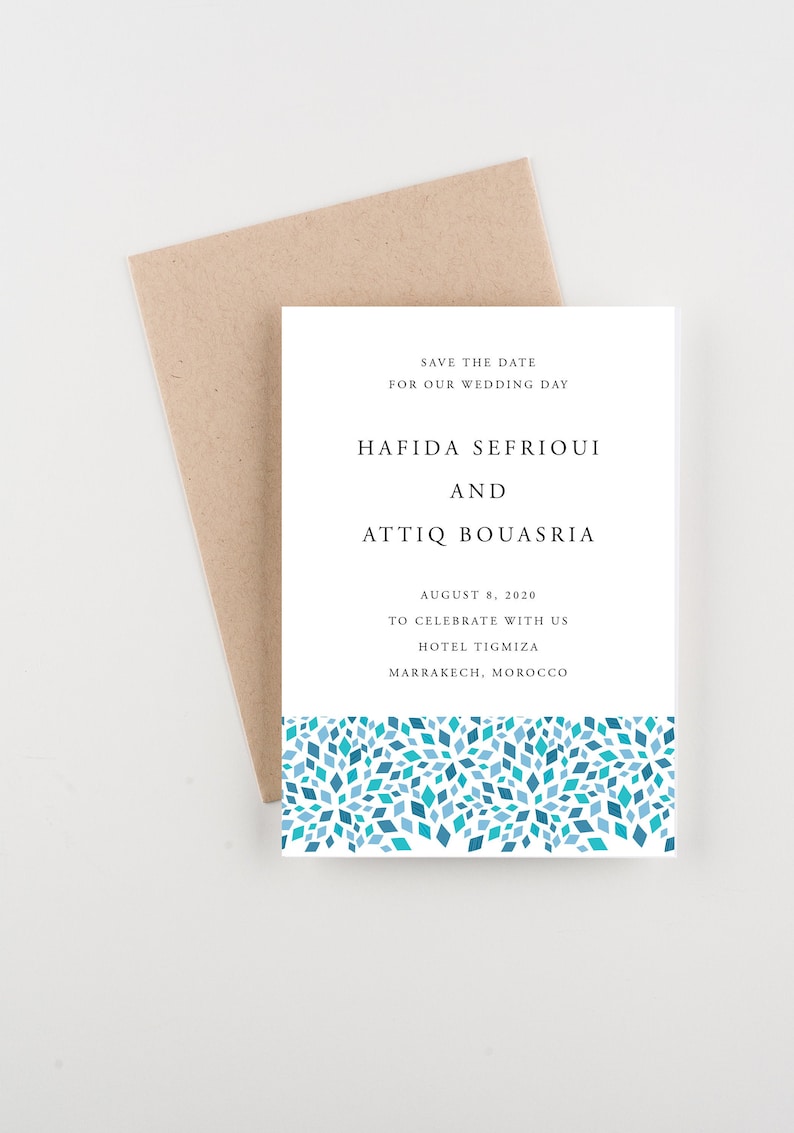 A simple style design that is available as a save the date and as a wedding invitation. The blue and green colors are cute and the design can be used with a variety of different broader themes.
Morocco-Themed Wedding Dinner Invite with Menu – Modern and Minimalist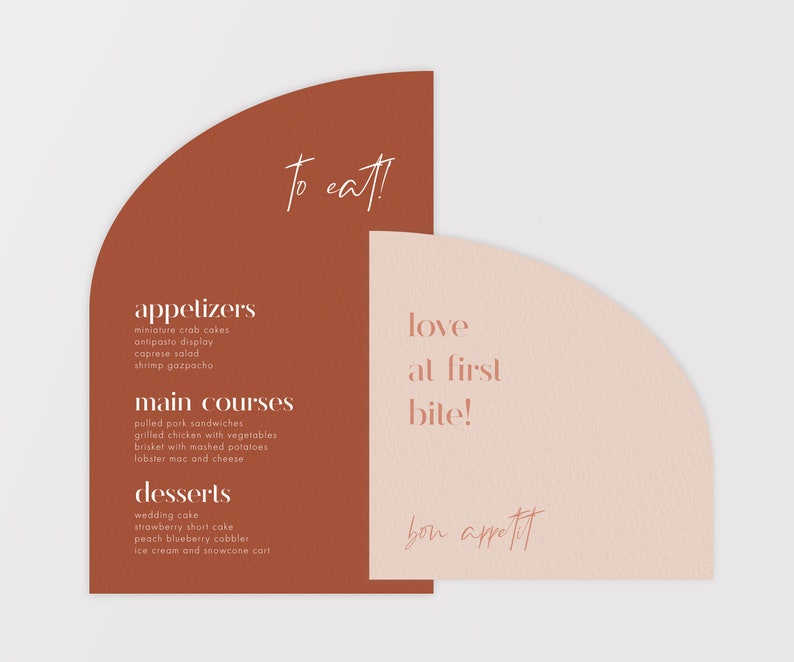 Looking for wedding invitations that also include menu cards? This is a design not the cards itself so you'll need to discuss with the seller how to have them printed or find a printer that can create the actual printed version for mailing.
Moroccan-Themed Wedding Invitation – Blue, Gray, and Orange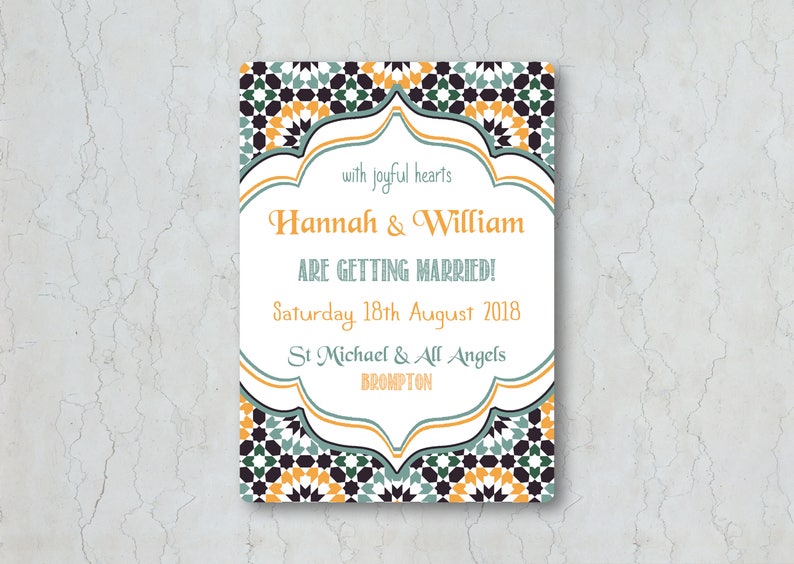 A zellige inspired wedding invitation that resembles the tile walls of some of the buildings of Morocco. These are cute invitations if you're planning a Moroccan wedding party.
Moroccan Bridal and Baby Shower Invitations
Moroccan-Themed Baby Shower Invitation in Teal & Aqua
Planning a Moroccan baby shower? These gender neutral invitations will let your guests know they're in for a fun event!
Moroccan-Themed Baby Shower Menu Cards – Red and Orange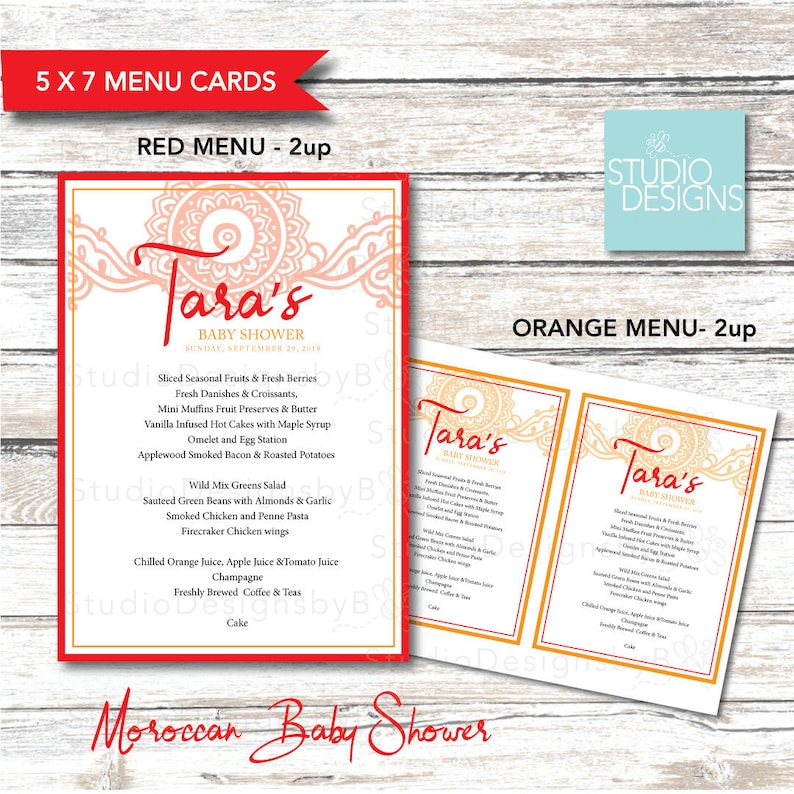 Let your guests know what's on the menu when you include these menu cards with your baby shower invitations.
Moroccan-Themed Bridal Shower Invitation – Pink Watercolor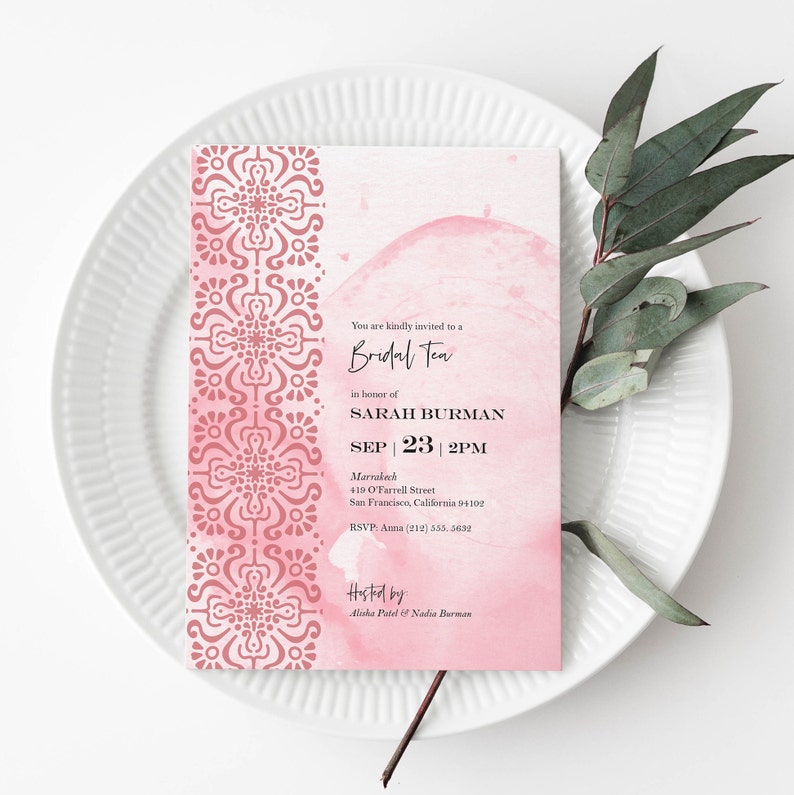 Very sweet Moroccan themed bridal shower invitations that welcome your guests to celebrate the big day. These are really lovely and simple invitations perfect for an afternoon bridal tea or brunch.