Throwing a bash and looking for items that are Moroccan theme party decor? Look no further! I've rounded up some of my favorite options to make your event have that Moroccan feel. Whether it's a baby shower, bridal shower or any other celebration these ideas will get you off to a good start.
These are some simple elements that you can mix into your party plan to add a more Moroccan feel. Mix and match based on your color scheme. Many of these options also come in different colors, you can see those options when you click the links.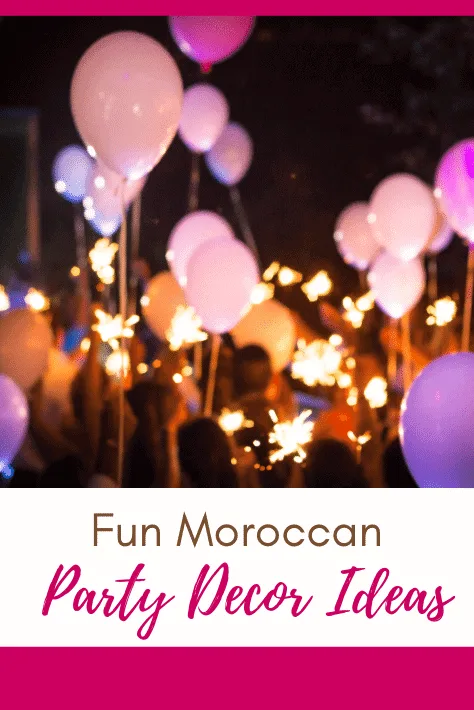 This is a cute garland that can be strung as a backdrop or on a table. Order a few to string up and add color and fun to your party.
Another variation of the garland but with pink tones. A fun and cute option for a Moroccan bridal shower or baby shower.
Did you ever think to punch up your decor with decorative straws? Little elements like this are a fun and easy way to add fun and a Moroccan feel to a party without having to put in too much effort.
Metallic Honeycomb Tassel Ball
How cute is this?! It comes in different color combinations too. Use it in the middle of a room or hang it above a head table or gift table. It's a fun focal piece that is inexpensive and easy.
Teal and Gold Party Decorations
If you're like me pulling together a cohesive look and theme for a party isn't in your skillset. Or you simply don't have the time. That's when a set like these themed decorations comes in handy. Your party will come together quickly when you go with a party pack like this.
I adore these cupcake toppers, they could also be used as party picks for appetizers as well. They are cute and colorful and add a little something extra to your event.
Gold Moroccan Damask Fabric for Tables
A gorgeous fabric that would be ideal for a tablecloth for guests or on a food table or gift table. The simple pattern and color mean you can pair it with just about any other items.
For a look that is a little different from the tassels this pom pom garland is cute for a party and can be used afterwards as a decoration – it would look great in a kids room!
Dramatic is the one word I would use to describe this fringe background. Not only does it catch your eye and make a great focal point for a party it could be used as a backdrop for photos too.
What's a party without balloons? These are not filled and could be either blown up with air or helium for your celebration.
For evening events, these twinkle lights are a fun and simple Moroccan party accessory. They do come in other styles like stars or simple lights – mix and match for a different feel.
Another good evening option are these little lanterns that can be used to decorate the room or on tables for an ambient feel. They're also a great item that can be reused again or in your home.
No one wants to wash dishes after a big party, so choosing some in theme paper plates is a great way to go. These have a cute Moroccan-ish look. If you want to find others, look for Moroccan patterns, scalloped edges or jeweled tones.