Often confused with African black soap, Moroccan black soap is actually quite different as it's ingredients and place of manufacture are not the same. Black soap, also known as beldi soap, is a castile soap obtained from a mixture of oil and crushed olives, soaked in salt and potash. It has many uses and remedies, and is beloved in Morocco.
Properties and Benefits of Moroccan Black Soap
Moroccan black soap is classically known for its removal of dead skin, which is the rough and dry outer surface of your body. This soap deeply cleans the skin by removing toxins and dead skin cells, making our skin softer and more smoothe. Combined with the action of the Kessa mitt will, this soap will remove impurities and dead skin while increasing the blood and lymph circulation.
With its antimicrobial properties, Moroccan black soap is rich in vitamin E. With proper use, it can also relieve itchy back due to an excess of dead skin and clogged pores. Another benefit of its exfoliation is the reduction of in-grown hairs.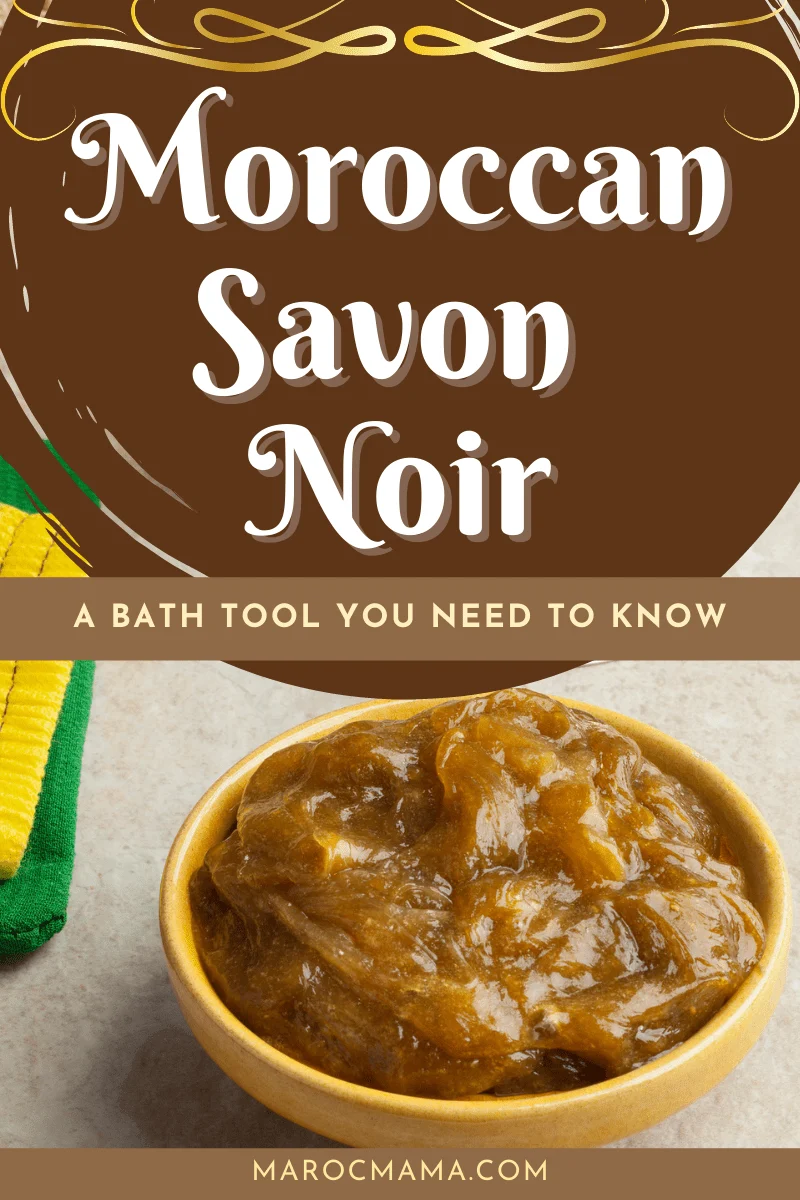 How do I use Moroccan black soap?
For starters, you should know that this soap is ideal for all skin types, but how it is made will determine if you get the true benefits of all it has to offer. Traditional recipes of black soap stay clear of using extra ingredients such as mineral oils, palm, oils, parabens, and synthetic preservatives.
The use of the Moroccan soap has a deep reach in a ritual that can be embraced even if you don't live in Morocco. Follow the steps below to embrace the black soap ceremony and reap all the benefits it has to offer:
Start with vapor. Equivalent to a sauna, you'll want to be in a heated room (turn on a hot shower for a few minutes for the same effect) to generate moisture on your skin.
Apply a thin layer of soap. Once you've moistened your skin, it's time to apply a thin layer of soap and allow it to sit for 5 to 15 minutes.
Rinse. Using a nice warm shower, rinse your body until all of the soap is gone.
Exfoliate with the kessa glove. Now it's time to give yourself a nice deep tissue scrub with the kessa glove.
Follow this regimen on a regular basis and you'll begin to notice softer, silkier, and younger-appearing skin. Something to note is that Moroccan black soap will not lather like most over-the-counter soaps that you're used to. Once you begin to scrub your body, you may notice dark particles appearing. Don't worry, that's your dead skin coming off.
To maximize hydration, follow up with a rhassoul mask or 100% argan oil. Other uses of black soap include:
Daily face wash
Daily body wash
Occasional shampoo
Shaving cream
Liquid soap
Facial exfoliation
Moroccan Black Soap Products to Try
Below are some highly recommended products for adding black soap to your Moroccan beauty regimen:
This soap is made with the normal ingredients but is also infused with lavender and argan to smooth your skin and help with relaxation (or sleep!). You will need to be the scrubbing mitt separately if you want the full hammam experience. You can find an inexpensive one here. You could use a coarse loofah as well but these mitts are really what work with the soap to remove dead skin.
This soap product is made with the normal, natural ingredients but also includes eucalyptus and argan for added hydration and replenishing. This kit comes with the scrubbing kess. You just need to supply the hot water and time. While the package says you can use this everyday, it's recommended to only do the full scrub weekly.
If you're looking to just get some of the savon noir to use this is a good one to check out. You'll get a container of the black soap for use in your home bath. There's no additions to this, it's the basic soap used in Morocco.
For everything you need to have a full Moroccan beauty experience, this is the kit to get. It comes with the savon noir black soap, ghassoul mask, and a kessa for scrubbing. The soap and the ghassoul each weigh 1 pound so you will have plenty of product for your beautify routines. With the kit is a storage bag to keep everything together.