Located at the heart of East Africa, Kenya is a wonderful country with beautiful people. The country boasts of diversity and has 42 tribes with different cultures. On the world map, it has secured a top place in Olympics and Athletics.
If you are planning a visit to Africa, Kenya is one of the top countries to visit.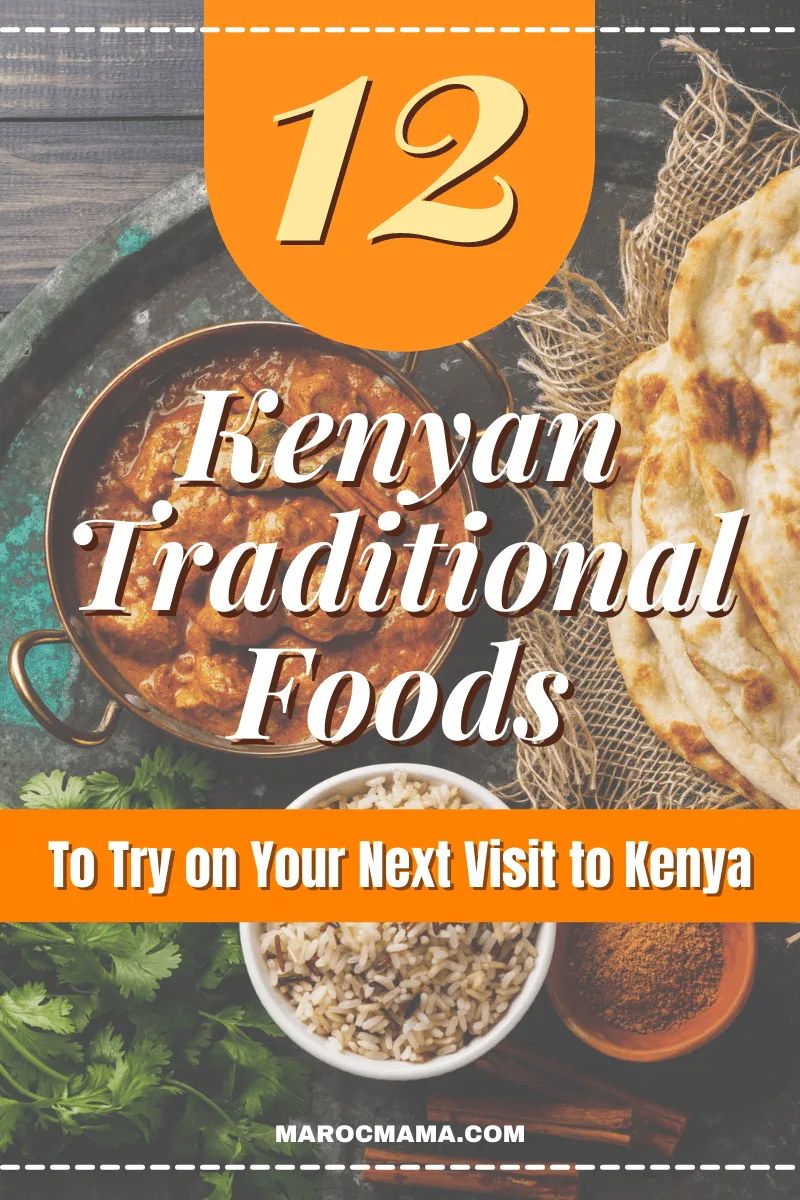 The Kenyan people have distinctive cultural diversity, with a hospitality and generosity every visitor would enjoy. Apart from the rich wildlife, Kenya has unique traditional foods too. The dishes, made from local food ingredients that give you a menu like no other around the globe.
The following are different traditional foods you should try on your next visit to Kenya:
Githeri
Originally, this was a dish exclusive to the people of the highlands part of Kenya. However, you can enjoy it throughout the country.
Githeri is simply a perfect blend of corn/plantains and beans. You can also substitute beans with green peas. Traditionally, the ingredients are boiled together, then fried with onions, and enriched with your preferred spices.
On other occasions, githeri can just be salted to retain that natural taste. It is tastier when served with vegetables too.
Ugali (Maize/Cornmeal)
Locally known as 'The African Cake', Ugali is one of Kenya's staple foods. This is because you can make it effortlessly. It is made by putting maize flour in boiling water, then stirring until the mixture attains a grainy texture.
Kenyans love Ugali because it's easy to make, delicious, healthy and affordable. It is best served hot with beef stew, spinach, wet-fried chicken or any other traditional vegetables of choice.
This is a dish popular on most menus in any Kenyan hotel.
Some communities, such as the Maasai love it served with sour milk. For those who love whole grain meals, Ugali is also made from sorghum/millet flour for maximum health benefits and a unique taste.
Chapati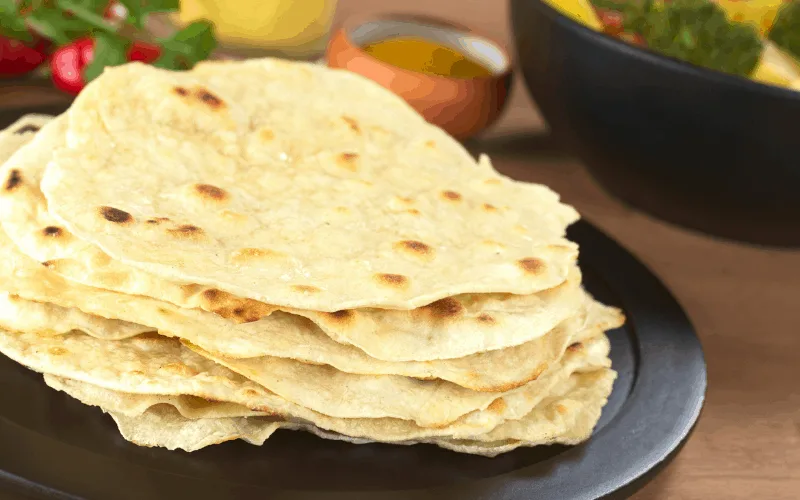 Chapati is popular among Kenyans. It is similar to 'Roti' – a local delicacy from India. One simply knead wheat flour, divide it into doughs, roll them flat, place on a dry hot pan, once convinced of it's dry cooked, add some fat on the pan while turning both sides to cook till brown.
Chapatis make a great snack and are served in most Kenyan hotels. For a different taste, they are enriched with onions, carrots and mashed pumpkins. There are a variety of ways they are prepared and each has a distinct flavors.
Mukimo
This is one of the oldest traditional foods from Kenya's Kikuyu tribe. It is a blend of boiled potatoes, pumpkin leaves, green maize, all mashed together, plus some salt to taste.
Mukimo is best when in a smooth consistency. It is best accompanied with steamed cabbage, chicken soup or beef stew.
Matoke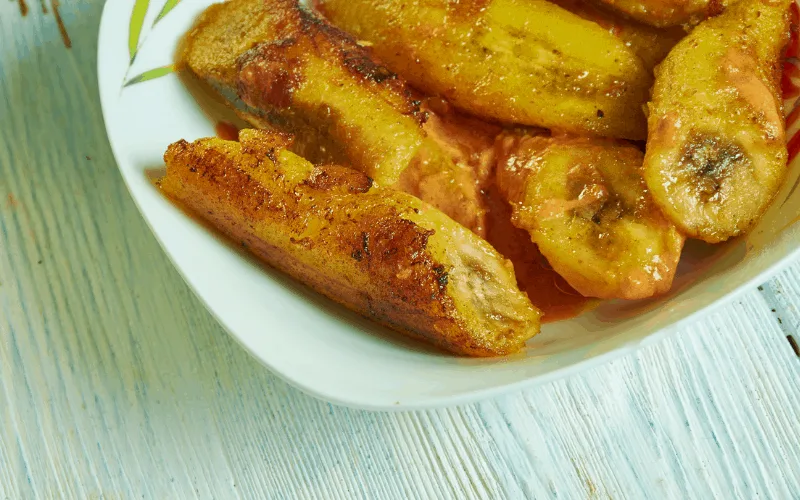 This is simply plantains made in a traditional Kenyan way. Matoke originally was a preserve of the Kisii people, from the western part of the country. To make this, fried green bananas are seasoned with salt, pepper and other preferred natural spices.
The huge supply of plantains coupled with simple preparation makes it a preferred dish. The Nutritional and health benefits of plantains, give you enough reasons to indulge in some.
Pilau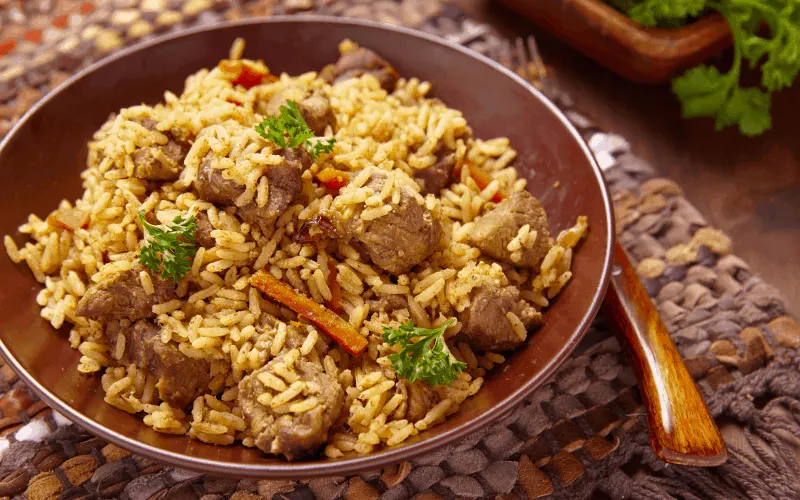 If you love sand and beaches, you'll definitely enjoy Pilau. This is rice, beef and spices, cooked together. It originated from people living in the coastal part of Kenya. The Swahili people treasure flavoured rice during any festivities. For a different taste, goat meat can be used instead. However, any type of meat can be used to make pilau.
Kenyan Pilau is tastier accompanied by soup and vegetable salad.
Mishkaki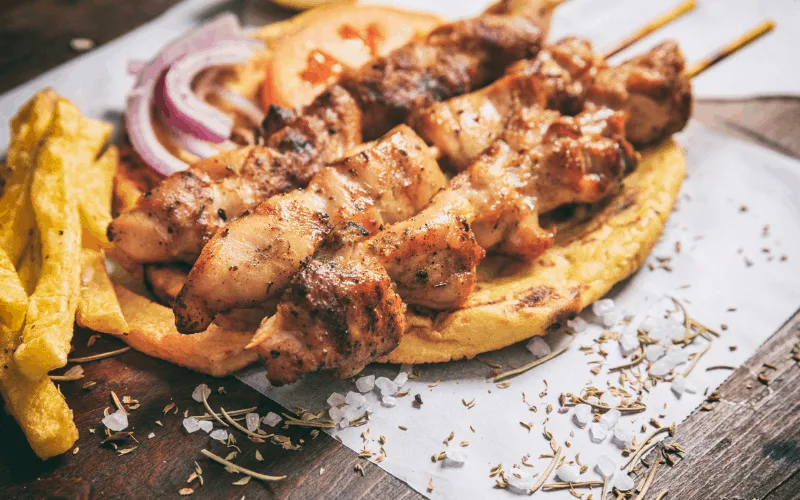 How does the taste of skewered spiced beef sound? If you answered delicious, mishkaki is exactly what you're after. This traditional food is popular among the Swahili people and the term mishkaki literally means 'Meat on a stick'.
Those pieces of beef or seafood (yes seafood can be used too) are carefully roasted into soft, smoky chunks of yumminess. The fun part of it is eating the succulent bits of meat, on a special traditional stick. A visit to the Kenyan coast is never complete without barbequed mishikaki.
Omena
This dish was initially a preserve of communities living near Lake Victoria in Kenya, in the western part of Kenya. Omena is a local word for small silver fish, common in freshwater lakes of the region.
The fish is usually sun-dried and later fried before eating. Tomatoes, cilantro and peppers are cooked with it. For a great taste, you can season with salt, pepper, or natural spices. Omena is nutritious, healthy and a good accompaniment for ugali.
Nyama Choma
Nyama Choma is a Swahili translation for 'Roasted meat'. It is a Kenyan traditional delicacy you won't want to miss. This is simply goat meat or beef roasted over burning charcoal.
The fun part of Nyama Choma is eating it with your bare hands – just make sure they are clean first! In restaurants that specialize in preparing it, the meat is served on a wooden board, alongside kachumbari, a fresh vegetable salad.
You can eat this with cornmeal, french fries, or rice. Kenyans love enjoying it with friends and usually there are ice cold beers involved.
Wali wa Nazi
Rice is prepared in different ways. However, Kenyan coconut rice will arouse your taste buds. Wali wa Nazi is a dish from Swahili people living in the Kenyan coastal regions.
Since coconut is readily available, the rice is uniquely prepared using natural coconut water. The grated coconut, locally called 'Nazi 'gives the meal a heavenly fragrance and taste. The dish is flavorful and very easy to make. It is best to grate coconut using a traditional grater called 'Mbuzi'. This makes all the difference.
Mutura
Mutura looks like the usual sausage. However, the taste is unique. Unlike sausages, it is made from minced pieces of meat stuffed in the small intestines of cows or goats.
The ground meat and blood are boiled until they are soft, after which they're grilled into a mouthwatering delicacy. Mutura is tastier when roasted traditionally over an open flame. Once cooked, it is cut into ring-like pieces.
Samosa
Samosas are a popular snack popular in most Asian and African countries. It is a special one in Kenyan homes too. The snacks are easy to make using wheat flour and minced meat. Potatoes are a great substitute for meat. Wheat flour wraps are used to coat the minced meat or mashed potatoes. They are then deep fried till they turn brown and crispy.
Kenya is home to over 42 different tribes, This means there are a variety of cultural meals, wildlife and hospitality to experience. Kenyan cuisine is also special due to this diversity.