I've always been intrigued by the proverbs or sayings that different countries and languages have. Some simply don't make sense in translation, while others can tell you a lot about that place. It makes sense the references that are used when you understand the culture, or even begin to understand where people are coming from. I have searched high and low for Moroccan proverbs. Some I've heard people use but I'll admit they don't make as much sense in translation. One definition of a proverb is, "a short pithy saying in common and recognised use; a concise sentence, often metaphorical or alliterative in form, which is held to express some truth ascertained by experience or observation and familiar to all." That makes a lot of sense to me. But then I found this definition in an online essay.
"proverbs can provide a snapshot of other cultures that allows for a more thorough understanding of both language and culture", i.e. proverbs can be the eyes that provide a window to a culture's soul. "
Because I knew they were out there I went to a Facebook group I am part of to ask some Moroccan friends to share proverbs that they knew relating to food and life. I put together some of my favorites here. I'm sharing in Darija and English for both readers. A word of note, Darija isn't standard, I've used the spelling that my Moroccan friends used but as most Darija speakers will tell you there's a lot of variation.
Half the fun of sharing these is seeing how others interpret them. I wouldn't be surprised if different readers from different cultures had very different interpretations!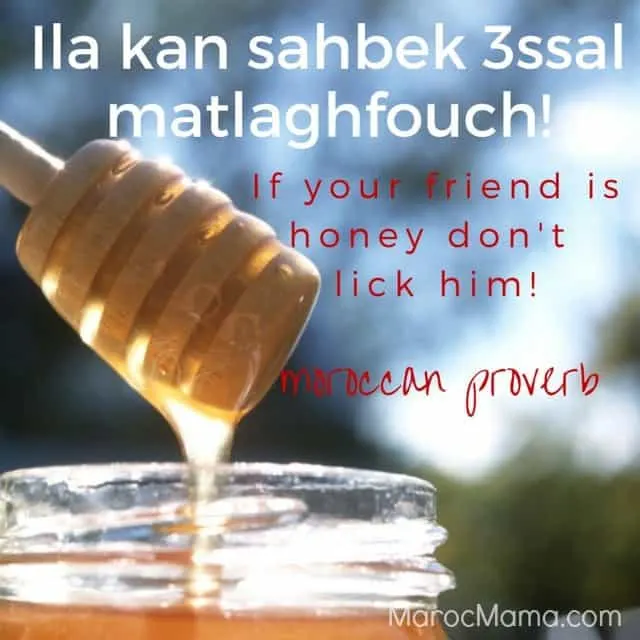 This was one I had heard before but makes me smile. "If your friend is honey, don't lick him."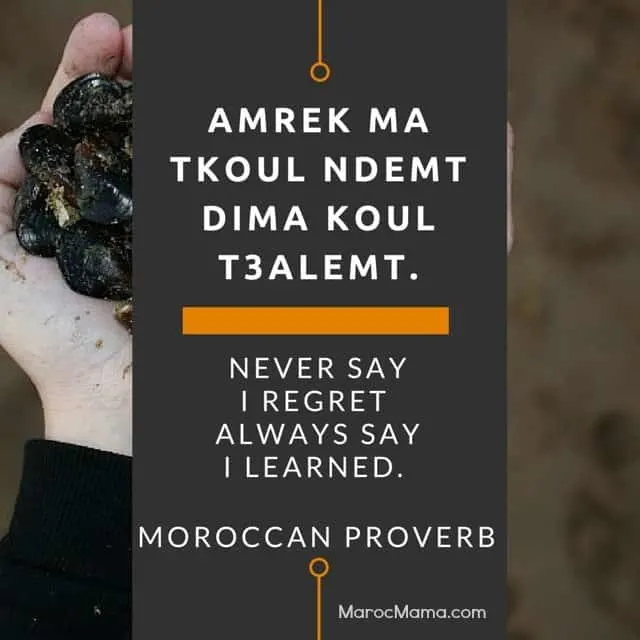 I've made this my favorite and my new background. "Never say I regret, always say I learned."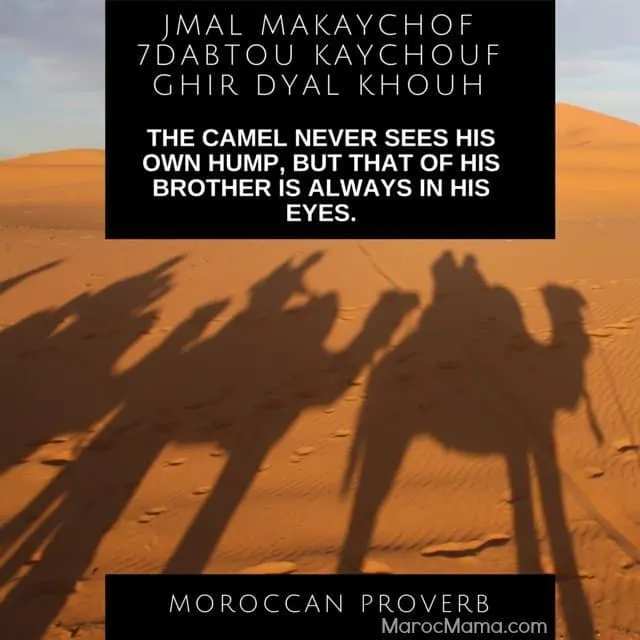 How true is this? "The camel never sees his own hump but that of his brothers is always in his eyes."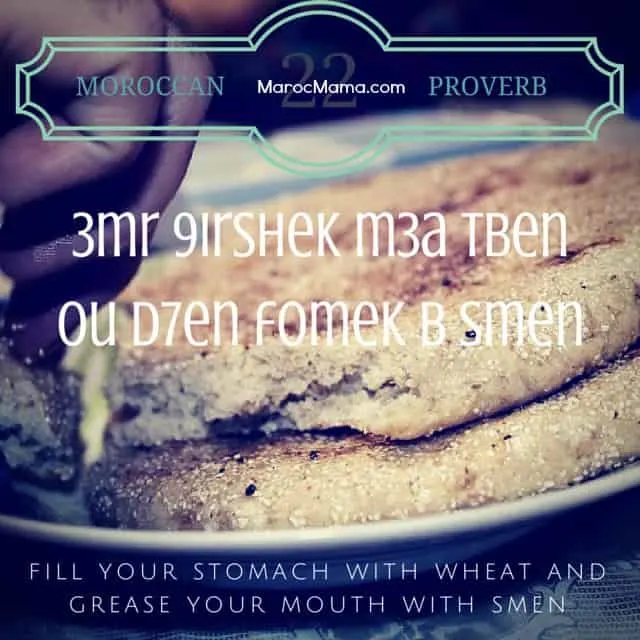 "Fill your stomach with wheat and grease your mouth with smen." (smen is a Moroccan butter)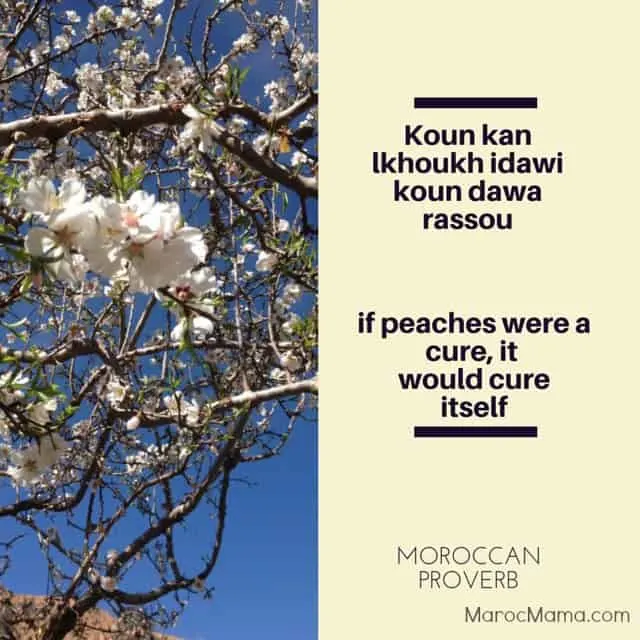 This is something I can totally hear an old Moroccan woman saying, "If peaches were a cure, it would cure itself."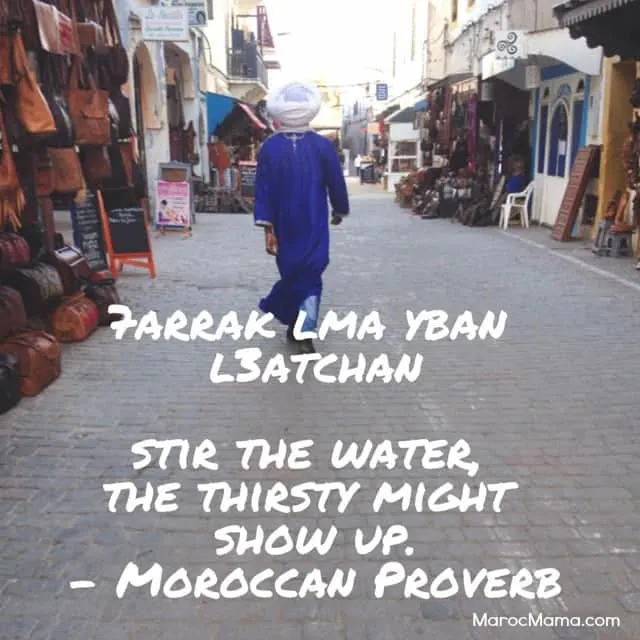 Water and food are central in many Moroccan proverbs. "Stir the water and the thirsty might show up."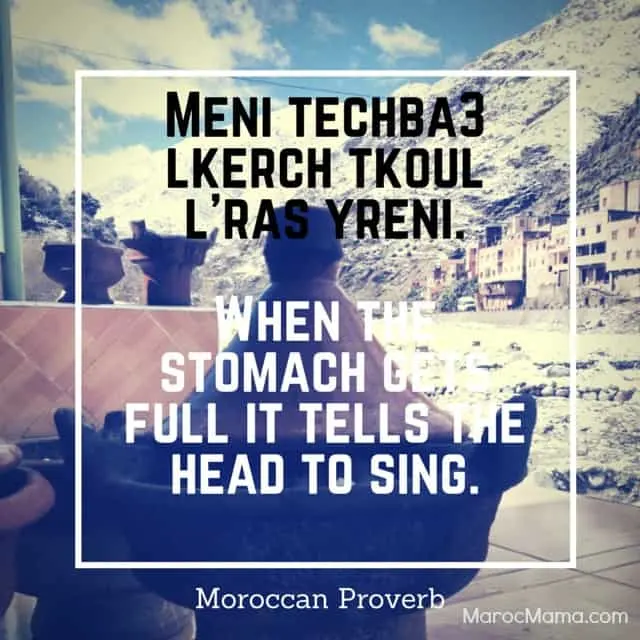 This may be the only one that transcends culture! "When the stomach gets full it tells the head to sing"
Feel free to save, share or pin these pictures to keep them for later. You never know when the right time will turn up to use one.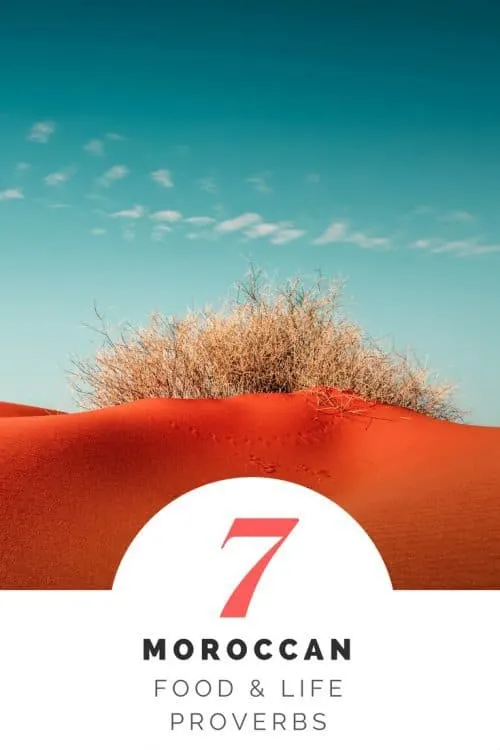 Have another favorite Moroccan proverb? Share them in the comments!