Moroccan poufs are a stylish and gorgeous accent to any space you have. If you haven't seen a Moroccan pouf yet, or have yet to experience the versatility they offer, you have been missing out. Thankfully, these poufs are becoming more and more popular in the interior design world so there are plenty of options available for every style and budget.
I am impressed with each one on this list, and I am confident you will be too. Add a Moroccan pouf to your home, office, game room, or even give them out as gifts. Either way, everyone is sure to rave about their beauty, function, and design.
What is a Moroccan Pouf?
A Moroccan pouf is a delightful piece that can go in your home to add beauty while being entirely functional. They are round and very firm, making them excellent places to sit upon or rest your feet.
Traditionally, a Moroccan pouf is filled with the hair of a camel, which gives them great shape and terrific density. However, if you buy modern pouf that's pre-filled, it is likely to be filled with polyester as camel hair isn't exactly an abundant resource.
Often, poufs will come as empty cases that you will need to stuff on your own. If you buy a pouf that you need to stuff yourself, you have some other options as well if you don't exactly have access to a camel (or its hair!).
You can actually fill the pouf with all sorts of things: clothes that aren't in season, old blankets, baby clothes, newspapers, or anything else you want to hide away for a while.
Just make sure to stuff the poufs as much as you possibly can. If you leave them partly unstuffed they will not hold their structure.
How to Use a Moroccan Pouf
There are so many uses for Moroccan poufs that I can't wait to share with you. Trust me, once you get one you are going to want multiples because they are so handy to have around. Use your Moroccan pouf any (or all!) of these ways:
Additional Seating – They are perfect if you want some extra seating but don't want to take up a ton of space. Try stashing a pair in your dining room underneath a credenza or tucked away in the corner of a living room.
Enhances Character Of A Room – One of the biggest things that stands out about the Moroccan poufs is their beauty. Add them as a gorgeous decor piece and/or a pop of color.
Foot Rest – Kick back and relax by putting your feet up on the pouf—ideal after a long day at work.
Table – They make wonderful nightstands or end tables, plus they look much more unique than traditional tables.
Stool – If you need to change a lightbulb or reach something on a shelf, you can use the Moroccan pouf to stand on—just be careful!
The Best Moroccan Poufs to Buy Online
You are surely going to fall in love with several of these Moroccan poufs. There is a nice variety of options, and the hardest part is going to be deciding which one to buy first. Time to start shopping and looking at these beauties because they are all amazing.
This handmade Moroccan pouf is beyond fabulous. It's white and goes with so many styles and other decorations. Keep in mind, that this pouf doesn't come stuffed so you will want to plan on stuffing it yourself.
Everything about this stunning pouf is gorgeous. It's made from faux leather and has stunning detail on the pouf. There are several different color options to choose from. No matter which option you pick, each pouf has multiple colors on it to add to the beauty. This pouf also comes unstuffed.
You are going to love the elegance of this pouf design. Plus, it comes stuffed so you can take it out of the packaging and begin using it right away. The white leather and gray stitching are an enchanting, modern combination.
This durable unstuffed Moroccan pouf is fantastic in silver. Give this beauty as a charming gift or keep it for yourself. Either way, it is going to add an abundance of personality no matter where you place it.
If you are looking for a pouf that is tan, has incredible stitching and comes unstuffed you are in luck. The detail on the stitching is incredible, and it's handmade too.
There are several color options available—I especially love the jasmine white with gold stitching. This handcrafted pouf is made from high-quality materials such as genuine leather, so it is sure to last.
This lovely pouf comes filled and has a rib-knit texture. It's not exactly a Moroccan design but for a home that wants the decorative style of a footstool Ottoman but the traditional Moroccan aesthetic isn't a fit, this may be an option.
They have a handful of different colors available, and each one would be perfect in your space. Take a look for yourself and see which one would suit you best.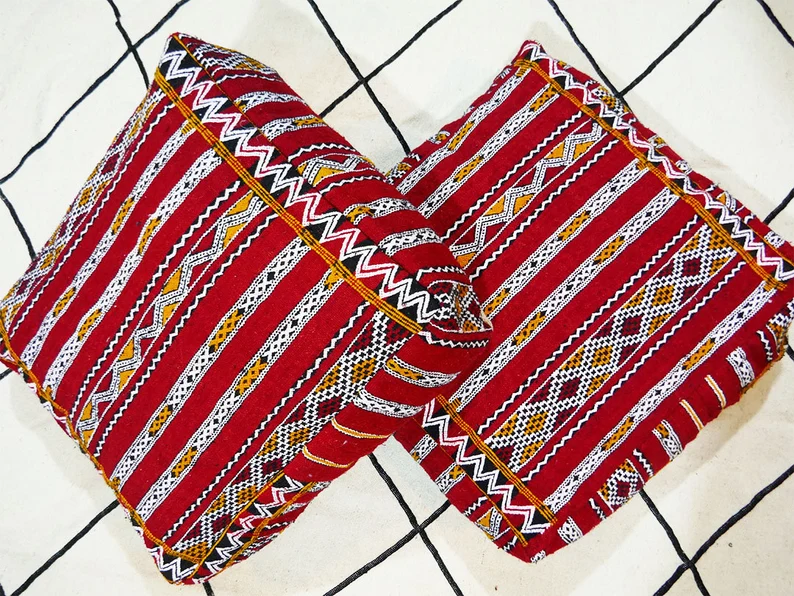 This unique Moroccan pouf that has so much character—each one of them is different. They come unstuffed so you can fill yours with whatever you wish. They make wonderful footrests or extra seating.
You can't help but fall in love with this luxury pouf the second you lay eyes on it. This Moroccan pouf comes in silver and is unstuffed. Add charm and a bit of glitz to any room in your home!
This pure white Moroccan pouf cover is sleek, stylish, and so pretty! This is just the cover, so you will need to add stuffing. It's very sturdy and has been made very well, so make sure to stuff it tight. You will want to see this one for sure.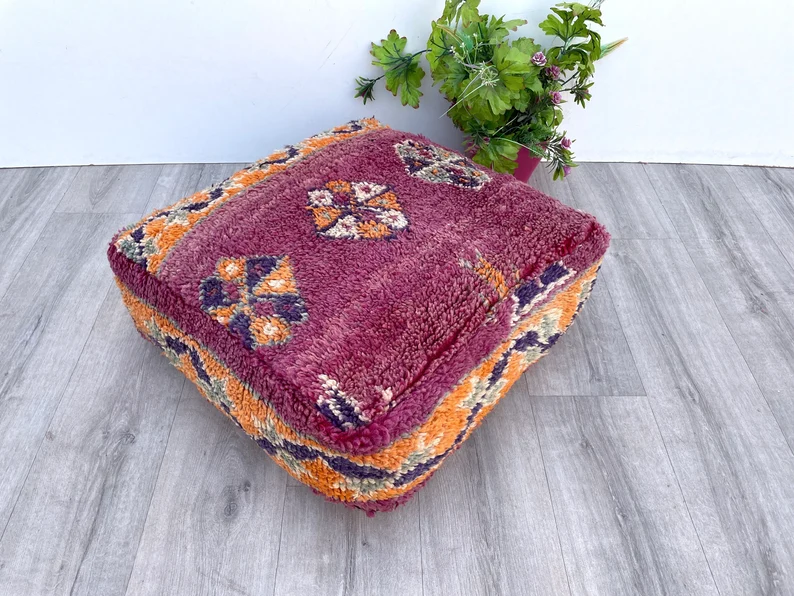 This fuchsia pouf is breathtakingly beautiful. Not only is it made with a fantastic bright color, it is soft and comfy, too. You are going to be thrilled to get to sit on this ottoman.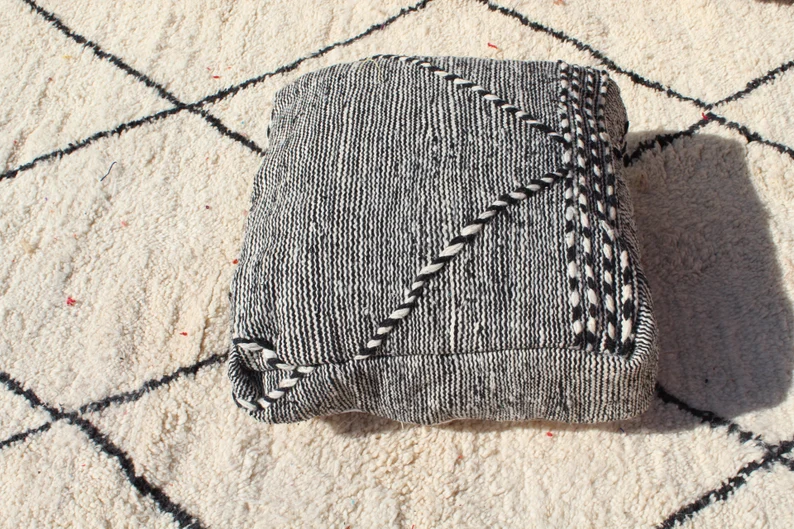 If you love black and white, this Moroccan pouf is going to be a hit. It has a fantastic design, and it's made of the best quality materials, so it is extremely durable. Plus, it's soft, plush, and begs to be sat on.
I love the pretty embroidery on this pouf, coupled with its comfy cotton base. As soon as you lay eyes on it, you feel invited to snuggle up and relax a while.
This pouf is completely functional and looks fantastic. Made with a zellige design commonly found in Moroccan style. It comes in 8 different colors and is already stuffed with cotton.
I'm in love with this design. It combines modern style with traditional Moroccan patterns. Plus, it's a neutral color meaning it would work in most any home. It comes filled with beads so it's not as heavy as other poufs that are fabric filled.
Which one of these poufs will you add to your home first? These stunning accents are sure to bring both joy and function wherever they go!