I promised on Instagram and in my last post about our cooking class that I would share the recipe to make this easy tuna curry recipe from the Maldives. The most surprising thing to me was just how fast it was made. When I think of curry I think of something that has lots of ingredients and needs hours to simmer and get all the flavors to work together. Not so in this case.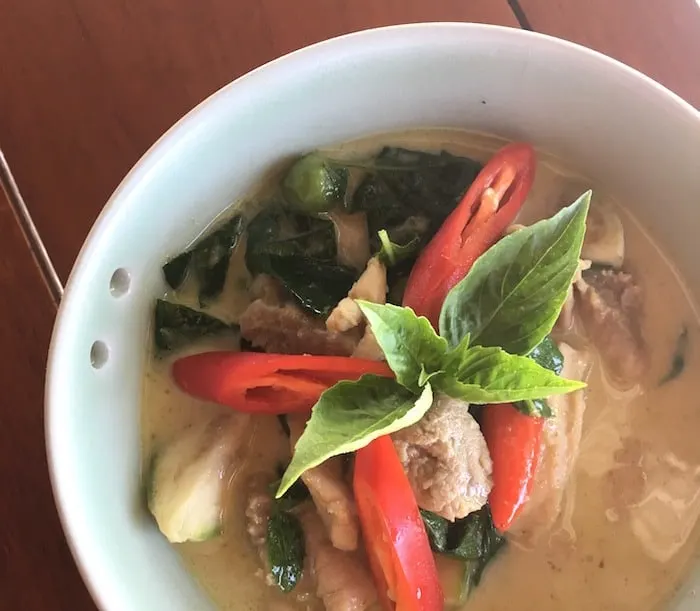 For me, there were too many onions in the dish, I would have added about half but I don't really love the texture of onions in my food. Other than that it's perfect.
I am starting to really like whole pieces of tuna, especially when it's fresh and doesn't have the smell or taste of the canned stuff. What can I say I grew up in the middle of the rural Midwestern US, canned tuna was as exotic as it got. I don't think I ever saw a whole tuna fish until I was an adult!
So if you can't be in the Maldives, you may as well bring a little bit of the Maldives to you!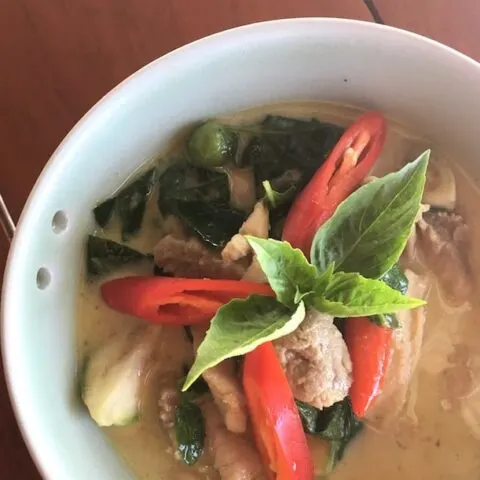 Yield:

2 servings
Maldivian Tuna Curry
Ingredients
50 grams diced tuna loin
1 red chili (seeds out)
2 green chili (seeds out)
50 grams shallots
1 small onion cut to thin slices
30 grams garlic
15 grams ginger
1 rampe leaf (can be omitted)
3 curry leaves
2 small cinnamon sticks
4 cardamom seeds
1 tsp fenugreek seeds
1/2 tsp turmeric powder
2 Tbsp ghee
100 grams fresh grated coconut
100 mL coconut cream (milk)
300 mL chicken stock
300 mL fish stock
salt and pepper to taste
Instructions
Blend the grated coconut into a smooth paste.
Bled the chilis, shallots, garlic, and ginger to a smooth paste in a blender or with a mortar and pestle.
Heat ghee in a pan and fry the shallot paste until it's fragrant, add the curry leaves, rampe, cinnamon, cardamom, fenugreek, and sliced onion.
Saute for 12 minutes over moderate heat, allowing onions and shallots to brown nicely.
Stir in blended coconut, then chicken and fish stock.
Bring to a boil and reduce heat to simmer the sauce.
Cook on reduced heat for 10 minutes, add the coconut milk and simmer until it begins to thicken.
Add the tuna pieces and cook until tuna is just cooked through.
Adjust seasoning with salt and pepper.
Want to try some other dishes from the Maldives? Check out some of these!
Maldives Cook has a bunch of Maldivian recipes for all courses
Global Table Adventure has three Maldivian dishes that are easy and delicious!
You could try this breakfast recipe of Mas Huni from Saveur.
This sambal recipe (lots of Sri Lankan influence) might be just perfect for a spice lover!
We were guests of Centara Resorts during our time in the Maldives. They kindly shared this recipe from their kitchens. We hope you love it as much as we did!