A lot of visuals come to mind when thinking of Madrid. Gorgeous gardens, expansive boulevards, iconic art, and palatial architecture. Madrid is a stately capital city with presence. A layover in Madrid on your way to Morocco is a wonderful way to spend a few hours or more.
Personally, I have flown through this airport dozens of times and know it well. Overall it's not too difficult to navigate and most everyone speaks English making communication easy if you get lost or stuck. Do keep in mind the terminals are spread out and require a bus to get between terminals 1/2/3 and 4/4S so plan accordingly.
Staying in the Madrid Airport
If you want to head out into the city, a layover needs to be at least six hours long. If less, staying inside the airport is the best option. There are however plenty of things to do while you wait in the Madrid Barajas airport.
First, consider purchasing a Priority Pass. Barajas is one of Europe's busiest and largest airports and escaping the hustle and bustle of traveling for a few moments of tranquility, refreshment and a quick shower during travel is always nice. There are several Priority Pass lounges in Madrid's airport, one in each terminal.
Every terminal has a play area for children. However, Terminal 4 alone has 7 children's play areas as well as a baby care area. In addition to a play area for children there are also family security checkpoints for travelers with young children in each of the terminals.
If you're traveling with family and looking for meaningful activities to engage kids there is an ongoing exhibition in every terminal called, "Children's Artistic Impressions of Flight." Barajas airport hosts a large number of ongoing visits from local schools and children's cultural centers and invites children to draw what they see around them in the airport. It makes for a personable and child-friendly gallery and is a great way to spend some of your layover.
One other point worth noting. If you are traveling with small children and gate checked your stroller there is a very good possibility that you will need to go to the baggage claim to pick up your stroller. This means you will need to carry your child to this point – sometimes quite a long distance. You will then need to proceed out of the terminal and to check back in. If you do not have a passport that allows you to leave the terminal for a connection you need to make this point when checking in and also at the gate when you deplane to get your stroller delivered to the gate.
T4 has both a chapel and a mosque for those seeking a space for religious or spiritual reflection. If you're traveling for work, T4 also has a convenient business center.
There is free WIFI throughout Madrid's airport though it can be spotty at times.
Need to relax? Elysium Travel Spa features a full-service menu of services to help you relax before your next leg of your journey. Lotions, cleansers and other products in travel sizes are available for purchase for the rest of your journey.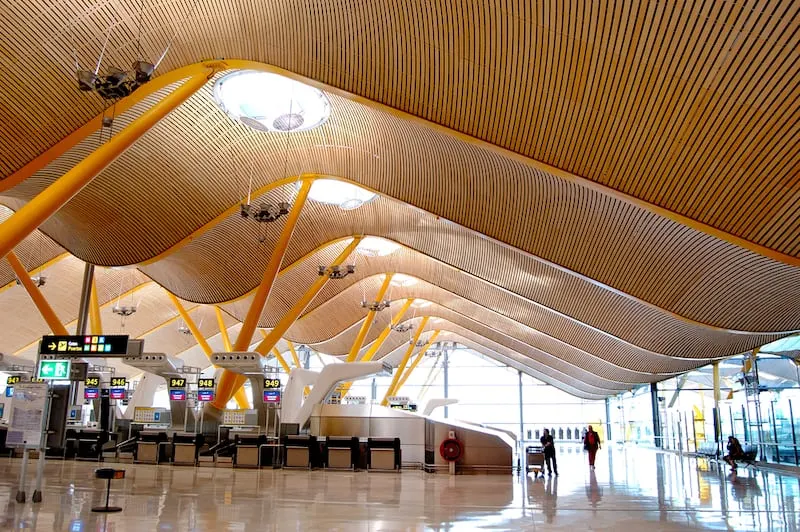 Where and What to Eat in Barajas Airport
There's a wide selection of restaurants, bars, cafes and specialty food stores in the Madrid airport.
Vinea carries an impressive selection of wines by the glass along with tapas, charcuterie plates, pâtés, and canapés.
It's painfully easy to eat empty, unhealthy food when traveling. Natural Break is a quick cafe that helps provide nutritious sandwiches, soups and juices.
If you're looking for a chance to experience upscale Mediterranean food in a high-end environment, try El Madroño right outside of terminal four. If you're looking for a true break from the din of the airport, they have private dining rooms available. On this note, there are quite a few restaurants that serve smaller portions of good quality food scattered throughout the airport.
You'll also find fast food staples like Burger King and McDonald's throughout the airport.
Deli&Cia is where we usually stop to pick up a bocadillo patata (bread stuffed with a Spanish omelette), they have good take away sandwiches if you're just looking to grab and go.
Visiting the city of Madrid on a Layover
Madrid's airport is 18 km away from the city center. There are plenty of different options to choose from to get there. Before you leave the airport though, you may want to consider checking and storing your luggage at the Left Luggage Office.
The fee depends on the length of time you'll be gone. This is near the arrivals area of Terminals 1, 2 or 4. (Pro tip: leave your luggage in the terminal you're departing out of – if different – so that you are in the right spot when you return).
If you don't want to waste any time at all consider taking a private shuttle. Even if your flight is delayed, your driver will continue waiting for you so as not to throw another wrench in your travel plans. Additionally, if you have a lot of luggage or are traveling as a group, your driver will assist you with your load.
If you'd prefer to take public transportation, Metro Line 8 connects all airport Terminals with Nuevos Ministerios station in central Madrid. From there you can easily change to another line to reach Sol Station and the city center. Another option is to take the Renfe Line C1 from Terminal 4. You're able to switch lines and head to the city center using this route as well.
What to do in Madrid
There's so much to do in Madrid!
It is truly a capitol city. The architecture is regal, varied and stunning and there is so much to choose from in terms of culture in particular. Madrid's Prado Museum is world-renowned boasting works of art by Goya, Velázquez and El Greco. It's a must visit! Purchase this direct entry ticket and advance, skip the line that is always there and make the most of your time during your layover.
For soccer fans and sports aficionados, no trip to Madrid would be complete without a trip to the Real Madrid Bernabéu Stadium. If you're lucky you can catch a game but if it's off season, consider taking this tour instead. You'll learn about the history of both the stadium and the team, walk around the pitch, visit the dressing rooms and relive the glory moments of Real Madrid history.
A hop on hop off double decker bus tour is a fun way to take in the sights in Madrid. Choose a 1 or 2 day ticket, set your own itinerary and explore the city sights at your own pace. When onboard, you'll hear audio commentary about Madrid's sights such as plazas, museums and theaters. This tour includes a map and a guidebook to help you get around.
Are you a foodie at heart? Like to "eat your way" through a new destination? Consider a food tour with Devour Madrid. Some of the most popular tours feature tapas and wine tasting, history and taverns, tapas and flamenco tours, and general Spanish cuisine tours. If traveling with a group you can book a private tour as well.
Overnight Layover in Madrid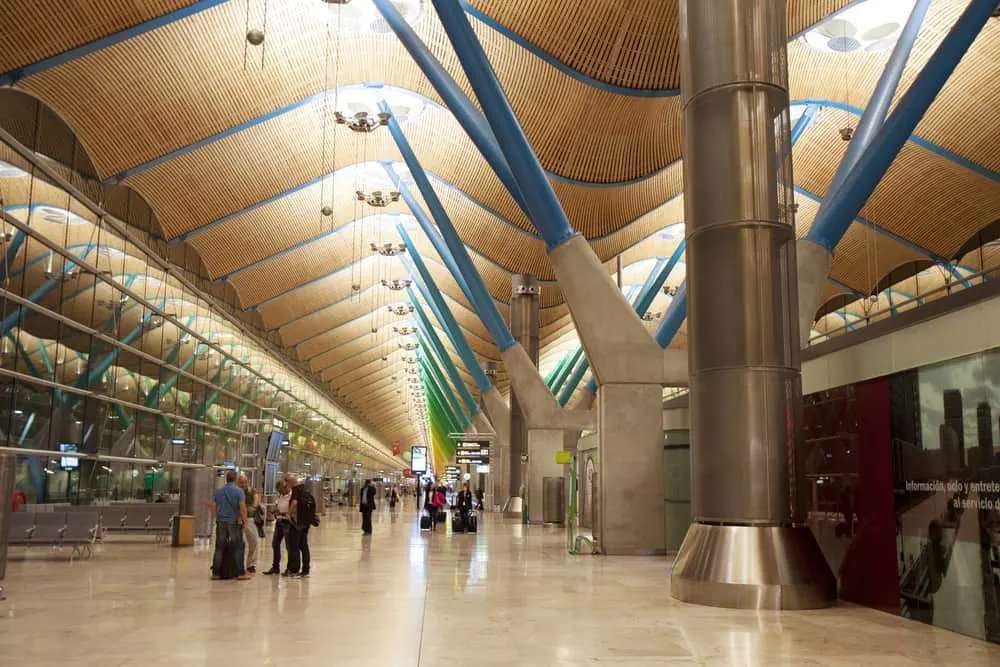 If you're wondering if it's possible to sleep in Madrid's airport terminals the answer is yes, however not very comfortably. You will need to have an onward boarding pass for the next day if you are spending the night. Also the lights are kept on all night and there are few (if any) spots that have chairs without arm rests. The floor is likely your best bet and it is nearly all hard, cold tile.
The Sala VIP Cibeles Lounge in Terminal 1 (airside – accepts Priority Pass) and Premium Travellers Arrival Lounge Terminal 4 (landside) both are open 24 hours and while there's no sleep facilities specifically it may be a quieter and easier spot to rest. You can pay to enter both.
There are plenty of hotel options that are either at the airport or very close to it. Trust me – I've tried many of these options! A few hotels we like include the following. Many of the airport hotels now have free airport to hotel shuttle service saving you a bit of money as typical taxi fare is about 30€.
Hotels Near Barajas Airport
Axor Feria and Axor Barajas
This is our go to airport hotel. The rooms are always clean and they have family rooms available so we can all stay in the same room. Usually rooms are under $100 a night but can depend on the season and how busy things are. Note, there is an on-site restaurant but it can be pricy. We usually pick up something from the airport terminal to have for dinner and breakfast.
There are two properties next to each other. The Feria property tends to be slightly less expensive but quality wise there are no big differences.
Tryp Madrid Alameda Aeropuerto Hotel
Just under 5km from the airport this hotel has several room configurations including room for families with up to 3 children in a single room. They offer an airport shuttle for a surcharge as well as having onsite dining available. A covered swimming pool is a bonus so you can take a swim anytime of year. The rooms are clean and minimalistic – just what you need for a calm overnight sleep.
Ibis Madrid Barajas
If you're on a tighter budget, the Ibis might be the hotel to consider. It's just 1 km from the airport and provides a free shuttle service. The rooms are smaller but well appointed. If you're traveling alone or as a couple it's a good option however their largest room only sleeps 3 so for larger families it may not be ideal.
Crowne Plaza Madrid Airport
This is a new go to for us when the Axor is booked. It is a little further away from the airport however they provide complimentary shuttle service. A buffet breakfast is available in the mornings as well as lunch and dinner in their on-site restaurant.
Hilton Madrid Airport hotel
The one big bonus of this hotel is not only does it have free shuttle service to and from the airport but to the city center (during select times of year) as well, making it even easier to explore the city when you're on a layover. The amenities include everything you'd expect from a Hilton property. An onsite restaurant and tapas bar are available with rooms that sleep up to 4 people.