Considering this coastal capital city for a short (or long!) layover on your way to Morocco? Lisbon is sure not to disappoint. This Portuguese city beats even Athens, Rome and Madrid for the total number of hours of sunshine they get each year.
If you're worried about a downpour or gloomy day during your layover, chances are that with over 3000 hours of sunshine each year you'll explore the city without as much as a dark cloud.
Staying in the Airport During Your Layover
The Lisbon airport, is 5 miles north of the city itself making it quite accessible for venturing out during longer layovers. It will take about 45 min each way from the airport to the city center via bus. That being said, if you have a less than 6 hour layover in Lisbon you will most likely need to stay in the airport to ensure you make your connecting flight.
As is often the case there's plenty of shopping you can do in the airport. Serving an estimated 13 million passengers a year, the Lisbon airport boats plentiful shopping. In 2013, they expanded their commercial section by opening an additional twenty stores.
With its beautiful and airy recently built architecture, the airport hosts international chains such as L'Occitane, Pandora, Burberry and Montblanc. Take some time to stroll through luxury boutiques or hit up the duty free shops for souvenirs of your layover.
If you've been traveling for a while or simply would like to to truly relax, consider getting a Priority Pass to get airport lounge access even if you're not flying business class. Lisbon airport has three lounges. The ABC (Airport Business Center) is located in Terminal One.
In addition to the comfortable lounge, refreshments, and Wifi for an additional fee you can gain access to showers conference facilities, phones, fax machines to help you conduct business on the go. The ANA Lounge and BLUE Lounge are also in Terminal One and offer similar amenities.
If you need to get some rest and you haven't purchased a Priority Pass, consider heading over to Terminal 1 to catch some sleep in the rest zone near gates 19 and 20.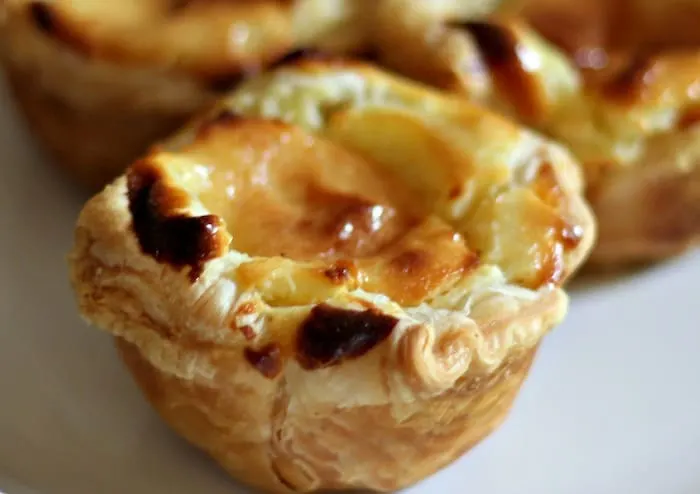 Where to Eat in the Lisbon Airport
There are plenty of restaurants, cafes and bars at Lisbon Airport. If you're pressed for time there's always the fast food stand by's of McDonalds and Burger King or Paul if you feel a need to quickly indulge your sweet tooth, but if you have a minute before your connecting flight departs by not try out something unique to Portugal?
Padaria Lisboa is inspired by traditional Portuguese bakeries to give you a flavor of Lisbon. Confeitaria Nacional is one of the oldest bakeries in Portugal and if you're looking for baked goods, it's not to be missed! First Class Cafe serves cafe fare with delicious, traditional and modern Portuguese flavors.
Lisbon is the land of "pastéis de bacalhau" or fried codfish patties. And while culinarily there is so much appreciate in Lisbon, codfish cakes should definitely fall at the top of the list! In a coastal, seaside city, seafood steals the show. Octopus, clams, mussels, and fish steal the show.
Seafood is so popular and quintessential here that there's even a store that sells exclusively tinned or canned fish! There are so many amazing restaurants to choose from during your layover but consider Ramiro in the Alfama neighborhood. The giant scarlet prawns are highly recommended!
A few other seafood dishes to try are Polvo à lagareiro- octopus, roasted potatoes and an olive oil based sauce. Amêijoas à Bulhão Pato- clams in a white wine sauce. Anything with sardines is a favorite coastal not just meal, but experience.
As a matter of fact, there's an annual Lisbon Sardine Festival during the Catholic Feast of Saint Anthony. In addition to the large and lively parade with dancers in traditional costume, music and massive parties you'll find grills and makeshift grills all serving up freshly grilled sardines with beer, sangria and red wine. The festival lasts through the night until sunrise!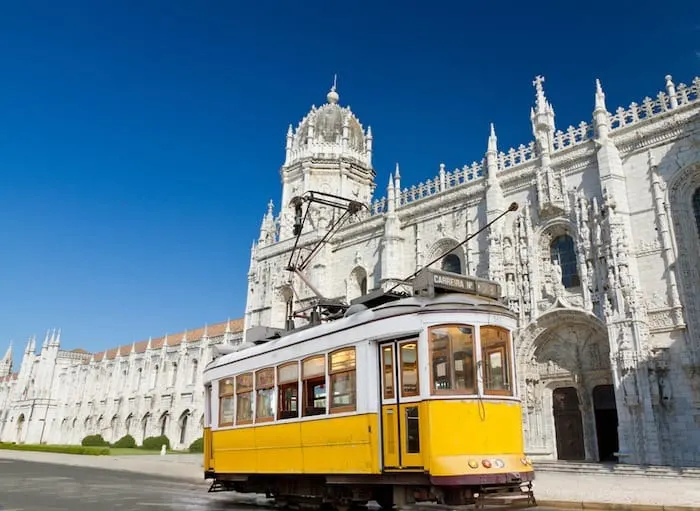 Visiting the city of Lisbon on your layover
Lisbon is a beautiful city, but it's also a complete and total maze. As fun as getting lost exploring this coastal city sounds, you have limited time and wasting it getting lost or potentially missing your connecting flight is probably not that memory you want to take with you.
There are plenty of great guided tours to help you navigate the city and what it has to offer according to your different interests that won't leave you staring at a map in vain. Here are a few great tours including some that run directly from the airport.
For a basic three hour tour of the city consider Lisbon Essential Tour: History, Stories & Lifestyle. You'll learn about many of Lisbon's important moments in history while exploring its diverse neighborhoods. This tour includes a ride on one of Lisbon's nostalgic trams and a coffee and cake break.
If you're planning on a lengthy layover, consider getting the Lisbon Card. This is a flexible pass that provides free entry or discounts to attractions, landmarks and unlimited free access to the public transit. You can choose between a 24, 48 or 72 hours for a very fair price!
Getting from the airport to the city center quickly and easy is always a top concern. Take too much time and suddenly that long enough layover isn't quite long enough anymore. A taxi to Cais do Sodre in downtown Lisbon shouldn't cost much more than €10-15 and should only take around 20 minutes in light traffic.
The Blue Line of the Hop on Hop Off City Sightseeing bus conveniently calls at Lisbon Airport. Each loop takes 90 minutes, and the blue line runs hourly from 9:45am to 6:45pm.
If you'd rather sightsee on your own that check out some of the most popular Lisbon sites to visit while you're on the ground.
There's also a red line, for those with more time. Tickets start at €19 for adults and €9.50 for children, if you book online, and are valid on both routes.
The red line of the Metro also stops at the airport. To board you'll need to buy a Viva Viagem card from the machine (these cost €0.50) and then load it with your ticket (a single journey costs €1.40). These cards are rechargeable for up to a year, so keep it to save yourself a few cents on your next trip to Lisbon.
To maximize your time and minimize your effort consider taking a tour that picks you up from the airport and drops you off afterwards. The Lisbon Layover will take you on a 4 hour tour and show you the best of Lisbon, offer you offer you coffee and a pastry in a private vehicle with your own guide.
If you'd prefer a private transfer to and from the airport but no tour the Lisbon Private Transfer is a good option. You can of course bring your luggage along if you need to as well.
If all this sounds ideal you may want to consider taking advantage of Lisbon's stopover program. Spend up to 5 days in Lisbon (or Porto) through their program without having to pay the stopover fee. You can enjoy discounted hotel rates, exclusive experiences and other benefits as well.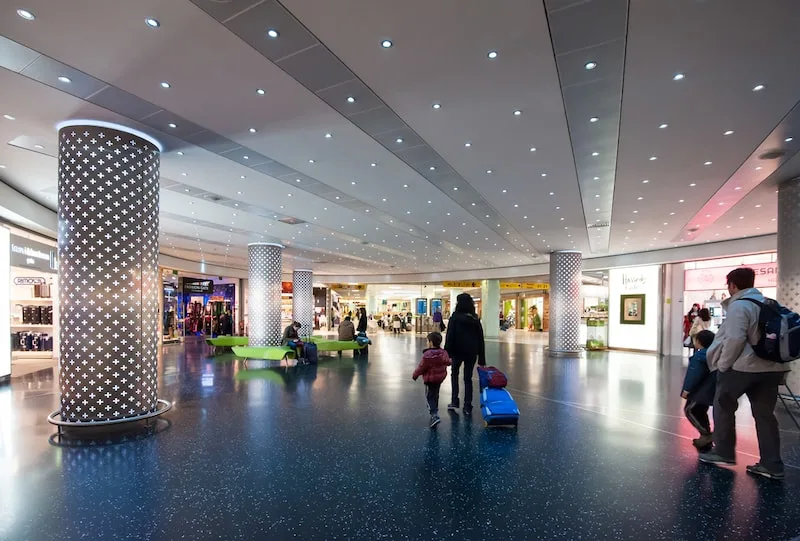 Hotels Near Lisbon Airport
There are several hotels available near the Lisbon Airport and many of them have a free shuttle service.
O Artista Boutique Suites
Just 6 kilometers from the airport you can stay in style when you book here for the night. The hotel is small and personalized. The airport bus (noted above) has a drop off point 3 minutes walking from the hotel. Both rooms and apartments are available, the later is two bedrooms so good for larger families or friends traveling together. Rooms all have air conditioning too, important for warm months!
WC Beautique Hotel
If you're after a unique hotel stay and want a place to simply relax this is the place you should consider. The entire hotel is a designed with the idea of a modern, ultra clean bathroom using greens and whites. They do list an available airport shuttle though check for specifics. There is a metro stop very nearby as well.
Radisson Blu Hotel
This option is one of the closest to the airport, at just 2km away. The rooms are standard for the chain and both rooms and suites are available. Breakfast, lunch and dinner are available onsite. An easy option if you just want somewhere to spend the night and getting to and from the city center isn't important.
The Holiday Inn Express Lisbon Airport
A 5 minute drive from the airport with shuttle service is ideal for travelers spending the night in Lisbon. A complimentary breakfast is included so you can fill up before going back for your flight. There are also several restaurants within a very short walking distance to get out and enjoy Portuguese gastronomy.