After ten years of traveling mostly solo, I was terrified of my first long-haul flight with my baby. Would it make traveling as I knew it unbearable? Would he cry the whole time and would everyone be giving me the side-eye?
I'm happy to report that after 17 flights with our now six-month-old, it's nowhere near as difficult as (some) people make it sound. The motion and white noise of airplanes have been the perfect napping spot, and I suspect our baby might be an even better traveler than he is a homebody.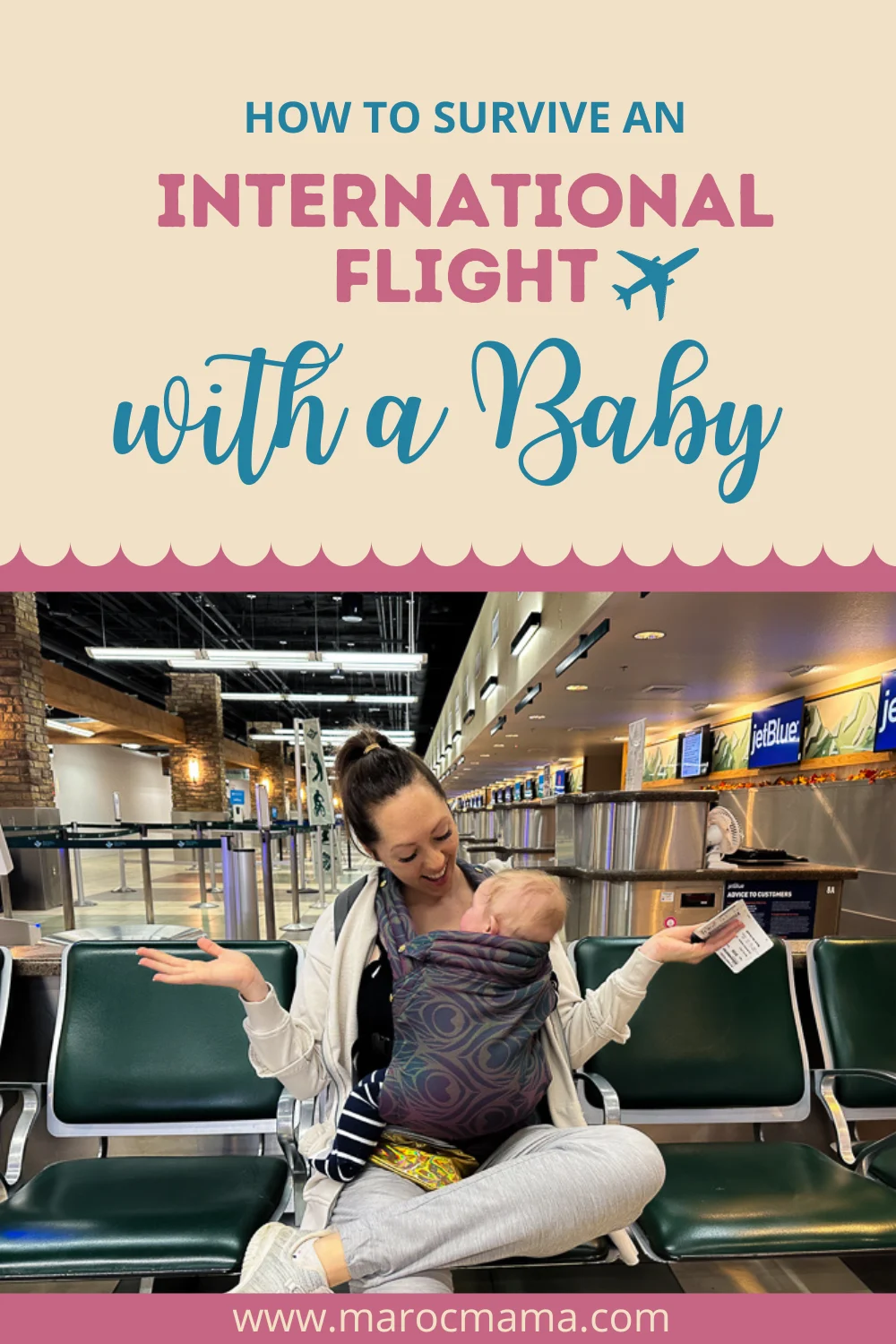 Flying internationally with a baby doesn't have to be intimidating, nor is it rocket science. Here are 12 things you need to know:
12. Remember they'll need a passport
This seems obvious, but it can be easy to forget that, yes, a baby needs a passport, too.
Before you can travel abroad with your little one, you'll need a copy of their birth certificate, passport photos, an appointment at a passport agency or post office, and then the waiting game for the passport begins.
The process takes time. Even a copy of the birth certificate can take a few months to get depending on how bogged down your local office is, so don't leave it to the last minute!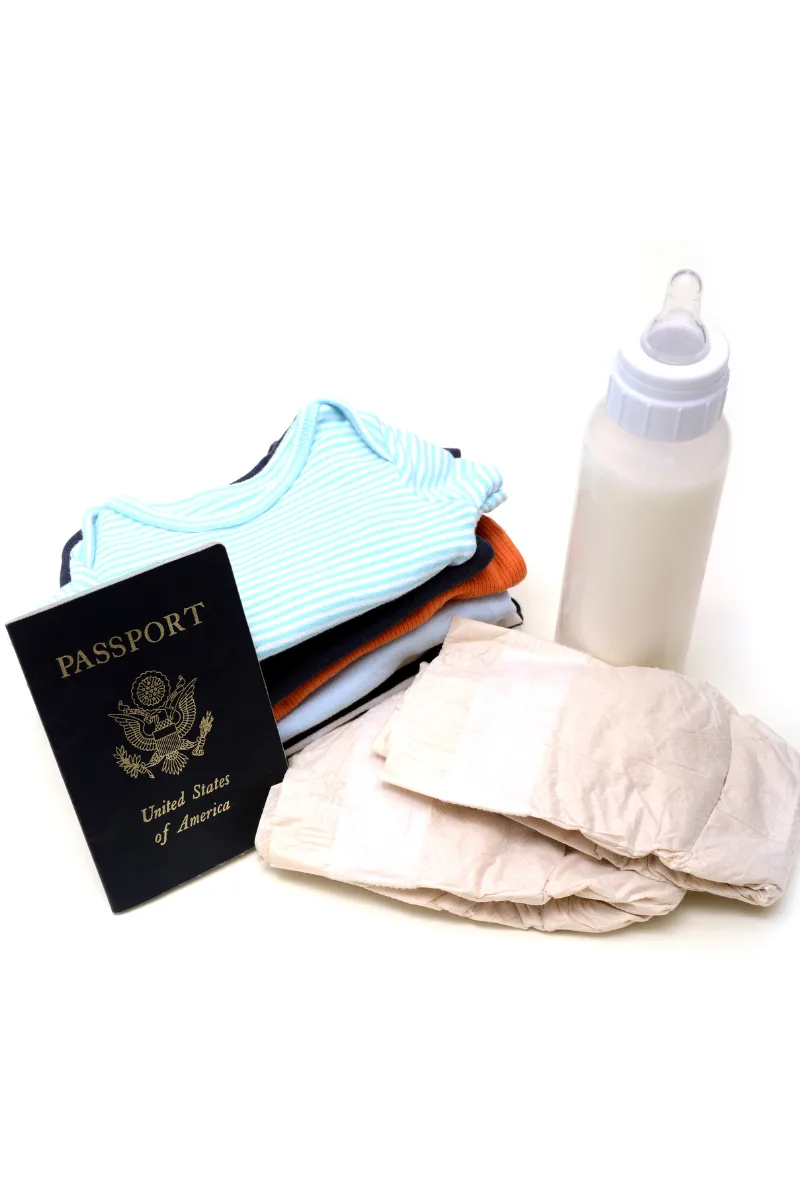 11. And global entry
For my fellow Americans, yes, your baby will need their own Global Entry in order to go through the expedited line with you. This is another process that can take months considering you'll need the passport first, then conditional approval, and then an in-person interview.
I was curious what in the world they'd ask my infant during his interview, but not to worry, they won't be grilling your non-verbal baby. They'll be taking a photo and more or less sending you on your way. Since appointments are nearly impossible to get right now, we did his on-arrival at customs after our first international trip.
10. Ask your pediatrician about immunizations
Before I took off to the other side of the world a decade ago, I visited the travel clinic to get the necessary immunizations. Consider what your baby might need for your upcoming trip, which will vary with where you're heading, whether or not the kiddo is eating solids yet, and the prevalence of mosquito-borne illnesses. Ask your pediatrician for the best course of action.
9. Plan the flight accordingly
Jet-lag is the biggest fear for many families traveling abroad. Naturally, most of us need a day or two to adjust to a new time zone, and that applies to our babies, too. Be strategic with your flight times if at all possible.
For our first international trip to Mexico, the time zone didn't change much, so we just shifted everything a couple of hours later to match his normal bedtime and took a midday flight.
For our upcoming trip to Japan, it'll be a different story as we're crossing several time zones. We'll board the plane in the morning, fly throughout the day, and arrive in Kyoto at night, just in time for bedtime. Our plan is to follow our normal nap schedule on the flight and try to keep our son entertained and alert during our usual wake times with toys and books (see below).
When heading east, we've sometimes booked overnight flights so that he can sleep on the flight in a bassinet or carrier (I love the Solly Baby wrap for this), and we can arrive at our destination with a rested baby. I can't say I always sleep equally as well, but at least we're starting things off on the right foot for the little one.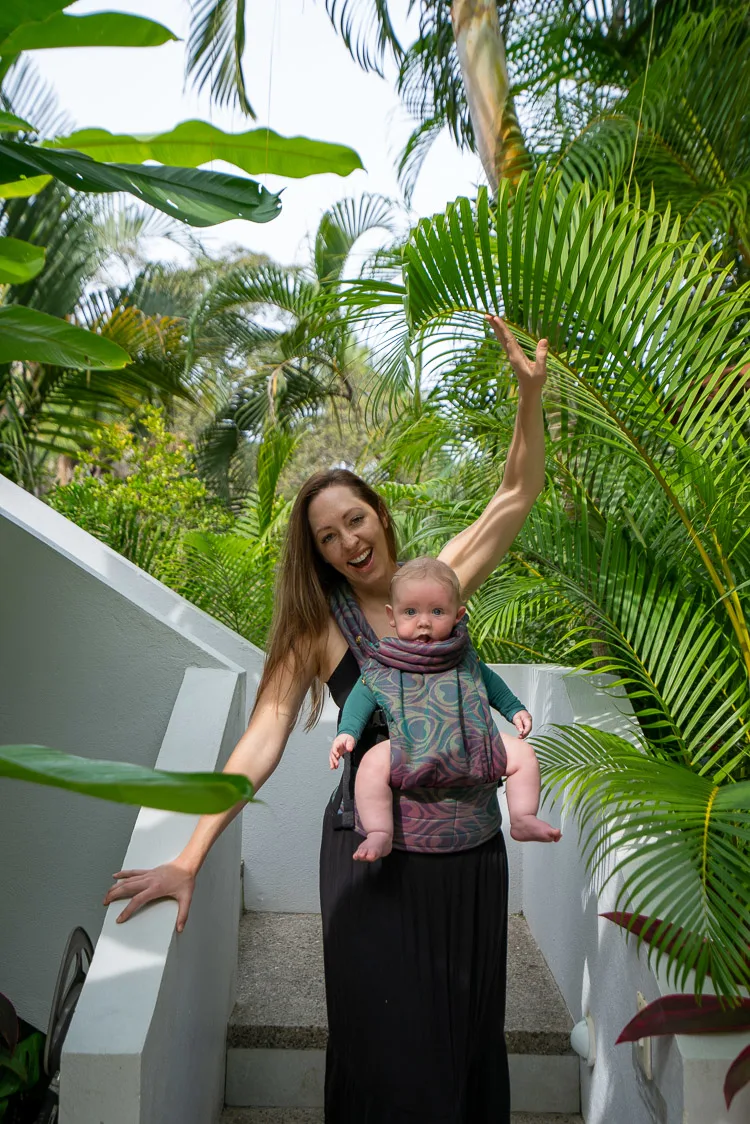 8. Should you get your baby their own seat?
Although you can add a child on your lap until 2 years of age, the safest option is to get your child their own seat and buckle them up into their car seat.
Be sure that the car seat you bring will fit the airplane seat and is FAA-approved.
Candidly, we still prefer to have my son as a lap infant, though for international flights, the privilege isn't free. Plan to spend about 10% of the cost of the full adult fare for the child's fare. That means if you're flying business class, your lap infant could still cost hundreds of dollars. If you go this route, you can still have a comfortable flight for everyone with the two following tips.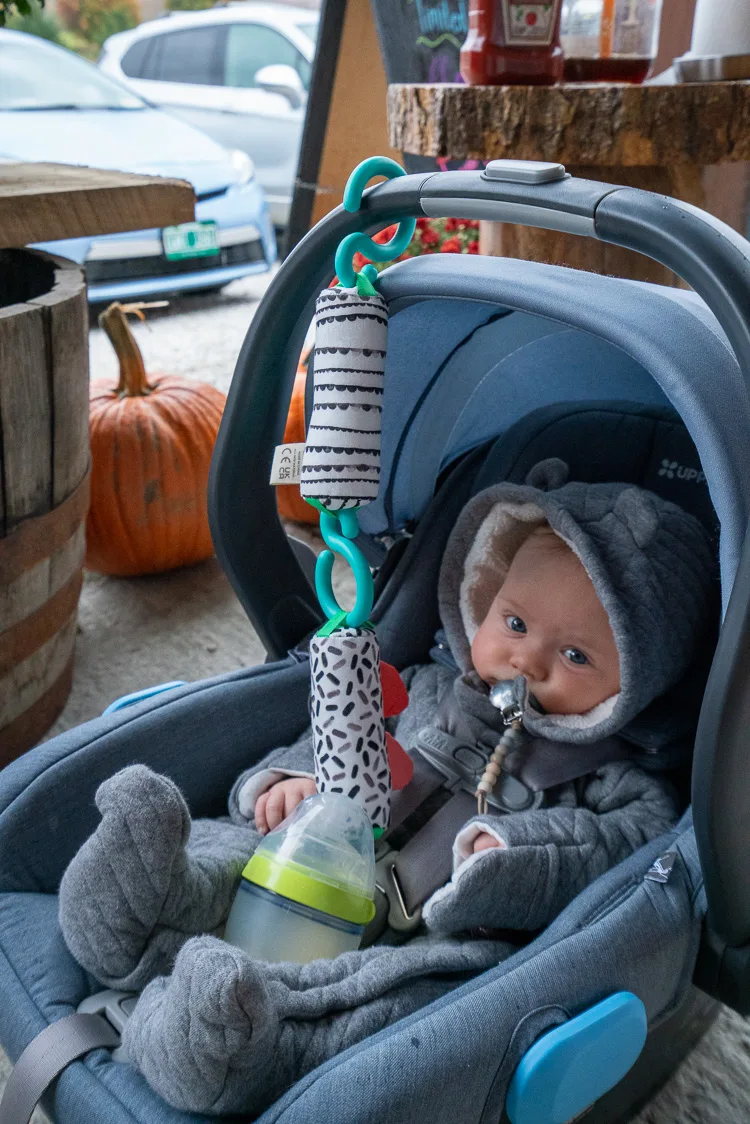 7. Reserve a bassinet
If you can score a bulkhead seat, most international flights have the ability to attach a bassinet. These are often the premium economy seats, but not always.
I've also noticed that some airlines, like Emirates, will save these seats for families, and will move a passenger without a baby to a different seat to accommodate families.
Once you've booked your ticket, call the airline to see if you can reserve a bassinet. Though you can sometimes show up and get lucky, it's best to be sure.
If you're flying a US or Canadian airline, you will probably not be able to reserve the bassinet ahead of time and will have to ask at check-in or even at the gate instead.
6. Bring the right baby carrier
I'm a big fan of baby carriers. On each of our trips so far, we've opted to ditch a stroller altogether and just wear our baby. It makes sleep easier, means bringing way less gear and frees up our hands as well.
I loved the Solly Baby wrap when he was younger, and now we mainly use our Ergobaby.
5. Bring a few small toys
I know some feel that babies don't need toys, but ours lights up when he has something colorful or high-contrast to play with, especially if it has textures for him to explore.
We bring at least a few little things so that we can keep him awake and engaged when we need him to have a wake window. Extra points if it's a new toy he hasn't seen before or one he simply hasn't played with in a while. We also bring whatever his favorite book of the moment is for comfort and familiarity.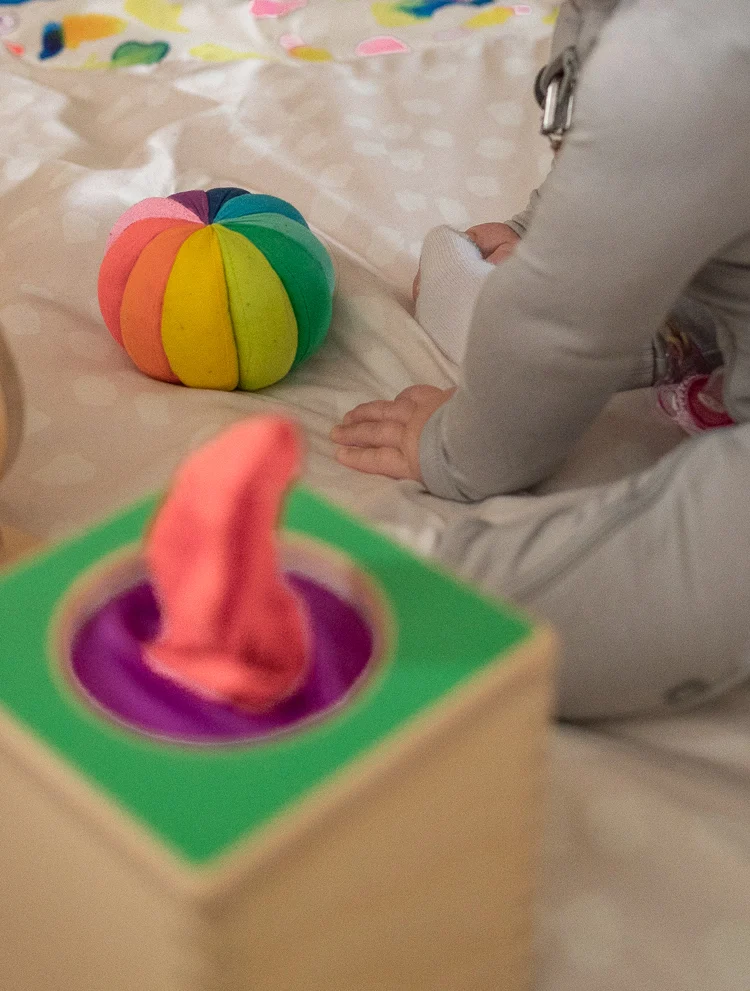 4. Consider how you plan to feed
How will your baby eat on the flight, and on your trip? If you exclusively breastfeed, will you want a cover? If you pump, formula feed, or do a combo, be sure to bring a hand pump or wearable pumps (I love the Willow Go, personally) with you, as well as a portable washing station for bottles and pump parts.
You'll need to bring enough water, formula, or breastmilk with you for the journey as well. Be sure to read up on the rules for whatever your departure and destination countries are for liquid limits, and save those rules to your phone or printed them out in case you need to advocate for yourself at security. This has, unfortunately, been necessary for me to do more than once.
3. Pre-order baby food
Is your baby eating solids? Some airlines have baby meals! Be sure to call ahead and order if so.
Of course, it's typically better to bring your own baby food so that you're feeding your baby something they know and enjoy. Security-wise, there are similar rules for baby food, which is usually allowed above normal liquid limits 'up to a reasonable amount'.
2. Feed or pacifier at take-off and landing
This is a big one – make sure your baby is eating or sucking on a pacifier at take-off and landing. This will help clear their ears. As adults, we forget that clearing our ears is a learned skill, one that babies don't have yet.
Although some babies are more sensitive than others, by making sure that our son is always eating or at least has his pacifier in his mouth at take-off or landing, we haven't had any ear-related issues.
1. Be sure to leave extra time and take advantage of layovers
Pre-baby, I liked arriving at the airport with as little time to spare as I could and avoided layovers whenever possible. If you're traveling for many hours with a baby, layovers are now your friend. Use that time to change your baby, feed, take a walk for some stimulation if needed, or a nap if needed, and get yourself some food, too.
Know that everything will take a bit longer than it did pre-children, including security, the time needed to get to the gate in case your baby has a need, and more time to wrangle your increased number of belongings.
Though traveling with a baby is certainly different than traveling alone, I've been amazed at how well babies can do when given the chance. Don't fear taking your little one on an international flight. They might do even better than most adults you know!
Guest Author Biography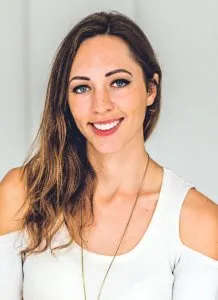 Kristin Addis is the founder and CEO of bemytravelmuse.com, one of the most widely read women's travel blogs in the world, and parenthoodadventures.com, her new project documenting life on the road as a new mom. She has visited over 60 countries solo, hiking, hitchhiking, and camping on six out of seven continents. She runs worldwide women's adventure tours, and has taken over 50 women on their first backpacking trips in the wilderness.