It has taken me almost 15 years of being in a Moroccan family to be introduced to this Moroccan bread. I have been teaching one of my sister in laws how to make more international food; the things that my kids like. One of those items was tacos and we made homemade tortillas to go with them.
She immediately chimed up to say that there was a bread made by her husband's Amazigh family called tigrifine that was really similar. I have never seen bread in Morocco that was flat like a tortilla and actual bread. So into the kitchen we went and I saw it first hand.
This is an incredibly simple flatbread recipe – the "hardest" part is the kneading.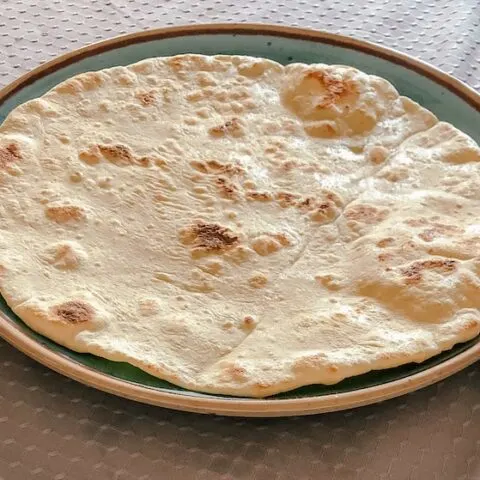 Yield:

6 loaves
Tigrifine Bread Recipe
This Moroccan flat bread comes from the region of Imintanoute and is a very simple recipe.
Ingredients
3 cups all purpose flour
1/2 tsp yeast
1 tsp salt
warm water - just above room temperature
Instructions
In a large bowl or work surface combine the flour, yeast and salt.
Begin adding water slowly to work into the flour.
Continue adding water until a sticky dough is formed.
Knead the dough for 5-8 minutes until it is no longer sticky and when pushed with a finger bounces back.
Leave to rest 5-10 minutes
Heat a large skillet on medium heat.
Divide the dough into equal parts.
To create each of the bread pieces push the dough down from the center outward to create a circle - just as you would a pizza crust.
Flatten until the dough is about 1/2 cm thick and transfer to the skillet.
Cook on the first side for 30 seconds and flip.
Keep cooking for approximately 5 minutes, flipping as the underside begins to brown.
You will notice the dough may start to bubble in spots - you want this, no need to puncture the bubbles.
Remove from heat and continue the process through all of the dough.
Serve with butter and honey (or amalou would be great too!)
Notes
For this recipe the flours used aren't exactly the same as the ones used in Morocco. Normally it is primarily normal flour with some additional coarser ground flour. You could use semolina for a bit different texture.
It truly is like a flour tortilla only larger and a bit more chewy. I like how quick it is to prepare and seems like it could be a fantastic camping recipe. If you don't have a lot of success with yeast breads, this might be one you could try.
Oh, and yes it absolutely would be a great pizza base!