Hiking Mt. Toubkal in the heart of Morocco's Atlas Mountains is quite literally a breathtaking experience. Whether you are a local or are a traveling seasoned hiker looking to make your trip to Morocco more memorable, the 4167m (13665 ft) high peak is a worthwhile summit to check off your list.
The experience, while absolutely incredible, can be tough, and there are things you should know before heading off into the highest mountains in North Africa. We cover the equipment, clothing, and food in the guide below.
Where is Mt. Toubkal?
Located in the High Atlas Mountains, Mt. Toubkal is the tallest of the Toubkal National Park peaks. The Atlas Mountains create a barrier between the hot Sahara Desert and the cool Atlantic Ocean. Of the many great hikes in the Atlas mountains, Mt. Toubkal is the most popular.
Most treks begin at the foot of the rugged mountain range from the village of Imlil (1740m above sea level). Travel to Imlil from Marrakech during a guided trip or take a grand taxi (shared cab) to the drop-off point outside Hotel-Cafe Soleil village. You can meet your guide here on the day of your hike.
Imlil has small shops and vendors that sell food to the visiting hikers. Most accommodation options can also cater to your culinary needs if arranged in advance. If you find it, the goat and lamb ribs are a treat.
The area is worth spending a day exploring during a host of activities from horse riding, cycling, and swimming in the lake of Ifna.
How difficult is it to hike in the Atlas Mountains?
The route to the summit of Mount Toubkal is a non-technical hike, meaning you won't need rope to reach the top. It is vital to have a licensed guide to make your journey a safe and informative one. The heat in summer, snow in winter, and loose surfaces on the steeper slopes make it a test of both mental and physical endurance.
The rugged terrain means most operators have imposed an age limit of no younger than 16. While other operators accept children from the age of 10, they do request the child be capable of completing the demanding 2425m elevation.
Altitude is a challenging part of reaching the summit and it is difficult to deal with alone. The air pressure decreases as you gain elevation, with 3% less oxygen in the air every 1000 ft you climb. This means your body will need to work harder to take in the same amount of oxygen.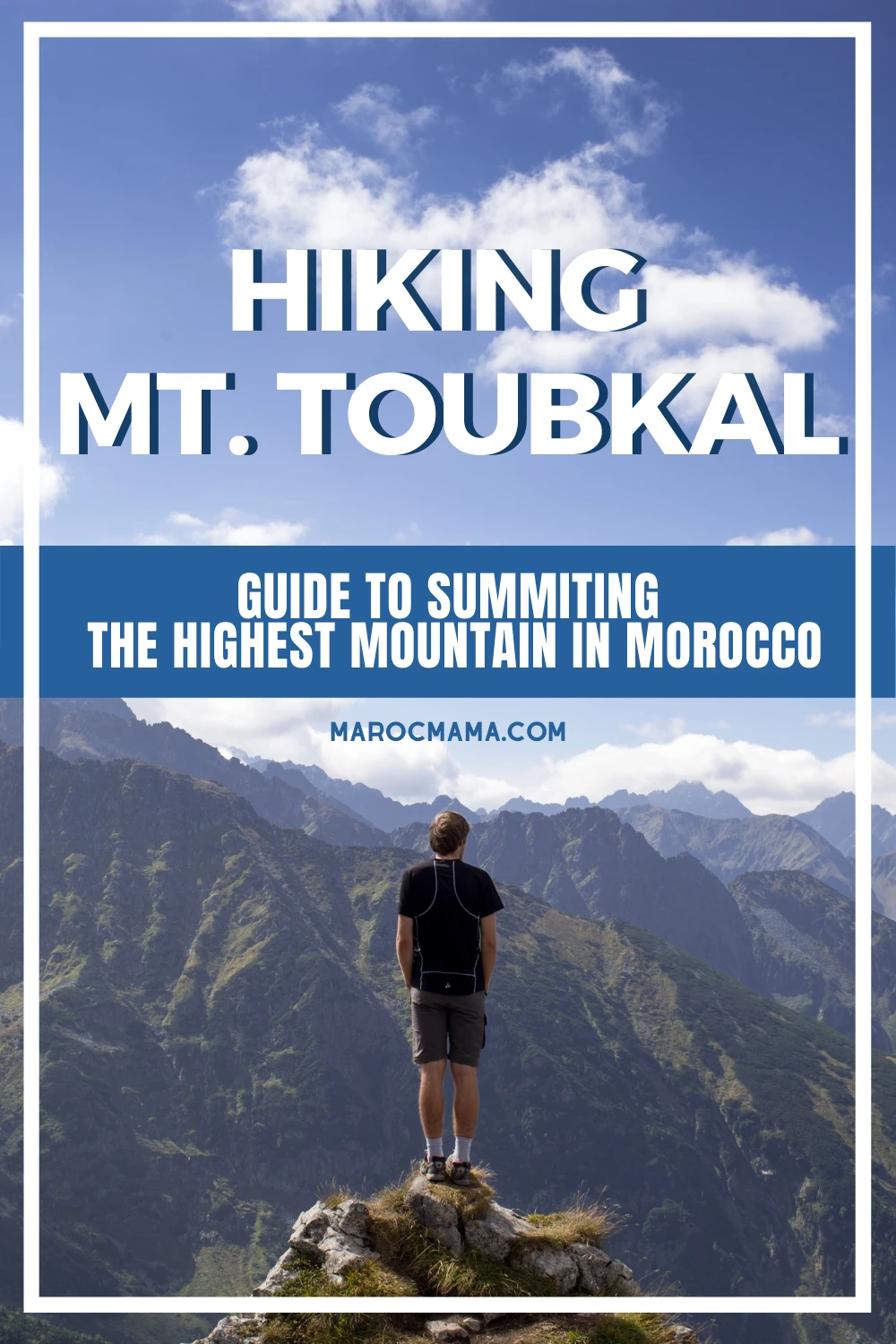 How long does it take to hike Mount Toubkal?
While experienced and fit hikers can hike Mount Toubkal in two days, the altitude and incredible area make it more suitable to take four days. It allows you to enjoy Imlil before reaching the summit or to hike the nearby peaks too. The typical itinerary of a three-day hike up Mount Toubkal is explored below.
Day 1
Travel to the village of Imlil and settle into your accommodation. You can explore the area on foot, but remember to rest before your big hike. If you have booked to stay and eat at the refuge, you should be able to pack everything you need in a backpack. Alternatively, your guide can arrange a porter and a mule to take your belongings to the refuge.
Day 2
The early stages of the hike are easy to manage with only a gradual change in altitude. You will pass another village (or two) on your way. Your goal for day one is to reach the CAF Refuge or Les Mouflons refuge at 3207m above sea level, where you will spend the night before departing for the summit the following morning.
Both refuges offer a limited number of rooms and dormitory bedrooms. However, during the popular periods, it can be more relaxing to camp outside. Your body is likely to fall asleep quickly as it typically takes hikers five to eight hours to complete the first day's hike (slow and steady wins the race).
Day 3
Wake up early to give yourself the best conditions to summit – everyone else in the refuge will be up early too. Starting in the dark at 5 am makes it necessary to have a headlamp, as you will want both hands free. The route is tougher on day two, with scree (broken rock fragments) on the steeper slopes, making it necessary to use trekking poles for the ascent and descent.
Once you get past the scree, the route becomes better defined while still being steep. The altitude will begin to affect your oxygen intake, so keep moving at a steady pace (as slow as you need). A metal pyramid marks the summit, and once visible, it will motivate you to push on to the top.
Around four hours of hiking later, you'll have made it! Then you can soak in your surroundings and capture a photo on the top with your team before setting off on your way back down. Remember to share some words of encouragement with the fellow hikers you pass on your way.
After two hours, you should reach the refuge where you can choose to spend another evening, or you can continue down to Imlil.
When to go hiking on Mountain Toubkal
Despite having snow on the route in winter and hotter temperatures in summer making the trek more difficult, Mount Toubkal is able to be hiked all year round. The best season to approach the highest peak in Morocco is in spring – it is, however, the busiest period. When trekking in the high mountains it is best to be prepared as the conditions can quickly change.
Spring
In the months of March to May temperatures in Imlil reach lows of -1.8℃ (28.7℉) while maximum temperatures reach 16.7℃ (62.1℉). You can expect light snowfall, very little rain, and comfortable temperatures.
Summer
In summer, between June and August, the High Atlas Mountains experience average temperatures of 17℃ (64℉), and maximum temperatures of 24.8℃ (77℉). July is typically the warmest month and adds to the challenging conditions of the mountains.
Autumn
In Imlil, the maximum temperature between August to October is 23.5℃ (74.3℉) with a minimum temperature of 3.8℃ (38.9℉). The weather is comfortable, with small amounts of rain and snowfall towards winter.
Winter
During winter, the mountain tends to be less crowded. However, the conditions can be more challenging when the lower slopes of the mountain are covered in snow. Between the months of December and February, Imlil has average temperatures of 0.4℃ (32.7℉) and experiences a minimum temperature of -4℃ (24.7℉).
Should I go alone?
You should not be tempted to do this hike on your own. Conditions can quickly change and should something happen to you, a rescue attempt on the mountains would be costly. On most hiking routes in Morocco, a guide is mandatory. Hire a licensed guide to meet you in Marrakech or arrange to meet in Imlil.
Female travelers who would like to be accompanied by other women can join all-women expeditions led by female mountain guides.
Safety Tips
One of the most significant risks while hiking on Mount Toubkal is due to the high altitude reached on the hike. Altitude sickness causes low oxygen saturation levels which leads to headaches, upset stomachs, and nausea, amongst other symptoms.
The best way to prevent altitude sickness is to give yourself time to adjust, drink water, and get enough sleep. In addition, Acetazolamide is a medicine which your doctor can prescribe.
Alongside a map of the area and a compass, it is important to bring a first aid kit with antiseptic wipes, band-aids, bandages, and disinfectant wipes. It is essential to stay hydrated, and while bottled water is available on the route and streams have clean water, it is best to use a survival straw to filter the water and prevent an upset stomach.
Gear you will need
You can prepare for your alpine hiking trip by packing warm clothing, a weather-proof jacket, hiking boots, comfortable shoes, trekking poles, and a hat. You may need crampons for hiking in the snow on the summit or the lower slopes during winter.
While packing light is possible when staying at a refuge, if you decide to camp, you will need a backpack large enough to carry your sleeping bag, sleeping pad, and as mentioned above, a first aid kit. It is possible to sleep under the stars in summer as Morocco is one of the few countries with warm weather that does not experience many insects and bugs.
Ready, Set, Summit the tallest mountain in Morocco
Now that you have a good idea of what the hike up Mount Toubkal entails and where to go, you can start planning your trip to Morocco. Leaving the busy city of Marrakech, you will enjoy the cooler conditions of the Atlas Mountains as you tackle the tallest mountain in North Africa.
Made it to the summit? Share the highlights of your trip or any tips you may have for fellow travelers in the comments below.