Are you looking for a sweet treat that also has a fun modern flair? These Succulent Chocolate Cupcakes might look like a work of art but you're going to have to take a big bite out of them to enjoy that flavor and taste!
When it comes to cupcakes, I just can't say no. I love everything about cupcakes from the moist cupcake texture to the massive amount of frosting right on top. And what I really love about this simple chocolate cupcake recipe is that the topper is an edible succulent plant as well.
I tend to eat my cupcakes in phases so I love when there are multiple parts to a cupcake. I always enjoy the cake part and the frosting first and leave the edible topper for last. Nothing like finishing with the true star of the recipe!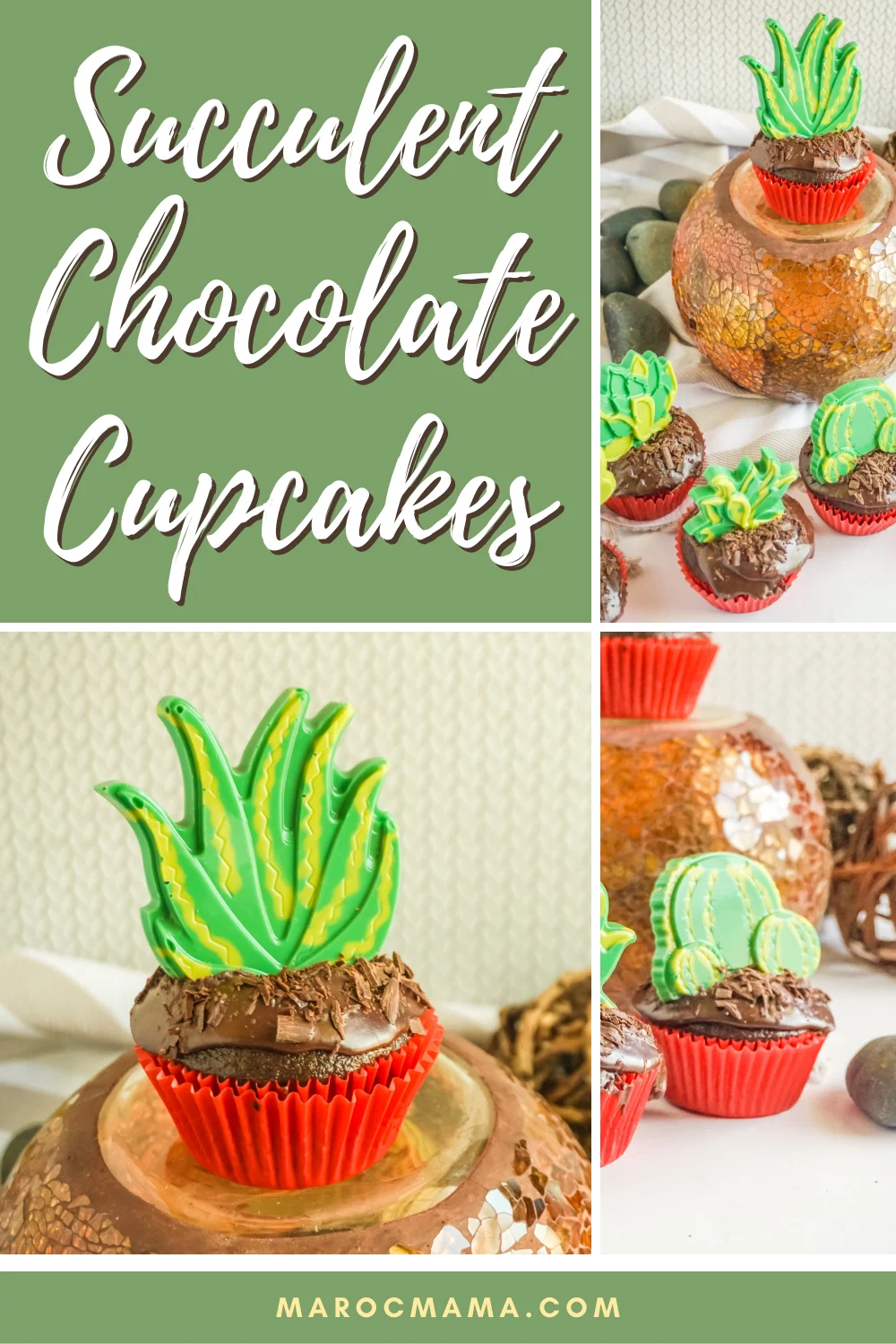 How do you know when cupcakes are done baking in the oven?
The last thing that you want to have to worry about is pulling your cupcakes from the oven before they're done baking. No one wants to take a bite into their cupcake and have raw batter waiting as a surprise inside.
The easiest way to know if a cupcake is done baking is to use a clean toothpick and stick it inside the middle of the cupcake. If the toothpick comes out clean, it means that the cupcake is done baking and needs to be taken from the oven. If there is batter, the pan of cupcakes is going to need to cook for a little bit longer.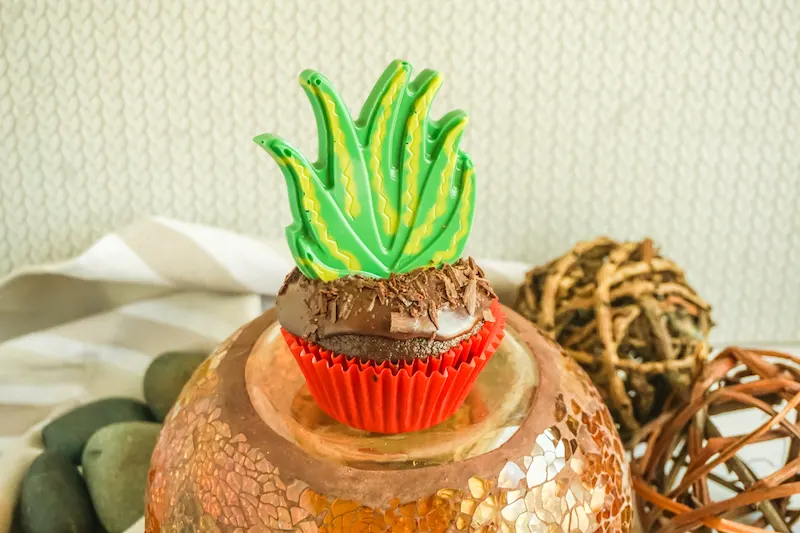 Tips for Making Homemade chocolate cupcakes
Even though this recipe isn't hard, there are a few tips to keep in mind.
Make certain to always use cupcake liners or you're going to have a mess! Even when you spray, the cupcake batter still tends to stick and you might find that your cupcakes aren't all that easy to remove if you don't have them in a liner.
You're not going to want to miss a crumb of these delicious homemade cupcakes.
Ingredients needed to make Succulent Chocolate Cupcakes that you may not have in your pantry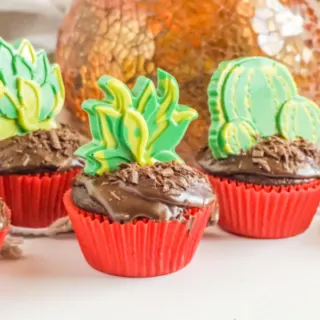 Yield:

6 cucpakes
Succulent Chocolate Cupcakes
Total Time:
1 hour
25 minutes
Cute and chocolatey cupcakes that are perfect for any time but great for a Moroccan or desert-themed party!
Ingredients
Cupcake Ingredients
1/2 cup sugar
1/2 cup flour
1/3 cup cocoa powder
1/2 tsp baking powder
1/4 tsp baking soda
1 egg
3 Tbsp half and half
2 Tbsp vegetable oil
1/2 tsp vanilla extract
1/4 cup hot coffee
Frosting Ingredients
1 cup granulated sugar
1/4 cup cocoa powder
1/4 cup unsalted butter
1/4 cup half and half
1 tsp vanilla extract
Ingredients for Decorating
1/2 cup light green candy melts
1 cup dark green candy melts
1/4 cup dark blue candy melts
1/4 cup chocolate shavings
1/4 cup cactus sprinkles
Instructions
Preheat your oven to 350-degrees and line a cupcake tin with 6 cupcake liners, lightly sprayed with cooking oil. Set aside.
Make the cupcakes first by combining all of the dry ingredients in one bowl, whisking them together until combined completely.
Make a well in the center of the dry ingredients and place the wet ingredients into the well then stirring until the batter is consistent and smooth.
Fill the prepared cupcake liners ¾ full with the batter and bake for 15 minutes or until a toothpick inserted in the center comes out clean.
Allow cupcakes to cool completely before decorating.
To make the frosting, stir together the sugar, cocoa powder, unsalted butter and half and half over medium heat until it begins to boil and is completely combined.
Remove the frosting mixture from the heat and add the vanilla extract. Stir until combined completely.
Allow the frosting to cool before decorating the cupcakes with it.
To make the cactus decorations, place the candy melts in separate microwave-safe bowls and melt per the package directions. Place melted candy melts into a piping bag with a small tip or a zipper-top bag with a tiny corner cut off.
Into the mold, add stripes of light green candy melts following the shapes of the cactus or succulent, followed by dark green candy melts. Fill in any "pot" shapes with the dark blue candy melts.
Place the chocolate filled molds into the freezer for 5 minutes to set.
Remove the chocolate from the molds and set aside.
Using a cupcake corer or a large icing tip, cut a hole in the center of each cupcake, then add 1 tbsp sprinkles to the hole created. Place the cupcake piece removed from the center of the cupcake back into the hole.
Cover each cupcake with a thin layer of frosting, followed by a sprinkle of chocolate shavings.
Top each cupcake with a chocolate cactus or succulent and enjoy!
Step by Step Photo Tutorial of Cupcake Making
Whisk all the ingredients together, starting with dry ingredients and adding in the wet.
Fill the cupcake tins with cupcake batter.
While the cupcakes are cooling, whisk together the frosting.
Surprise! Fill the cupcakes with cactus sprinkles for an added surprise.
Dip the cupcakes in chocolate and top with your chocolate succulent topper decoration.
Why is my frosting not staying on top of the cupcake?
You need to be certain that you're letting your cupcake cool down completely before you start to add frosting to it. If not, you're going to find out that the frosting is going to melt right off!
How to store succulent cupcakes for later
If you're lucky enough to have some leftover, just be certain to store them in a container with a lid. This will keep them as fresh as possible for as long as possible so that you can look forward to that same flavor and taste very soon. You can also freeze cupcakes but you want to do this before you add on any of the toppings or frosting or anything such as that. Then, when you're ready to start decorating them, you just remove them and let them come to room temperature.
Have fun making these delicious chocolate cupcakes! They're the perfect way to get a delicious cupcake flavor and taste topped with the cutest succulent homemade cupcake topper, ever!