There was a time when K, my youngest son refused to eat most anything. He picked at everything we put in front of him and the only kind of meat that was going to pass his mouth was in chicken nugget form.
I struggled for months with his weight and nutrition. He continued to border on the edge of just not getting enough and the doctor not being concerned. Then we hit a turning point.
My mom lives close enough that we are able to share a meal several times a month. One night we were over for dinner and she was making meatballs and mashed potatoes and gravy.
I knew M would make short order of the food but I was pretty sure we'd be scouring for something for K. We all sat down to eat and somehow a meatball found its way to K's plate. Then the meatball was eaten. He asked for another one, and another one. Before we knew it he had eaten at least six!
I've made the meatballs numerous times and they are always the kids favorite. It's also a really easy halal dinner idea if you're searching. My kids have aptly named them "grandma's meatballs", even if I make them the exact same way – they are grandma's meatballs.
Growing up we often had meatballs but they included pork sausage. I'm happy to report these have no pork and taste 10x better! They are very easy to make and a great halal recipe for children.
Substitutions for Halal Meatballs
I use ground turkey but you can also use ground beef or ground lamb for this recipe.
Ground oatmeal is used to make this gluten free, you can use bread crumbs instead.
We serve this with mashed potatoes and gravy but you could add pasta sauce and they'd be delicious with pasta too.
How to Freeze Halal Meatballs
Another reason this recipe is great is because these can be easily frozen. I often make a lot in advance so I can pull them from the freezer as needed. Make the meatballs to whatever size you'd like and cook through. Then allow to cool completely and transfer to a freezer-proof bag.
To use, you can add frozen to any sauce until warmed up or thaw and then use. I prefer to just use them frozen because I often forget to take them out early. I've even been known to add these to Moroccan meatball and egg tajine even though the spices aren't exactly the same.
.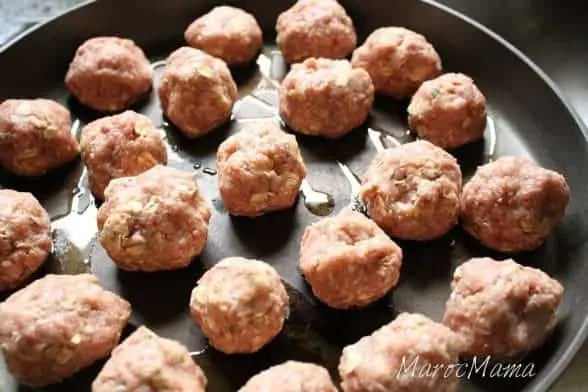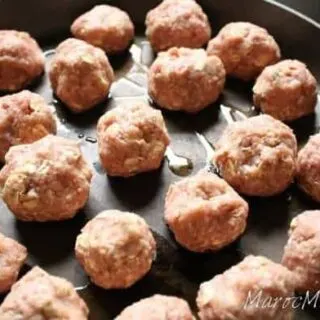 Halal Meatballs and Mashed Potatoes
These meatballs are my kids favorite - and the credit for the simple recipe goes to my mom. It's the first thing they ask for at grandm's house!
Ingredients
1 lb ground turkey (or beef)
1 egg
1/2 cup ground oatmeal
1 tsp pepper
1/2 tsp salt
2 tsp worchestire sauce
2 Tbsp vegetable oil
Instructions
Preheat oven to 375F
Combine the turkey breast with the oatmeal, salt & pepper, worchestire sauce and egg. Mix well using your hands to evenly combine everything.
On the stove top heat an oven proof skillet with the grapeseed oil on medium heat.
Pinch off a piece of meat and roll into a ball about the size of a ping pong ball. Place into the pan. Continue until all of the meat has been used.
Brown the meatballs and use a pair of tongs to flip and brown the opposite side.
You can completely cook the meatballs on the stove top or you can finish them in the oven. I prefer the oven method because they tend to cook more evenly and retain more moisture. It also frees up a burner on my stove!
To finish in the oven simply place the pan into your oven and continue baking 20-25 minutes until the meat is completely cooked through.
Notes
Serve with mashed potatoes and gravy or sauteed mushrooms.