Leftover mashed potatoes have a special place in my kitchen. It began when I was a little girl and still today I always make more potatoes than I know we'll eat. Because sometimes, the best things in life are better left for later.
My grandma made a lot of homemade food and my sister and I were her helpers. Cookies, cakes, and pasta were the recipes of my childhood. But, our favorite thing to make and eat was gnocchi.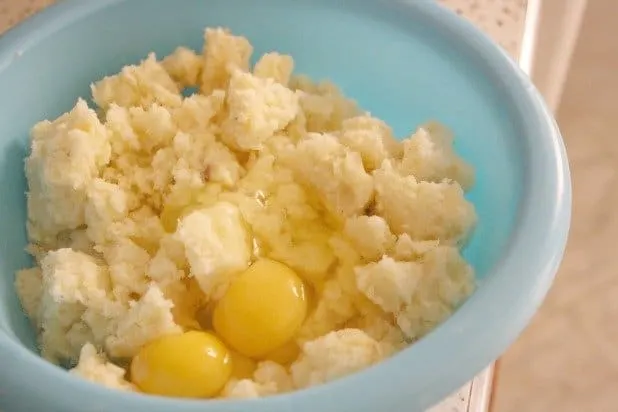 The trick to making this is having mashed potatoes that are a day or two old. Sure, fresh mashed potatoes will work but it just won't be the same. The potatoes really need to sit and allow the starches to combine.
If you eat a low-carb low-starch diet this recipe probably isn't for you. But, you can swap out white potatoes for sweet potatoes. This dumpling is found throughout Italy and is peasant food – it's a way to stretch cheap ingredients and fill up the stomach without breaking the bank. I can remember mixing HUGE bowls of mashed potatoes with flour and having dough up to my elbows as we combined the two.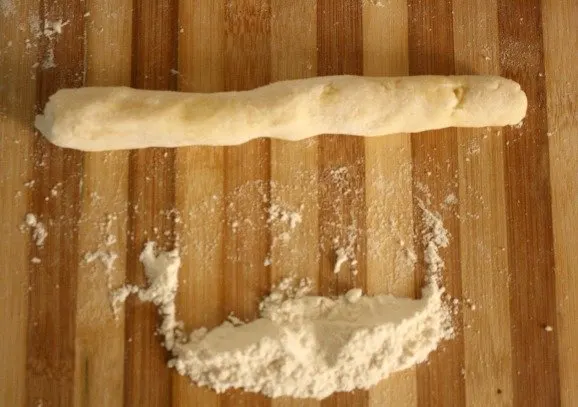 Once the dough came together, grandma would cover the counter top in flour and we would start to roll out the dough into long "snakes". My sister and I were each equipped with a butter knife and fork to do the finishing touches. Each snake was cut into small pieces and pressed with a fork to make the trademark indentations of gnocchi. Finally we would coat them in flour, lay flat on a cookie sheet, and pop into the freezer for a flash freeze before putting into a freezer safe bag.
What I loved the most about making gnocchi was waiting for the little dumplings to float. Because as soon as they float they're done! I would use a big straining spoon to pull out the gnocchi as I could see them at the top of the pot.
If you'd rather serve this as an appetizer pan frying gnocchi, dusting with parmesan cheese, and serving red sauce on the side as a dipping sauce is equally delicious. Grandma always had red sauce, she would make and can it every summer. But it's not difficult to make your own – in a smaller quantity!
With Thanksgiving around the corner, this is a great recipe to keep on hand to use up leftover mashed potatoes.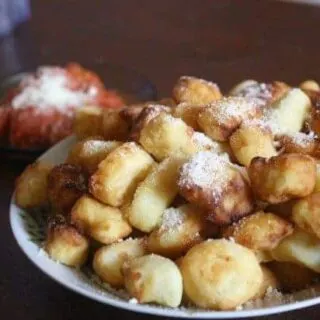 Grandma's Homemade Gnocchi and Easy Red Sauce
This is one of my very favorite recipes from my childhood. My kids love it too and it's a lot easier to make than you might think. Even easier if you've got leftover mashed potatoes!
Ingredients
Gnocchi
1 lb mashed potaotes (1-2 days old)
2 eggs
flour
salt and pepper to taste
Marinara Sauce
2 Tbsp olive oil
1/2 onion
3 cloves garlic
4 large tomatoes
1 Tbsp tomato paste
1/2 tsp sugar
salt and pepper to taste
Instructions
To Make Gnocchi
Remove mashed potatoes from the refrigerator and allow to warm up so that they are not quite room temperature but you can easily handle them without being too cold.
Add any salt and pepper - this will depend on how your potatoes were seasoned to begin with. If they lacked flavor add more, if they were already well-seasoned you may not need to add any.
Crack two eggs and add to the mashed potatoes.
Use your hands to mix together the potatoes and eggs.
Begin adding flour, a handful at a time.
Continue mixing and adding flour until the dough comes together and is no longer sticky.
Dust a cutting board or counter top with plenty of flour.
Take off a palm-sized piece of dough and roll into a long "snake".
Cut 1/4" pieces off of the dough and use the back of a fork to indent the tops.
If you are cooking right away, drop gnocchi into a pot of water at a rolling boil.
If you want to freeze and save the gnocchi, coat in flour, and lay flat on a baking sheet. Pop into the freezer for 15-20 minutes and flash freeze. Transfer gnocchi to a freezer-safe bag until ready to use. Gnocchi do not need to be thawed before cooking.
Easy Red Sauce
In a medium sized pot add 2 Tbsp olive oil. Grate 1/2 onion and 3 cloves of garlic into the pot.
Turn the heat to low and allow the onion and garlic to saute.
In a large bowl grate the 4 tomatoes and discard the skin.
Once the onion and garlic have softened, add the tomato pulp and whisk in 1 Tbsp tomato paste.
Finally add 1/2 tsp sugar and reduce the heat to low.
Allow the sauce to cook for 30-45 minutes, checking the taste and adjusting with salt and pepper as needed. .