Ask any Moroccan chef or home cook what is the single item they would buy over making and chances are pretty good they will say warka (sometimes spelled oarka). Traditional warka is a pain to make. It is closely related to phyllo dough but is a little sturdier and has a crispier texture when cooked. It is time consuming, and involves a lot of stretching and pulling to make paper thin sheets.
In her book, Couscous and Other Good Food from Morocco, Paula Wolfert details the process through illustration. Recently she made a video with Alia from Cooking with Alia (I'm insanely jealous that Alia got to hang out with Paula!) showing a different way of making warka using a paint brush.
I knew that the traditional way of making warka wouldn't work to make gluten-free warka. The pulling process is meant to activate the gluten and stretch out the gluten molecules to create the thin but sturdier sheets. Obviously, this would be impossible with gluten-free flours. But, when I saw Paula's new technique there was some promise. Some of our favorite Moroccan Ramadan treats use phyllo or warka so I was determined to create a gluten-free version.
I'm not going to lie to you – this recipe does take time but the results are worth it. Knowing that MarocBaba will be able to enjoy things like savory and sweet briouats as well as b'stilla makes it all worth it.
Ingredients
1 Tbsp extra virgin olive oil
paper towels or parchment paper
3-4″ bristle paintbrush (one that is used only in the kitchen)
Instructions
In a food processor combine everything except the vegetable oil. Blend until everything is well combined and is a thin batter.
Refrigerate covered for 2 hours.
During this time prepare for making the warka. Cut sheets of parchment paper or paper towel into pieces to place between the layers. Place a small bowl of the vegetable oil in your work area with a paper towel to be used on the pastry sheets.
Remove batter from the refrigerator and heat a skillet on medium high heat. I've found using a pan that is the same size as the sheets you would like is the easiest.
Pour a small amount of oil into the pan and wipe off with a paper towel.
Using your paintbrush, brush on the batter making a thin layer. Working in a circular fashion dabbing batter in the areas with holes. This may take a few attempts to get a good understanding of how much to use. (See Alia's video as the technique is the same).
Heat for approximately 2 minutes. you will see the edges starting to pull up and the middle beginning to dry. You do not want this to cook completely through or it will become hard and impossible to use for briouats or b'stila.

Very carefully pull the sheet out of the pan and transfer to a parchment/paper towel on a plate. Dab another paper towel with vegetable oil and spread on the warka sheet. Cover with a sheet of parchment or paper towel.

Repeat the steps until batter is gone. This recipe will make 30-32 sheets or warka.
The warka can be used immediately or placed into a freezer bag and frozen until ready to use. Be sure to thaw at room temperature before using.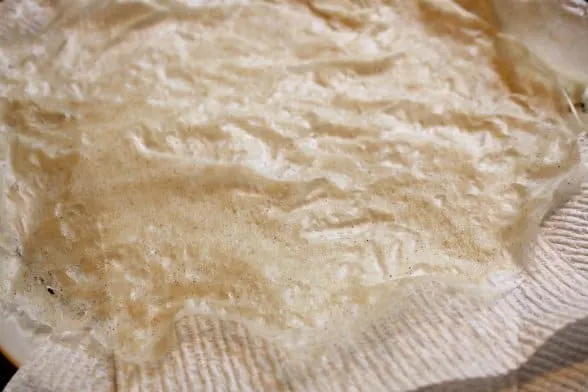 These sheets can be used to make traditional Moroccan foods that call for warka or phyllo dough BUT they also can be used for other recipes that use phyllo. I'm thinking of making some baklava with them soon!