This Gluten Free Pita Bread is the perfect addition to any meal. Made with rice flour and other simple ingredients, no one will guess that this easy pita bread recipe is made without wheat.
The best part about making homemade pita bread is that it can be used as a side dish or as part of the main entree. This isn't quite a traditional Moroccan bread recipe but it's a great substitute if you're in need of a gluten-free option.
Even a novice bread maker can easily make up this recipe because the steps are so simple and straightforward to do. You'll be a bread-making pro in no time.
Gluten-Free Pita Bread
Everyone knows that good pita bread is all about size and thickness. The key to making delicious pita bread is that you have to have it be a thickness that doesn't overpower the other flavors of the dish.
If you're going to be serving a crowd, adding this pita bread recipe to your radar is a must. They won't believe that you can easily create this texture and flavor easily right at home.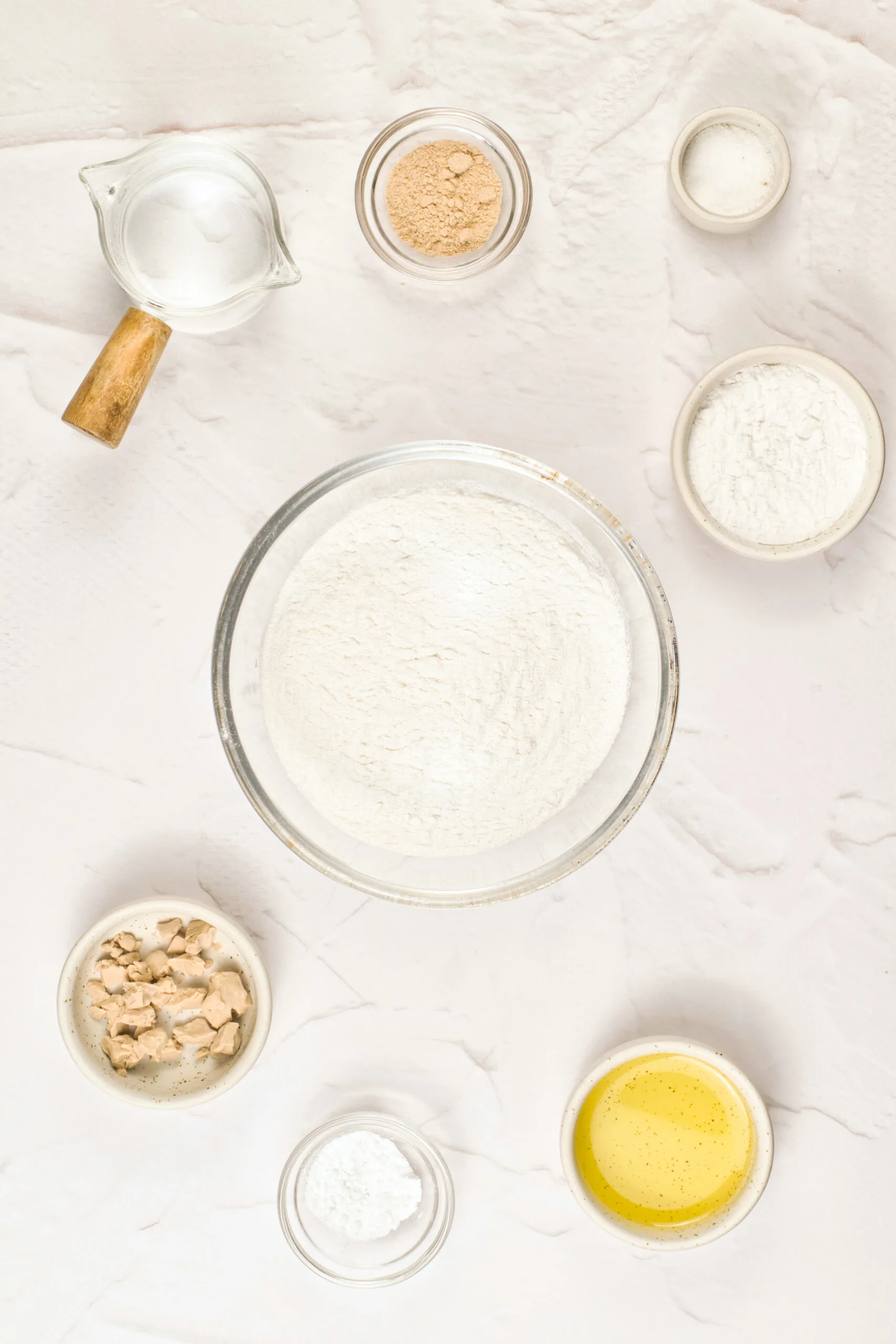 Why You'll Love This Gluten-Free Flatbread
Fast and simple
Made with easy pantry staple ingredients
A great way to feed the family or offer at a gathering
Are you an inexperienced bread maker and want to know how to bake a gluten free pita bread? Here's our easy gluten free pita bread recipe.
Ingredients
Rice flour: 1 cup (160 g)
Tapioca flour: 2/3 cup (80 g)
Psyllium husk powder: 2 tsp
Salt: 1/2 tsp
Oil: 2 tsp
Fresh yeast: 10 g or Dry yeast: 1 tsp (Vegan version)
Stevia: 1/2 tsp or Sugar Cane :1 1/2 tsp
Warm water: 200 ml (3/4 cup + 2 tbsp)
Instructions
Warm up some water in a saucepan over medium heat until it reaches a temperature around 104°F.
Add the yeast and stevia to the water and stir with a spoon until well combined. Set it aside for 5 minutes to proof the yeast - if it becomes frothy, the yeast is active and can be used.
In a large mixing bowl, whisk together the dry ingredients; rice flour, tapioca flour, psyllium husk powder, and salt.
Pour the yeast mixture and oil into the bowl and stir until everything is evenly combined.
Work the dough with your hands until it's smooth and elastic, then return it to the mixing bowl.
Cover the bowl tightly with cling film and move it to a warm area. Leave it for 60 minutes or until the dough has visibly expanded and risen.
Once the dough has risen, divide it into 5 equal portions (around 90 grams each) and shape them into balls.
Dust your rolling pin with rice flour and gently flatten each ball of dough into a circular shape. *(1/4-inch thick).
Heat up a skillet over medium-high heat for a few minutes until it's hot.
Place one of the rolled-out circles of dough into the skillet and cook it for about a minute or until bubbles start to form on the surface.
Flip the pita over and cook it for another minute or two on the other side until it's golden brown and slightly puffed up.
Repeat this process with the remaining circles of dough, making sure to keep the cooked pitas covered with a kitchen towel to keep them warm.
Helpful Tips
It's super important to make sure that the yeast is active before adding it to the recipe. The best way to test the yeast is to put a little bit of yeast into some warm water and see if it starts to become frothy. Give it about five minutes. If it doesn't do anything during that time, the yeast is old and needs to be replaced with new yeast.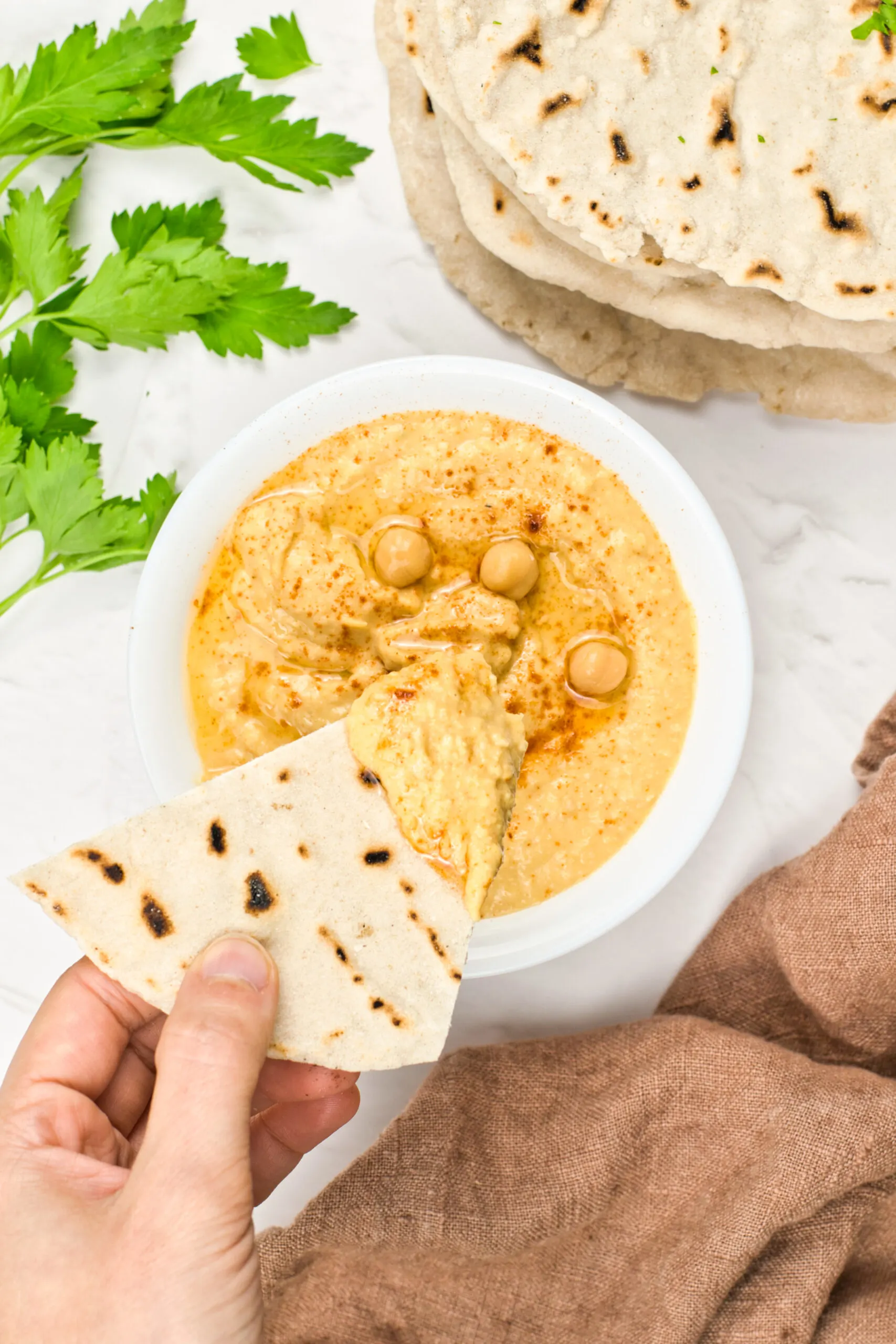 How to Store
Make sure to let the pita bread cool down all the way before storing it. Once it's cooled, you can store it in a sealed bag or airtight container for up to 2 days at room temperature.
To freeze the pita bread, wrap it in plastic wrap and then place it in a freezer bag. It should stay in the freezer for up to 3 months. To thaw, move it to the fridge.
Common Questions
Why is my pita bread tough?
It's really important that you don't overwork the bread dough. If you do, you run the risk of the dough becoming hard and baking that way as well. Just knead until everything is mixed.
Can I make pita bread vegan?
If you want to make this recipe vegan-friendly, you can use dry yeast in place of active yeast.
What does pita bread taste like?
Pita bread actually has quite a few flavor notes. It can have a bit of a tangy flavor and a bit of a sweet flavor as well. It all just depends on the added ingredients as to what the final flavor notes are.
More Gluten-Free Recipes You'll Enjoy
Gluten-Free Cinnamon Fig Zucchini Bread