When we moved to Morocco I started a tradition of making my kids a birthday cake every year. I am admittedly not a baker and it was mostly necessity driven. It was very hard to find American style cakes. Most are the Moroccan/French variety that are full of cream and fluff – not the same as our American favorites.
I am not a great baker – but I can manage. Working with different ingredients and some years I only had a small convection oven it didn't always yield the best results. The fun part was letting the kids decide the design they wanted and then doing something special for them.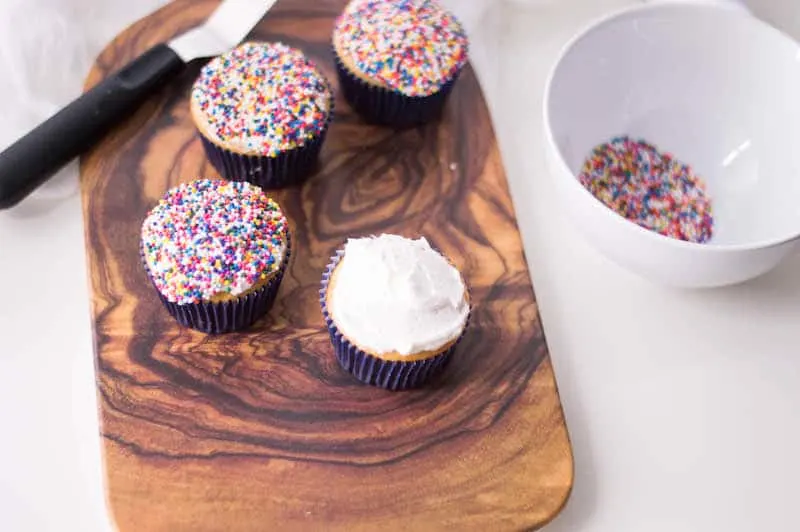 If you're looking for a cute treat for your next birthday party or celebration look no further. These cactus cupcakes are so cute and easy to make – they'll really look like you're a pro baker with little effort.
To make them use your favorite vanilla cupcake recipe. I swear by Sally's Baking Addiction vanilla cupcakes – because her recipes NEVER fail. But you could just as easily buy unfrosted cupcakes from your local bakery and make them even faster.
If you have kids that are a little older, this could even be something they could decorate on their own. Go and get your cupcake on!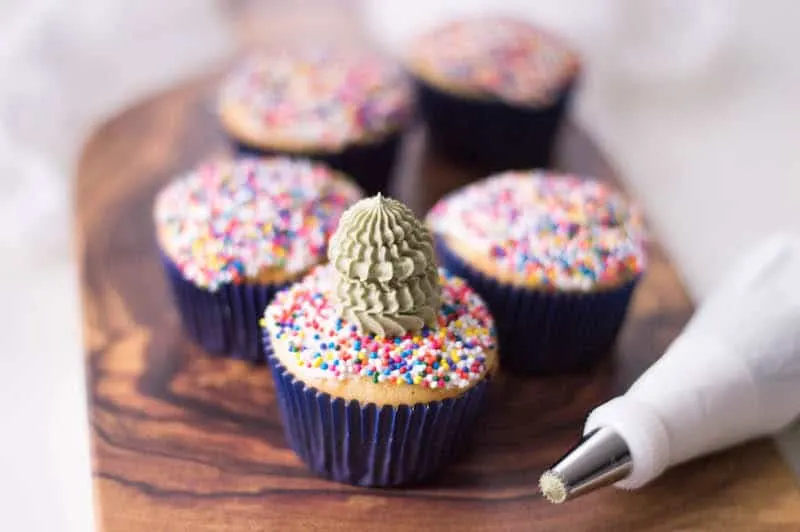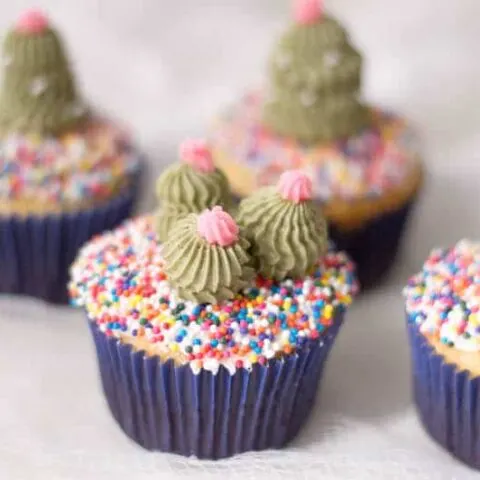 Yield:

12 cupcakes
Sahara Cactus Cupcakes
Make your next party special with these little prickly friends - they're sweeter than they look!
Ingredients
One dozen of your favorite vanilla cupcakes
2.5 sticks butter, softened
5 cups confectioners' sugar
5 tbsp milk
1 tbsp cocoa powder
Gel food coloring in Moss Green
Gel food coloring in Red
White decorating icing or white sprinkles
½ cup rainbow sprinkles, poured in a small bowl
Instructions
Before decorating, be sure your cupcakes are completely cool. This will keep the buttercream frosting from melting.
Using an electric mixer, start beating butter,
confectioners' sugar and milk on slow speed. Gradually increase to high.
Your buttercream is ready once the ingredients are completely smooth and form semi-stiff peaks. Scoop 1/3 of your buttercream in one bowl and set aside.
Add cocoa powder to your remaining buttercream and mix some
more. Add the moss green gel food coloring and mix until completely tinted.
Using an offset spatula, frost each cupcake with your white frosting. Dip each cupcake in the bowl of sprinkles so that the top is covered completely.
Using a piping bag and Wilton tip #199, pipe out your green frosting onto each cupcake. These will act like the cacti's "bodies." You'll want to squeeze out more frosting (so with a heavier hand) at the beginning and then loosen your grip once you reach the top. You can add 1-4 cacti/succulents on each cupcake.

Color the remainder of your white buttercream with 2 small drops of red gel food coloring. With Wilton tip #18, pipe out a small flower at the top of each cactus.
Using tip #3, pipe out small dots all over your cactus with your white decorating icing or, if you're using white sprinkles, insert into
random spots in your cacti. Enjoy!
Recommended Products
As an Amazon Associate and member of other affiliate programs, I earn from qualifying purchases.