Desserts are one of my very favorite things…to eat. I really am not great when it comes to making them. I cook very intuitively, rarely measuring anything. That doesn't work with baking.
So when I can make something I like to go with super easy desserts that still look like I've spent a long time making them. These are such a dessert! You can buy the shells ready made and the filling comes together super quick. For the toppings go ahead and use whatever fruits are in season.
You could even use something like white chocolate shavings or sprinkles if you wanted to create a completely different look for these.
The recipe included uses semi-sweet chocolate chips but you can also play with that. Try dark chocolate or white chocolate to change up the flavors. The chocolate is flavored with raspberry but you could use any extract like mint extract to change up the flavors.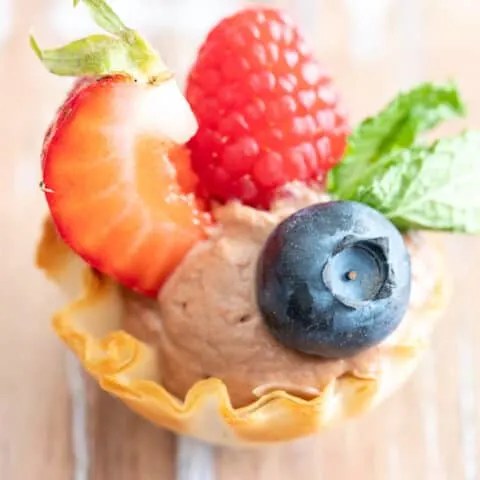 Fruit and Chocolate Mousse Cups
Total Time:
2 hours
15 minutes
Who doesn't love chocolate and who can pass up a super simple dessert that features it? Trust me you'll love these!
Ingredients
¾ cup heavy cream
4 ounces semi-sweet chocolate chips*
¼ teaspoon raspberry extract**
45 phyllo shells
Berries of your choice
Mint sprigs for garnish
Instructions
Place ¼ cup of the cream in a small microwaveable bowl with the chocolate. Microwave on high in 15 second intervals, stirring in between until melted, set aside to cool.
Place the remaining heavy cream in a large bowl, whip with a hand mixer until it forms stiff peaks. Mix in the extract.
Place the melted and cooled chocolate into a large bowl, add ⅓ of the whipped cream and fold it in. Add another ⅓ of the cream, fold it in, some white streaks are okay.
Finally place the last of the whipped cream into the bowl and fold it all in together. Pour this mixture into a piping bag or leave it in the bowl, cover with plastic wrap and let sit in the fridge for 1 hour, up to 4 hours to set up.
Fill the phyllo cups with the mousse, top with berries and a mint garnish.
Notes
*Use good quality chocolate chips or bar chocolate here. Use whatever flavor you prefer from dark to milk chocolate.
**Use any extract flavor of your choice. Raspberry compliments the berries.