Living in Morocco now, I never have a white Christmas but growing up it seemed really strange if there wasn't snow on the ground! Unfortunately my kids don't get this holiday off school so we can't go away to find the snow. Instead I thought of putting together a great list of places YOU can go where you're also guaranteed to find the white stuff! These are 20 of the best places for a white Christmas.
Best places for a white Christmas in the USA
Much of the United States isn't geographically positioned for a white Christmas however, there are a few places you can visit.
Alaska

If you're looking for a guaranteed white Christmas head to Alaska! For the best view of Denali (Mt Mckinley) get on a plane, I suggest flying with Talkeenta Air Taxi on their epic glacier landing flights. Not only is an epic ride with the most ridicules mountain views but it literally lands on the glacier, the plane has skis.
The glacier is covered in snow and ice, on our flight we spent about 20 minutes on the glacier taking photos and enjoying the scenery. After Denali make your way to Anchorage and drive the Turnagain Arm for gorgeous snow-capped mountains surrounding you. Unfortunately, during Christmas scenic drive Hatcher Pass will be closed for the winter due to snow but if you visit during the summer it's a must.
Hannah & Adam of Getting Stamped
New York City, NY
The Big Apple is particularly festive at Christmas, with twinkling lights decorating the streets, the famous Rockefeller Center Christmas Tree, ice skating in Central Park and the 5th Avenue shop window displays. The annual Rockefeller Centre Christmas Tree is an awe-inspiring sight – at around 69 to 100 feet (21 to 30 m) tall, topped with a Swarovski star and adorned with lights and baubles, it's a national tradition that's been attracting New Yorkers and visitors alike since 1933.
The city really comes alive in the holiday season, making it the ideal place to spend Christmas. Get some local flavour by following Christmas carolers around the Brooklyn cobblestoned streets, drinking hot chocolate at the Union Square holiday markets, and, if the weather is in your favour, tobogganing in the snow. While a white Christmas isn't guaranteed, you have a pretty good shot at snow around the holiday period.
Christine of Adventure Baby
Vermont, USA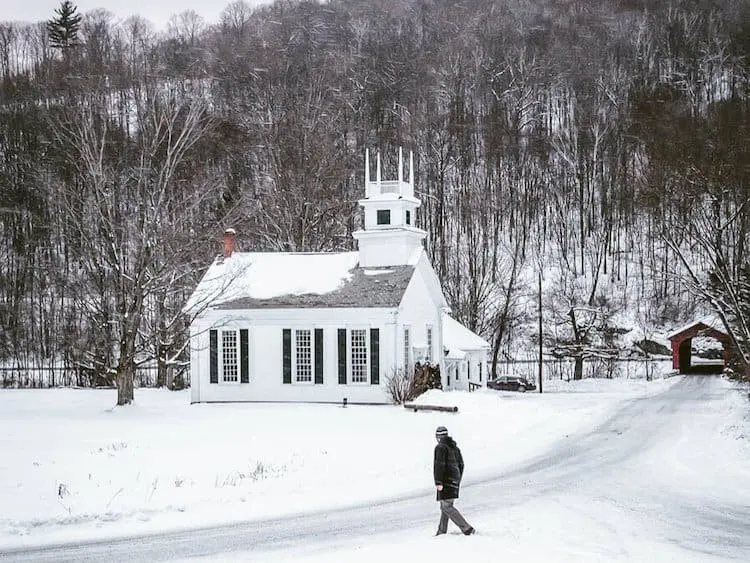 When Bing Crosby sings "I'm Dreaming of a White Christmas," in the film White Christmas, he's nowhere other than the state of Vermont. The humorous plot centers around four visitors who arrive in Vermont at Christmas and are disappointed to find NO SNOW. This is a big shock because Vermont is one place that is virtually guaranteed to have a white Christmas.
You'll likely have much better luck than Bing Crosby and the gang if you visit this wintry wonderland. Vermont is tucked up in the northern New England region of the USA. Just south of the Canadian border, this charming state, with its tall mountains and rolling farmland offers a quintessential place to spend the holidays. Sleigh rides, ice skating, chestnuts roasting on an open fire…it's all here. Living in New England, we love Vermont in all seasons, but it is at its best in the autumn and winter. For perfect snowy scenes, be sure to visit the towns of Stowe and Woodstock (often called America's prettiest town).
Breckenridge, Colorado

You should note, however, that being so high above sea level means you need to be careful about altitude sickness and also it can get bitterly cold when the sun goes down. In addition to skiing, the town has lots to offer for the whole family, both skiers and non-skiers alike, including great restaurants, shopping, snow tubing and sleigh rides.
You can be assured of snow at Breckenridge at Christmas because this mountain town in Colorado is 9600 feet above sea level. We went at Christmas a couple of years ago for skiing as well as general Western charm. The town itself is a picture perfect Gold Rush town from the late 19th century.
Shobha of Just Go Places
Best Place for a White Christmas in Canada
Canada is known for their chilly winters to begin with but that doesn't mean Christmas is always snow covered. If you do want to spend a white Christmas in Canada then here are a few destinations to consider.
Jasper, Rocky Mountains, Canada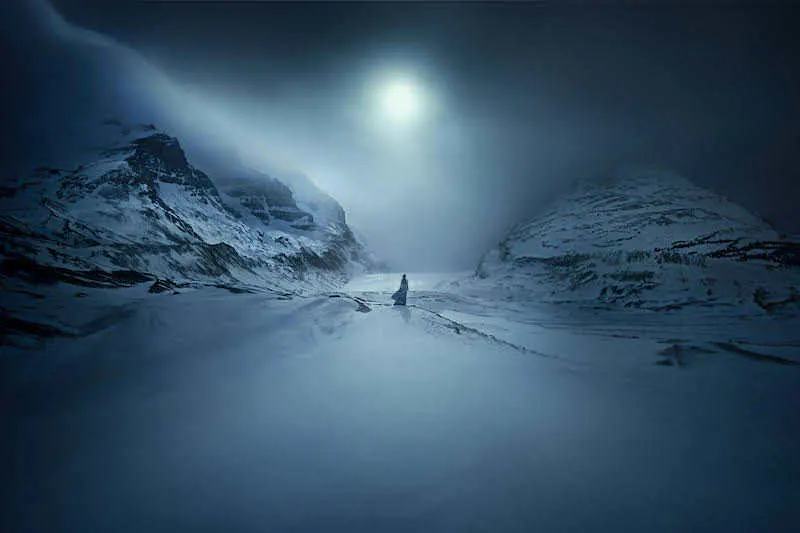 What better place to celebrate a white Christmas than the place that celebrates winter….Canada! By December 25, the Canadian Rockies are blanketed in soft snow, but there is plenty to do in Jasper during the winter! Jasper is situated in the heart of the Rockies and is the perfect place to celebrate the Christmas holiday.
When you aren't relaxing indoors by a glowing fire watching the elk in the forest, head to Pyramid Lake for ice skating on a frozen lake or go Skiing at Marmot Basin! Prefer to go for a walk? Strap on some ice crampons and walk on frozen water that is 9 feet thick at Maligne Canyon. If you want the best of both worlds, go for a drive down the famous Icefield's Parkway and take in glaciers and snow capped mountains along the way!
Victoria of Follow me Away
Quebec City, Canada

If you are dreaming of a white Christmas, then look to spend the holiday season in beautiful Quebec City, Canada. Canada is famous for its snowy winters and Quebec City, nicknamed 'little Europe', looks like a fairytale during Christmastime. You can expect German-inspired Christmas markets, glittering streets filled with lights, Christmas trees galore, and even a few Santa sightings.
Be sure to stop by the castle-like Chateau Frontenac hotel to see their Christmas tree displays and stroll done the picturesque Rue du Petit Champlain; one of the prettiest streets in the world. If there is a lot of snow you can even head a bit out of the city for a ski day, or visit the nearby Montmorency falls which freeze over in the winter. Without a doubt, Quebec City is the perfect place for a beautiful white Christmas.
Hannah of Eat, Sleep, Breathe Travel
Whistler, Canada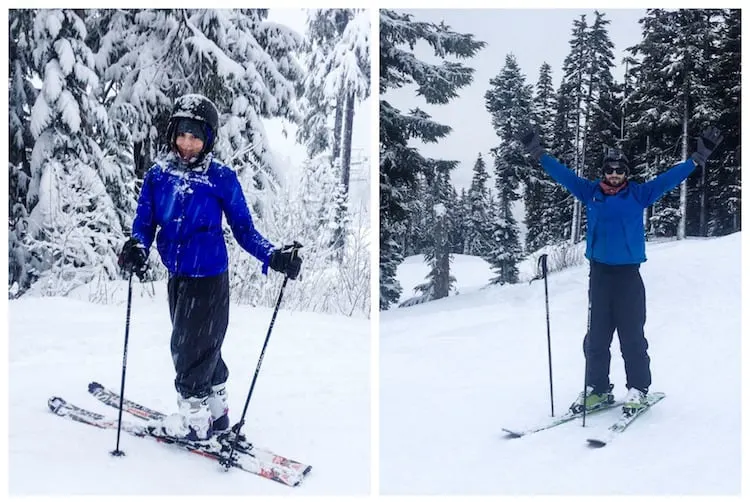 Ski by day, stuff your face by night – Christmas at Whistler in British Columbia is a dream festive location for any plough lover. Whistler Blackcomb mountain in Canada truly is a special place all year round but it really comes into its own when it puts on its snow jacket and winter sports enthusiasts hit the slopes.
Families with children looking for lower key activities should check out tubing and ice skating. Whistler Village shows off a Christmas light display amongst the trees and shops. Holiday-makers should consider staying on for New Year's Eve which is geared up for kids early evening and the big kids at night.
Gemma and Craig of Two Scots Abroad
White Christmas in Europe
Looking for guaranteed snow at Christmas in Europe? You've got a lot of choices! You'll find locations across the continent perfect for skiing and all sorts of winter activities.
Budapest, Hungary

Budapest, the capital of Hungary is an awesome destination for those, who want to have a white Christmas. The temperature falls below zero in most cases in December and it often snows. Also, Hungarians really enjoy the Christmas spirit and there are many Christmas markets all over the city, where you can shop for traditional Hungarian Christmas presents and taste some Hungarian dishes and sweets like Kurtos Kalacs and Beigli.
The city is beautifully lit up and you can hear Christmas songs everywhere. Winter sport enthusiasts can also ice-skate in these markets. It is a beautiful time of the year in Budapest. Come and check it out if you can bear the cold.
Barbara of Jet-settera
French Alps

The French Alps are the perfect winter destination – and one where you are guaranteed a white Christmas. With most resorts sitting at a minimum of 1600m above sea level, the snow falls throughout December and into the new year. Even if it is on the light side, being in a ski resort means they have snow cannons to top up that precious powder for what is often the busiest part of the year. And there is nothing like waking up during the festive season and looking out over a snow covered chocolate box type village!
Vicki of Make Time to See the World
Vilnius, Lithuania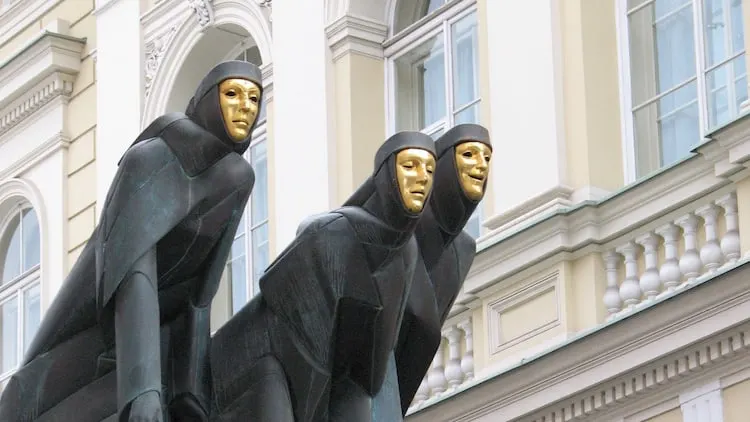 Vilnius, the capital of Lithuania is one of the best places to spend time in around Christmas. The city is already beautiful anytime of year, but seeing dressed in white makes the whole place come alive. Every Christmas a large Christmas tree is displayed in the town square, and in some years there is a Vilnius Christmas mart.
It's great fun to walk around and hop in and out of the shops sipping on coffee and tea while staying warm. There are also many local restaurants with fires to keep warm in while in the Christmas spirit. Since you're almost guaranteed to have snow in Vilnius around Christmastime, one of the best things to do in Vilnius is go sledding down the slopes of Vingis Park right before enjoying a cold Lithuanian beer.
Natasha of The World Pursuit
Rovaniemi, Finland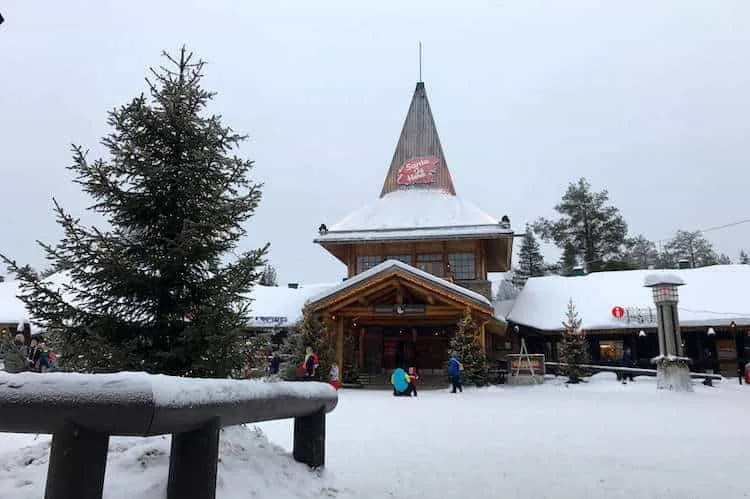 Dreaming of a white Christmas? Rovaniemi, Finland is the ideal winter wonderland location to offer a guaranteed snow fix each and every year. This magical location also happens to be home to Father Christmas and his little helpers located in the arctic circle. You can visit santa's home all year round as its never closed. In the winter enjoy a visit to Santa's post office, go on a reindeers sledge ride as well as trying many Winter snow sport activities such as snowmobile safari. It's truly a magical snow fueled visit. If you're looking for guaranteed snow at Christmas in Europe this is a safe bet.
Dave of Travel Dave UK
Andermatt, Switzerland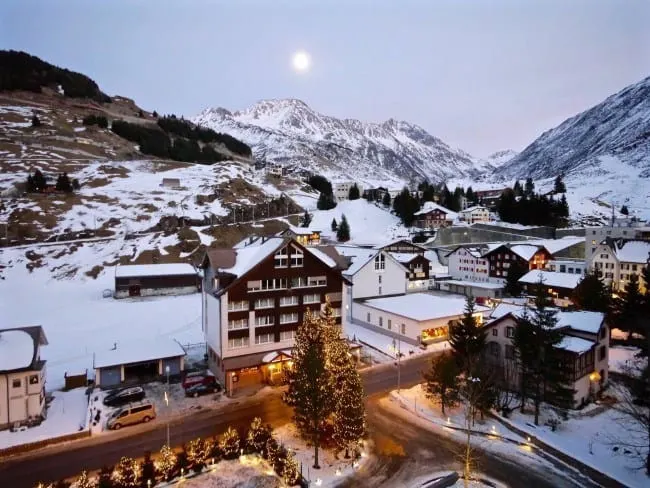 Those who are looking for snow-capped mountains and a very white Christmas, need look no further than Andermatt, Switzerland. After foreign investment and much restoration, the once small skiing village is now a significant Alpine resort destination. Together with the nearby ski area of Sedrun, it has become the largest ski area in central Switzerland, rivaling nearby St. Moritz.
It still has its quaint village charm and at Christmas time it comes alive with its festive Christmas Market and magical lights strewn around the streets. Andermatt is your typical snow covered Christmas destination, prettier and more charming in reality than any picture on any postcard.
Mar of Once in a Lifetime Journey
Zermatt, Switzerland

If there's one place in the world where you're always guaranteed a white Christmas, it's in the Swiss Alps. Christmas in Zermatt is truly magical. Not only do you have the breathtaking Matterhorn to gaze at, there are seemingly endless ways to enjoy this incredible city. For skiers, there are three resorts with slopes as high as 10,000 feet in elevation.
For non-skiers, there are cute shops to peruse, ice skating rinks and lots of cozy bars where you can warm up with a kirsch. For families, there are horse-drawn sleigh rides, sledding and winter walks. One of the best things about Zermatt is that it's a car-free environment, so pedestrians are free to walk around unhindered by traffic. It really can't get any better than this.
Laura of Savored Sips
The Italian Dolmites

The Italian Alps are always a good choice, but Dolomites are even better! These grey rocky mountains stand in the North East part of Italy and during winter give their very best.
What makes Dolomites unique is a particular phenomenon – called in the local dialect "enrosadira" meaning "getting reddish" – that take their highest peaks on a pink/purple hue at dawn and sunset. Can you imagine then something more beautiful than this at Christmas time, when everything is covered in snow and soft and gentle lights enrich the tiny villages and mountain huts? Honestly, I can't!
The Dolomites are a great location for all kind of tourists: from families with kids, to groups of friends and couples. Visitors can relax, have an active holiday thanks to tons of kilometers of slopes suitable for skiers, snowboarders and cross country skiing lovers and even snowshoeing in the silent woods. From end November to January 6th tourists can attend Christmas markets, events and festivals almost everywhere and breathe its magic atmosphere with candles, lights and Christmas decorations on every door.
Alessandra of Tips 4 Italian Trips
Ruka, Finland

Ruka in Finland is almost always guaranteed to have the picture perfect white Christmas that we all dream of. Why, you may ask?
Well, for starters it's towards the North of Finland (not too far from Lapland), so definitely gets its fair share of cold weather (it gets up to -30 degrees Celsius easily in the winter), and it's also a fantastic ski resort. To ensure that skiing is always a possibility here, they even spread snow across the slopes if they're running low on some days. So like I say, snowy weather – guaranteed.
If you're planning to travel to Ruka for Christmas, you should definitely arrange to stay in a traditional log cabin (there's plenty of those), and being Finland, they know a thing or two about saunas, so expect your cabin to have its own built in. One final recommendation for your trip would be to stock up on some Glögi – a type of Finnish mulled wine, which is super tasty.
So, to sum it up, imagine this – heading out on the snowy ski slopes by day, hopping into your sauna afterwards to warm up, followed by a blanket, pyjamas and fluffy slippers in front of a log fire, sipping Glögi. What could be better at Christmas time?
Justine of Wanderer of the World
Tromsø, Norway

Up above the Arctic Circle, Christmastime means cold & darkness. In Tromsø, Norway, this also means that it's time for lights to shine, whether they are man-made or in the sky. Around Christmas, Tromsø sets up light displays along the waterfront. The lights brighten the backdrop of the snowy mountains across the water.
The main reason for visiting Tromsø, Norway at Christmas is to see nature's most magnificent show, the Northern Lights. Tours will take you deep into those snowy mountains in search of cloudless skies so you can see the greens & reds of the aurora in all its glory. On nights with strong activity, you can even see the Northern Lights from Tromsø itself. If you like Christmas lights of any kind, Tromsø is the place for you.
Jonathan of Everybody Hates a Tourist
Debrecen, Hungary

Most travelers know that Eastern and Central European countries are usually great destinations around Christmas time, since there is a high possibility of finding beautiful snowy landscape there. In addition, cities and towns in these countries have beautiful Christmas markets with wonderful decoration. People who come to Hungary tend to visit only Budapest, but Hungary is much more than that.
We encourage you to visit Debrecen, a town situated near the Eastern border of the country. Debrecen is the main protestant town of Hungary, and the Big Church is the main symbol of the city. The town center is full of beautiful buildings from the 19th century, and during the month before Christmas it's nicely decorated with thousands of lights. At Christmas there's a high chance of finding the streets covered with snow. The university campus area is found in a forest, and it's an unforgettable experience to walk in the snow there.
Gabor of Surfing the Planet
Helsinki, Finland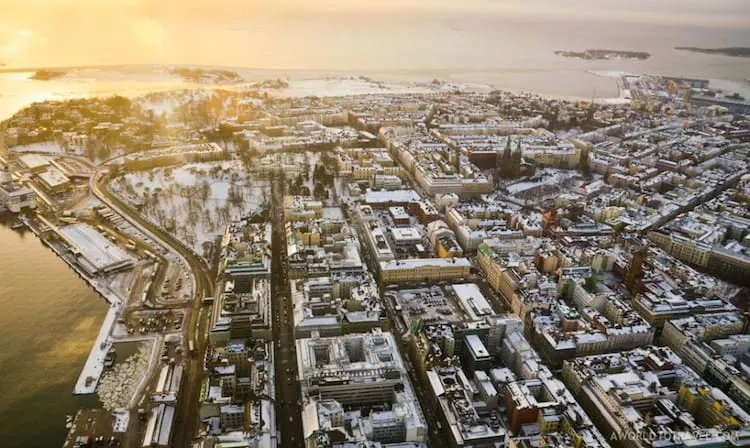 After visiting Helsinki twice in January, I can assure you that enjoying a white Christmas in Finland's capital is pretty much guaranteed. Either in the city or surroundings – since as every mid size city the snow gets soon dirty – you will not find a shortage of snowed fields and gorgeous light. In fact, sunrises and sunsets last for hours, something that will bring your pictures alive with beautiful and warm colors.
If you, like me, are a fan of cityscapes, I'd recommend you to witness all the beauty from above. I had a chance of flying a helicopter over Helsinki and Suomelinna at sunrise a few years back and it has been to date one of the most awe-inspiring experiences ever. Should you were on a budget, head to the functionalist Olympic Stadium. You can't beat the views from its 72-meter high tower either.
Inma of A World to Travel
White Christmas in Asia
It might not be the first place you think about for a white Christmas but there are places you can go – especially Japan for a white Christmas.
Niseko, Japan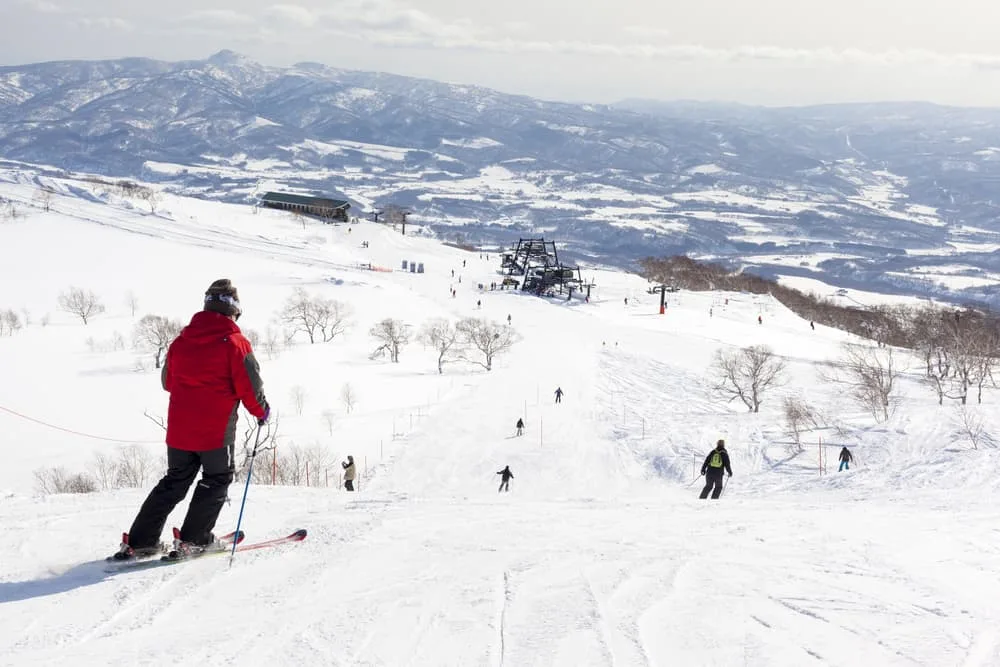 Niseko lies in the Abuta District of the northern island of Hokkaido. At Christmas time Niseko is your typical powder white skiing destination, yet with one added bonus, sweeping views of the dormant volcano and Mt. Fuji lookalike, Mt. Yotei. Snow is most definitely guaranteed, Mt. Yotei is even snowcapped in spring!
You'll enjoy all the typical wintery activities like snowboarding, skiing, snowmobiling, and snow shoe trekking. But in my opinion, the best reason to visit Niseko in winter is taking a nice hot bath in one of the many onsen (hot springs) that are dotted around the District, like at the Green Leaf Niseko Village.
Callan of Singapore n Beyond
Moscow, Russia

If there's one place where you can be certain to have a white Christmas on any given year, it's Russia, notoriously famous for its cold winters. Although, I must say that winters in Russia are not as bad as they say. If you visit Moscow in December the temperature is likely to be around -10°C to -15° C (5°F -14° F) which is fairly comfortable to stay outside (given that you have proper clothes).
While Christmas in Russia is celebrated on the 7th of January, two weeks later than in Catholic countries, Moscow is decorated for holidays during the whole month of December. The capital of Russia has that perfect holiday atmosphere, lots of snow and a fairytale-like look, but at the same time it's way less crowded than other European cities since 25th of December is not a national holiday.
If you are interested in learning more about Russian culture, you can plan your trip to stay till the 7th of January and see for yourself how Russians celebrate Orthodox Christmas.
Yulia of The Foodie Miles
Be a part of the MarocMama family!
Do you want access to all things MarocMama? Join our community of readers to get updates on new posts, inside information that won't go on the blog and so much more!
Sound good? Pop your email below and you're in!