Having a few hours to spare at Lisbon Portela Airport can be a real joy, especially if you end up stopping in Terminal 1. There are plenty of places to eat, drink and relax in this terminal and, with great transport links to the city centre, it's easy to get in and explore Portugal's capital.
Terminals at Lisbon Airport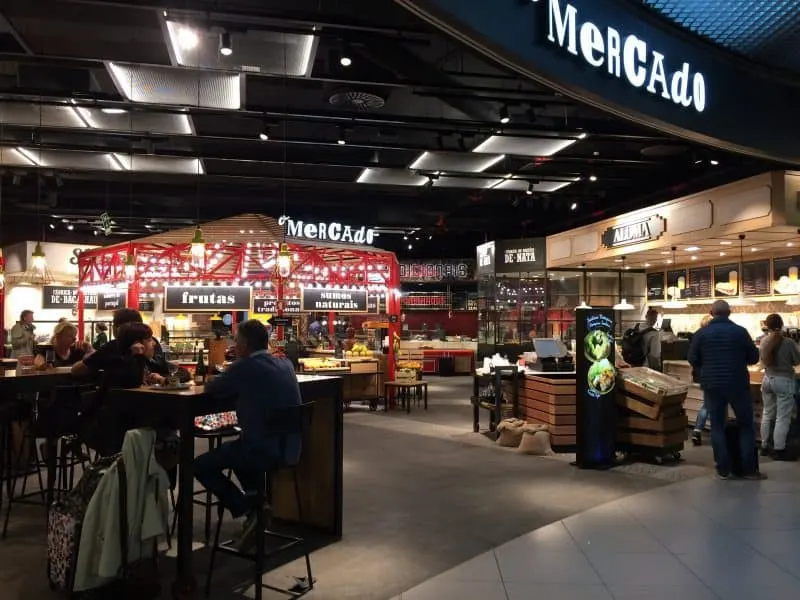 Lisbon Airport has two terminals. Terminal 1 is the biggest (and best). If you're flying with TAP or Royal Air Maroc this is where you'll be stopping, but it's also a hub for all the main airlines like British Airways. Terminal 2 is home to budget airlines like Ryanair, easyJet, Norwegian, Blue Air, Transavia and Wizz Air.
This terminal is a little less exciting, unfortunately, but it's also very unlikely that you'll end up on a layover here (especially since all arrivals are filtered through T1). There is a shuttle bus from T1 to T2, which takes about 6 minutes and runs every 15-20 mins, in case you need to get over there for your onward flight. You can also take a taxi between terminals (they're that far apart).
Eating at the airport
If you decide to stay in the airport, you can get a taste of Portugal at O Mercado. This is like a mini version of the Ribeira Time Out Market in the city centre. The pastéis de nata (custard tarts) sold here are actually very good – they're made by a company called Aloma and, in our opinion, they make the best natas in the city. You can also try other dishes like pastéis de bacalhau (fried codfish patties) and leitão (suckling pig). Or if you're not hungry, just grab a freshly squeezed OJ, made from Algarve oranges.
There are lots of other great places to grab a bite including Paul (French patisserie and sandwiches), Hediard (Iberian charcuterie with champagne) and Pastelaria Versailles (elaborate cakes and rotisserie chicken).
Shopping at the airport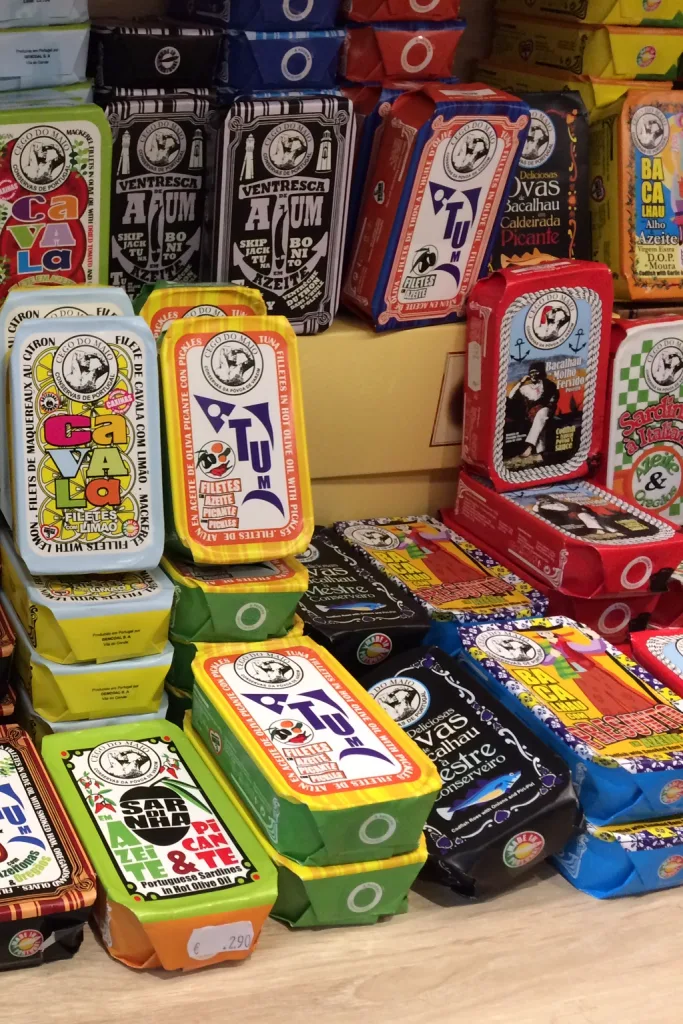 There are plenty of designer stores to pick up some duty free goodies, but if you want to take a bit of Portugal away with you you'll find some better than average souvenir stores. Portfolio sells high-end versions of traditional Portuguese handicrafts and is a great place to pick up artisan soap, tins of sardines with gorgeous artwork designs, and ceramics. Meanwhile Dreams Gourmet sell the best of Portuguese food and drinks, like extra virgin olive oil, charcuterie and port (pick up some late bottled vintage, enjoy with some good cheese, and thank us later!)
Leaving the airport
If you have plenty of time to spare you can easily get into the city. A taxi to Cais do Sodre in downtown Lisbon shouldn't cost much more than €10-15 and should only take around 20 minutes in light traffic.
The Blue Line of the Hop on Hop Off City Sightseeing bus conveniently calls at Lisbon Airport. Each loop takes 90 minutes, and the blue line runs hourly from 9:45am to 6:45pm.
There's also a red line, for those with more time. Tickets start at €19 for adults and €9.50 for children, if you book online, and are valid on both routes.
The red line of the Metro also stops at the airport. To board you'll need to buy a Viva Viagem card from the machine (these cost €0.50) and then load it with your ticket (a single journey costs €1.40). These cards are rechargeable for up to a year, so keep it to save yourself a few cents on your next trip to Lisbon.
If you're not interested in wandering up and down the hills of the city centre, or if you have kids in tow, here are a few easy (and fun) suggestions: Parque das Nações (Expo) – This modern neighbourhood is three stops (12 minutes) away on the metro, at Oriente and is home to Europe's largest indoor aquarium. There are lots of shops and cafes, and a boardwalk so you can stretch you legs.
Lisbon Zoo – We love this zoo, it really feels like you get up close and personal with the animals. The zoo is about 37 minutes away, and you need to make a transfer from the red line to the blue line at São Sebastião. The stop for the zoo is Laranjeiras.
James writes the blog Portugalist, a travel blog about Portugal with separate sections covering Lisbon and the Algarve. You can keep up-to- date with the latest blog posts from Portugalist on Facebook or Twitter.
If you've maxed out time wandering the airport why not head to the lounge? Priority Pass is a great program for travelers who want access to airport lounges around the world – and something I use regularly! Pay per use or purchase a chunk of access passes – its up to you!