My kids (and my husband) love cruising and I'll be the first to admit that it is one of the easiest vacations you can take with a family. There's usually plenty to keep them busy, the food is (almost) all included and most importantly you really can't lose anyone because they're in a restricted space.
We took our second cruise as a family this spring and thanks to our close proximity to Europe, opted for a Mediterranean cruise. This is always something I wanted to do and considered it a great way to see multiple cities and countries in a limited amount of time.
We booked this trip on Norwegian's Epic cruise liner. We previously sailed with Royal Caribbean on a five-day Caribbean cruise with three stops. This time the cruise was seven days with six port stops in Italy, France, and Spain. I liked the idea of being somewhere new everyday – or so I thought.
We departed from Barcelona where we stayed a few days ahead and after. It's a quick and inexpensive flight to Girona (about 75km from Barcelona) from Marrakech on RyanAir. Reaching the port and getting on board was much easier than our Caribbean cruise experience, things were starting well.
Our Itinerary
Day 1: Depart Barcelona
Day 2: Sailing
Day 3: Naples, Italy (we went to Pompeii)
Day 4: Civitacecchia/Rome, Italy
Day 5: Livorno/Florence, Italy
Day 6: Cannes, France
Day 7: Palma Mallorca, Spain
Day 8: Disembark Barcelona
I'm going to break down the different components of our cruise experience to shine some light on our experience. Warning: this is a long post!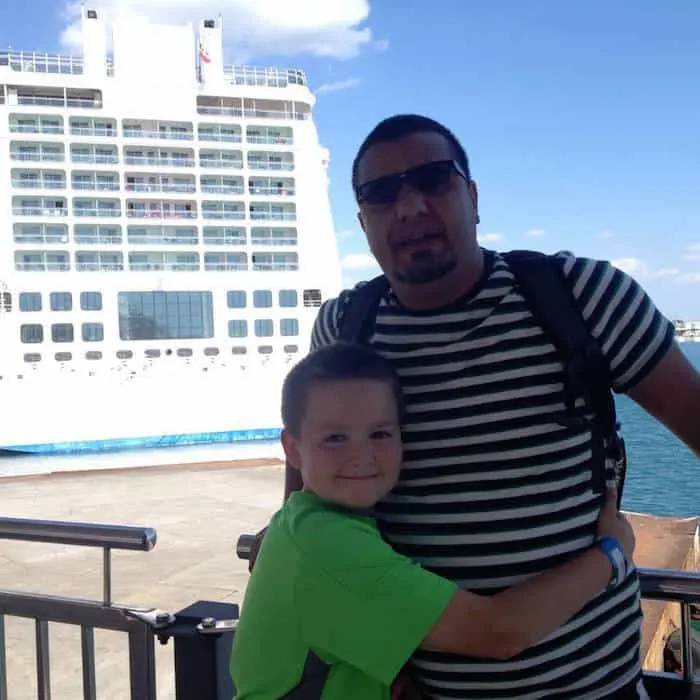 Kids Club
We immediately registered our kids for the kids club when we got onboard as we didn't want in line later on. Turns out this wouldn't be necessary, there weren't many kids on our cruise. We went the second week of May before summer holidays and after spring holidays. It's typical in Europe to have a spring break that's 1-2 weeks long sometime in March. This was good because the cruise was less expensive, however there were only a handful of kids the same age as ours.
This didn't stop them from attending and enjoying the kids club, they just didn't make very many friends. Our youngest had the most fun – he never wanted to leave! Norwegian provides port play days where kids can stay on the ship while parents and/or older siblings go to shore. K did this one day and stayed to have dinner with his friends.
He was way more interested in playing than walking the streets of Mallorca. It was a great option for kids that are a little older and don't want to sightsee. M might have been more excited and opted to stay if there were more kids his age, but for him going off the ship and seeing things was more interesting. The set-up was a win-win for us. Both kids were happy and we weren't having to fight with either of them or leaving one disappointed.
Room Size
We booked an inside room, the cheapest option, just like we did on our Caribbean cruise. Beside it being a great price, we really love the blackout effect these rooms have. With no exterior light our kids don't wake up at the crack of dawn! Some people say it's worth paying more for the window rooms on Mediterranean cruises because you'll see the shore more – I don't think so. You might see cities when you arrive or depart but when you're at sea, you can't see anything but more water – just like in the Caribbean.
That being said. these rooms were tiny and we were tight for space. Also instead of having a single bathroom with a door and wall the toilet was tucked into one side between the closet and door, and the shower was on the other side, jutting out into the room. We like to relax and watch a movie in the room at night, but this was impossible once the kids bunks were pulled down from the ceiling. You can't see the TV from the bottom bed. It was just a really awkward layout.
Our advice: If you're considering the Norwegian Epic, go for the next size up and give yourself a little more space.
Eating on the Ship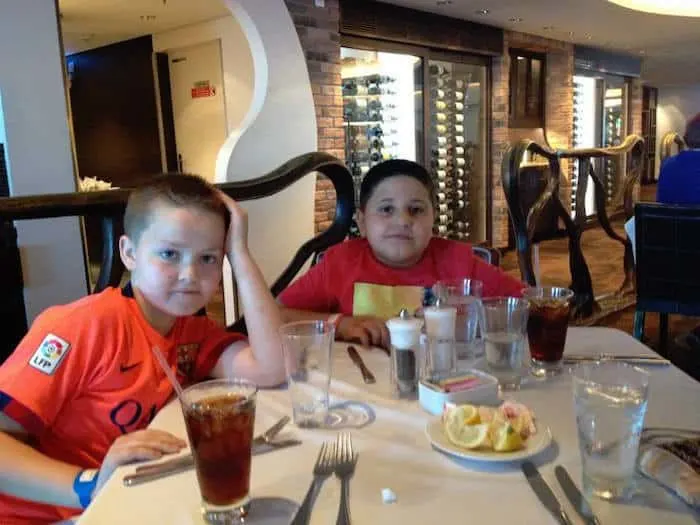 With two growing and always hungry boys, cruising saves us a lot of money in the food department. It's easy to spend $50 a meal for the four of us to eat when we're traveling, especially if I don't have access to a kitchen. At $150 a day over the course of a week our food costs alone can go over $1000! I've estimated that what we pay for our kids' fare on a cruise ship is roughly equal to what they would eat if we were on land. Plus, there's tons of options which means less complaining and more relaxing for parents. The buffet on this ship was decent with a different theme each night, often related to the port area we were in.
There is an option for a sit-down breakfast, lunch, and dinner service if desired. Norwegian has no reservation times required for dining which is really nice when you have kids. We often opted to do the sit-down meal service because the buffet led to plates of junk food being eaten by the kids. The quality also tended to be a bit better. Norwegian has many specialty dining restaurants onboard.
One night MarocBaba and I tried the Brazilian steakhouse and the food was ok. It was $25 extra per person but I had a $50 ship credit so that was how we opted to use it. Would I pay it in cash? Probably not. For anyone with dietary allergies or preferences there were many options such as gluten-free and vegetarian choices, and it was easy to ask and be accommodated when needed.
At the time we sailed Norwegian was in a bit of a rift over their food out of the dining room policy. They had instituted a surcharge for room service and didn't want people taking food back to the cabins (ergo avoiding the room service charge). I LOVE room service and on our Royal Caribbean cruise I ordered breakfast in bed often. It was a treat and it was complimentary.
Even if I wanted to on Norwegian I couldn't because a) I couldn't find a room service menu anywhere b) I wasn't going to pay $8 to have it delivered. I've heard they have since lifted the ban on bringing food to the cabin and possibly the room service charge as well.
What made us extra excited was that most of the items used on the ship were American products! Mug root beer, Ranch dressing, and dill pickles were some of our finds. I know it sounds strange but for expats these little tastes of home took on a new meaning.
Our advice: Opt for sit down, dining room dinners. Skip the specialty restaurants and spend the money eating some amazing food when you're in the ports.
Shore Excursions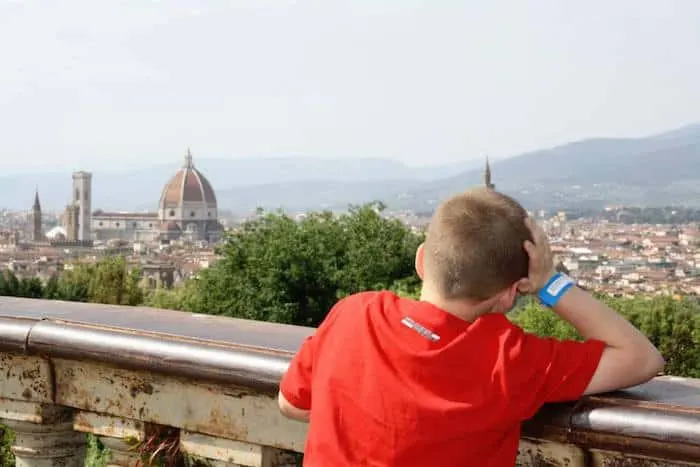 The killer. I'm writing a post for each of the stops we made with more detailed information but here are a few general things you should know. I found shore excursions on this cruise to be MUCH more expensive than either of the Caribbean cruises I have taken. At least 2-3x more expensive. I know you're thinking, "well it's Europe so that's why." No! Europe is not THAT much more expensive than the US or the Caribbean.
We chose to make our own shore excursions, as we did in the Caribbean and those days were typically much more memorable and fun. Shore excursions are convenient, and you won't have to think about how to orchestrate them for you. That's why you pay a premium.
But $99 per person for bike rentals in Mallorca? $450 per person for a 10 hour group tour in Florence and Pisa? Choosing even the least expensive shore excursion in each port would set you back well over $500 per person over the course of the sailing. Think long and hard about which excursions you choose. In the end we purchased just one shore excursion in Florence from the cruise line and I regretted it.
While not a monetary cost you'll also want to pay attention to which ports dock at the port and which you'll need a tender. Only one port on this itinerary tendered (Cannes) and while normally it might not be an issue, high seas meant long delays when we wanted to get back on the ship. More on that later.
Our advice: Make your own shore excursions and only consider using the cruise line offers for transportation to the cities.
Unexpected Costs
The strangest thing for us on the ship was that everything was in dollars. Norwegian is flagged in the United States and the currency on board is US dollars. This cruise left from Europe and I'd estimate a good 75% of people on board were European and unless otherwise warned (we weren't) probably weren't carrying dollars. If you wanted to exchange money you could do it at guest services but they charged a 10% commission. Not only was this unexpected but a little over the top. How to get around it? The casino cash window would do the exchange without a commission.
Gratuities were not unexpected but I still was left feeling disappointed. On Royal Caribbean there was a suggested gratuity, added it to your bill BUT you had the option to go to customer service and adjust it up or down depending on how you felt your service was. They also gave you an option to tip your dining room server, room steward, or anyone else privately via distributed envelopes.
On the Royal Caribbean cruise I felt extremely well taken care of and looked after. We saw our room steward regularly, our dining room waiters were incredibly kind and always provided great service. I didn't get that on Norwegian. Everyone did their job but it wasn't anything special. I feel like they knew they would be getting some sort of tip anyway so there was no need to do anything in addition to prescribed tasks.
Our advice: Find out what currency the ship will be using and be prepared ahead of time. Also look into the gratuity policy so you know what to expect.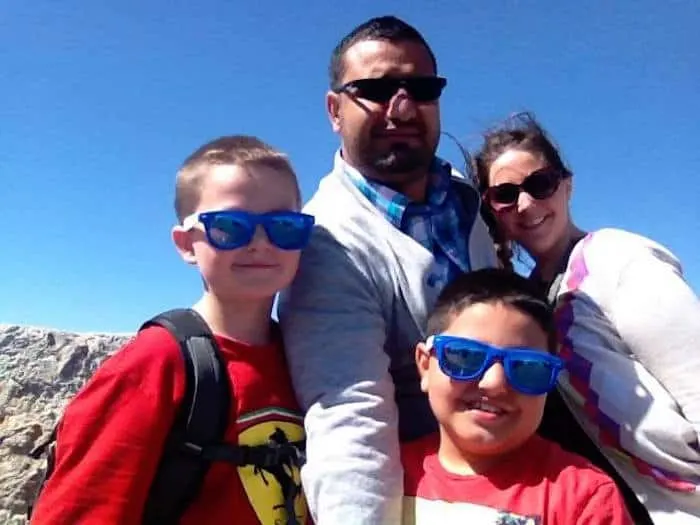 Overall the cruise was alright. It was easy to see that its target demographic is much older than our family. The onboard activities and shows were so-so. Many required additional charges which we just avoided by not attending. Because the days in port were so long, and it took so long to reach destinations once on land, we didn't have much time to utilize everything. Every day I looked through the onboard flyers that list activities and only one or two things every stuck out to me – and most of them were at times we weren't on the ship.
I haven't given up on cruising yet. MarocBaba and the boys really enjoy it but it's slowly losing its appeal for me. Next time, we'll go back to Royal Caribbean and stick with what we love.
How we spent our Mediterranean cruise
A shore excursion in Naples had us taking the local train to Pompeii for a guided tour. We loved this and highly recommend this for families!
Rome was our second stop and we took a tour of the Vatican and ate lots of pizza and gelato. Should you take your kids to the Vatican? We're mixed!
Day Three stopped in Livorno, a long way from Florence. M and I took a shore excursion from the cruise line and visited this historical city. We went on a guided tour and had a lovely afternoon on our own.
After leaving Italy it was on to France and the Cote d'Azur. The Cannes movie festival was underway when we visited but it didn't take away from the experience. For a laid back day in Cannes, wander and eat!
Our final stop was in Mallorca where K stayed in the kids club while the rest of us went for a walk and to find some food. The city is quite far from the cruise port and we never made it all the way opting to stop, find some WIFI and enjoy a meal before getting back to the ship.
Overall this was not the European cruise I dreamed it would be however we did our best to have a good time and enjoy spending time together.