When I found out this weeks' #SundaySupper theme was tapas I was one of the first to sign up a recipe. I have always loved tapas, and after experiencing the real thing in Spain a few months ago, it's safe to say I'll forever love them! There are many nights when I put together a few small plates for a light meal. It's simple and fun to make a meal out of a bunch of easy to make items.
In Madrid the Mercado de San Miguel is an indoor covered market that serves all kinds of tapas and pinchos. Typically bars offer free tapas with a drink – they are small things like almonds, olives, and other nibbles. They also may have available 8-12 other small items served warm or cold available for a few euro each.
Bars in Spain serve beer, wine, and mosto a really delicious grape juice. I really don't like juices but this is just excellent. I would drink mosto all day long! Back to the food. Pinchos are items served on a stick (pincho means thorn or spike). The two words, tapas and pincho can be seen used interchangeably. Small plates, though larger than a single bite are also called tapas. But, above all – these foods are meant to be shared. They are THE perfect party food.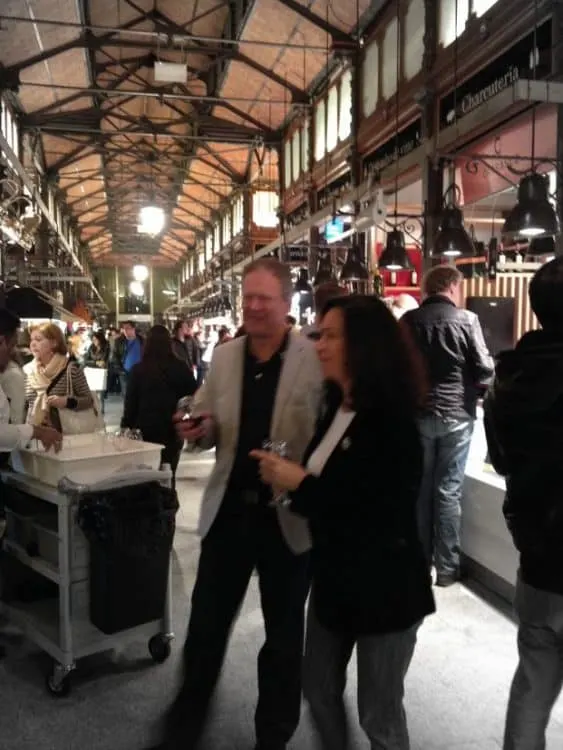 I love making foods like this and can't wait to take MarocBaba and the kids to Madrid to enjoy this food culture. But there's no reason you can't enjoy it at home too. A few weeks ago I found garlic infused olive oil at the olive souk in Marrakech. It's a genius idea I've seen and thought of before but never executed. As soon as I opened the bottle of garlic I fell in love – it smelled so amazing, and so Mediterranean. This is a very, very simple dish that you can enjoy for your next tapas party, or afternoon snack.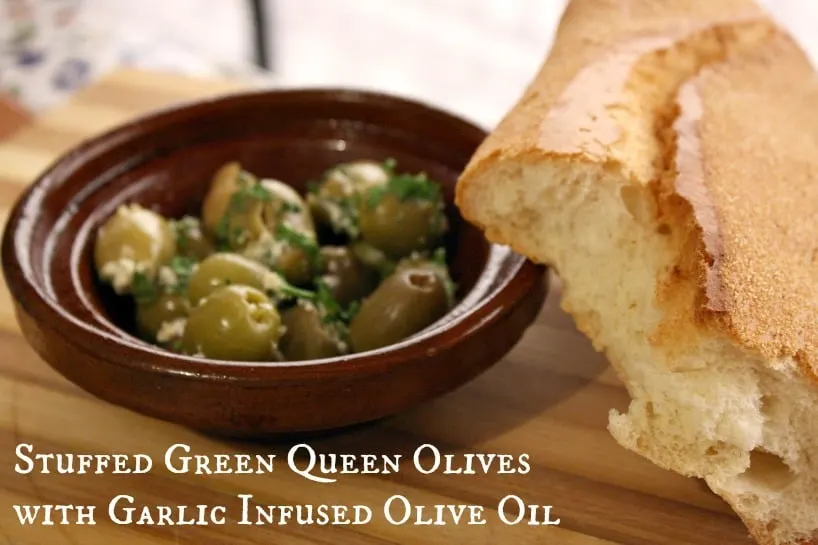 To Make Garlic Infused Olive Oil
To make this you will need fresh, raw garlic, a glass jar with a tight seal, and the best quality olive oil you can find. Wash the jar with hot soapy water and allow to dry completely. Peel the garlic. You can either chop the garlic into pieces or leave whole. Fill the jar with garlic 3/4 of the way, and fill with olive oil. Seal. I store in the refrigerator as I don't "can" the garlic so it can spoil.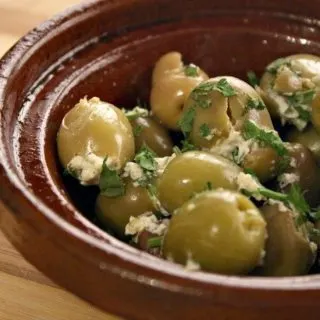 Stuffed Green Queen Olives with Garlic Infused Olive Oil
Ingredients
12-15 extra large green olives
3 oz goat cheese or cream cheese
1 Tbsp chopped garlic (from oil mixture)
small handful chopped cilantro
1/8 tsp black pepper
1 tsp garlic infused olive oil+ 2 tsp
Instructions
If your olives have pits, remove them, trying to keep olives as much in tact as possible.
In a bowl mix together cheese, garlic, cilantro, black pepper, and 1 tsp olive oil.
Stuff olives with this mixture.
Place olives into a small baking dish and drizzle with an additional 2 tsp of olive oil. Bake in a 350F (220C) oven for 10 minutes to warm them up and melt the cheese slightly.
Serve warm with bread or toothpicks to pick up the olives.