When Ramadan comes around I'm usually off the hook for cooking. My in-laws have a very specific set of things they like to eat and while I used to feel sad that didn't include foods I made I have instead channeled by cooking into things for my kids to eat later. The exception to the no cooking rule is that they almost always love the desserts I make. They love them even more when it has a Moroccan element.
With that in mind, is how this cheesecake was born. I have recently been in touch with the Moroccan Biodiversity and Livelihoods Association and one of their projects is to get food products made in a cooperative setting to more people. To make this I used honey from Amaguar Women's Cooperative and zmita from Cooperative Yamna. I wanted to have two very Moroccan flavors that would work well with the citrus that we always have in abundance.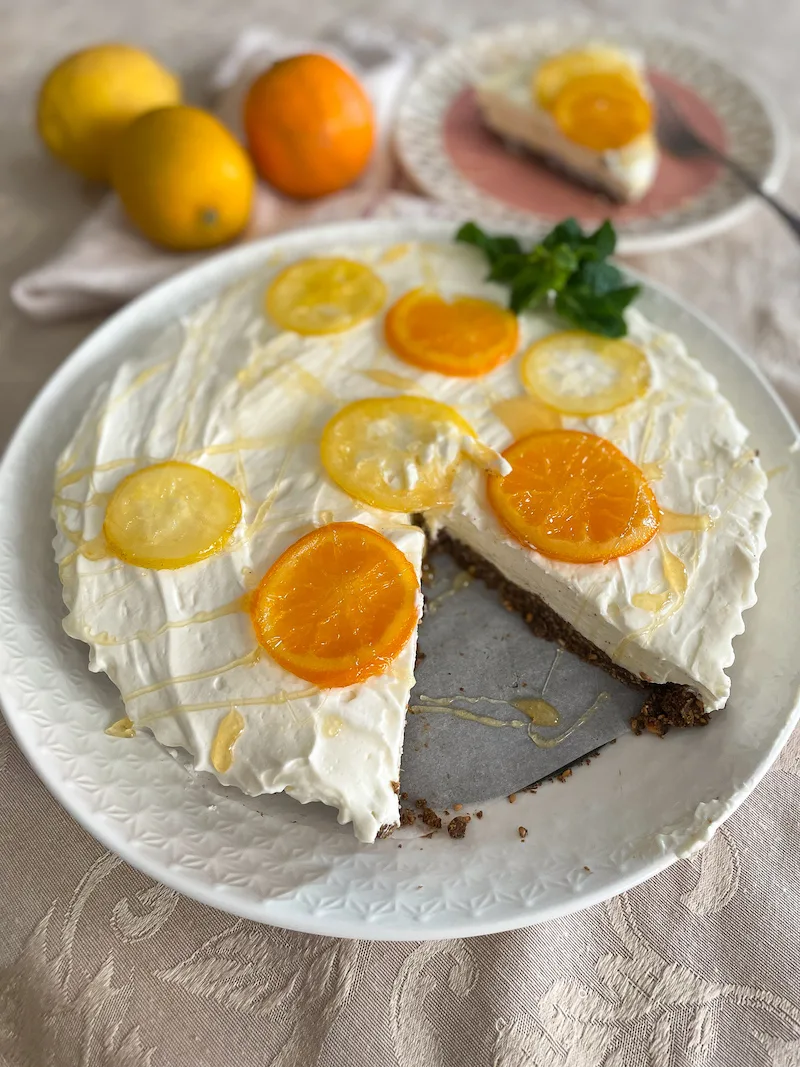 What is zmita?
Zmita is a type of powder/paste/flour – let's just say it's hard to categorize exactly what it is! It's also known as sellou and is very commonly eaten during Ramadan. It's made with toasted flour, toasted ground almonds, and spices. Everyone seems to have a slightly different way of making it. The final result can vary from a paste to a more dry/sandy texture again depending on the family/recipe/region.
To eat people usually either have a spoonful or two or make it into balls that are then eaten. To be honest, it's not my favorite but that's more a texture thing for me. So keeping that in mind, and knowing my in-laws love zmita, I had the idea to make a cheesecake!
The good news?
It was a hit!
The bad news?
I will now have to make it on repeat for family holidays and celebrations.
A few notes before you try this out. The candied citrus on top is something that I liked the flavor. But the cheesecake itself is a blank slate. You could easily use raspberries, strawberries – really any fruit – in place of the orange and lemons. If you do go with the citrus try to get organic, thin skinned fruit. The thicker the skin the longer it's going to take to break down. Also if you slice thinly it will be ready much faster.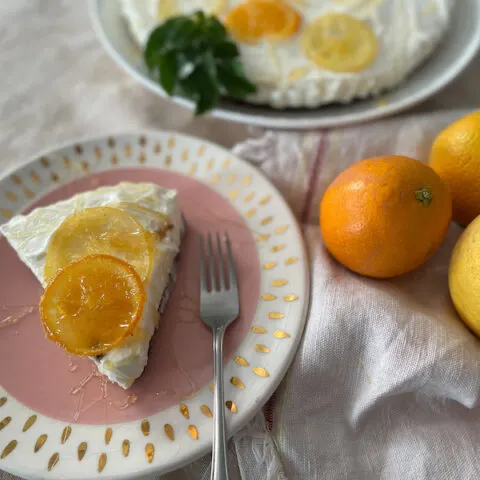 Yield:

10
Honeyed Citrus Zmita Cheesecake
Total Time:
3 hours
30 minutes
A no-bake cheesecake with fresh citrus and a savory zmita crust. Use thin-skinned organic citrus for the best results.
Ingredients
Zmita Crust
2 1/2 cups (350g) zmita
3 Tbsp honey
6 Tbsp (85g) melted butter
Cheesecake Filling
1 1/4 cups (300g) cream cheese
1/2 cup (60g) sour cream or fromage frais
1 1/2 cup (325mL) heavy cream
1/2 cup (100g) sugar
juice of 1/2 lemon
1 tsp vanilla
Honeyed Citrus
1/2 cup (100g) sugar
1/2 cup water
1/2 organic lemon
1/2 organic orange
Instructions
Instructions for the Crust
Prepare a quiche pan or springform pan and line with parchment paper. If you're concerned about sticking you can also butter the parchment.
In a bowl, mix together the zmita, honey and butter. It should stick together when you squish it between your hands. If it doesn't, you can add more honey by the teaspoon until it holds together.
Press the mixture into the pan and spread out until even. Distribute the crust evenly so that it will all firm.
Cover with plastic wrap and place the crust in the refrigerator until the filling is ready.
Cheesecake Filling Instructions
In a large mixing bowl, add the heavy cream. Use a hand mixer or stand mixer) to whip the cream until it firms and forms stiff peaks. This should take 4-5 minutes.
In a smaller bowl mix together the sugar, cream cheese, and sour cream, lemon juice, and vanilla extract.
Gently fold the cream into the cream cheese mixture being careful not to overmix.
Remove the shell from the refrigerator and fill with the cheese mixture. Recover with plastic wrap and refrigerate at least 3-4 hours. It can stay overnight for an even firmer cake.
Honeyed Citrus
This should be made right before serving the cheesecake.
In a pot add equal amounts of water and sugar. Bring water to a low simmer until all of the sugar has dissolved.
While the water is boiling wash citrus and slice as thinly as possible. Slide into the liquid.
Cook for 15-20 minutes until the rinds are soft.
Layer the citrus on the cake. You can reduce the liquid further or drizzle as it is to the top of the cake. If you prefer less refined sugar, drizzle the cake with honey instead.
Garnish with mint leaves.
Notes
This recipe uses zmita, a type of nut an spiced powder eaten often by Moroccans during Ramadan. This recipe uses just the powdered elements and not the version with butter, however either will work. If you do not have powdered zmita available you can make it. I suggest this recipe.