Making Moroccan pom-pom succulents is such a fun craft idea. Not only is it great for fine motor skills for the younger kids but it's also an awesome decoration to have around the house. If the kids are ready to craft something unique and fun, grab the list of supplies and get started!
While this succulent craft is geared towards early learners, it might be a good idea to have some help from an older sibling or parent. There are several steps in this craft to work through and teamwork just might be the best route!
But the end result? A beautiful pom-pom succulent that your child is certain to be proud of!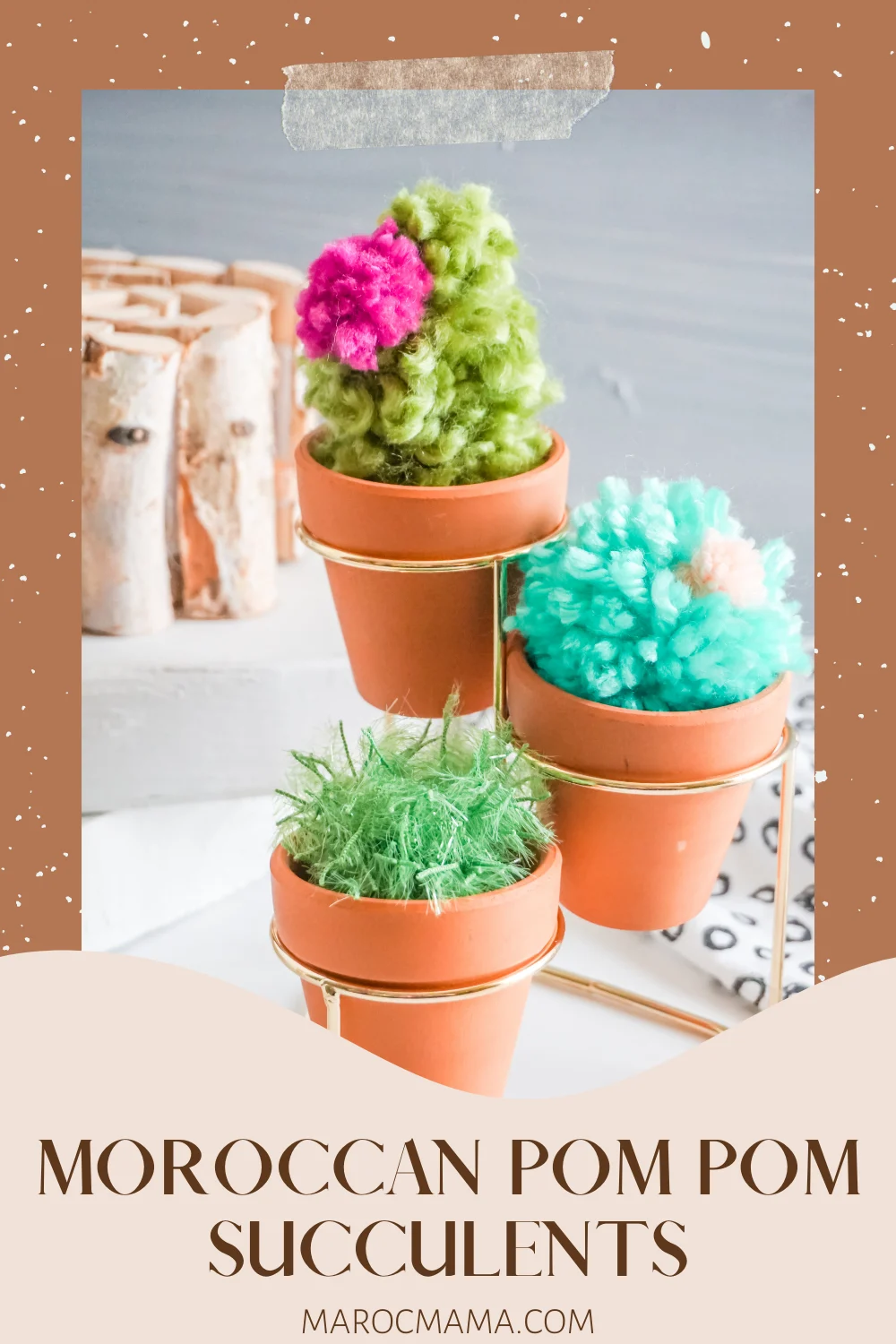 Tips for Making this DIY Succulent Craft
Depending on the age of your child, start by showing them an example of how to wrap the yarn to create. Don't forget that many kids are visual learners so this can be a super helpful step.
Don't be afraid to vary up the colors of the yarn as well. While we loved using the green and pink colors, who says that you can't change it up? If the kids want to make a rainbow succulent, let them! This is their craft and their vision, so let them run with it.
And since they're going to be wrapping the yarn between 40-50 times, this is a great time to work on counting skills, too. Sitting right there with them and giving a bit of guidance will create a fun experience for all – and a super cute homemade craft!
How to make different sized pom pom succulents
The fun part about this craft is that the kids can make succulents of all different sizes. It all just depends on how many times they want to wrap the yarn. The more wraps, the bigger the succulent. And the fewer wraps will result in what my kids call the "baby succulents".
If they want to make different sizes, let them! It results in a really cool-looking succulent that has many layers and elements.
What age is this activity good for?
It's great for younger kids but there will be some help needed throughout. As long as you're there to assist, your child can easily make this and be proud of the end result.
Supplies Needed to make Moroccan Pom Pom Succulents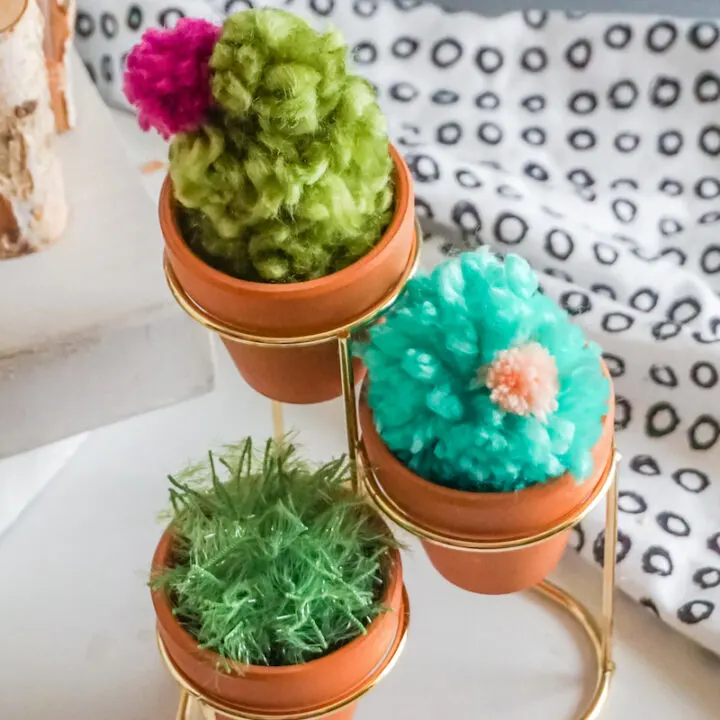 Moroccan Pom Pom Succulents
Materials
Green Yarn, Varying Shades
Pink Yarn, Varying Shades
2-3-inch Terra Cotta Pots
Pot Stand
Tools
Scissors
Hot Glue Gun & Glue, optional
Instructions
Begin by pinching an end of your yarn between your thumb and forefinger, then wrapping the yarn around all four of your fingers, trapping the end of the yarn, leaving a small tail hanging out near your thumb. Note: for a smaller cactus, only wrap 3 fingers, side by side; for a larger cactus, wrap all 4 fingers, spreading them apart a bit.
Continue wrapping the yarn around your fingers about 40-50 times.
Cut the yarn, trapping the loose end with your thumb near the other loose end.
Cut a small length of yarn, about 4-5 inches long, then wrap this around the center of the yarn looped around your fingers, going between your fingers. Tie this length of yarn tightly around the center of your wrapped yarn, double knotting it so that it won't come loose.
Remove your fingers from the wrapped yarn.
Cut the center of each loop of yarn, creating a loose pom pom.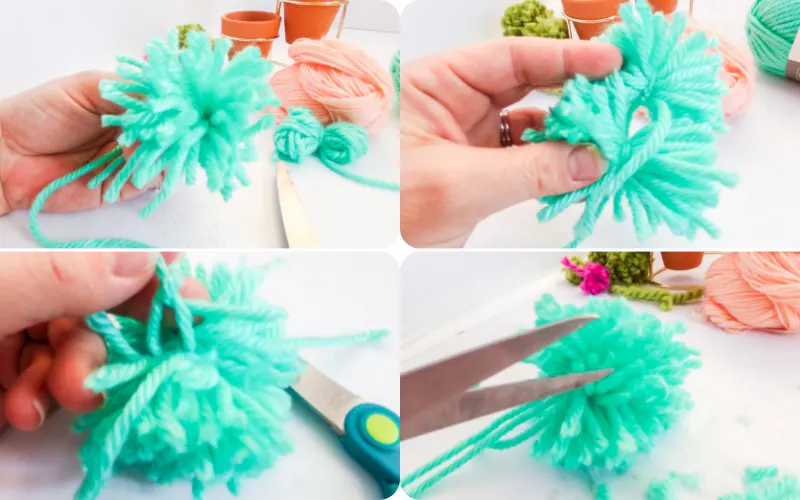 Trim the pom pom into a long and tall shape or a short and squatty one, depending on the cactus shape you want. Be sure to leave the tail of the center tie long so you can use it to thread through the bottom of the terra cotta pot and hot glue it to the bottom of the pot, if desired.
Repeat to make as many cacti as you want. To make a taller pom pom cactus, you can make an additional pom pom and glue the two together. To make a flower, make a small and tiny pink pom pom and glue it to the green cactus.
Place your pots in the stand and enjoy!
Recommended Products
As an Amazon Associate and member of other affiliate programs, I earn from qualifying purchases.
Ways to share homemade gifts with others
Every time we make a cute craft like this, I can't help but think that I want to share it with everyone else. And why not? People LOVE getting gifts that the kids make and it's also a great way to help them get a boost of creativity and confidence, too.
This simple pom-pom craft is great for grandparents, a fun gift for a new home, or even a great way to tell someone "thank you" for something that they've helped you or your family with.
Giving the gift of a homemade craft is something that people can cherish for a lifetime. And every time they look at it, they'll be reminded of the kid's thoughtfulness as well.
Once you make this simple succulent craft one time, the kids are going to get the hang of it pretty quickly. You may find that your house becomes overrun with pom-pom succulents fast! And in my opinion, that's never a bad thing!
Not only do these succulent "plants" take no effort or maintenance, but they're an adorable way to add a look of fun and a bright pop of color to every room in the house.