Rock painting is not only fun but it's a great way to add a pop of color to your home decor easily as well. These Moroccan desert inspired cactus painted rocks are the perfect addition to any room in your home! The great part of these rocks is that if you don't have a green thumb in raising plants, you literally don't ever have to worry about harming or killing them. These painted rocks will last forever and always look great.
If you're on the lookout for a simple and easy craft, rock painting needs to be on your crafting radar. Not only is this a great activity for all ages but it's one that is actually quite fun, too. To think that you can go outside, find a rock, paint it, and literally have a work of art is almost too good to be true, right?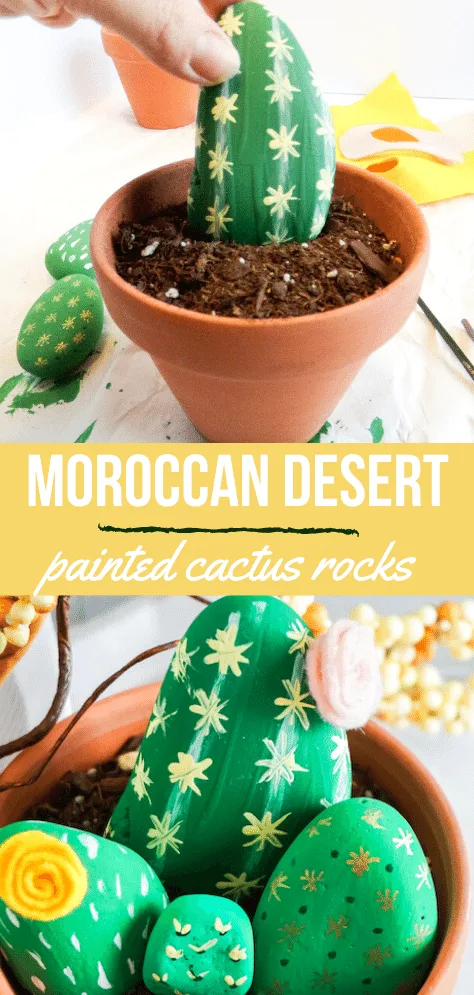 But it's the total reality of being able to paint your very own cactus rocks. But this does come with a warning…once you start painting rocks, you're not going to be able to stop.
Grab a few clay pots and place your cactus painted rocks in them. You can easily make a totally fun and unique focal point fast in any room in your home!
Fun Ways To Share These Cactus Painted Rocks
Even though they're super cute and you need to keep a few of these in your own home, don't forget that they also make for great gifts as well. These rocks would make for the perfect housewarming gift for family and friends!
Show up at their house and hand them a potted plant full of painted rocks. The look on their face will be priceless but they'll be happy about the gift because it's created by you and totally maintenance free.
What type of rocks do you need to be able to paint them?
You can really use any type of rocks that you want. To be able to make them look like a cactus, you're probably going to want a few that are larger in size. Just make certain that if you find them outside, you clean them off and wash away the dirt before painting.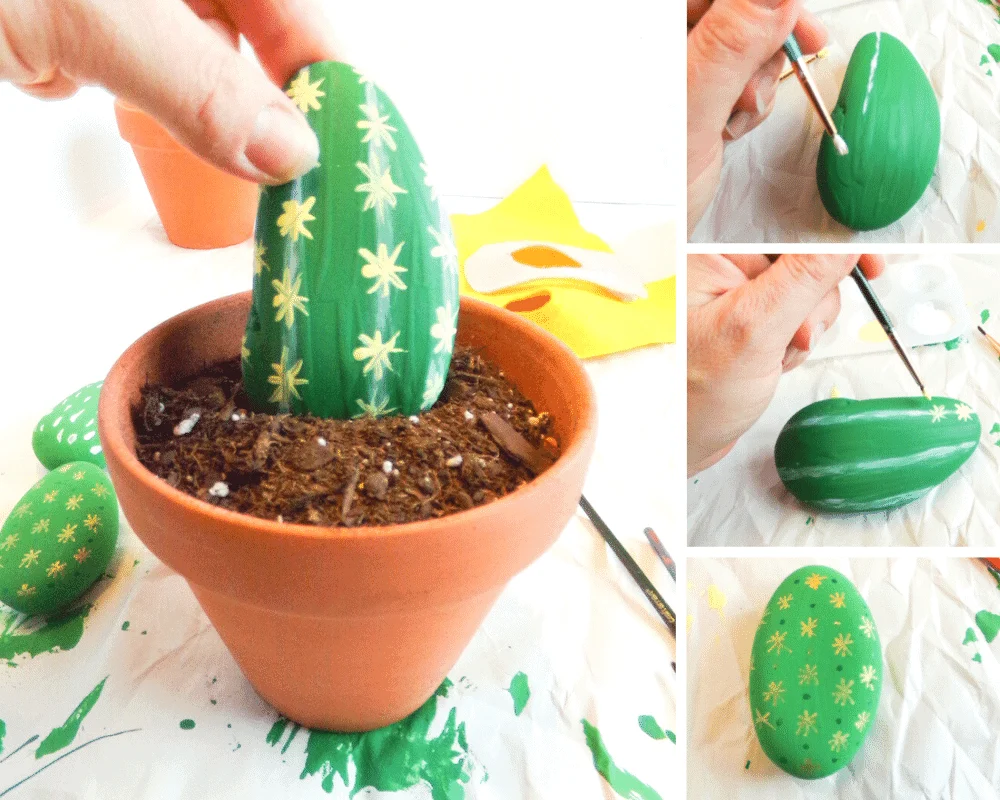 Supplies needed to make Cactus Painted Rocks
Chances are you already have most of these supplies! They're very basic and you can mix and match depending on what you do have.
Make certain that you have all your supplies before getting started. There's nothing more frustrating than starting a project and not being able to finish it right away.
4-5 Rocks of Varying Size
Green, Yellow, and White Acrylic Paint
Pink and Yellow Craft Felt Scraps
Mod Podge or Other Craft Sealant, optional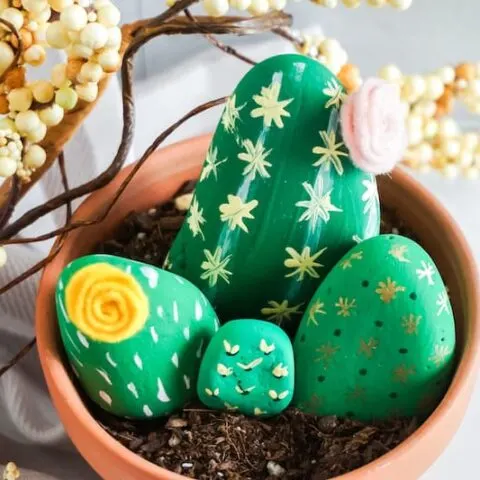 Create Your Own Moroccan Cactus Painted Rock Garden!
Additional Time:
45 minutes
Total Time:
1 hour
20 minutes
Create your own cactus garden at home. Ideal for those of us with black thumbs!
Materials
4-5 Smooth Rocks of Varying Size
Pink and Yellow Craft Felt Scraps
Tools
Scissors
Paintbrush
Pencil
Instructions
Start by mixing a small amount of several shades of green paint, adding in white and yellow paint to the green in varying amounts to make 3-5 different shades.
Paint each rock a different shade of the mixed green paints, covering the entire surface of each rock. Allow the paint to dry completely.
On one rock, add dots randomly all over the rock using the green permanent marker. Follow by adding two yellow dots on either side of the green dot to make it look like spine clusters.
On a second rock, add spines randomly all over the rock using white acrylic paint and the paintbrush, painting on short, sharp lines generally all pointing in one direction.
On a third rock, add definition for pleats by painting straight vertical lines about ¼-inch apart all the way around the rock. Add star shapes in-line with the vertical lines about ¼-inch apart on all the pleat lines.
On a fourth rock, add dots randomly all over the rock using the green permanent marker. Follow by adding gold stars between each green dot.
Using the pencil, sketch a spiral about 4 inches across on your pink or yellow felt. Cut this spiral out then twist it together, tightly on one end, a little looser on the other to create a flower. Hot glue this flower to the top of one of your rocks. Repeat with a second flower, if desired.
If desired, seal your painted rocks with Mod Podge or other craft sealants. Allow that to dry completely.
Stand your cactus rocks up in a pot or outside!
Notes
The length of time this craft will take completely depends on how long the rocks take to dry and how much time is spent painting them.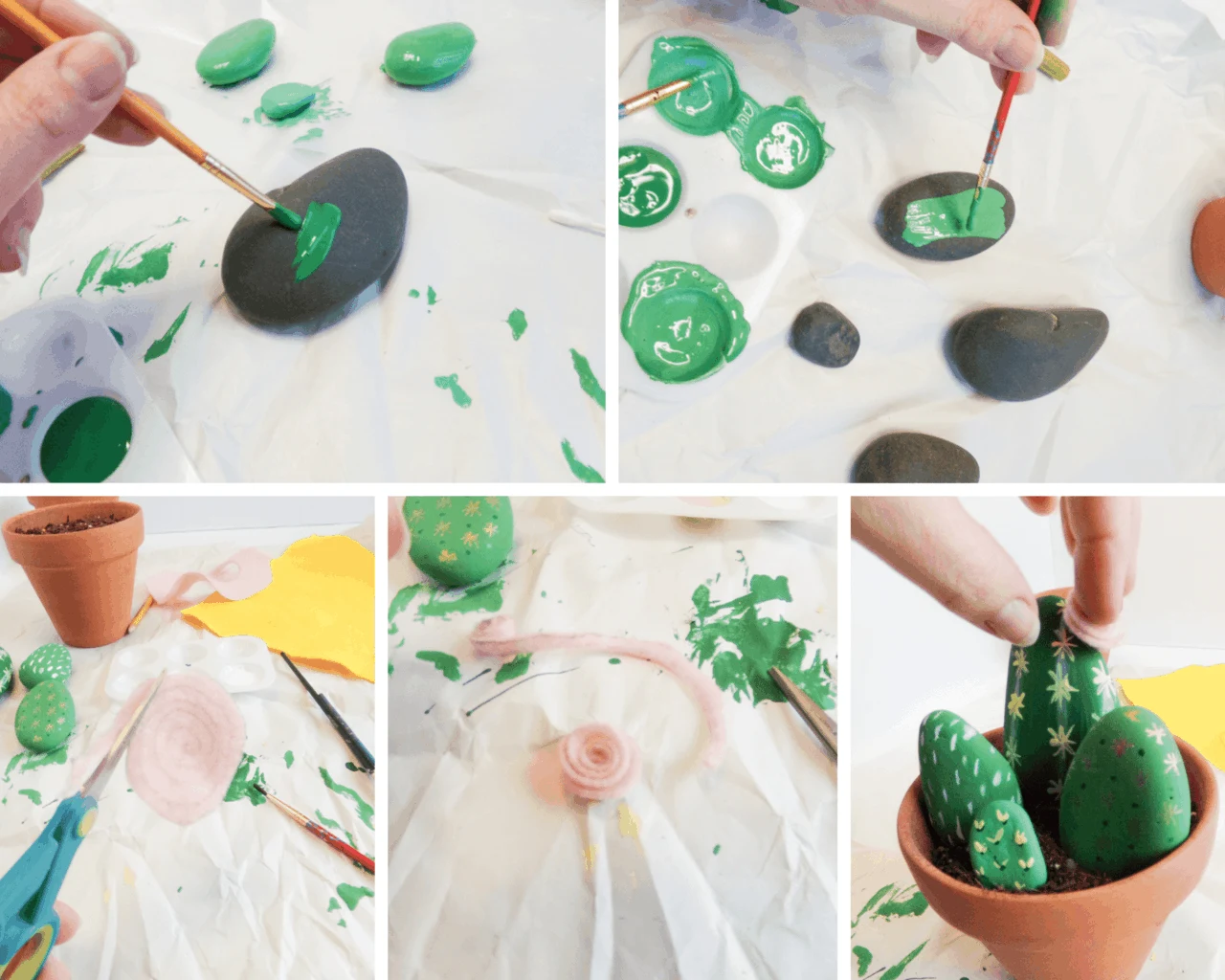 Do you have to seal your rocks once painted?
You don't have to, it's totally up to you. The reason that you might want to seal your rocks is so that you don't have to worry about the paint chipping. But if that's not a concern, you can skip that step on the directions listed below.
What else can you paint on rocks?
Anything that you want or imagine! We love cactus so it was an obvious choice for us but there are so many options that you can easily do. Animals, flowers, stars, stripes, rainbows…you name it. As long as you can fit it on the surface of the rock, you can easily paint it on there.
These cactus-painted rocks are a simple way to be creative while also making something that you'll be able to showcase and keep forever as well. If you like to share your art, it's a great gift for family and friends.