If the idea of taking your toddler on a plane is terrifying, it doesn't have to be. Most toddlers do really well when flying if they have things to keep them occupied. That's why I put together this list of my favorite airplane travel games for toddlers.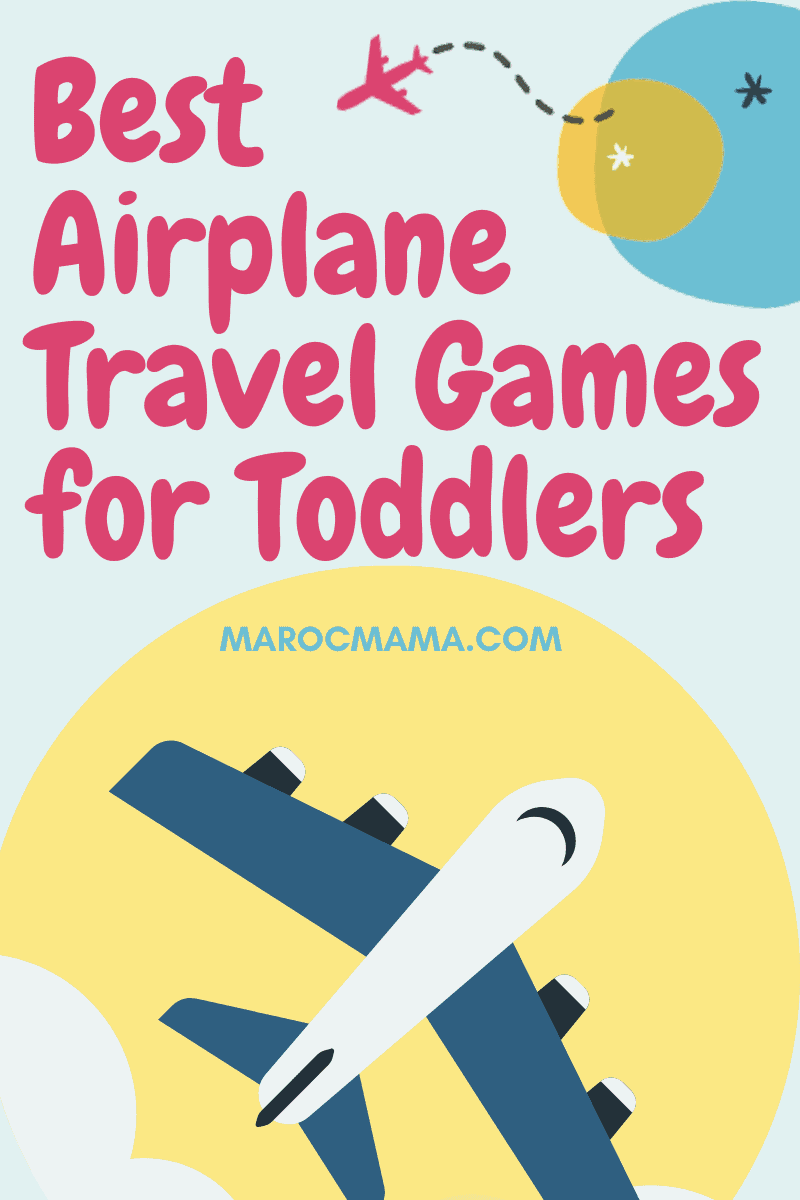 Great Travel Toys for Toddlers
I love this no-mess solution to drawing. Sometimes toddlers need prompts to get them interested in drawing. For trips, I usually ask my kids to draw some of the things that we will do when we get to our destination.
Why I love this for plane travel is because there are only a few pieces and I take the stamps and put them in my carry-on so that they are not getting dropped all over the floor.
This magnetic farm is a great activity to keep toddlers occupied. These little scenes tend to keep my children occupied for about 45 minutes and when I see their attention drifting from the set, I start interacting with them For this little farm set, I may pick up an animal and have it pretend to run around their tray.
The reason I like this so much for airline travel is that I can use it on the plane or waiting to take off in the terminal. With it being magnetic I don't worry about the pieces falling as much.
The only downside is there are several pieces to keep up with, but with the magnetic component, we haven't lost any yet.
These magnetic tangrams are a great little puzzle activity for older toddlers to preschoolers. Not only is it fun and challenging it is also educational and helps toddlers to build their spatial reasoning. As they manipulate the magnetic shapes to form pictures their brains start thinking about parts of an image that makes a whole image.
I love how little room this takes up and how long kids will play with this. While it comes with a book of 48 images to make, I always encourage my children to make their own pictures from their imagination when the tangrams.
If your toddler loves to draw or even play games like tic tac toe, this erasable doodle is a great investment for traveling. It takes up so little room that it always travels with us. This is one of the best travel activities for toddlers in my book because of how easy it is to pack and the fact that it can be erased and played again and again.
By now you know that magnetic things are my favorite travel games for toddlers because the pieces don't easily fall off since they stick to the magnetic play area. These are all small enough to fit on an airplane tray and can also be packed in a carry-on.
If you have a silly toddler, this travel game is a barrel of laughs. If your toddler is nervous during the flight or while waiting for the flight, laughing at all these silly faces will definitely soothe their nerves.
I love this dinosaur puzzle because of course, it's magnetic, which means the pieces are going to stay put.
This one is a little bit bulkier than some of the options, but only a little. It is a little bulkier, but it comes with a tray to keep everything together, which I find helpful in the terminal while we are waiting to board our flight.
If you need to leave in a hurry, you don't have to worry about cleaning up a bunch of pieces because you fold it up fast and be on your way.
Finally, a choice that isn't magnetic. These little lacing wooden fruits are so cute. For toddlers, they help with hand-eye coordination as well as fine motor skills. The wooden caterpillar and lacing string is attached to the fruit pieces, making these great airplane toys for toddlers.
My favorite way to get my toddlers interested in this activity is to pretend the caterpillar is eating the fruit, then push the caterpillar through the fruit, then say "Pop" or "Peek-a-boo".
With the different fruit options, you can either take them all or just let your child pick their favorite to take if you are tight on space.
This one-piece travel game is hands down the best one-piece activity for toddlers while traveling. All the items stay on the board or attached to the board, so no clean-up is required. No pieces to drop and it's perfect for very young curious toddlers.
The only downside is the size and the fact that it isn't flexible, so it is a little bit harder to pack.
Bubble wrap is the ultimate non-toy item in my house. But taking bubble wrap on a plane might be a little bit annoying to everyone else.
Our kids got these for Christmas and they are so addictive. They give the same satisfaction as bubble wrap, but you can use it over and over again.
This is possibly one of the best games for airplane travel because it's flexible, quiet, easy to pack, and will entertain your toddler for hours.
We play racing games with them to see who can pop the most bubbles and use them to make patterns. This is my favorite travel game for any age.
Quiet books make great travel activities. They are flexible and soft, pack easily, and include several pages of activities. By the time a young child gets to the end of the book, the beginning becomes exciting again.
This won't leave pieces scattered on the floor of the plane, so you won't be left scrambling. It can be played on your child's lap or on an airplane tray and is self-contained. For airport shuttles, it's great because you can tuck it underneath your arm comfortably, with little to no cleanup time.
Colorful stickers are one of my favorite waiting activities regardless of where you are. A pack of stickers and a piece of paper or a little notebook will keep your toddler busy for a long time.
Children practice fine motor skills as they pick up the stickers and stick them down.
Buy 2-5 different packs of stickers for your toddler to have a variety to choose from. It's another activity that doesn't take hardly any space when packed.
Several years ago, Wikki Sticks were hugely popular. Wikki Sticks are little strings that are coated in a thick layer of wax. You can bend them, twist them together, and shape them into all kinds of things.
If your child enjoys playing with playdough, these are a great travel alternative since they are not messy and clean up easily.
The only downside to these is that they may get dropped more than other options. This is a clever way to change up activities.
These are a must-try but are best when you have already taken off.
Fun Airplane Travel Games are the Way to Go
When traveling with a toddler, most people just hand them a tablet or a phone with preloaded videos and a set of headphones, but this usually leads to more cranky, fussy kids halfway through the flight.
You might also want to read this post about neck pillows for toddlers and this post about packing snacks for toddlers when traveling to get ready for your trip.
It's a much better choice to take a variety of hands-on, engaging games and activities to keep your toddler occupied.