Boho decor is all about mixing and matching different colors, patterns, and textures to create a unique and inviting space. This style of decor invokes a sense of wanderlust and creativity and is perfect for those who want their homes to feel like a personal oasis.
If you're considering adding some dreamy Moroccan boho flair to your Moroccan interior design plans, here are 10 tips to get you started: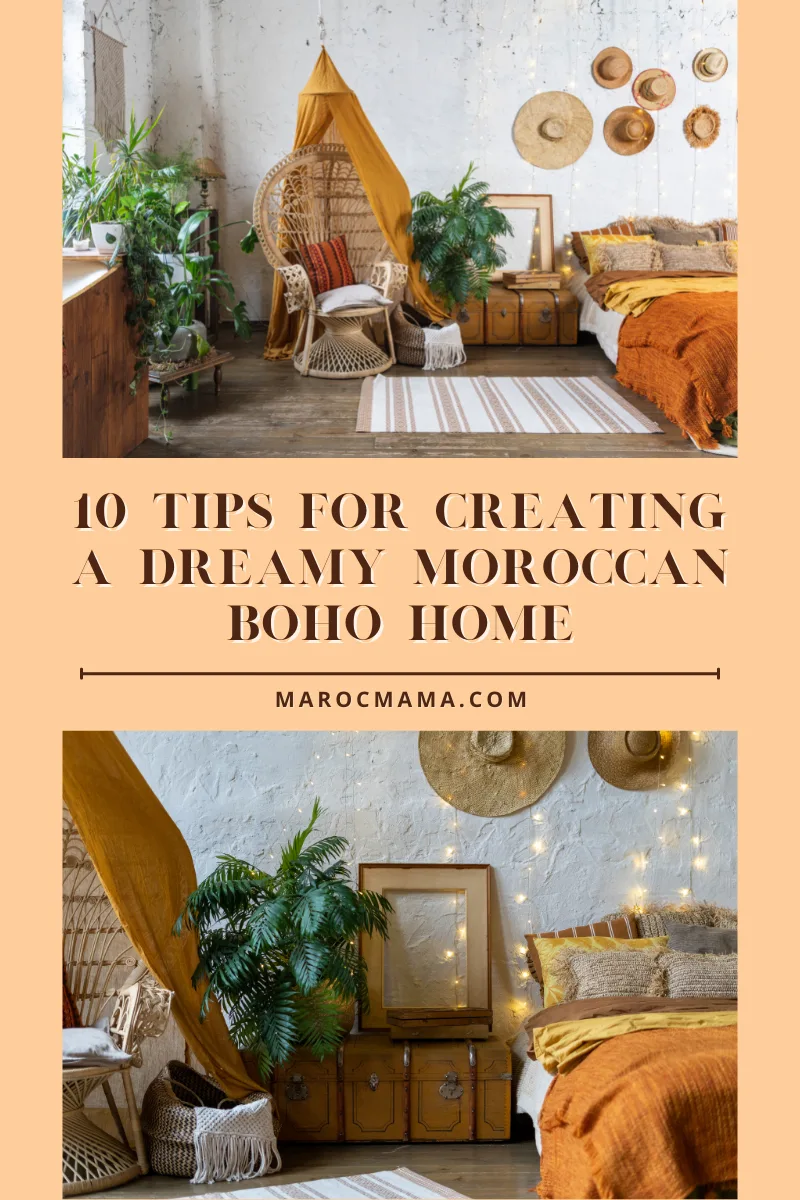 1. Incorporate natural elements.
Boho style is all about connecting with nature, so incorporating natural elements into your decor is a must. You can add touches of nature by including items like
Plants – the more, the better! Try hanging macrame plant hangers, placing potted plants throughout your space, or adding some greenery to your shelves. You can even mix fake and real plants for less maintenance.
Bamboo – use bamboo for flooring, furniture, or even as a design element on walls or in the artwork.
Stone – decorate with stone sculptures or place bowls filled with stones around your home.
Wood – incorporate wood into your decor with items like wooden floors, furniture, or accents.
2. Use colorful textiles.
Boho homes are known for their use of color, so don't be afraid to experiment with different colors and patterns when it comes to your textiles. Rich, vibrant colors like turquoise, purple, and pink are often seen in boho homes, as well as patterns like ikat, paisley, and floral.
Silks are also a popular choice for boho homes since they add a touch of luxury. You can use colorful textiles in a variety of ways, such as:
Throw pillows
Area rugs
Window treatments
Table runners
Shower curtains
3. Don't be too matchy.
One of the best things about the boho style is that it allows you to mix and match different colors, patterns, and textures without being too matchy. It's a very eclectic and free-spirited style, so go ahead and experiment with different combinations until you find what you love.
A few tips for creating an eclectic – but cohesive – look include:
Use many shades of the same color family to create a gradient effect.
Incorporate different patterns in similar colors for a cohesive look.
Add in some solid-colored pieces to break up the patterns.
Include contrasting colors and patterns to add some visual interest.
Aim for balance – too much of one color, pattern, or texture can be overwhelming.
4. Layer, layer, layer.
Boho style is all about layering different elements to create visual interest and texture. You can layer textiles by using throws and blankets, pillows of different sizes and shapes, and rugs.
You can also layer different types of wall decor, such as hanging tapestries, wall shelves, and pictures or paintings.
Boho style is much more maximalist than it is minimalist. Layering is a great way to bring in a touch of visual maximalism without adding too much clutter.
Try these ideas if you're not sure where to start with layering:
Stack rugs on top of each other to create a textured look.
Layer different pillows on couches and beds.
Nest side tables or coffee tables inside each other.
Hang tapestries, pictures, and shelves at different heights on walls.
5. Incorporate global elements.
The boho style is heavily influenced by different cultures from around the world. To really capture the essence of this style, incorporate some global elements into your decor.
Some ways to do this include adding Moroccan-inspired lanterns, Indian tapestries, or Navajo rugs. You can also display items from your travels, such as souvenirs, postcards, or photos.
6. Down-to-earth seating.
Boho style is all about being comfortable, free, and relaxed, so incorporate some down-to-earth seating into your space. This can be done with items like floor cushions, bean bag chairs, or poufs.
Try arranging them in a circle around a coffee table for the ultimate in boho chillaxing. It will be the perfect place to gather with friends for some coffee or tea.
7. Beaded decor.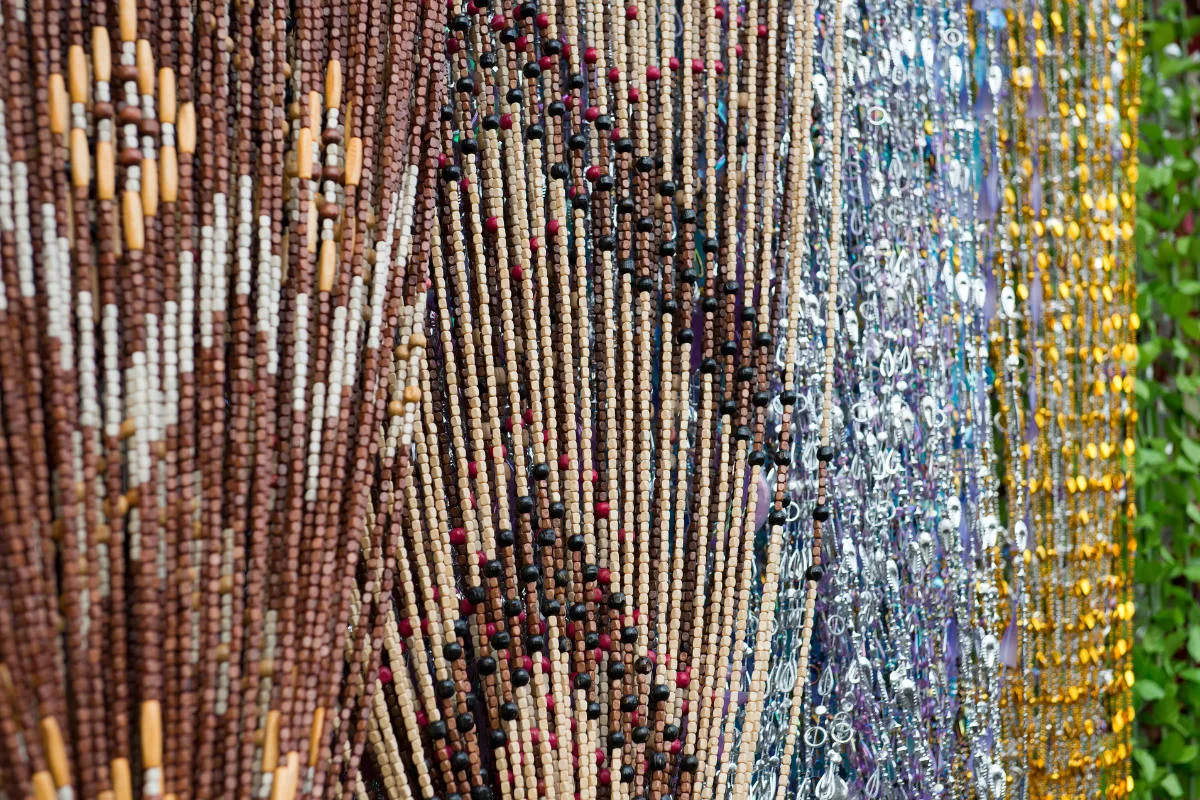 Beaded curtains and doorways are often seen in boho homes. Beads add a touch of whimsy and can really make a space feel more unique.
Glass beads are particularly beautiful in boho spaces, but you can use any type of beads you like.
You can even make a simple beaded vase by stringing beads onto a length of wire or twine and wrapping it around a vase, gluing it in place.
8. Incorporate vintage pieces.
Vintage pieces are essential for creating a boho home. You can find vintage furniture at thrift stores, garage sales, or even online. Antique stores are also a great place to find one-of-a-kind pieces.
Not only does vintage furniture add character to your home, but it's also often more affordable than new pieces.
Try using vintage artwork, appliances, furniture, and other items to capture the boho style.
9. Decorate with tapestries.
Tapestries are a key element in boho homes. They can be used to add color, pattern, and texture to any space. Tapestries can be hung on walls or used as tablecloths or bedspreads.
Tapestries come in many different styles. If you're not sure which style of tapestry to choose, go for one that has a lot of color and pattern. Tapestries are usually pretty inexpensive, too.
10. Macrame galore.
Macrame is a type of textile made from knotting cords or ropes. It's often used to make wall hangings, plant hangers, and other home decor items.
If you really want to go all out with the boho style, then fill your home with macrame accents. You can even make your own macrame items using simple knots and cords.
Here are a few ways to include macrame in your decor:
Hang a macrame wall hanging above your bed.
Make a macrame plant hanger to hang plants from the ceiling.
Wrap a piece of macrame around a vase or lantern.
Use macrame as curtains for doorways or windows.
These are just a few tips for creating a dreamy boho home. Remember, the key to this style is being creative and having fun with it. So go ahead and experiment until you find what you love.
Be a part of the MarocMama family!
Do you want access to all things MarocMama? Join our community of readers to get updates on new posts, inside information that won't go on the blog and so much more!
Sound good? Pop your email below and you're in!