It's one of the most well-known brand names when it comes to kitchen cookware and along with its full line of traditional cookware offers speciality items like Moroccan tagines. This Le Creuset Tagine Review will help you demystify everything about this iconic brand and decide if it's worth the purchase price.
Having been in business since 1925, this company knows a thing or two about quality craftsmanship. They're ideal for budding cooks and for those with years of experience. Professional chefs love them and home chefs are just as appreciative.
But if you're in the market for a new tagine, or your first tagine is it really worth this kind of investment? Find out!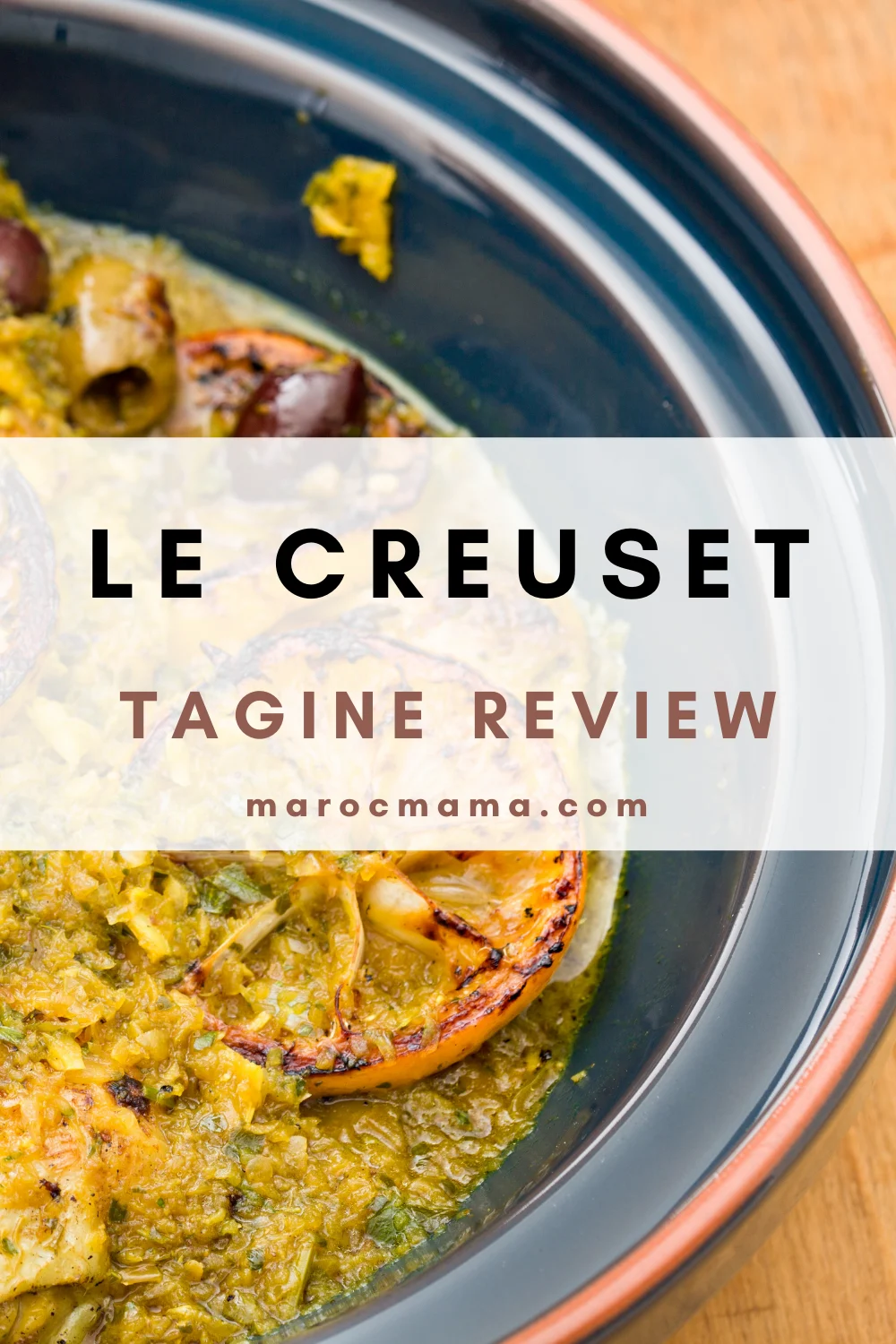 Many shoppers immediately shy away when they see the price tag which isn't astronomical but is a significant investment for a piece of equipment that may not get the daily use of a regular saute pan for example. But, don't click away so fast.
What is Le Creuset and why do they make high-quality kitchenware?
Le Creuset is a French cookware company that has been in business since 1925. They create handmade cookware using the finest materials. Le Creuset is well known for the quality of its products and many home cooks as well as professional chefs swear by these products.
Le Creuset Tagine Sizes
The Le Creuset tagines come in four sizes depending on where they are being purchased from The French sizes are available in:
27 cm or 2.3L capacity
31 cm and 3.7L capacity
35cm and 5.2 L capacity
The centimeter width is the size of the base of the tagine while the liter amount signifies how much can be held in the base.
The US version has a smaller size of 2.5 quarts (which is equivalent to the French 2.3 liter capacity.
The tagines are available in four colors however not all available in all markets. Black onyx, cerise (red), volcanic (an orange color) and merigiue white (only in Europe) are the options Le Creuset provides.
Le Creuset Enameled Cast Iron Tagine, 2.5 qt., Cooking Size
Le Creuset Enameled Cast Iron 2-Qt. Cooking Tagine
Le Creuset Mini Tagine, 3 1/2-Ounce (spice size)
Le Creuset Tagine Instructions for Use
A huge advantage of the Le Creuset tagine is that you can use it virtually everywhere. It can be used on the stovetop in the traditional way as well as put into the oven – something that isn't true for many tagines. It can also be used on a grill and on either gas, electric, or induction stoves.
If you're looking for a tagine option that can literally be used to cook on just about every surface this is the tagine to look to.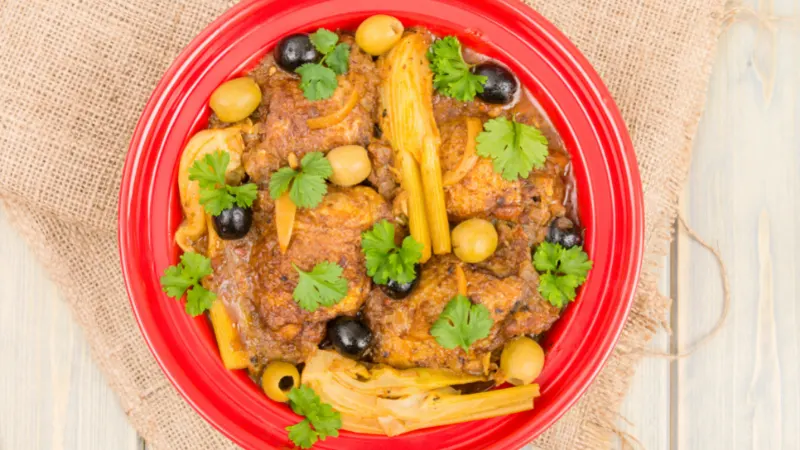 Le Creuset Tagine Review
The pros and cons of this tagine are pretty straightforward (more so than many other tagines).
Le Creuset Tagine Pros
This is a great brand. It's well known and has a fantastic reputation. This is definitely a huge selling point.
This tagine is available in several nice colors, that will go with almost all kitchen and home decor making it a versatile purchase.
They can be used on a variety of cooking surfaces so you don't have to worry about damage.
Regular clay tagines require you to season them before use. These tagines require no pre-seasoning.
These pots last a lifetime, one of the best parts of purchasing these is that they have a lifetime guarantee.
Le Creuset Tagine Cons
They are expensive. This is one of the more expensive brands that are on the market.
They're also heavy. For anyone that may have more limited mobility with their hands or arms, it could be an issue. When not full it weighs roughly 7.5 pounds. Once there is food inside it can easily top 10 pounds.
Washing your Le Creuset Tagine
Before you begin washing up you need to let the tagine cool down completely. With a damp rag or sponge wipe out any leftovers from the base and sides of the product. If there is food stuck in the base, fill with warm water and let it soak before attempting to wash up again.
In rare cases or if you've got a lot of bits really stuck on you can add some water and baking soda + vinegar to the base, and place it back onto the stove. Allow to warm up for several minutes to release anything that is stuck on, remove the liquid and cool completely and repeat the instructions for wiping down.
Do not use any abrasive cleaning agents, metal pads or very stiff cleaning brushes on this tagine as it can damage the pot. Dry well with the lid off and then store. This tagine can also be used in the dishwasher though I suggest handwashing when possible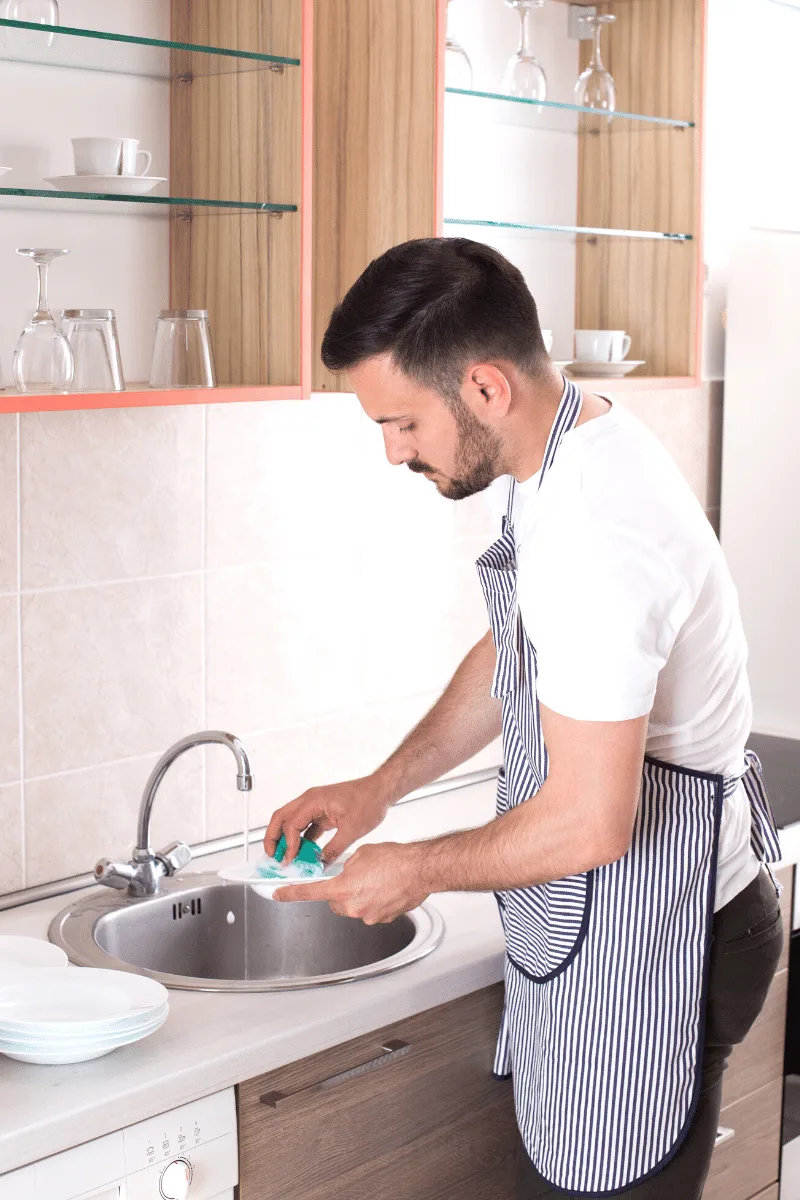 Is the Le Creuset Tagine Worth the Cost?
So then the big question you may have is, is the tagine really worth the cost? Obviously, this is a personal budget question but based on performance, brand reputation and the lifetime guarantee I believe it is worth the cost.
The brand has been in business for nearly 100 years and has outperformed almost every competitor when it comes to design performance and customer satisfaction. They are also constantly improving their craftsmanship and designs based on customer feedback and demands.
Unlike some brands that are either just for beginning cooks or for advance, this product hits both marks. It's forgiving for the new tagine cook but reliable and reputable for professional cooks – and everyone in between.