The short answer?
Maybe not.
On our Mediterranean cruise the final stop in Italy was "Florence," but it's not actually Florence, so don't let them fool you. The ship docks in Livorno which is a good 90 minutes from Florence. This was the fourth day of our cruise and the third port stop. We had previously visited Naples and Rome, spending two very long days walking and sight seeing.
MarocBaba and K were done with running around but I really wanted to see Florence as I was pretty sure this isn't somewhere we would be again. Instead of dragging everyone on this very expensive trip that they didn't want to do, I asked M if he wanted to go with me. I knew he would be at least moderately interested and wouldn't complain if he got bored. He jumped at the chance to spend the day with just me.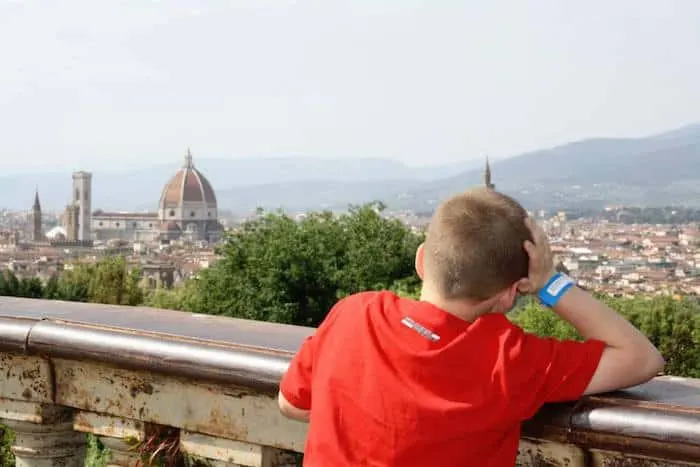 Turns out this was the best decision. I booked the shore excursion/tour from the ship and it was pricey. For me the cost was $149 and for M it was $99. Transportation from the ship was provided as well as a half day guided tour and entrance to see Michaelangelo's David.
Our day started very early. We had to disembark as soon as we docked around 8am. Once we got on the tour bus it was clear M and I were the youngest people on this trip – by a few decades. This isn't always a bad thing but I wondered how the tour would go.
Our guide was a much older Italian lady who was funny but difficult to understand. We slept on the bus most of the way to Florence. When we arrived we donned our headsets and set off. Immediately we saw that for the next 4-5 hours we'd be lining up with other tourists and attempting to hear something in our headsets.
Our first stop was to see David as well as Michaelangelo's other works. I have to say the David sculpture is an amazing piece of art. I had prepared myself to hear some comments about the nudity in the sculptures from M but to my surprise there wasn't a peep. I give him a few more years until the teenage humor comes in full force.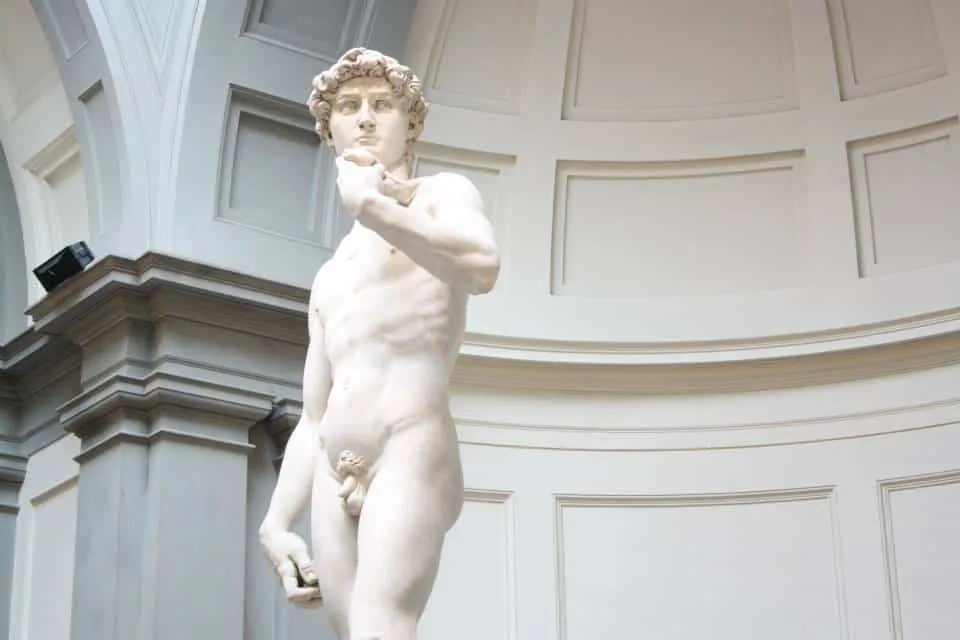 From here we moved to a walking city tour. Unfortunately the headsets barely worked so we missed 90% of what was being said. Combine that with an inability to understand our guide and we got about 5% of what was happening. I wish I could tell you more about what we saw and what you should see too but it was a complete wash for us.
Instead I think it's better to do this part on your own.
Use the ship transportation option to get to Florence but you can book tickets to most of Florence's attractions by yourself. Instead of this painful tour, we could have booked a skip the line ticket to the Accademia Gallery to see David while still not having to wait in line. I HIGHLY suggest doing this or you could spend your entire day in Florence standing in line.
Trust me.
Around 1pm we were set off on our own to eat lunch, shop, or do whatever we wanted. M and I took off running! This was our favorite part of the day. We found a little restaurant and had an excellent lunch. Then we walked the streets checking out shops and finding interesting little places to duck into.
We spent 45 minutes in a paper store that had all kinds of notebooks and pens. Instead of a cheap souvenir M opted to get a nice, refillable calligraphy pen and notebook to practice his Arabic writing. He still has it and uses it every day. Worth every euro.
Before the end of the day we stopped in a coffee shop for hot cocoa for him and a frozen coffee for me. We met back with our group at the appointed time and made one more stop to see Florence from up high. This view was great!
In our opinion, Florence isn't a great city for kids, especially young children. I was so glad K didn't want to come with because he would have been miserable and that would mean I would be miserable too. If you decide to go, just book the transportation from the ship, pre-book your own tickets to see the David (if you want) and do it yourself. The cost was not justified in what we received.
If you decide to visit on your own or are looking for some interesting things to do while you're in Florence this guide to Florence may come in handy. If you do decide to come to Florence for longer, check out HousingAnywhere for mid-to long term accommodation options that fit your family.
If you decide to go, and want to keep kids busy, M and I came up with a few ideas (because we were bored). He got interested in the paintings in museums so we developed some games that your kids might like too.
Let your kids use your phone or camera (or theirs) and photograph all of the weird things in the pictures. Trust me he found some really weird things that I just glanced over.
Guess the year or decade a painting is from. M got really good and determining the different styles that fit with different time periods and could explain what was different between them.
Watch the art students that were sketching the sculptures, many are totally fine with kids sitting next to them and watching. Just ask first.
Bring their own sketchbooks. Had we done this, he would have spent a lot of time drawing.
Create a scavenger hunt ahead of time to keep kids observant but also give them something to do.
If you're on the fence about whether to do a shore excursion in Florence or not with kids, think hard.
It's a very long and expensive day!