Singapore has never been on my "to visit" radar. But, a speaking engagement this fall had me on my way to this island nation in Southeast Asia. I truthfully had no idea what to expect. There were just three things I knew about Singapore; they have zero tolerance laws, it's expensive, and they love food.
I was most intrigued by the food.
I've heard about hawker stalls but seeing it was nothing like I imagined – in the best possible way. If you're heading to Singapore this will help! I spent just under 48 hours here and made it a point to eat as much as possible. Singapore really is the ultimate culinary travel destination.
Thankfully, I had a partner in crime. Juno (of Runaway Juno) was my roommate for our time in Singapore and showed me the ropes as she's been to Singapore several times before. I couldn't have asked for a better friend!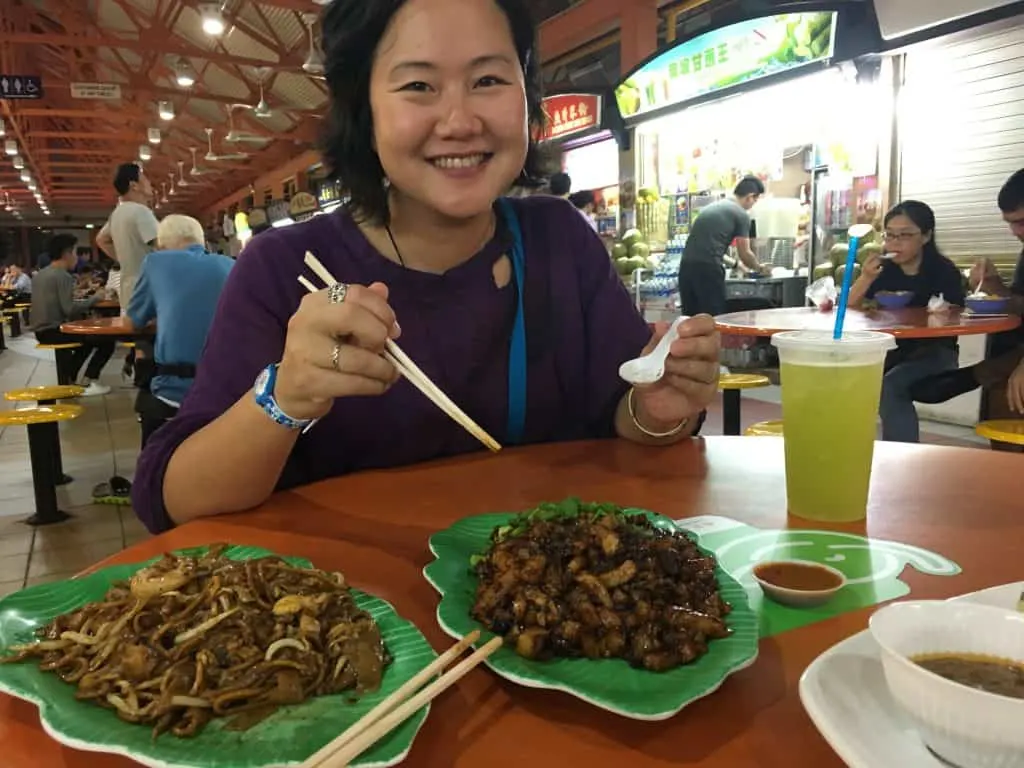 Unlike street food in other cities, Singapore's street food is sold in hawker markets. They are like an open air food hall. We luckily had one center right across from our apartment, giving me no excuses not to eat until I popped. The Lau Pa Sat market is in a GORGEOUS building designed in the late 1800's. There are stalls set up all over with tables intermixed. The best thing about food in Singapore is the mix of cultures. Here you'll find strong food influences from China, Malaysia and India as well as other countries.
How it Works
Hawker centers are, as mentioned open air food courts (more or less). There are stalls and tables set up under the cover. You can choose whatever you'd like to eat from any of the vendors. Just go up, order and pay. If you only eat halal you're in luck. In Singapore all the stalls are labeled whether or not they are halal so you don't have to worry about asking everyone. Order as much or little as you like, wait for your food and enjoy!
To save your place at the tables, especially during busy rush hours, a tissue packet placed in your spot will hold your place. This is important to know if you're looking for a spot and see tissues set down – don't steal the seat! When you're finished you can leave your plate and tray as there are staff who come by to clean up. Everything is also available to take away but you'll pay a little extra for a container and bag. Bring cash as that's the best way to pay.
Breakfast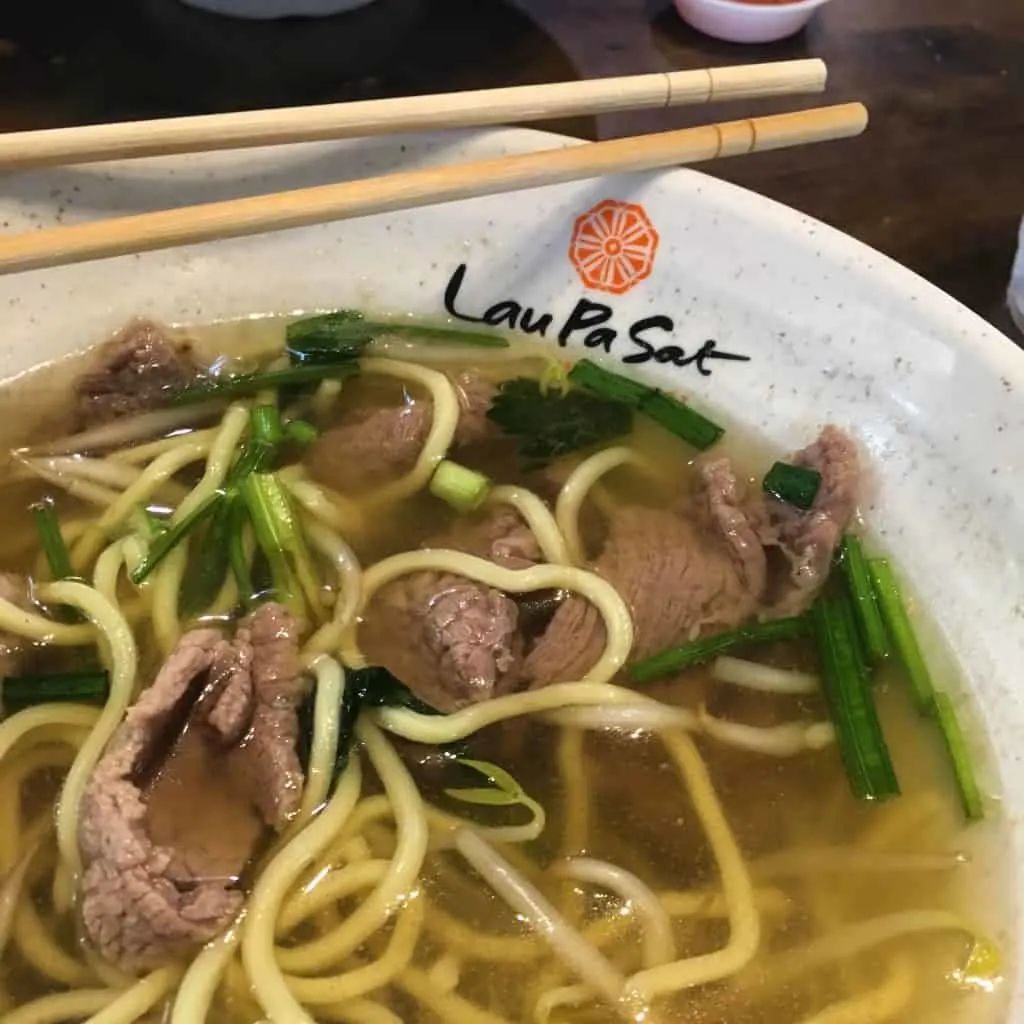 So, I had this for breakfast one day. It's a beef noodle soup. Not something I EVER envisioned making for good dinner food but it was fantastic! I learned it's pretty typical to eat savory things like this for breakfast, and that's ok by me. I still am dreaming of another bowl of this soup.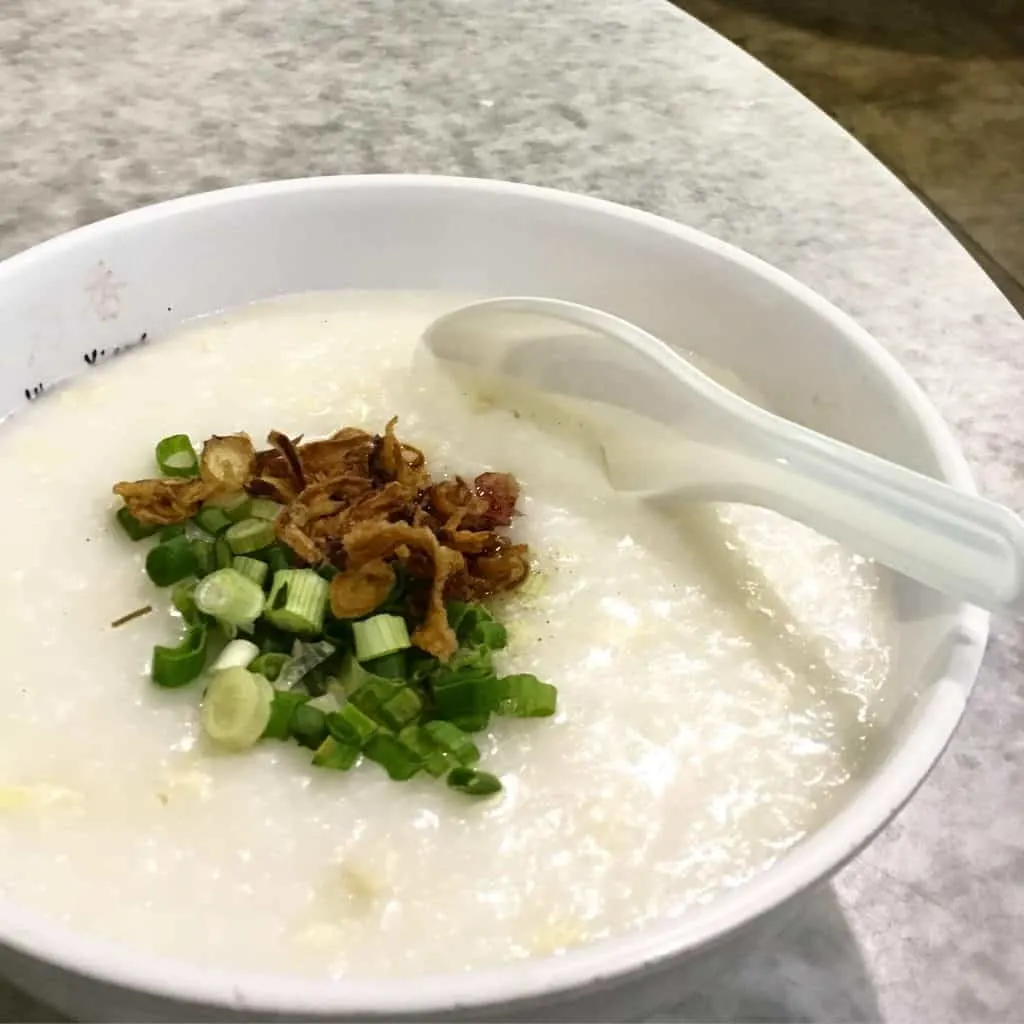 Something else I tried for breakfast was congee. Not a fan. This was the one thing that I just really didn't care for. The best part was the fried garlic (the brown bits). I've been told you should load this up with a lot more toppings but I'm really not sure anything could have made this enjoyable for me.
I also tried kaya toast – you have to eat this when you visit. It's like a jam/custard made with eggs and condensed milk as well as pandan leaves sometimes. LOVE it! I even bought jars of kaya to take home because I wanted to have it on my toast at every opportunity. If you prefer sweets for breakfast, this is for you.
Lunch + Dinner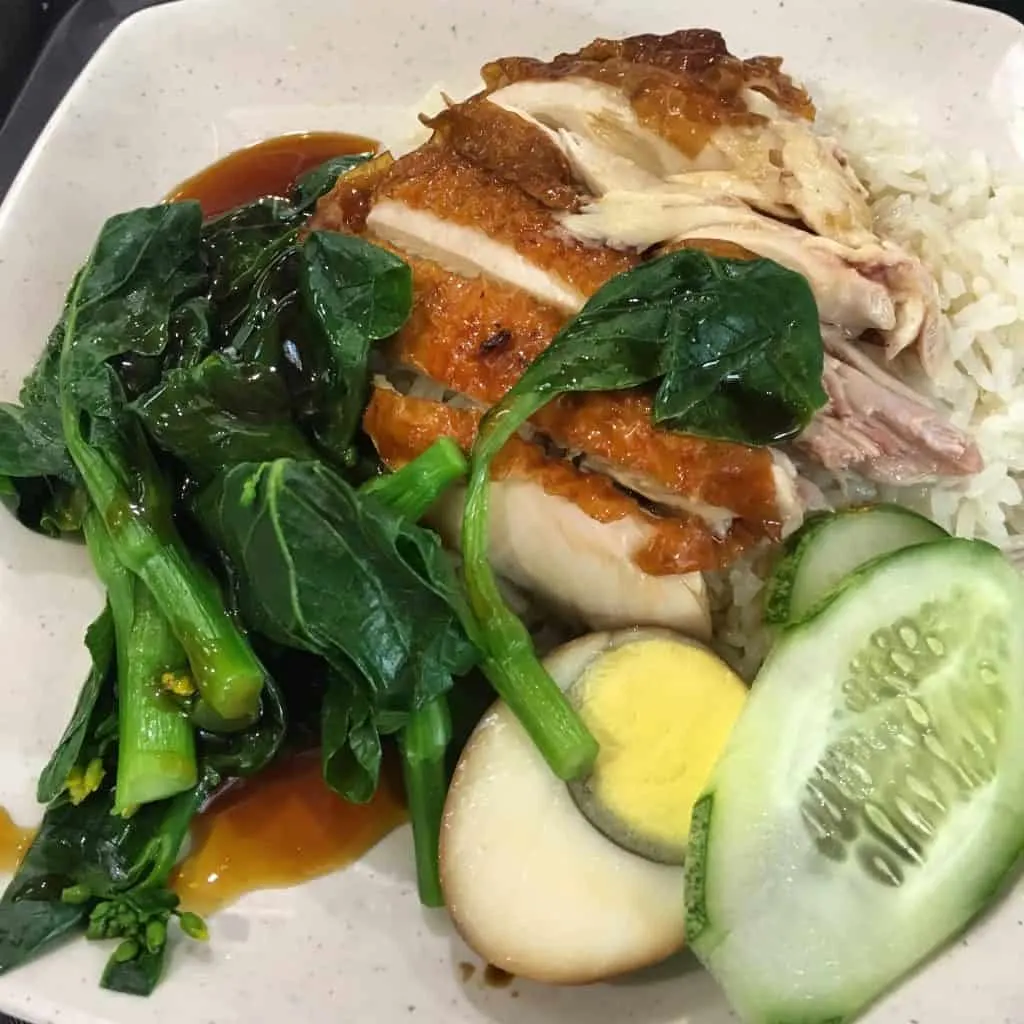 When I asked people what were a few dishes that I couldn't leave Singapore without eating, chicken rice came up time and time again. Hainanese chicken rice might be called THE national dish of Singapore. It's a simple meal. It's steamed white chicken meat with rice and soy sauce plus assorted sides. This was so-so for me. It was good but it wasn't out of this world. I would eat it again just to see if I could see if it would be better elsewhere.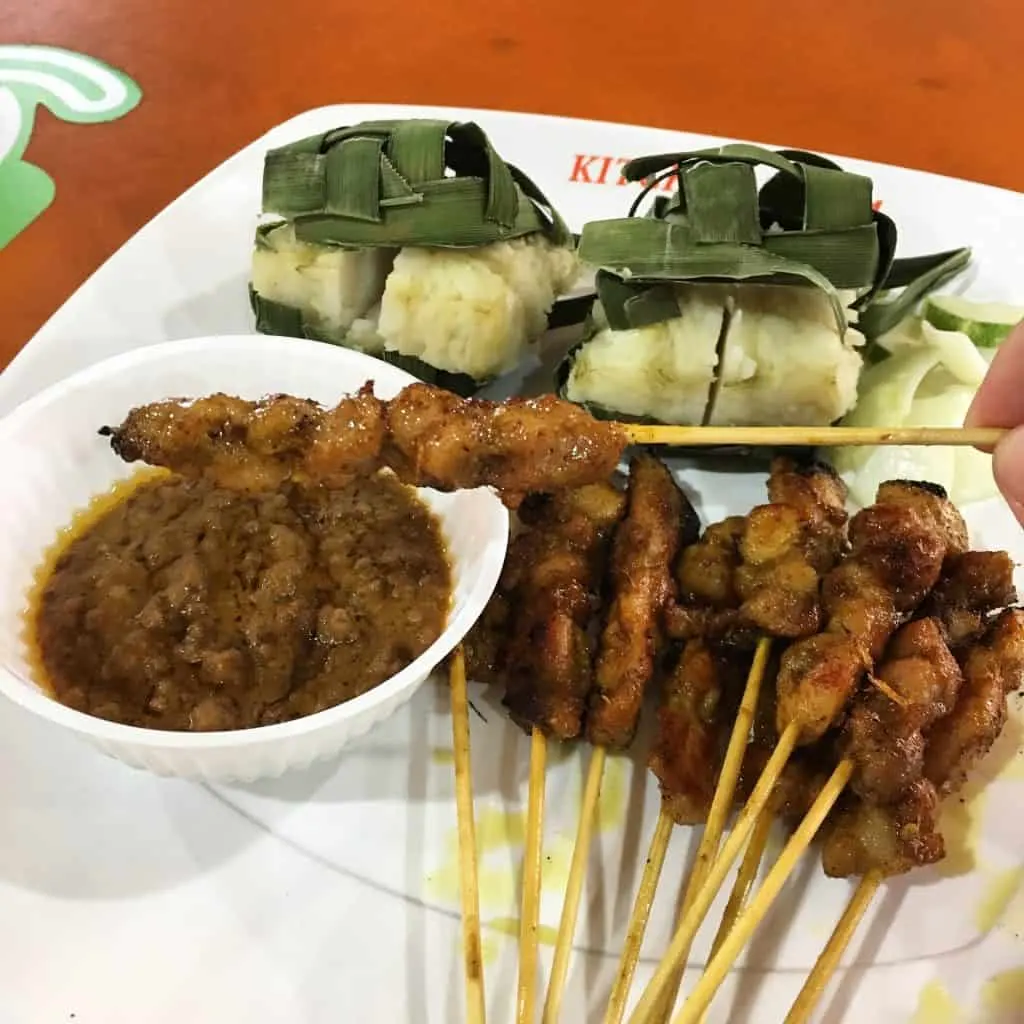 Chicken Peanut Satay was another thing I needed to have. I have had this many times before and this version at the Maxwell Hawker Market was a bit spicier than other versions I've had. The rice was a nice addition and I took part of this home for a snack later on!
Fried Carrot Cake. This is not a cake nor does it have carrots so the name is completely misleading. However, I'm glad Juno had me try this! The ingredients are rice flour and white radish. The vegetable is steamed and then fried with garlic, eggs, and preserved radish. It tasted nothing like I expected and was much more sweet than I tend to think radishes are. You need to try it!
The first food stall I saw was for Indian food and I would be lying if it wasn't my first inclination to run right to something familiar. But, instead I made it my last meal in Singapore and I'm glad I did. The food was excellent but I love Indian so much I would have avoided trying so many other things. Something really popular is a "banana leaf" meal. We went to Little India to eat which only makes sense. Instead of the food being served on a plate, it's served on a leaf. Sop up your curry and rice and dig in – it's fantastic!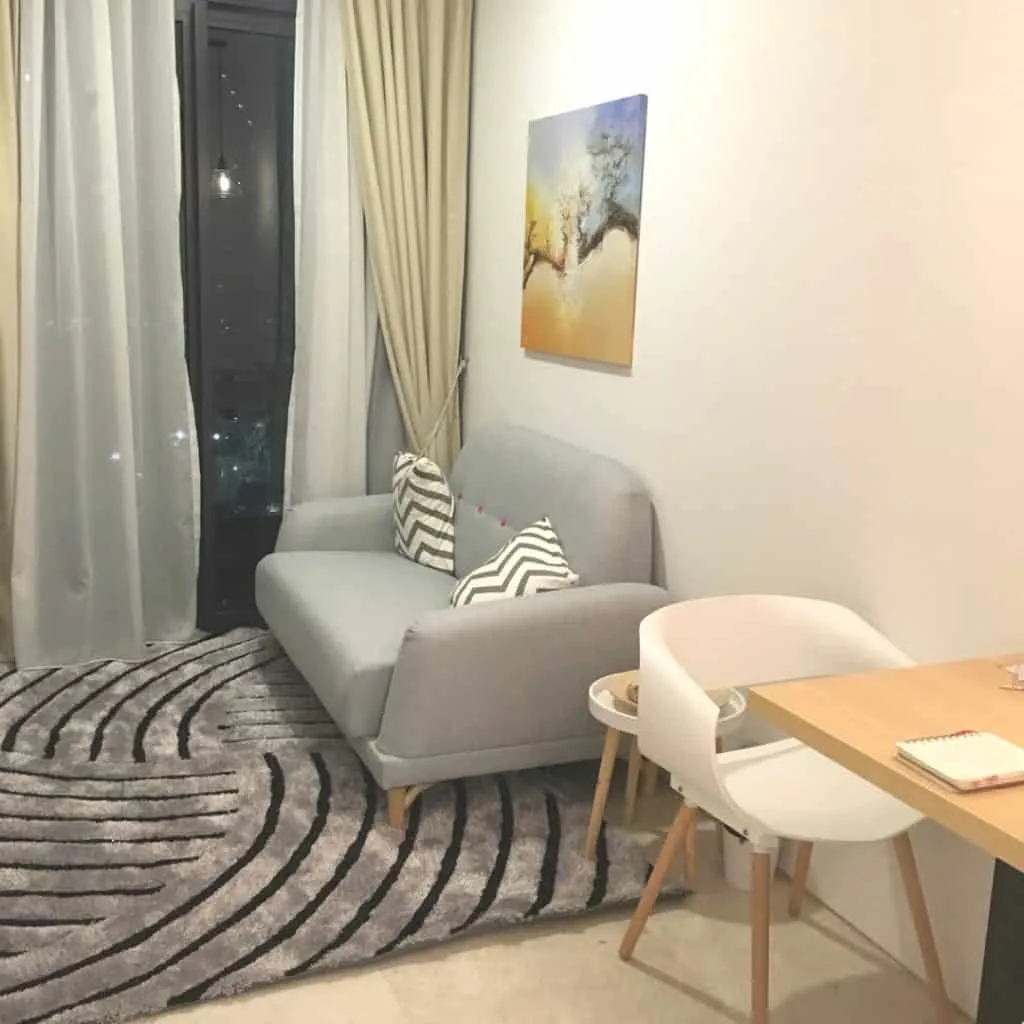 During my time in Singapore I stayed in an apartment rented from MetroRes. I could very easily see using this company again WHEN we return (because I will!). The apartment was really convenient for its location and amenities. There were two bedrooms with a shared bathroom, common room, and a small kitchen. Perfect for a family or friends traveling together. It was also was directly across the street from the Lau Pa Sat hawker market making it very easy to eat well on the regular.
My apartment was in the business district which worked well for getting to the conference site but there are metros nearby and it's a very quick walk to Chinatown, another great area of Singapore to see. If you were planning a longer stay in Singapore, and you should because 2 days was not nearly enough, an apartment like this makes great sense.
I appreciated that there was a washer/dryer in the apartment too so there was no need to seek out a laundromat. The apartment building itself had keycard access only, making it secure. You also have access to the pool area should you want to take a swim in the tropical heat.
Check out this guide to spending three days in Singapore and how to use public transportation in the city to get you started! I think spending even a week in Singapore wouldn't be too much!
If you go to Singapore you can not miss out on eating at the hawker markets. I hope this gives you the confidence to try new things and go out of your comfort zone!