I grew up in a small mining community in the Upper Peninsula of Michigan. There were three major immigrant groups that established the community; English (Cornish), Italian (Sicilian), and Scandinavian. All three of which I claim heritage.
Growing up pasties were as common on our table as a hamburger. Every year there was a school fundraiser where ladies in the community got together and made thousands of pasties. Really thousands. It was quite the feat! It wasn't until I had traveled away that I realized the Cornish pasty was a unique meal.
Mining was a major industry and that's what lead to the abundance of immigrants who came to the area. They brought with them their cultural and culinary traditions.
Pasties were a staple for Cornish miners. The dish is very simple and the story behind its importance in mining is as interesting as the dish itself. Essentially a pasty must have potatoes and onions, other fillings are added based on the person whose eating it and wrapped up in a flaky crust. Cornish wives would make pasties and stamp one end with the initial of the person whose lunch it would be.
Entire Cornish families worked in the mines so it was important to know whose was whose. The pasty itself keeps warm for long periods of time but in case it did cool down miners would toss it on the end of a shovel and heat it up over a head-lamp candle.
A pasty was always eaten upright without a fork. Superstitious miners claim that the stamped corner of the pasty should be left behind for the "gremlins" in the mine. This is the same end that miners held onto while eating, and as mines often had high levels of arsenic there may be something more to this superstition.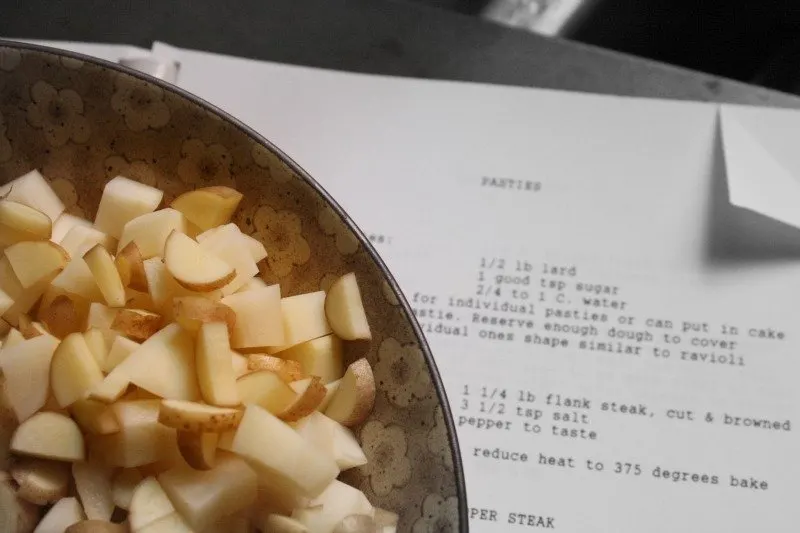 I've never had to make pasties because they've been readily available for purchase. The recipes are decades old and frankly why mess with something that tried and true?
MarocBaba had come to really like pasties before his celiac diagnosis and was really sad that he wouldn't be able to eat them anymore. So when I had to decide what comfort food I would make I took on a gluten-free pasty.
I found my aunt's Cornish pasty recipe but couldn't use the directions as they were – lots of lard and beef fat in the recipe.
I made a few changes for this dish but keep in mind this is a basic recipe. Flank steak and rutabaga are another variation.
Yield:

8 pasties
Gluten Free Cornish Pasty
Total Time:
2 hours
5 minutes
Traditional Cornish pasty's are made with flour and sometimes lard. This recipe is gluten free and lard free.
Ingredients
Pastry Ingredients
2 cups brown rice flour
1 cup cornstarch
1/2 cup quinoa flour
1 cup cold butter
1/2 tsp salt
3 tsp xanthan gum
2 eggs
2 Tablespoons apple cider vinegar
8–10 Tablespoons cold water
extra brown rice flour for dusting work surface
Filling Ingredients
4–5 potatoes in 1/2″ cubes
3/4 – 1 pound ground turkey or beef
1 medium onion finely chopped
3 teaspoons salt
2 teaspoons pepper
1/4 cup beef broth
small handful chopped parsley
2 Tbsp cold butter grated
Instructions
Pastry Instructions
In a large bowl mix together the brown rice flour, corn starch, quinoa flour, zanthan gum, and salt. Cut the butter into pieces and use your hands to mix the butter into the dough. Continue mixing until the dough looks like small peas or a sand like texture.
In another bowl mix the apple cider vinegar, eggs, and cold water.
Slowly combine the liquid with the flour, kneading to incorporate all of the water.
Once all the liquid has been added, knead for 1-2 minutes to ensure everything is combined well. The dough should be slightly sticky but not too wet. You may need to add more water.
Cover the dough and refrigerate for 1 hour.
Filling Instructions
Cube the potatoes into 1/2″ pieces and chop the onion finely. Stir together in a bowl.
In a skillet brown the ground turkey. When it is cooked halfway add the beef broth and continue cooking until the broth has been completely absorbed.
Mix the meat with the potatoes and onion, seasoning with salt, pepper and parsley.
You could make this mixture in advance and refrigerate at this point until ready to assemble.
To Assemble
Preheat oven to 425F
Divide the dough into equal pieces. Using this recipe I made 8 medium sized pasties. Traditionally they are much larger.
Grate the 2 Tbsp butter into the bowl with the filling and mix using a spoon.
Dust a work surface with brown rice flour and carefully begin rolling out the dough into a circle. You will need to use flour liberally so that it doesn't stick.
On one half of the dough add the filling leaving room around the edges to close the dough.
Fold over the other half to make a half moon.
Crimp the edges of the pasty by rolling over the dough with your hands to create what looks like a braid.
Place completed pasties on a baking sheet.
Once full slide the baking sheet into a preheated oven.
If making medium pasties bake at 425F for 15 minutes then reduce the heat to 350F until the crust is brown (25-35 minutes). If the pasties are larger increase the time to 20 minutes at 425 and 40 minutes at 350F.
Notes
Some people prefer to add the meat to the pasties raw. I don't, especially with this version as I've found the longer cooking time needed doesn't work with the dough.
Pasties often come "pre-baked". To do this bake the pasties at the 425F temperature and remove from the oven. Allow to cool then place into a freezer. Once they have frozen, wrap in plastic wrap and aluminum foil. To reheat place in a 350F oven for 45minutes – 1 hour.