Do you have your heart set on a Moroccan vacation? If so, June might just be the best time of year for you to go. June is a popular month for tourism in Morocco. The first of the summer months, it's a time of year when the kids are out of school, but temperatures are still reasonable in most parts of the country.
In inland cities like Marrakech, the temperature can get as high as 35C during the day, but that's still a lot cooler than the 40C and up you may find in July and August. With proper planning, cool clothing, and a handy water bottle, you should find it easy to enjoy your explorations in most areas of the country.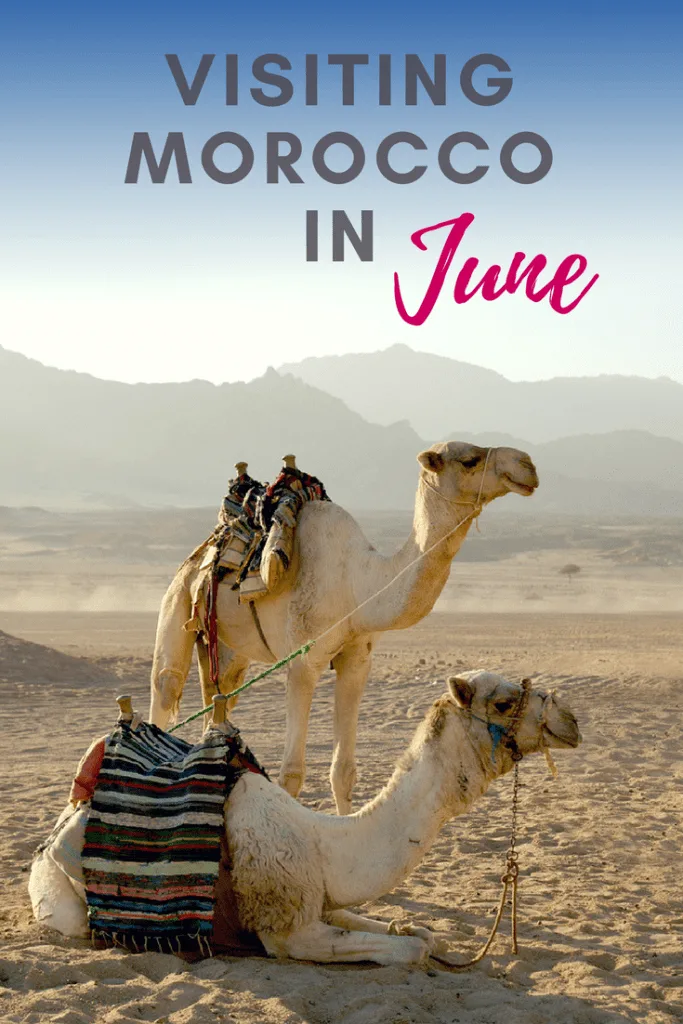 With June being a popular month for tourist traffic, it is a good idea to be mindful of that when booking accommodations. It is not uncommon to find popular riads and hotels completely booked up at this time of year. Making secure reservations in advance is definitely a great idea, especially if you are planning to attend one of the popular festivals or other events happening throughout the country.
From sweeping deserts to balmy beaches to mountains that may still retain snow from the previous winter, Morocco is a beautiful country that offers much to see and do. So if you've been planning your Moroccan escape, June might just be the month to spend some time in that wonderful North African sunshine!
Weather in Morocco in June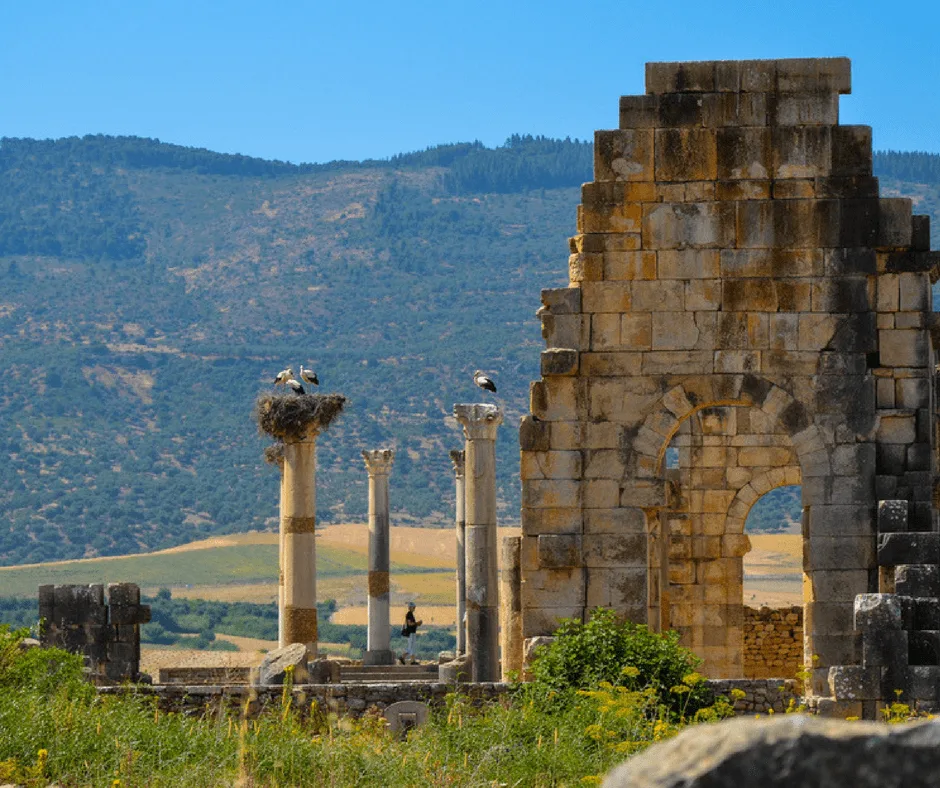 The first of the summer months, June in Morocco is quite warm and sunny. Along the Mediterranean and Atlantic coastlines, daytime temperatures average between 20C and 25C, with a nice ocean breeze helping to keep things cool. But inland, the temperatures go up quite a lot.
The average daily temperature in Fes and Marrakech ranges from 25C to as high as 35C, although once the sun goes down, things cool off and become much more pleasant. And up in the mountains, days and nights are still quite a bit cooler. In fact, even in June, it is possible to find snow in the High Atlas region of the country.
June marks the beginning of the dry season in Morocco. It is quite normal for most areas to get very little to no rain at all until sometime in September or October. Drought conditions are not uncommon at this time of year. Keep this in mind when traveling, so you don't become dehydrated during your adventures.
What to Wear in Morocco in June
No matter what time of year you visit Morocco, it is always a good idea to think of dressing in layers. In June, loose-fitting clothing made of breathable, natural fabric is definitely preferred over synthetic fabrics, which can hold in the heat and add to your discomfort on a hot day.
Although it is understood that tourists dress differently from the locals, it is still a good idea to be respectful of the conservative nature of the Moroccan people, most of whom are of the Islamic faith. You are less likely to draw negative attention to yourself if you keep your legs covered to below your knees and keep your shoulders and chest covered, as well. There ARE places where shorts and bathing suits are welcome. But when wandering the local Medina, you will have a much more positive experience if you dress a bit conservatively.
Some items you'll be glad to have on hand include a good pair of walking shoes or comfortable sandals, socks, shorts, long lightweight skirts, short-sleeved shirts, tunics, loose slacks, light scarves, bathing suits, sunglasses, and even a nice hat to help keep the sun from your eyes. If your hair is long, having ways to pull it back and pin it up is a great option for beating the heat. And having a sweater handy in case the evening gets chilly is always a great idea, too.
Get more ideas on what to pack for Morocco
Festivals and Celebrations in Morocco in June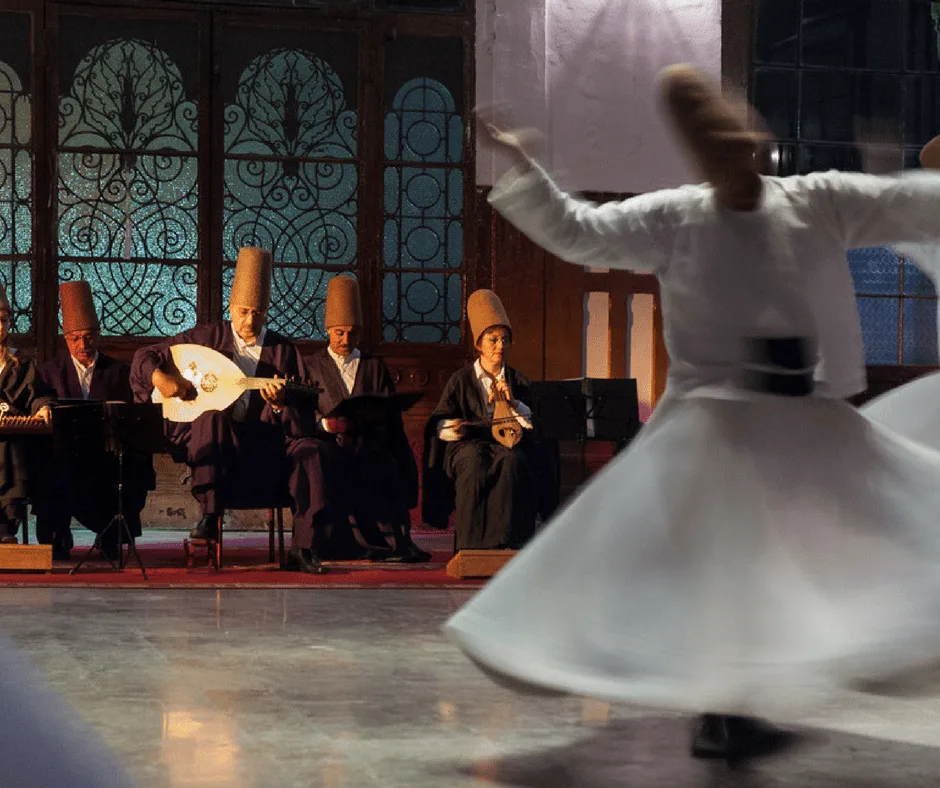 Festival of World Sacred Music
9-12th June
In Fez, you'll find the Festival of World Sacred Music, gathering musicians, scholars and art enthusiasts from all over the world. The week-long event features free concerts, a film festival and a forum where participants exchange thoughts and experiences. This incredible festival is said to be a life-changing experience and some people make a yearly pilgrimage to this event.
Gnaoua World Music Festival in Essaouira
For 2022 a series of smaller concerts are scheduled in Marrakech, Essaouira, Casablanca and Rabat
The Gnaoua people of Morocco are known for their beautiful, healing music. During the Gnaoua World Music Festival, Gnaoua musicians meet up with pop, rock, jazz, soul, and contemporary world music artists from around the world. This spectacular three-day event is held in the lovely coastal city of Essaouira in mid-June every year and is a must-see for music lovers enjoying an early summer Moroccan adventure!
Marrakech du Rire – Five Day Comedy Festival in Marrakesh
For seven years, the Marrakech du Rire has filled Marrakech, Morocco with laughter. This international humor festival is held in late June and features performances by some of the best local comedians as well as many other comedians from around the world. If you love to laugh, this is the festival for you!
What to do in Morocco in June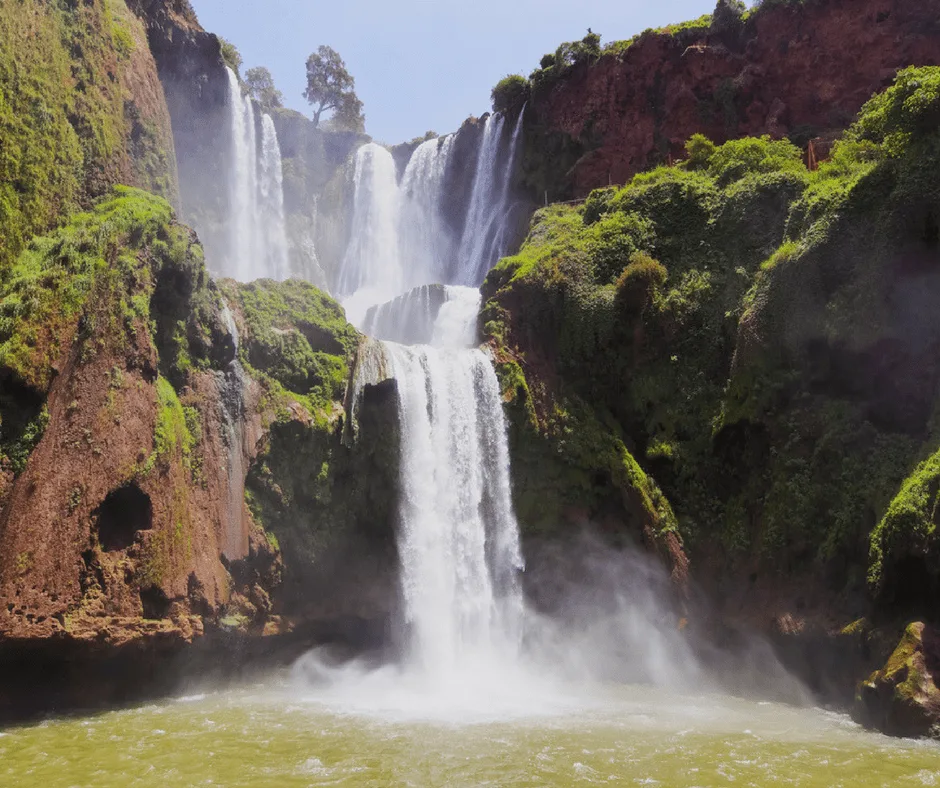 Summer officially begins in Morocco in June, but thankfully, it is still possible to beat the worst of the heat. There are some extraordinary musical offerings in Morocco in June, from the blissful Festival of World Sacred Music in Fes to the Gnaoua World Music Festival in Essaouira. Come in time for the festivals and stay longer to take in some of the local offerings to be found.
For heat-sensitive travelers, June can be a tricky time for traveling Morocco. As a general rule, the farther inland you go, the warmer the temperatures will be. Staying near the coast is one option for those who can't take the heat. Another is to fill your days with activities that keep you inside or at least, in the shade. And visiting the beautiful mountainous regions of Morocco is also a great way to find cooler temperatures along with breathtaking scenery you'll remember for the rest of your days.
In June, tourist traffic is near its peak. The more you keep this in mind when booking accommodations and planning your activities, the happier your travels will be. June is a great time to relax at a beautiful riad, go swimming in your hotel pool, explore the mountains, or take a horseback ride at sunset on the beach. No matter how you spend your time, Morocco in June is pure enchantment!
Best Places to Visiting in Morocco in June
Fez
The ancient medieval city of Fez is a wonderful place to explore and immerse yourself in Moroccan culture. It is located 170 km east of Rabat and is a rich, eclectic mix of the ancient world and modern society. If you are in Fez in June, a visit to the Festival of World Sacred Music is a great way to experience some of the best that Morocco has to offer. Fez is also the home of the largest Medina in North Africa, the Fes el-Bali, where you can find amazing food and incredible items created by some of the best craftsmen in the world.
In addition to the old city, another wonderful area of the city to explore is Fez Mellah, the Jewish Quarter. This walled community housed many Jews since it was established in 1438, but after World War II, many moved away, leaving only a small Jewish community behind. This important place is being restored and there are many points of interest, including the Dar Batha Museum, the Jewish Cemetery, many wonderful antique furniture stores, and the wide assortment of architectural styles found there.
One experience you will never forget is paying a visit to a local hammam, or "public bath". If you are staying in a riad, they may have private baths and even a spa. But for a truly local experience, a community hammam is the way to go. Be sure to ask the staff at your lodgings for directions and bring along your own toiletries.
READ MORE: Everything You Need to Know about Fez, Morocco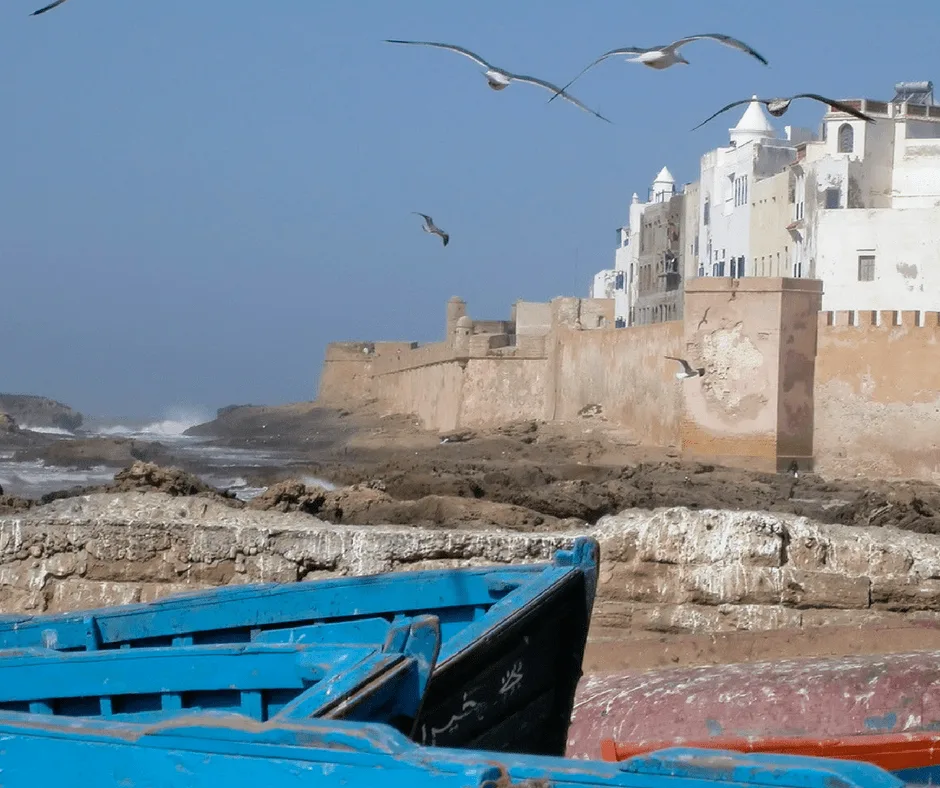 Essaouira
The beautiful Atlantic coastal city of Essaouira is a great place to visit in Morocco in June. If you time your trip just right, you can catch the popular Gnaoua World Music Festival, a truly magical experience. Even if you miss it, the old-world charm of this vibrant community will have you feeling right at home.
Exploring the old medina and Kasbah are absolutely essential aspects of the Essaouira experience. Filled with a delightful mixture of art, handcrafts, food, rugs, clothing, and more, you can spend the better part of your day wandering the paths and seeing the sights. And when you're ready for a break, head to the port to enjoy a view of the Atlantic Ocean while dining on a meal of fresh fish. Life just doesn't get better than that!
June is a great time of year to simply relax on the beach, and the beach in Essaouira is not only peaceful and sunny, it is a great place to just relax and do some people-watching. People flying kites, swimming, playing ball, or just taking a nice stroll – the Essaouira beach is the perfect location to just spend time watching the world go by. And if you find yourself exhausted from all that relaxing, try taking a camel or horseback ride through the sand and the surf!
READ MORE: Everything You Need to Know about Essaouira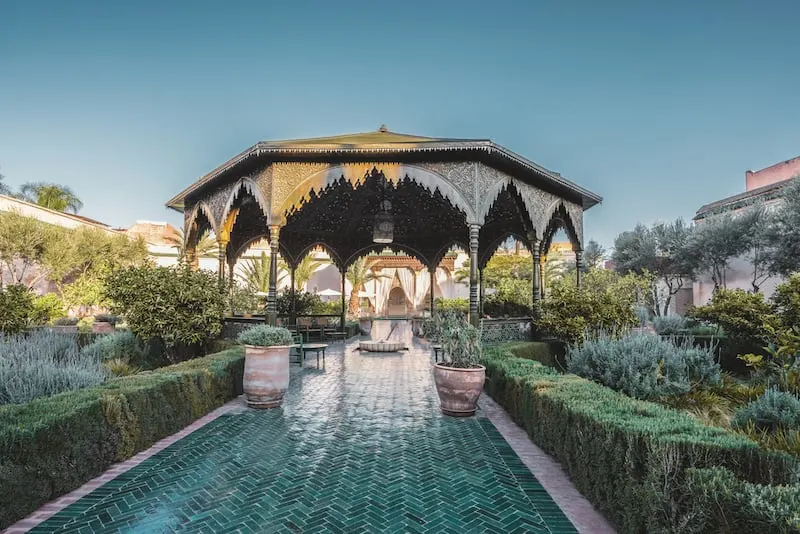 Marrakech
When traveling to Morocco, most people can't wait to make their way to Marrakech. Considered the ultimate Moroccan experience, this busy and bustling city is replete with tantalizing sights, sounds, and aromas around every corner. In June, it is home to the five-day Marrakech du Rire – the International Humor Festival. Wandering the amazing Medina is a great way to spend your time whenever possible.
Daytime temperatures can be pretty high in Marrakech in June. If you are looking to escape the heat, head to the gardens at the famous La Mamounia, just outside of the Medina. The gardens were established in the 18th century as a wedding present from the sultan to his son, the crown Prince Moulay Mamoun. Filled with flowers, orange and olive trees, and beautiful walkways, it is a place of unique beauty.
Another great place to escape the hot sun is at the Maison Tiskiwin, where you can explore the beautiful collection of crafts and artwork from the Sahara and southern Morocco on exhibit in the private home of Bert Flint, a veteran Dutch anthropologist. The Berber tent made entirely out of camel hair is a definite must-see!
READ MORE: The Ultimate Planning Resource for Marrakech, Morocco
Bin El Ouidane
For travelers looking to get off the beaten path for a while, the small town of Bin El Ouidane is a place of breathtaking beauty. Located in the Tadia-Azilal region of Morocco three hours northeast of Marrakech, this town and rural commune is a wonderful place to stay while you explore the beauty of the land all around the region.
One kilometer away from Bin El Ouidane is the large lake of the same name. This beautiful reservoir is stunningly blue against the backdrop of the surrounding mountains. Take a walk and capture the sights with your camera, try your hand at carp fishing, or spend some time learning all about the Bin El Ouidane Dam, which provides electricity to the region.
No trip to this region is complete without a visit to the Ouzoud Falls, also known as Cascades d'Ouzoud. This incredible 110m tall waterfall is one of the most breathtaking in the world. The falls are fed by the Bin El Ouidane Reservoir and in late summer, they slow to a trickle.
The best time to see their splendor is Mid-May to Mid-June when the water is high. There are walking trails and tourist-friendly places to stop, relax, and get out of the heat while enjoying some delicious food in this magical environment.
June in Morocco is a bustling time filled with busy locals and curious travelers. With careful planning and a fair amount of patience when dealing with the occasional crowds, June is a great time to experience everything the beautiful country of Morocco has to offer.