Springtime really comes to life in April in Morocco. The days grow warmer and longer, while evenings are still cool, or even downright chilly. Whether you are interested in exploring the desert or the mountains or the city of Marrakech, April is a great time to do it.
April is such a nice time to visit, in fact, that tourist traffic increases quite a bit. It is still light enough that you probably won't find most places overbooked, but if you really have your heart set on staying at a certain resort, hotel, or riad, you would be wise to make your reservations as early as possible, so you don't find it filled when you get there.
There are two major events in the desert in April – an International Music Festival and the grueling Marathon Des Sables, so if you are looking for some excitement, April in Morocco has a lot to offer. But no matter where you go in this vast and beautiful country, you are sure to find something interesting to see and do.
When you visit Morocco in April, be sure to bring your camera along so you can capture the beauty to share with all your loved ones back home!
Visiting Morocco in April – The Weather in April
Spring continues to blossom in Morocco in April, and the days grow warmer. The temperature in Morocco in April reach a high of 24°C in many places. The weather is a bit cooler on the coastline, with an average April temperature of 16°C to 20°C in Tangiers, and 19°C to 23°C in the southern Atlantic city of Dakhla. Marrakech weather in April sits right around 24°C for a high and 12°C for a low.
Temperatures drop quite a bit after the sun goes down, reaching lows of 12°C in some places. Even the Sahara desert gets chilly at night, regardless of how hot it may feel during the day. There is little rain in April, although short showers are possible. But if you plan to spend time in the Atlas mountains, keep in mind that April is the wettest month there, with an average rainfall of up to 35mm.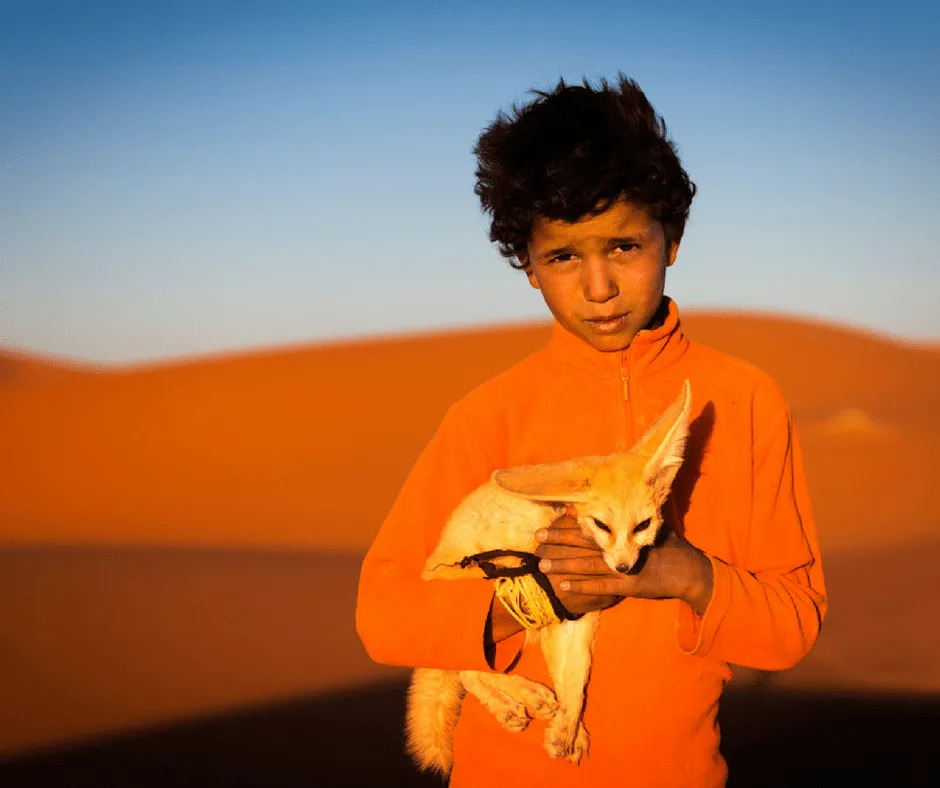 What to Wear in Morocco in April
When visiting Morocco, it is always best to pack a variety of clothing so that you are prepared for drastic temperature differences. Although the sun is quite warm during the day, it is often chilly at night, even in the Sahara Desert.
In April, the temperature during the day can be rather warm, especially in the inland cities. Light skirts, slacks, capri pants, and long shorts are all great choices to have on hand, along with short-sleeved shirts and lightweight blouses. Even so, you'll be happy if you also pack long sleeve shirts, light sweaters, and hoodies, just in case you need them when temperatures cool in the evening.
Other items to keep in mind are sunglasses, scarves, hats, and warm sleepwear as it can still get chilly at night. Lots of socks and comfortable walking shoes are a must, as well!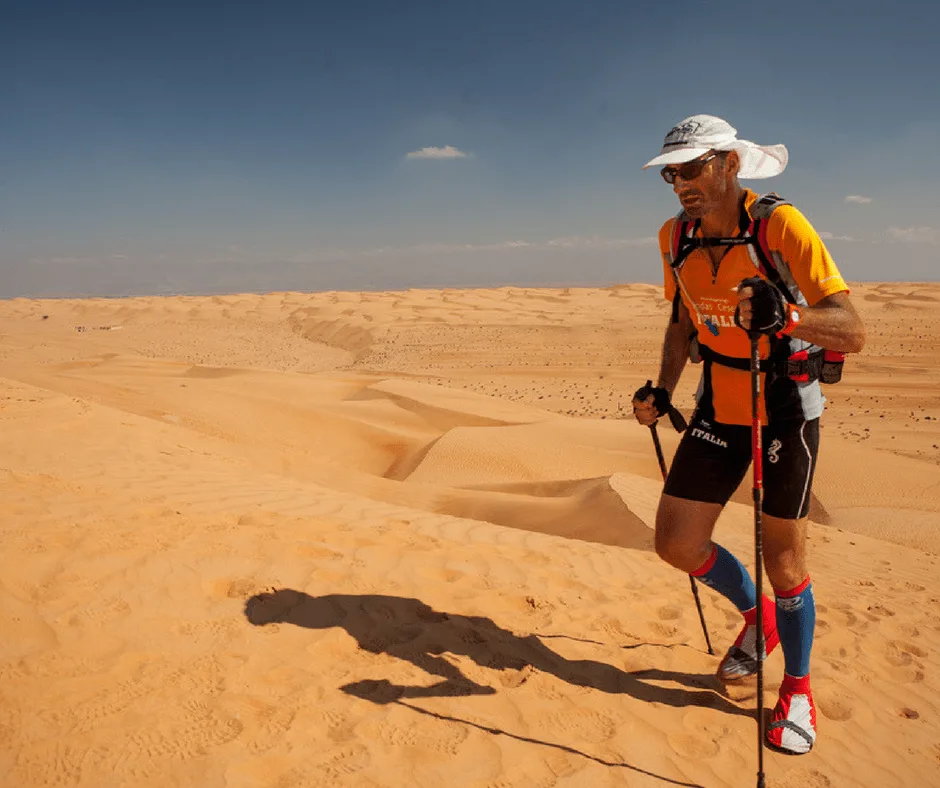 Festivals and Celebrations in Morocco in April
Date Varies – Marathon Des Sables – Not so much a festival as an amazing competition, the Marathon Des Sables (The Sand Marathon) is a grueling 251km foot race across the Sahara Dessert. If you are a runner who loves to test your limits, this is the ultimate competition!
Date Varies – International World Music Festival of Merzouga – The International World Music Festival of Merzouga is a magical event held among the sand dunes of Erg Chebbi. Musicians and artists come from all around the world to join in this wonderful cultural event. In addition to several days of amazing music, there are also workshops, sporting events to enjoy, and more!
What to Do in Morocco in April
When you visit Morocco in April, you can expect warm days and cool evenings in most locations around the country. The Sahara Desert can get very hot during the day, making it a challenging place to visit for people sensitive to heat. But most other places are quite comfortable as you explore one beautiful location after another.
Spend time on the Mediterranean or Atlantic coastline, enjoying bright sunshine and balmy breezes while seeing the sights and eating fresh seafood. Wherever you travel, spend some time in the local medinas and markets, enjoying the hustle and bustle of the crowd and the amazing variety of food, art, and traditional clothing for sale.
From bustling cities to quiet villages, it is easy to find the right location for your perfect dream vacation. Keep in mind that in many places, the way of life can be rather rustic and simple. But nights get warmer in April, so even if you stay somewhere that isn't heated, you should be comfortable. If you happen to camp out in the desert (like at this luxury desert camp) , the view of all those blazing stars will warm your heart and spirit.
Best Places to Visit in Morocco in April
Where are the best places in Morocco to visit in the month of April? Try these four spots on for size.
Located on the Mediterranean coast, the city of Tangier is a major Moroccan port city. It is a popular destination spot for tourists, known for beautiful beaches, luxurious hotels and riads, and delicious local food.It's also heavily visited thanks to ferry routes from Spain that arrive several times a day.Be sure to check out the Tangier Kasbah. You can take a tour if you wish, but you may have more fun simply exploring on your own with the aid of a map and signs to help you on your way.
Be sure to check out the Museum of Moroccan Art and Antiquities (often referred to simply as the Kasbah Museum). Located in a former sultan's palace, the museum is a great place to learn about the rich history of Tangier and the people of Morocco.
Fans of architecture should head to the Ville Nouvelle to take in the beautiful 19th and early 20th century buildings there. And the Contemporary Art Museum is a great place to enjoy lots of stunning modern Moroccan art, as well as the peaceful gardens that surround the museum.With pleasant weather and so much to see, it's no wonder that April is a popular month for tourists visiting Morocco. Be sure to plan your trip and book your favorite locations ahead of time so you are free to enjoy the vacation of a lifetime!
Merzouga, Morocco is a peaceful village in southeastern part of the country, near the Algerian border. Merzouga is known as the "gateway" to the Sahara Desert, particularly the Erg Chebbi dunes. It is the home of the yearly International World Music Festival of Merzouga.If you are visiting Morocco in April, the International World Music Festival is not to be missed. And while you are in Merzouga, be sure to check out the Morocco National 4X4 Auto Museum before heading to the local small markets to shop for crafts, art, and other beautiful handmade items.
Before you leave Merzouga, be sure to visit the Dayet Srjii Salt Lake. Not only is the entire area beautiful, in the springtime the area is a haven for many kinds of birds, including pink flamingos! You haven't truly lived until you've seen a huge flock of flamingos against a backdrop of the Sahara Desert.
Two hours to the north of Merzouga is the city of Errachidia. Located in the Draa-Tafilalet region, the city is quiet and friendly, but be sure to have your language dictionary handy as most of the people there speak Arabic. Errachidia isn't often a tourist destination, but rather, a place to rest for travelers on their way to somewhere else. But if you are traveling through, you will be able to find a nice selection of basic, clean hotels, and restaurants with delicious foods.
If you have time to see more, be sure to check out the museum and gardens at the Musee des Sources de Lalla Mimouna.If you have time to stay a bit longer, the area around Errachidia is quite beautiful. There are several wonderful desert tours available if you want to see more of the Sahara. But even if you just spend a day hiking around the city, you'll find many wonderful opportunities to capture stunning pictures with your favorite camera.