This is a guest post from our friends of the Worldtowning family! I'll let them make their own introductions and hope you enjoy learning more about RV'ing and camping in Morocco!
Hello. We are the Sueiro family, founders of WorldTowning and full-time WorldTowners. We are originally from the United States, but we are now global travelers. Our family has been traveling the world for almost four years. We started out a bit slower, living 9 to 12 months at each of our original destinations of choice—Costa Rica, Ecuador and France. Now, we are moving at a faster pace around Europe and Morocco in our motorhome—named Lemonade— with our two kids and our hamster, Sunshine.
Even though our lifestyle is anything but typical, we do try to keep a routine for work and the children's schooling. Most weekdays find us working on our WorldTowning business, vlogging, worldschooling and maintaining our motorhome. Whoever said motorhomes were an efficient means of travel was wrong; however, it is a load of fun (minus the poop dumping), so we proceed on. Our goal is to visit every country in Europe in two years. We are behind schedule, as we have only seen 12 European countries in 10 months, but we have loved the flexibility of being able to adjust our schedule, as needed, to take in additional sights or accommodate family needs. I have wanted to visit Morocco from as far back as I can remember so we included the country into our motorhome tour, even though it is technically not in Europe. The sensory aspect of it has always been alluring to me. Plus, I am a foodie, so you can imagine how excited I was to taste the local food. I now know we were meant to go to Morocco because of the people; the connections we made were profound, deep and life-changing—and the food wasn't too bad either (wink). I am going to keep it real here. Because we are working, worldschooling and switching locations so frequently, we plan one location at a time, and our planning for each subsequent European country is always a bit relaxed. We always seem to figure it out in spite of our short timeframes. Morocco, however, required a bit more planning, as we were venturing into a land in which we would be changing continents, time zones, currency, propane gas tanks and wifi networks. Additionally, we would be experiencing a language we did not speak. If we can't cook (although we did very little of that in Morocco), gain access to wifi for work and school, pay for items, or communicate our life can become utter chaos in a matter of minutes.
Will and I seldom plan campsite locations before we arrive in an area and, to date, we have not been at a loss for a campsite when we have desired one. Morocco was no exception. We were able to find campsites every time we sought one out, which was 100% of the time during our visit. The campsites varied in services, quality and cleanliness; but, we are a pretty low-maintenance family, so nothing was beyond what we could handle. To find a campsite in Europe, we faithfully use an app called park4night.
In Morocco, we found the app accurate in providing campsite options for all locations we visited. As for WIFI, our European plan did not cover us in Africa, we had to come up with an alternative. We use a ton of data between school, client calls, vlog uploads and much more. Will (our resident techie) researched our options, and we quickly learned that we could obtain a sim card from Maroc Telecom once we entered the country and pre-pay for data coverage to satisfy our needs. Refilling the data on our sim card was really easy as well.
Obtaining local currency was easy for us. We simply went to the ATM and withdrew dirhams. We find that accessing local currency with an ATM is easier and more cost efficient than using currency exchange agencies or kiosks at airports, as you get the best exchange rate there. As for gas to heat Lemonade, cook and run the fridge, we researched online to make sure we bought the correct type. When our tank from Spain ran out we replaced it with a local tank.
Frankly, the hardest part for all of us (don't laugh) was getting accustomed to the one-hour time change. As we have clients, teachers, sponsors, family members and friends from all over the globe, it was crazy to adjust to all the different time zones to maintain contact—especially when factoring in daylight-savings versus non-daylight-savings regions. I think we met just about everyone on time, but then we changed time zones and had to recalculate our schedules again.
Crossing from Europe to Africa with the motorhome is not as hard as it seems. We used an agency in Algeciras to help us prepare all of the needed documentation for the crossing. We used Algeciras, Spain as our European departure point where we had the option to take the ferry to Cueta or Tangier Med. Cueta, although it is in Africa, is Spanish territory, therefore there is no need to worry about passports, immigrations or customs during the crossing. Tangier Med is in Morocco and all customs and immigrations is done on arrival. We wanted to cross directly into Morocco at Tangier Med, but the weather on the day we left was not great and the only entry point open to Africa was Cueta via ferry. When we arrived in Cueta, we proceeded directly to the Moroccan border where we were subject to a 1.5-hour border crossing while waiting in our car. This was not terribly taxing as we were in the comfort of our motorhome and we had definitely experienced worse. We have experienced crossings in Central America taking in excess of five hours, running around in the heat, to get five different signatures wondering if we will ever get to cross. To say the least, in comparison, our entry into Africa was a seamless experience. Our return to Europe through Tangier Med, however, was definitely easier and more streamlined as the majority of the inspection process had occurred before we left Morocco and the entrance into Spain seemed like a formality.
In my opinion, traveling throughout Morocco by way of a motorhome is a great way to go. If I was advising someone as to this method of travel, I would say that the only negative aspect is that, occasionally, you may have trouble finding a big spot in which to park near the Medinas. This did not happen very often, however. Also, when crossing from one city to the next, outside of the toll roads, the roads can be quite narrow, often with no shoulders. Having a wide motorhome and having to compete with an oncoming tourist bus makes it a bit unnerving to navigate passageways for fear of slipping off. This can be managed by paying close attention to your driving—two hands on the wheels at all times and not checking the phone.
The advantages of having a motorhome in Morocco are plentiful. First, you are on your own schedule, which means you can stay longer or leave earlier as desired, depending on your reaction to and interest in a location. This freedom and flexibility are the biggest advantages. You can stop whenever you see something that meets your fancy. Secondly, from a cost standpoint, you can visit more locations at a more affordable price. Thirdly, the landscape is incredibly varied throughout Morocco. If you are flying or taking trains, you just might miss some amazing terrain.
Finally, it is easy to get to know other travelers and locals when in a motorhome. You are not closed off in a hotel room, but you are living and moving in close proximity to the people of the area. Traveling in a motorhome lends itself to more opportunities to engage in community and socializing, which we, of course, love. I could go on for days about other advantages—like inexpensive gas and quick stops at roadside food stands—but, I will stop here. I will just say we would do it the same way again—unless we were too far away to drive our motorhome back to Morocco.
As far as offering advice, every WorldTowner is different, with different interests and needs; however, I will offer suggestions to those interested in embarking on this type of adventure. Load up on the food and beverages you love from Europe before you cross over. We absolutely devoured the food in Morocco with great joy and ate it exclusively for the first five weeks. We eventually got sick (and remember this can happen anywhere). Our stomachs were not in a good place for the remaining two weeks of our Moroccan journey. We had very little food stocked in our cupboards that we considered "easy on the belly" and "comforting." We were also in the desert where larger grocery stores were less accessible, and, when available, were not well-stocked. Be prepared with dried and canned goods. I would also suggest using an agency to handle all official documentation for your crossing. This will help to make your entry into Morocco seamless and pleasant, and nothing will be missed. We used Carlos from Viajes Normandie. In addition, be sure to check your insurance policy before leaving Europe to ensure it covers you in Africa, particularly Morocco. If you are not covered, insurance agents are available at the border to provide temporary coverage. As for maps, once we were in the country, we used Google and Apple maps. Neither were particularly reliable. Waze was a recommended option by locals, but we never really used it. On a less-logistical, more-emotional level, try to keep an open mind as to what you will experience. Morocco is like no other place I have visited, and it is not like home, unless your home is Morocco. Do your best not to compare your Moroccan adventure to previous experiences or even to approach it in the same way.
Let your time there unfold authentically.
When you open your heart to new ideas, events and people, you will gain a rich experience culturally, as well as personally. The Moroccan people are the kindest we have encountered in our travels. They will share their homes, hearts, customs and much more if you let them in, but you must be willing to engage with locals to let this happen.
We loved our time in Morocco. Our family voted it as one of our top five countries and experiences thus far. We would do the trip again in our motorhome, as we believe it allowed us to have a more authentic and richer experience and allowed us to interact more intimately with the locals. In our collective opinion, making local connections and hanging with other travelers was the best part of our Moroccan adventure. We had so many amazing experiences, but, if we had to pick our favorites, they would be the following:
Then, there was a hike in Dades Gorge—where the kids showed us who was boss—and our journey through sandwiches as part of the Marrakech Food Tours—where I showed the kids who was boss. We also will never forget all the medinas across Morocco, each of which offered a different glimpse into the lifestyle, traditions, food and craftmanship of Morocco. There is so much about Morocco that will leave you awestruck.
Make Morocco part of your future travel plans, and, if you really want to do it up, do it by motorhome. To anyone curious, we would say, you must go, and you must go by way of motorhome to garner the deepest connections and most enriching experience.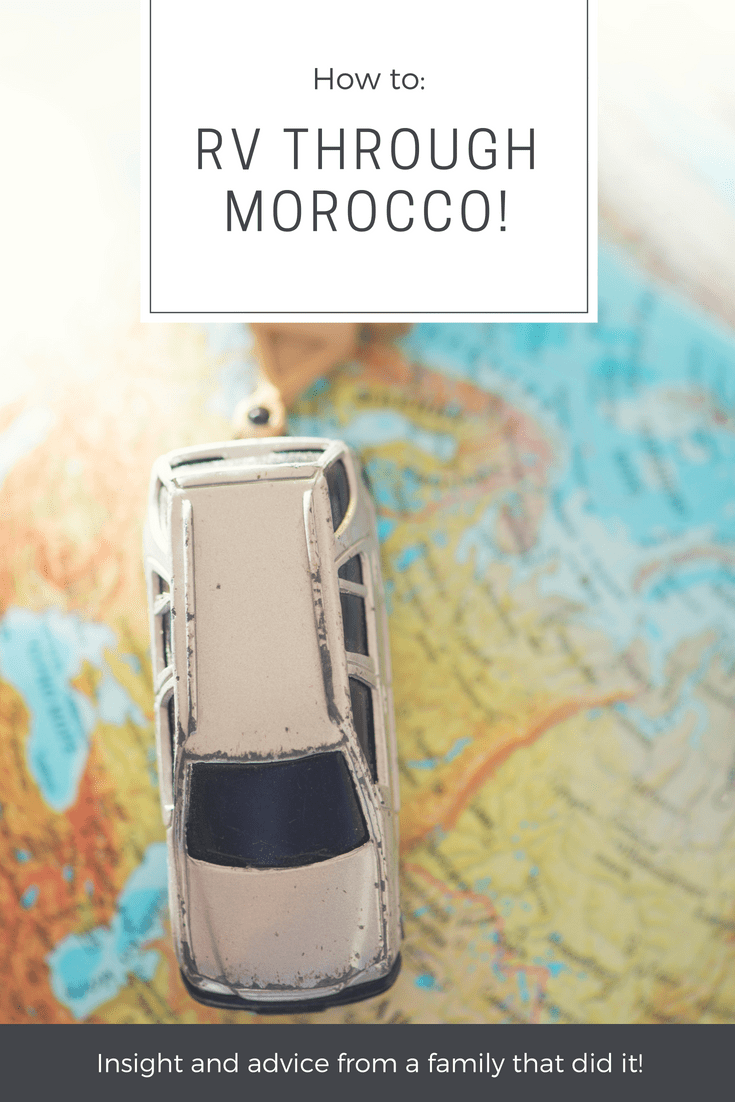 Morocco in 3 Days?
Planning (or thinking of planning) a trip to Morocco and not sure where to start? Join our FREE 3 day planning challenge and you'll be on your way to making your trip become reality!