Did you know that even though Morocco is in Africa it's only 8 miles from Europe?
Whether you're learning about Morocco or you're planning to travel to Morocco, I've put together several Morocco facts for kids. If you want to take your learning about Morocco even further check out my Morocco Early Learning Activity Bundle ideal for toddlers through kindergarteners.
4 Facts about the People of Morocco
1. Morocco's population is more than 37 million people.
Most of the people who live in Morocco are Amazigh – also called Berbers.
Amazigh are the indigenous people of North Africa. The Amazigh people make up more than 3/4ths of the population of Morocco.
2. 99% of the population is Muslim.
67% of the Muslim population are Sunni Muslims, while 33% identify as non-denominational Muslim.
The other 1% of people are Jewish or Christian.
3. More than 63% of the population lives in urban areas.
Most people in Morocco live in areas west of the Atlas Mountains.
4. The average age in Morocco is 29 years old.
Just 13% of Moroccan's are over the age of 55. Most of Morocco's population is under 25 years old.
4 Morocco History Facts for Kids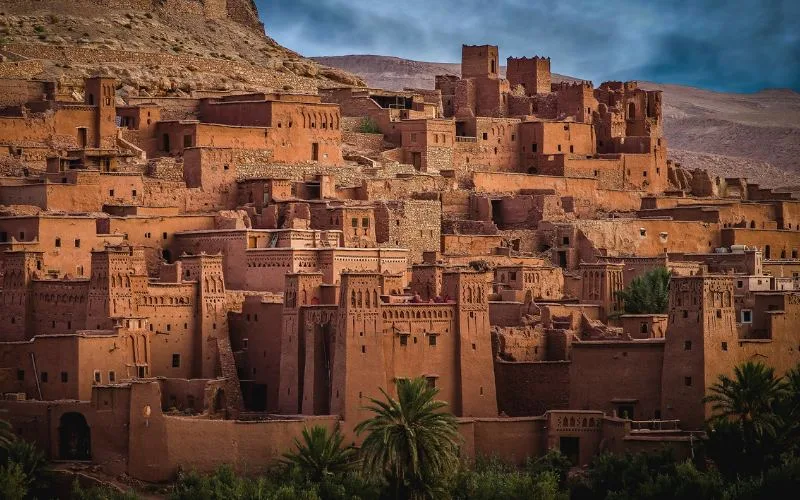 Marco has had a long and interesting history.
1. Archaeologists have evidence that shows the area was inhabited by early humans at least 400,000 years ago.
Fossilized bones of early humans were found in Morocco in 1971. After the early humans, Morocco was a savanna and had hunters and gathers.
2. Morocco's recorded history begins when it was colonized by the Phoenician people in the fifth century BCE.
Since then Morocco has been a part of the Roman empire, the Byzantine Empire, and part of the French and Spain protectorate.
3. In 1956 Morocco's independence was restored.
Every August 20th, Morocco celebrates Revolution Day with a day of remembrance. This day recognizes the struggle and success of the Moroocan people over the French colonizers.
4. Morocco is one of 3 Kingdoms remaining in Africa.
The constitutional Monarchy was established, which means the King is the leader of the country, but he also has a parliament to help make laws.
7 Geography Facts about Morocco for Kids
1 .Morocco is located in North Africa.
It's a country in the northwest corner of Africa. But it's also only 8 miles from Europe.
2. Morocco is bordered by two bodies of water.
Morocco is bordered by the Atlantic Ocean to the west and the Mediterranean Sea to the north. It's separated from Europe by the Straits of Gibraltar.
3. Morocco's largest mountain range is called the Atlas Mountains.
They are North Africa's highest mountain range. They run from the top of the country and circle down around Marrakech to the coastline.
The highest peak is called Mount Toubkal. It's so high that it has snow all winter long.
4. The Sahara Desert stretches into Morocco.
South of the Atlas mountains is a small part of the Sahara desert. The Sahara desert is the largest, hot desert in the world.
5. Morocco has many rivers that originate in the Atlas mountains.
The longest river is the Draa river. It is 684 miles long.
6. Morocco is 172,414 mi.²
That's a little bit smaller than the size of California. It's also about twice the size of the UK.
7. Morocco has 5 major cities: Marrakech, Casablanca, Rabat, Fez, and Tangier.
Marrakech is known as the "Red City" because the buildings are made from red clay. It has lots of markets and beautiful buildings. It is one of the smaller large cities in Morocco with just under 100,000 residents. It is a top tourist city.
Casablanca is the largest city in Morocco. Casablanca is home to 3.3 million people. Casablanca gained worldwide popularity after the 1942 Award-winning movie, Casablanca set in Casablanca.
Casablanca is home to the largest mosque in Morocco, the Hassan II mosque. It also has Morocco's most important port.
Rabat is the capital of Morocco. It has the nation's most popular museum and has a population of about 1.6 million people. Another popular place in Rabat is the ruins of the Chellah.
Fez is the second-largest city in Morocco. It's home to the world's oldest University. It is also one of the oldest cities in all of Africa.
Tangier is the first city you'll reach when you cross the Strait of Gibraltar from Europe. It has one of the most diverse histories of all the cities in Morocco.
5 Cultural Facts of Morocco for Kids
1. Morocco has 2 official languages
People in Morocco speak Arabic and Amazigh. Because of the past colonizations of Morocco, French is also widely spoken in Morocco.
2. Morocco has many popular foods.
Morocco's most famous drink is its mint green tea.
But other popular foods are fava beans, lamb and chicken dishes.
Morocco is also famous for its citrus fruit. Oranges and lemons and limes grow well there. Clementines are one of the major exports of Morocco.
Some other famous dishes are:
Couscous: Couscous is served as a steamed grain that is somewhat like rice in other countries. It's served with vegetables, lamb, beef and chicken.
Moroccan Chicken Bastilla: This is a savory pie made with chicken and many herbs and spices like cinnamon, pepper, ginger, and saffron.
Tagine: This is a slow-cooked meal that is made with meats and vegetables. It's cooked in a special ceramic dish that is also called a tagine.
Harira: This favorite soup is uniquely Moroccan. It's a tomato basil soup made with chickpeas and lentils. Sometimes rice or noodles are added to it.
3. Morocco's favorite sport is football.
You can see football all over Morocco from children playing it to adult leagues. There is even an annual competition called Botola Pro. For Americans, football is called soccer.
4. Morocco has the 7th largest mosque in the world.
Hassan II is the 7th largest mosque in the world and is located in Casablanca, Morocco. It has the largest minaret in the world. A minaret is a tall, slender tower where a muezzin calls Muslims to pray 5 times a day.
5. The oldest university in the world is in Fez, Morocco.
Al-Qarawiyyin University is the oldest university in the world and it is located in Fez. It was founded in 859.
5 Nature Facts about Morocco
Morocco is known for some of its most beautiful scenery including wildlife and nature.
1. The national animal of Morocco is the Barbary lion.
Unfortunately, Barbary lions are extinct in the wild but they used to roam the Atlas Mountains. A small number of Barbary lions still live in some European zoos.
2. Tree-climbing goats are a common, but peculiar sight in Morocco.
Possibly the most famous animals in Morocco are the tree-climbing goats. It's quite a sight to see a tree full of goats snacking away on the fruits and leaves. They climb the branches of the Argan tree.
3. Morocco doesn't have true camels.
Camels traditionally have two humps but the camels you see in Morocco only have one hump.
These one humped, desert loving creatures are called dromedaries (they are part of the camel family though). Although the dromedaries you see are not truly wild, they have owners.
4. Elephant Shrews call Morocco home.
Why are they called elephant shrews? Did you guess it? Elephant shrews have long flexible snouts much like an elephant's trunk.
5. Golden Jackals are Morocco's newest discovered animals.
Golden jackals are a newly discovered species of wolf. They are closely related to the gray wolves of Europe.
Golden Jackals grow to be 2.7 foot tall and weigh about 24 lbs.
10 Facts about Morocco at a Glance
To start you off I put together 10 fun facts about Morocco.
Morocco facts in a glance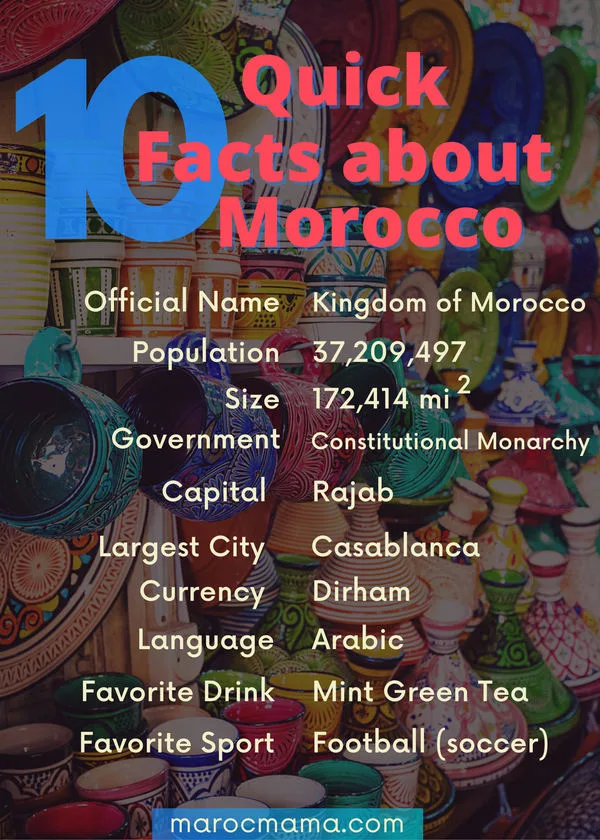 Resources worldometer, Morocco Government Website, National Geographic
Quiz Their Knowledge!
Follow up your Morocco learning unit with these trivia questions for a fun classroom or homeschool activity.