Looking for some great places to stay in Erfoud, Morocco? I just happen to have a few to recommend!
Places to Stay in Erfoud, Morocco
Located at the southern end of the Ziz Oasis, Erfoud, Morocco is a small oasis town with a "frontier" feel. Travelers heading out to the Erg Chebbi sand dunes pass through Erfoud regularly. Erfoud is also the home of the annual Date Festival – an exciting three-day event that takes place in early October each year.
Erfoud was founded in the 1930s when it was built as a French administrative center. Since the area is now so popular with tourists, many restaurants and hotels have sprung up over the years. So if you are planning to visit this southeastern Sahara Desert town, here are a few great places to stay in Erfoud, Morocco.
Tifina Caravanserail d'Arfoud
If you are looking for a nice place to stay in Erfoud without breaking your budget, the Tifina Caravanserail d'Arfoud is worth a look. Featuring an assortment of places to stay, this lovely accommodation can make you feel quite at home.
The restaurant offers fresh, delicious, local cuisine for you to enjoy. Eat inside the beautiful dining area or outside around the pool (before or after enjoying a nice swim). And when you're ready to get out an explore, the folks at Tifina are happy to help you find your way. They even offer an airport shuttle for your convenience.
Choose from a four-bedroom villa, complete with a kitchen, air conditioning, private bathroom with a shower, and a nice terrace. Or choose one of eight bungalows made from traditional materials such as mud, stone, and ceilings made of palm wood and reeds.
Each bungalow offers a private terrace and access to a shared bathroom. You can also spend the night out under the stars in a simple and beautiful nomadic tent. With so many great options, you can enjoy a unique experience perfectly suited to your needs.
Erfoud Le Riad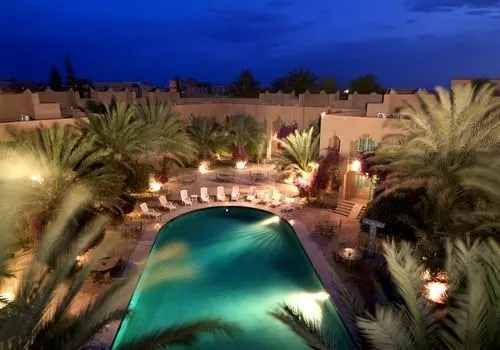 If you are looking for the conveniences of a modern hotel while spending time in the Sahara, the Erfoud Le Riad may be one of the best places to stay in Erfoud. Although it is an older hotel, the Erfoud Le Riad offers you luxury and comfort at an affordable price. Two onsite restaurants are available – one featuring traditional Moroccan cuisine and the other offering a range of international choices.
There is also a bar so you can enjoy a cocktail while listening to some music – or take it out to the pool if you prefer. Relax in the sauna, or catch up with the world over their free internet while having your clothing cleaned through the hotel's laundry service. Wake up to a delicious breakfast buffet, and when you're ready to go exploring, the staff can help you plan a guided tour of the dunes and surrounding area.
The Erfoud Le Riad offers over 100 guestrooms and 15 suites of varying sizes, you're sure to find a room that is a perfect fit for you. Each room includes a private bathroom, television, air conditioning, and a telephone. The suites also come with a minibar so you can easily enjoy a cocktail in your room anytime. And if you need anything at all, the staff at the front desk is available around the clock.
Belere Arfoud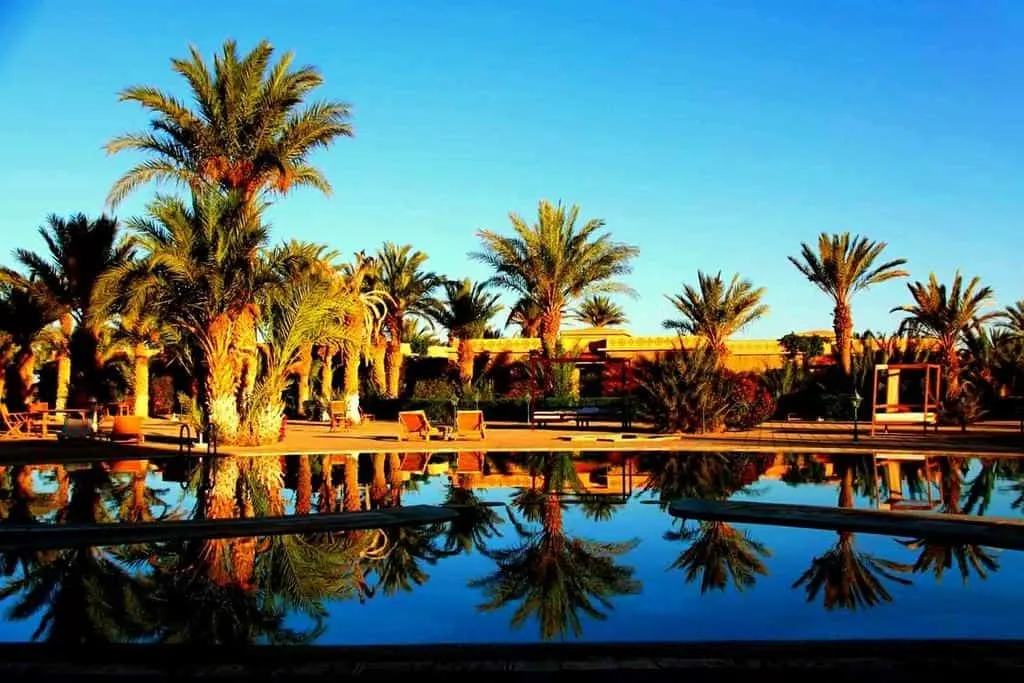 Have you ever dreamed of singing karaoke in the Sahara desert? If you stay at the beautiful Belere Arfoud, you can – in the onsite nightclub. And if you prefer the outdoors, they have plenty to offer there, too. Spend time in the garden or swimming in the serene pool. They also offer a sauna, comforting massages, and a Turkish steam bath if you're looking for extra pampering.
The staff at the 24-hour front desk speak French and English. They are happy to help you with laundry services, excursions to explore the local area, and they can even help you get some groceries delivered if you want something not available in the restaurant. But don't miss out on the delicious breakfast offerings – where you can enjoy a buffet with yummy local and international dishes.
The Belere Arfoud features an assortment of beautiful rooms and suites to choose from. Rooms include private bathrooms with shower, bathtub and toilet, a minibar, safe, air conditioning, a comfortable indoor sitting area, and a private balcony. And if you like to unwind with your electronics, there's free WiFi available, and satellite channels on your tv.
Comfort is the goal at Belere Arfoud, for you and your whole family. This includes your pets, which are welcome to stay for free!
Le Rose du Desert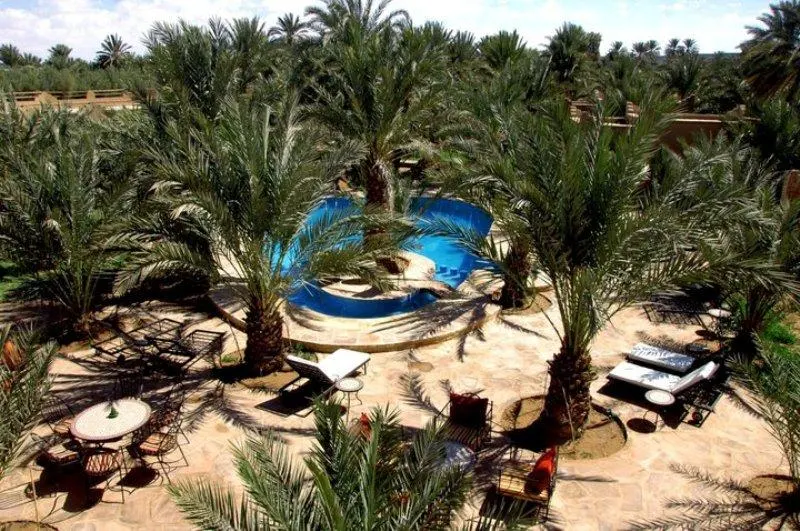 If you are dreaming of exploring the desert when visiting Morocco, the Hotel La Rose du Desert is one of the best places to stay in Erfoud. This enchanting resort offers you an incredible experience in every way imaginable. Lounge in the gorgeous garden under the shade of swaying palm trees.
Take a swim in the outdoor pool, or enjoy a meal in the on-site restaurant. And when you're looking to head out to the dunes, the Hotel La Rose du Desert has several excursions to offer – from camel rides to 4X4 vehicles.
The rooms, suite, and bungalows at the La Rose are created with your comfort in mind. Rooms are beautifully decorated in traditional colors and each features a private bathroom, air conditioning, satellite TV, and WiFi. There is also a private safe if you need to store valuable items. Bungalows are even more luxurious and offer added privacy for your comfort and relaxation.
While you're there, be sure to check out the gift shop, too, where you can find some lovely gifts to take back to the folks back home. And if your pet goes everywhere you go, they are welcome at the Hotel La Rose du Desert, too!
Maison Boutchrafine
Small, intimate, and luxurious, the Maison Boutchrafine is a beautiful Bed and Breakfast located in the mountains about 12 minutes outside of Erfoud. Relax in the peaceful garden or lounge by the outdoor fireplace while enjoying breathtaking views of the surrounding area – including the Erb Chebbi sand dune.
There's a lovely pool for swimming, and the pool bar is happy to help you with a tasty cocktail, too. And if books and games are more your speed, you'll love the library and indoor play area with DVDs, games, and even more fun for your family.
But the Maison Boutchrafine goes above and beyond all that. Take a Moroccan cooking class or enjoy a walking tour during the day. Then head to the onsite bar to check out the live entertainment for the evening. Every day, you'll enjoy a delicious breakfast in your room, with a restaurant available for other meals. And if you have special dietary needs, just let them know. They even offer lots of tasty treats for vegetarians!
The beautifully decorated rooms are an enchanting combination of rustic and luxurious. Each includes a private bathroom, outdoor dining area, free toiletries, wake-up service, air conditioning, and more. And the full-service desk can help you with anything from car rentals to an airport shuttle. The staff speaks four languages, so if you speak Arabic, Spanish, French, or English, they have you covered.
Africa Luxury Camp
For the a romantic desert escape, the Africa Desert Camp is ready for you. Even if the thought of camping in the desert makes you nervous, this luxurious desert camp offers you every opportunity to relax. Hang out in enchanting surroundings where you can enjoy a garden, picnic area, an outdoor fireplace, and comfortable furniture. If you get hungry, the on-site restaurant provides tasty meals – and can handle your special dietary needs on request, as well.
If you are the active type, you'll love the yoga classes they offer. Explore the local area by taking a tour or a class – and if you love to wander, you are welcome to rent a bicycle and go for a ride, as well. There is no internet access here, but you'll be so busy taking in the natural beauty of the desert, you won't even notice.
And when you see the tents they offer, you'll definitely want to stay here. Comfortable foam mattresses provide a wonderful night of sleep, and the floor of your tent is covered in gorgeous handcrafted rugs. Each tent includes a private bathroom with a shower, a sitting area, walk-in closets, minibar, dining areas indoors and out – and so much beauty that you may decide you never want to leave.
One of the best reasons to visit Morocco is to experience the mysterious beauty of the Saharan desert. The town of Erfoud is a wonderful location from which to explore the desert, while still enjoying the modern conveniences that make life easier. I hope this collection of places to stay in Erfoud will inspire you to head to the desert during your Moroccan vacation!