MOROCCO GIFT GUIDE 2022
A LITTLE BIT OF THIS AND THAT FOR THE MOROCCO LOVER IN YOUR LIFE!
This gift guide contains affiliate links and I may earn a commission at no cost to you if you purchase via my links
CHOOSE THE PERFECT GIFT AT ANY PRICE
MOROCCAN GIFTS UNDER $50
The Food of Morocco Cookbook
Paula Wolfert truly brought Moroccan cooking to the United States. Her work is authentic and this cookbook is a must for any Morocco-lover who wants to learn or go deeper into the world of Moroccan cooking.
Geometric Throw Pillow
Moroccan cushions are a great way to add color to a room. This Moroccan-inspired design cushion is 16 x 16 inches and will be fantastic in the living room or bedroom. Buy one as a gift for yourself as well!
Mini Moroccan Spice Tagines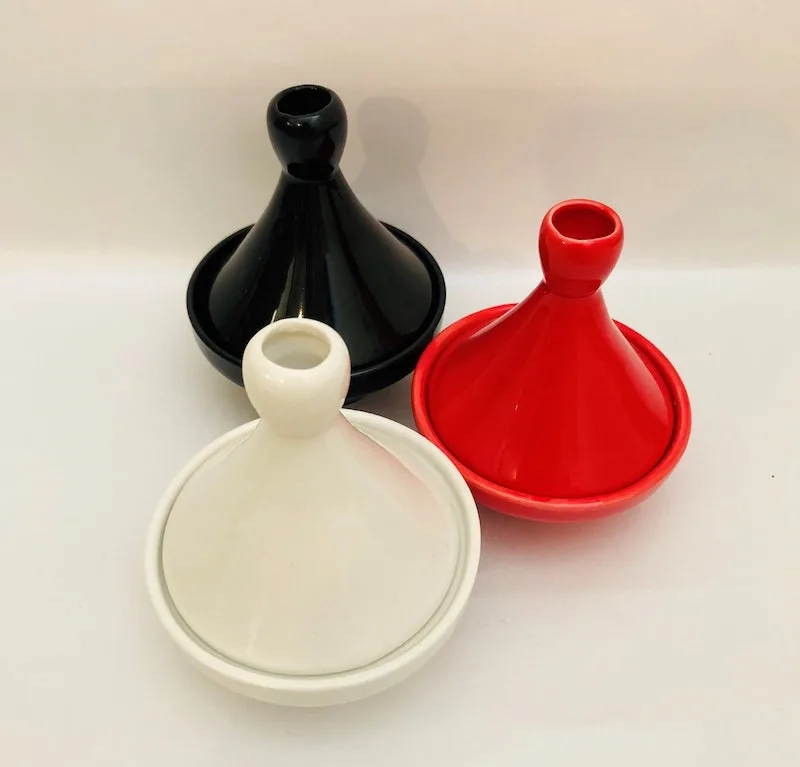 These solid color mini tagines are great for spices – we use them for salt, pepper, and cumin on our table. They are just a little "cooler" than your run-of-the-mill salt and pepper shaker!
Vintage Morocco Print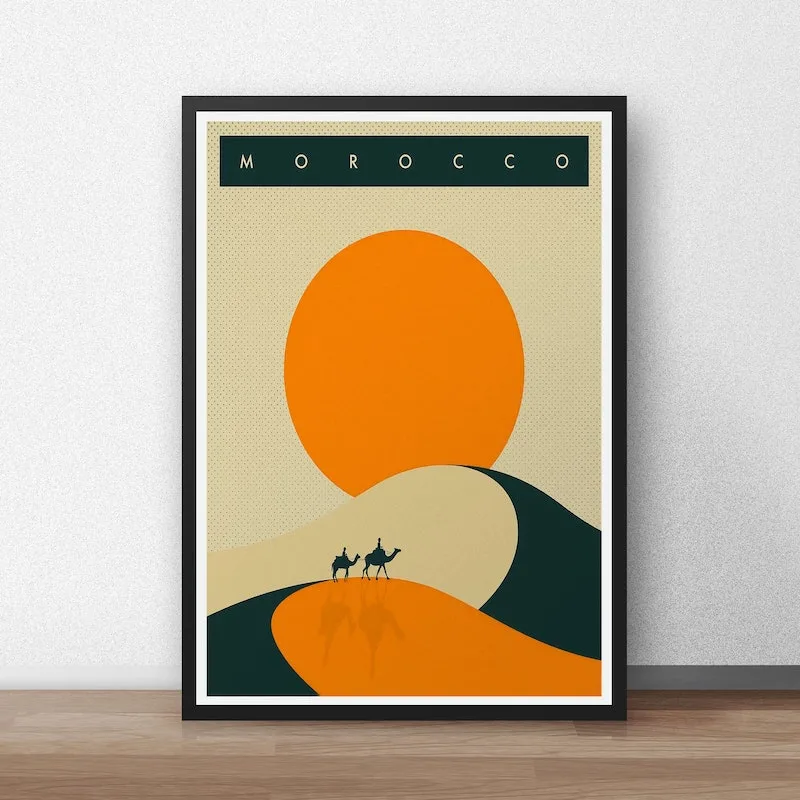 A vintage art print is a fun gift to give. This is available as just a print or you can order it framed and ready to give.
I'd Rather be in Morocco Cup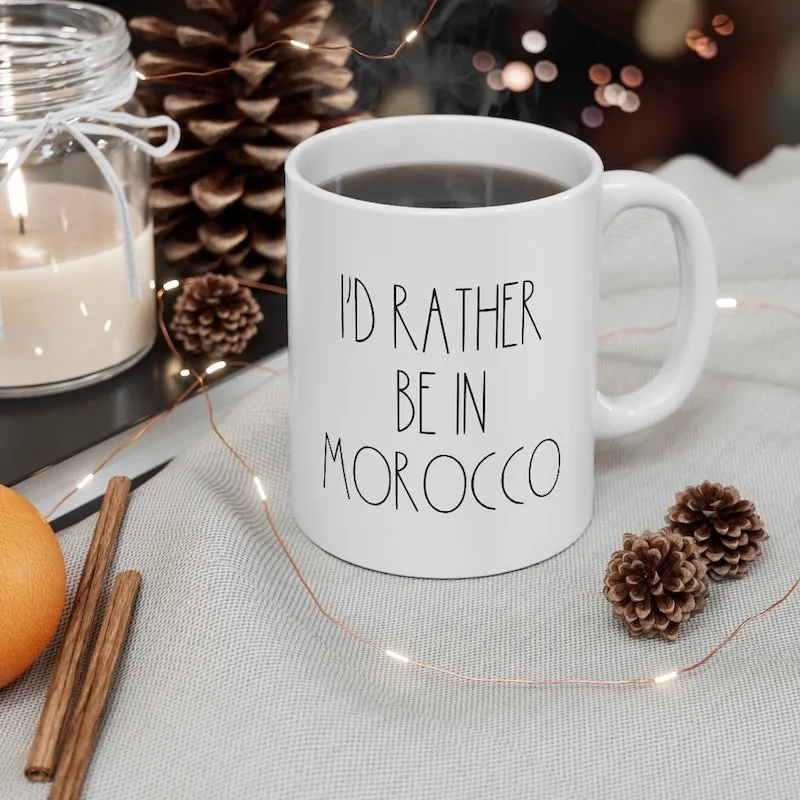 You can never have enough coffee/tea mugs and this is one any Morocco lover will want to have.
Moroccan Sweatshirt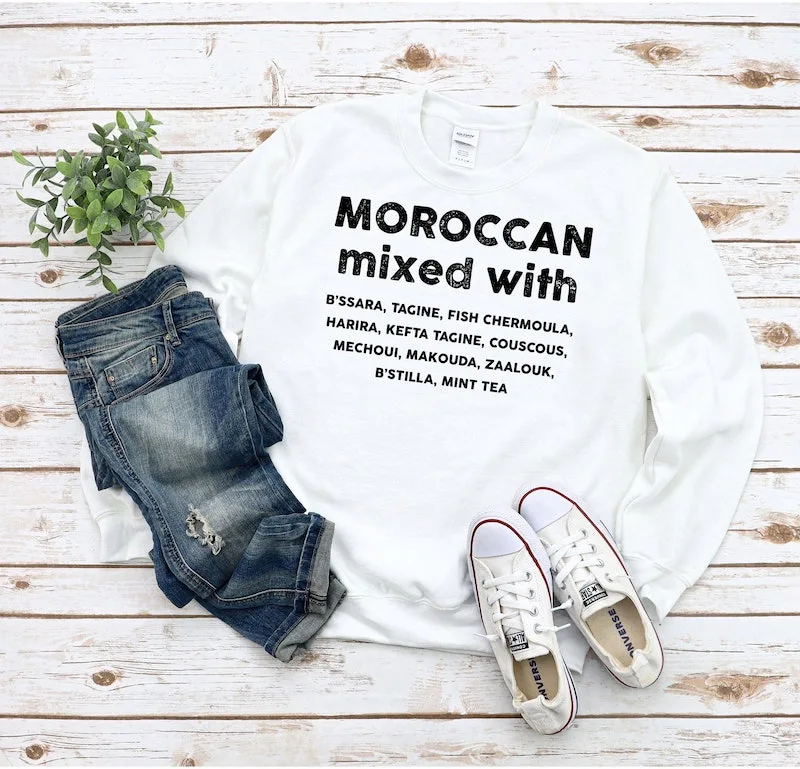 A fun clothing gift for someone who is Moroccan or part Moroccan – or just loves Morocco!
MOROCCAN GIFTS UNDER $100
Authentic Moroccan Pouf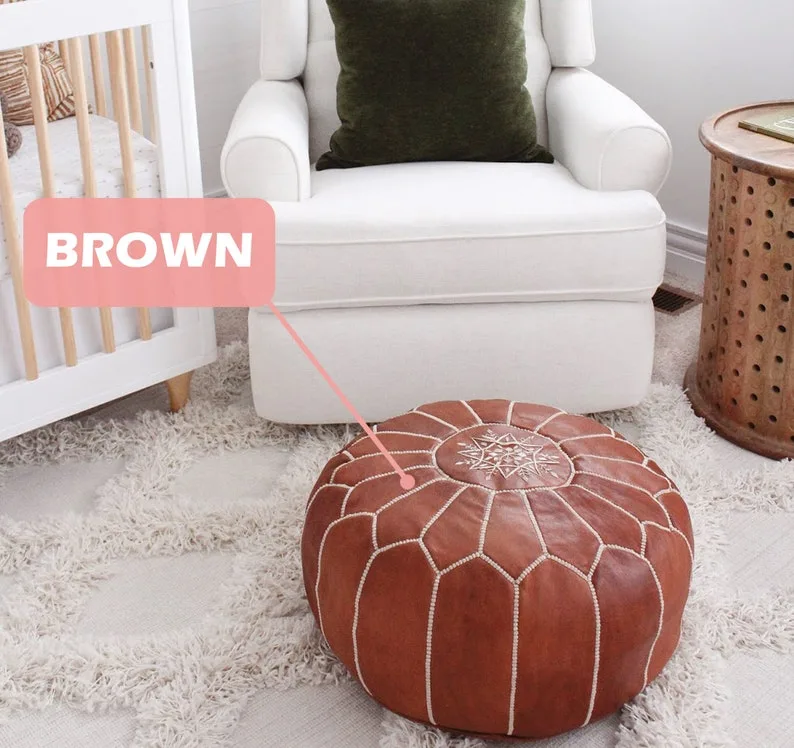 This hand-made 100% Moroccan leather pouf will look fantastic in any living room. Handcrafted by Marrakeshi artisan, this Moroccan pouf has been imported from Morocco.
It comes in a range of colors and makes an excellent accent piece. Put a tray on top and you've got an instant Moroccan table!
Handmade Rectangle Mirror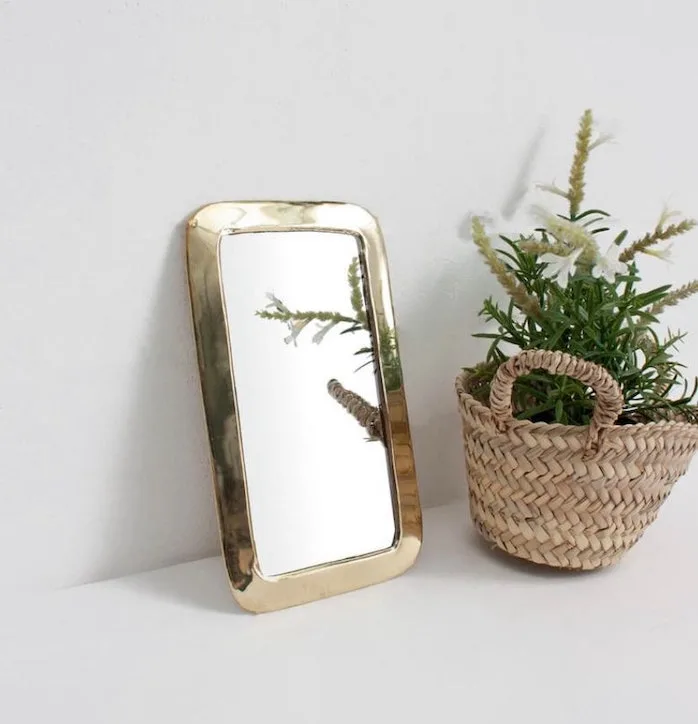 Handcrafted directly from the artisan in the medina of Marrakech, you can have your piece of Morocco in your home without leaving the country! This is a simple, hammered metal mirror available in several sizes.
Ceramic Moroccan Tagine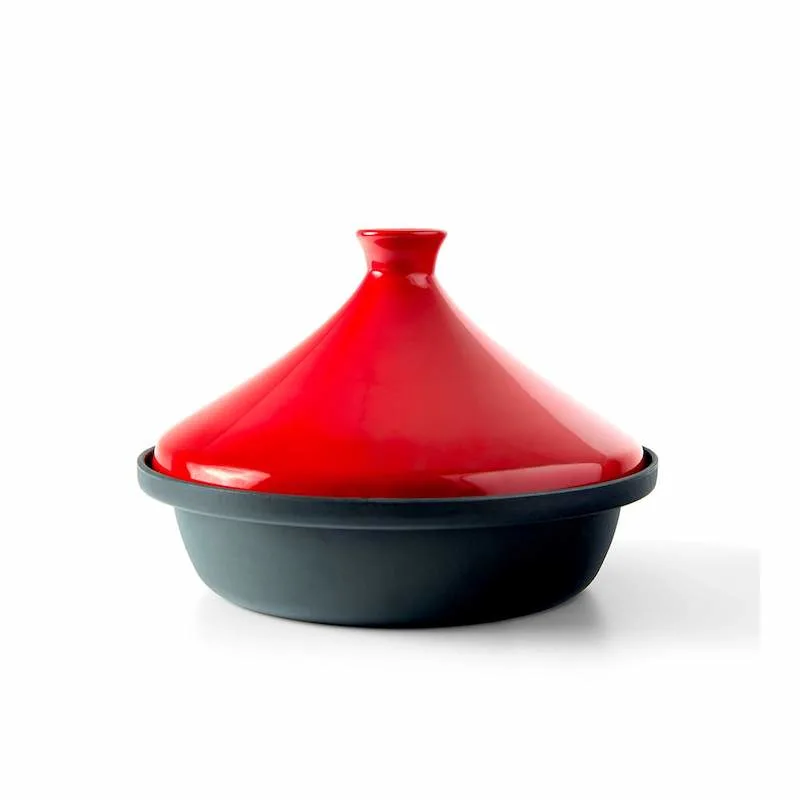 This is a great tagine for anyone that is starting to cook or has been using a tagine for a while.
The size is quite large and the base can be used alone making this a versatile piece for the kitchen.
Ceramic Pitcher and Glasses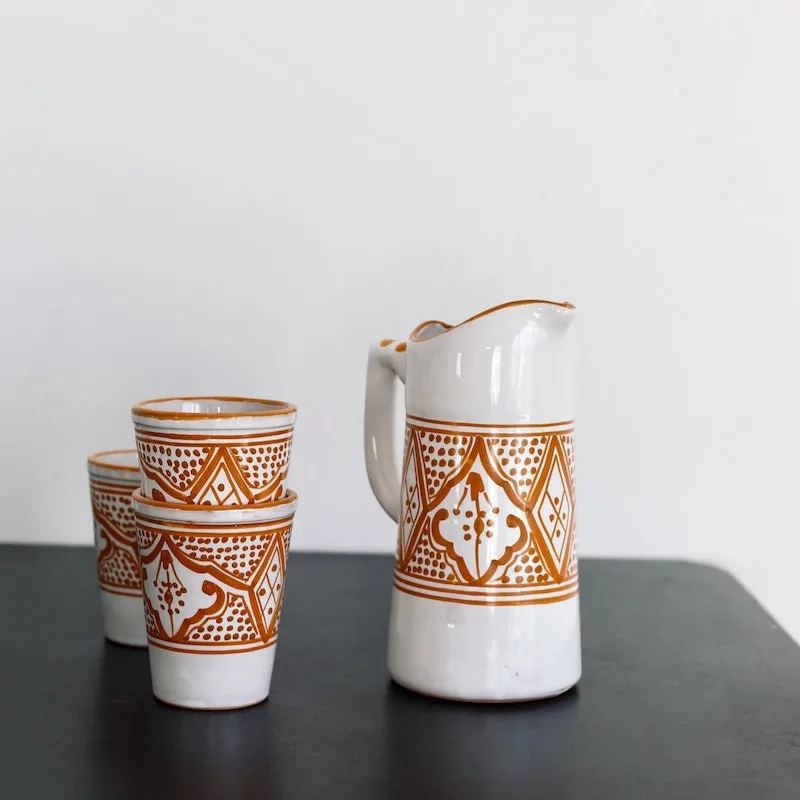 A handmade drink set, this pottery comes from Morocco where it's made and painted.
Brass Khamsa Soap Dish
A hand-embossed brass soap holder, this simple gift would be great paired with some handmade soaps in Moroccan scents like orange blossom or rose.
Wool Pom Pom Blanket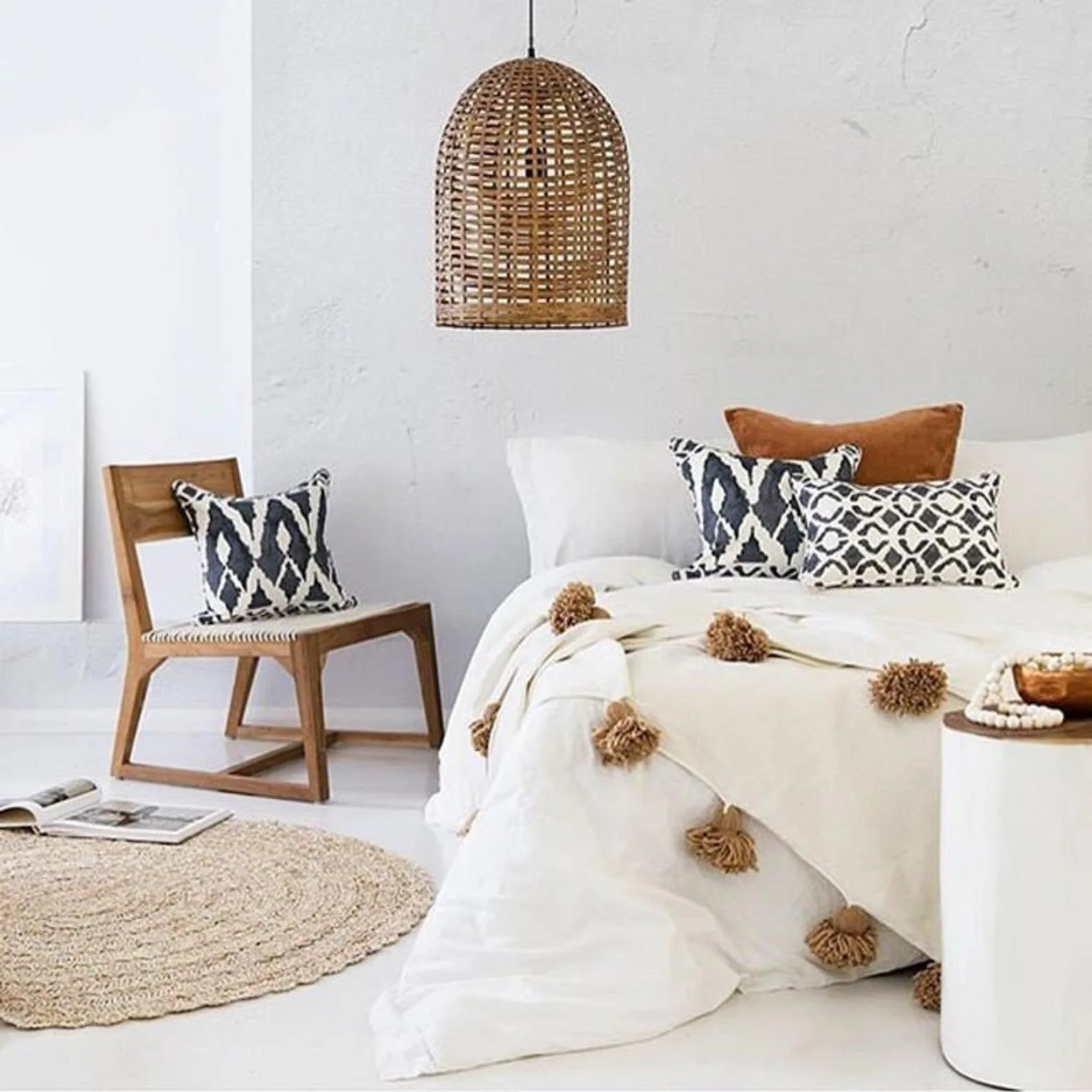 Pom pom blankets are all the rage and this comes in many sizes and color options – it's wool and warm!
MOROCCAN GIFTS OVER $100
Handmade Moroccan Rugs
This might be the ultimate gift to give (or gift yourself). This shop has some really nice rugs in a wide range of styles – more than the one I'm featuring here. Make sure to click around.
Woven Cotton Pom Pom Blanket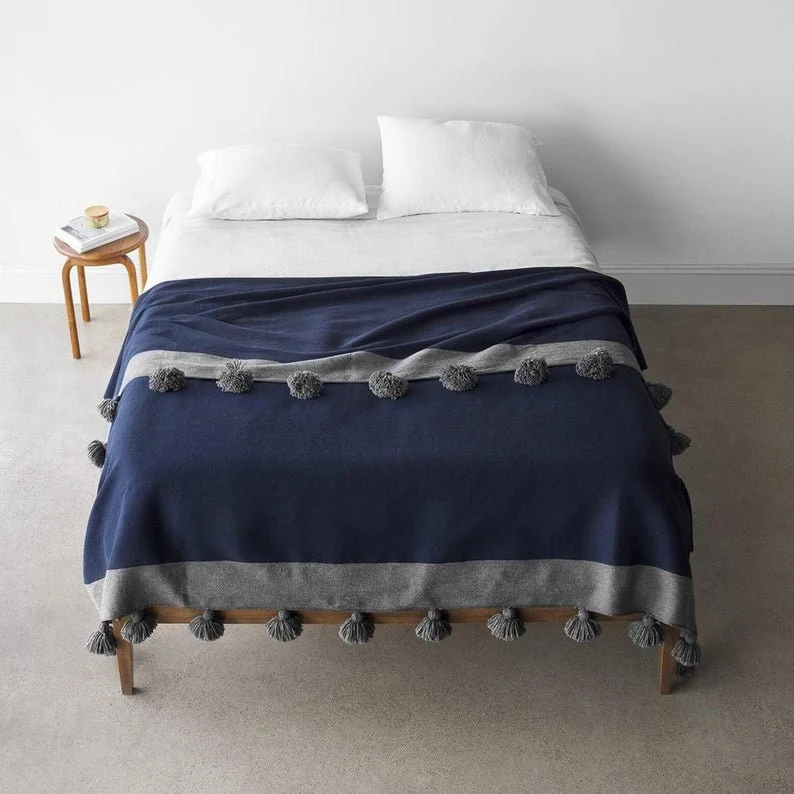 These blankets are woven just outside of Marrakech (about 30 minutes). They're 100% cotton and can be cleaned – dry cleaning is best (because of the tassels). A great gift idea!
Moroccan Arch Wall Hangings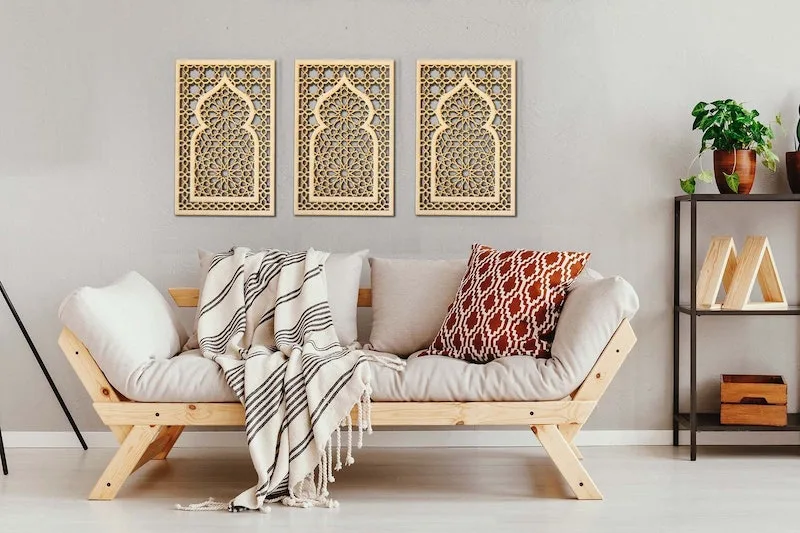 This set of three carved wood, wall hangings feature the arch commonly found across Morocco.
A very nice, simple gift for a Morocco lover in your life! The design is easy to blend into any style home or office.
Stagg Electric Water Kettle
This kettle is the perfect gift for a tea lover (or coffee). It's just what's needed for a hot cup of mint tea!

Le Creuset Tagine
I love Le Creuset products and if you are looking to splurge this tagine is one that will last you forever. If anything ever does go wrong, they'll fix it or send you a new one!
Handmade Leather Satchel
Handmade leather is one thing Morocco does better than most anywhere else. Bring it home with this messenger bag/satchel.
HAPPY SHOPPING!