Who says older kids and adults can't craft? This fun Morocco Desert Terrarium craft is perfect for a relaxing afternoon or a fun weekend evening at home. All you need are a few simple household supplies to get started on creating the perfect house plant and home decor.
Making terrariums is a great way to have a fun home decor project that is stunning, too. Once you make this simple terrarium activity, you can have it in any room in the house on display. You can also make one for each room of your house, too! Because who says you can't have multiples scattered about?
Can you put a cactus in a terrarium?
You actually can! And what a way to complete the desert look! As long as your terrarium doesn't have a lid, you should be able to add in a cactus without any issue at all.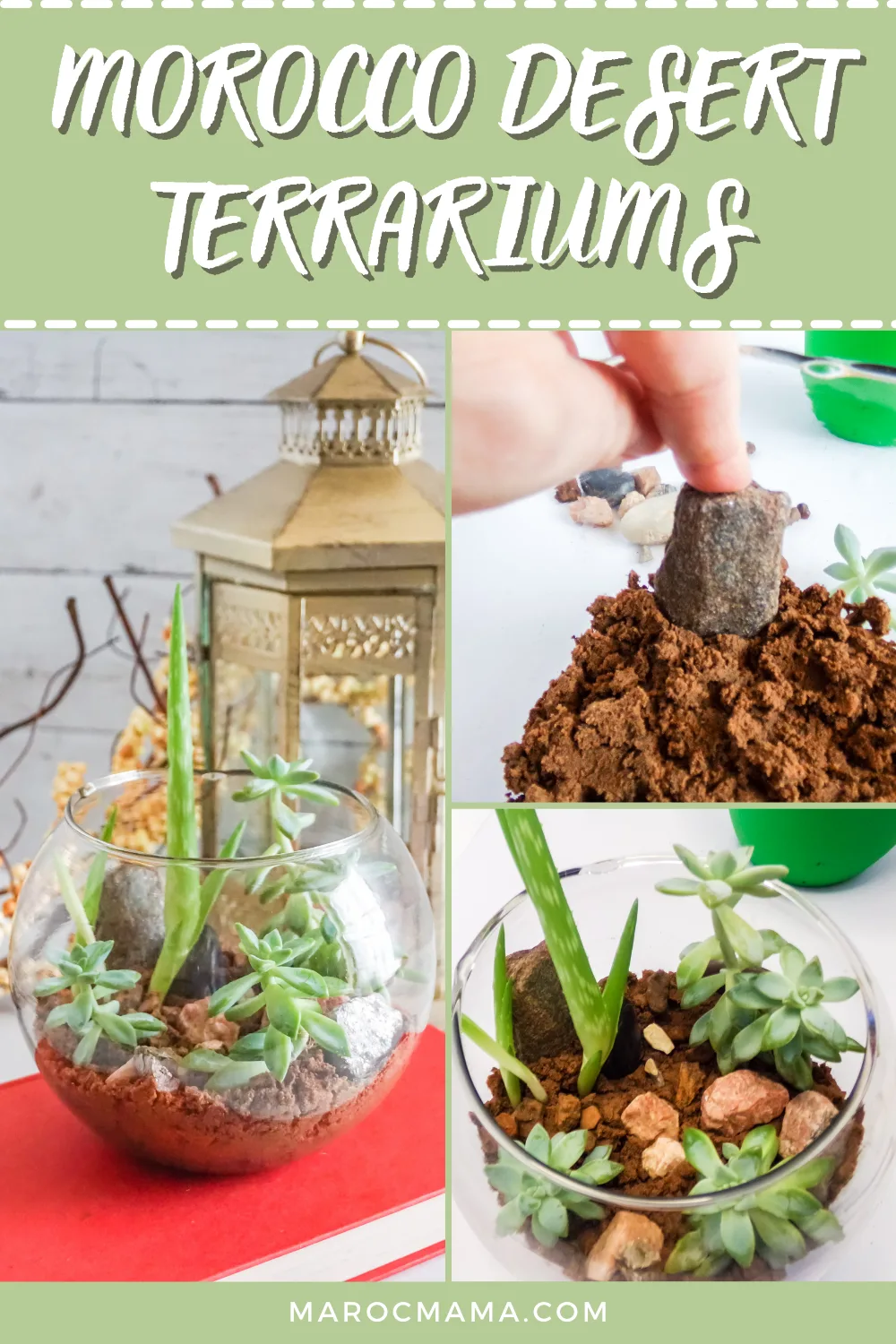 What are the two different types of terrariums?
If you're gearing up to make a terrarium, it's important to know that there are two main types. The two types to make are known as open and closed, and as the name suggests, open is an open-top, and closed is a closed top.
What age is this activity geared towards?
This terrarium craft is great for older kids who can independently create and adults. If kids want to join in on the fun, have them sit with their parent or adult to help. It might even help to have some smaller hands to make this easier!
Tips for Making Morocco Desert Terrariums
Even though there are just a few simple steps (and supplies) to this craft, there are a few tips to keep in mind.
The sand that you're going to add to the glass bowl will never be level. Don't waste time and don't stress over it. Just add the sand and move on to the next step.
Have the larger plants on the backside of the glass bowl and the smaller ones on the front. This way, you'll be able to see and enjoy both easily!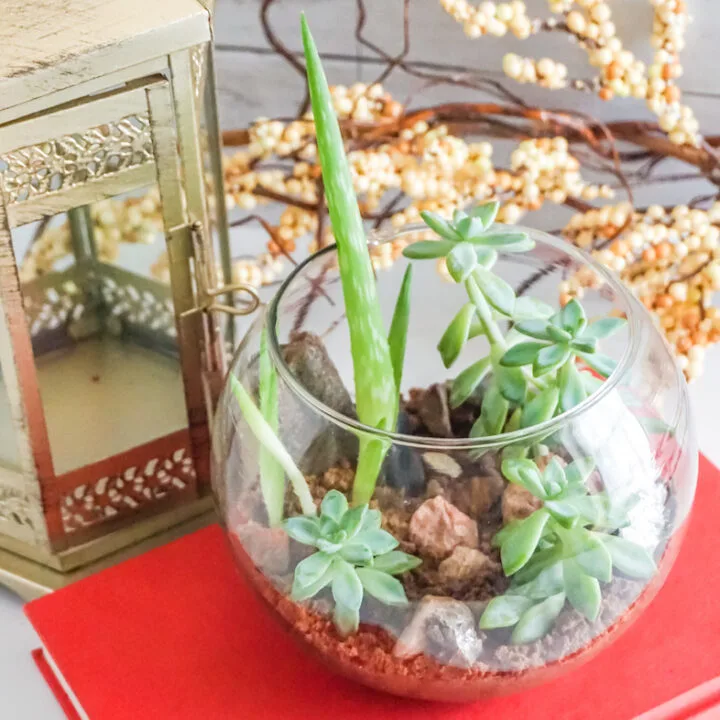 Yield:

1
DIY: Morocco Desert Terrariums
This easy craft can be made by all ages and is completely customizable.
Materials
1-2 cups Rocks, varying sizes
3-4 cups Sand
6-inch Glass Fish Bowl
3-4 Aloe Buds
2-3 Succulent Buds
Instructions
Fill the bottom quarter of the glass bowl with the sand. Don't bother trying to make it even, it will have more character if there is a bit of lumps and hills and valleys.
Add 2-3 large rocks around the edges of the bowl, placing some smaller ones nearby the larger ones and in clusters of odd numbers. Try to be random in your placement.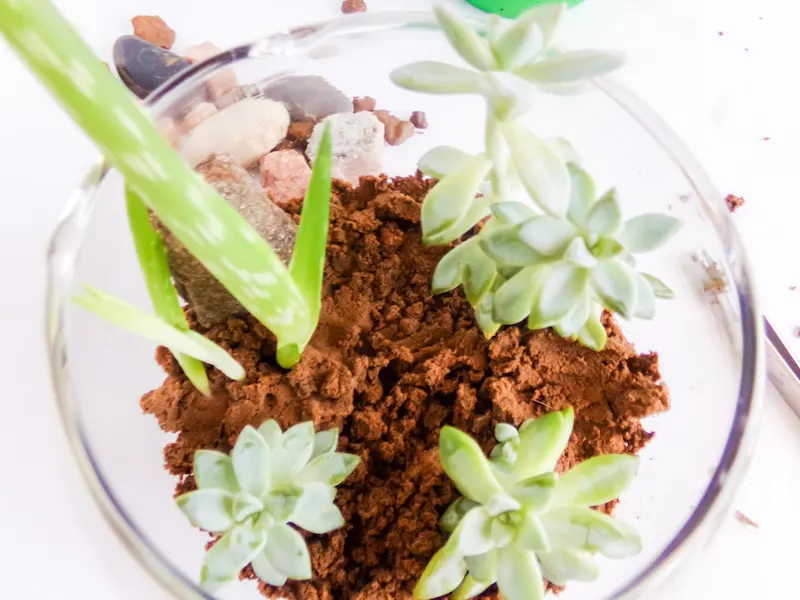 Place the larger plants toward the back of the terrarium, placing the smaller ones toward the front.
Lightly spritz with water to set everything and enjoy!
How often should you water your terrarium?
You should plan on watering the plants in your terrarium once or twice per week. This doesn't mean that you should pour in a ton of water, but spritzing them with water does need to happen. You will also add a tiny bit of water but you shouldn't see any water standing at all. Too much water will hurt the plants and cause them to potentially die.
How do you maintain a terrarium?
While caring for a terrarium isn't hard, there are a few things you're going to want to keep in mind. As long as you don't overwater the plants, you won't have to worry about mold issues growing in the bowl.
The second thing to keep in mind is that you don't want to have your terrarium in direct sunlight. A little bit is fine but it shouldn't be in it all the time.
Since the supply and material list is so short, you can easily find objects around the house to add in as well. You can add your own really cool rocks to the terrarium and even some of your own sand as well. If there are items in the house that you feel would be a great addition, add them and enjoy!
Make the terrarium look like you want to since it's going to be a beautiful addition to your home. Place it on your desk or table and enjoy the lovely view! DIY terrariums are always a great addition to any room.