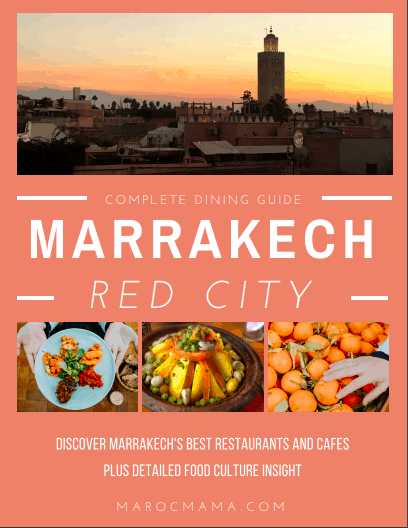 Does the thought of browsing TripAdvisor and hoping you choose the right restaurant in Marrakech stress you out?
Do you want to be able to decipher a Moroccan menu to understand what you're ordering?
Would you like to find family friendly restaurants or be able to pick something close to where you're spending the day?
I've put together this book (over 40 pages!) to walk you through everything you need to know about eating in Morocco (and more specifically Marrakech). I've eaten at over 200 restaurants in the city and compiled some of the best in multiple categories so that you can pick and choose not only what you're hungry for but get an idea of price and what I would order if I were dining with you.
This is a fantastic companion for your trip – especially if you travel to EAT!
Morocco Trip Planning Workbook
Whether you've already started planning or you're just considering a trip to Morocco keeping track of all the details can become a full time job. If you're like me you have notebooks of ideas, pictures saved on Pinterest boards and advice from friends scattered in messages all over the place.
That's why you NEED this workbook in your travel planning life!
I've created all the pages you'll need to organize your trip and have everything in a single place. Print it off or use it digitally. The choice is yours!
Morocco Travel Question Audio
I have taken some of the top questions that people ask me and recorded audio answers to help you get the answers you want while planning. Each file is available as an mp3 download and is accompanied by the audio text for those that prefer reading. Best of all they're really affordable at just $3 a download!
My Moroccan Kitchen Digital Moroccan Cookbook
My Moroccan Kitchen Digital Cookbook
$8.00
A combination of Moroccan family favorites and recipes that have been adapted for a variety of diets including vegetarian and gluten-free.
Description
One of the most common questions people ask me is, "so when are you going to publish a cookbook?" I've always had good intentions of putting one together but the timing has never been right. After a lot of work compiling a good mix of recipes, working with my amazing photographer friend Heidi Leon Monges and hours making things just so, I'm thrilled to share this digital Moroccan cookbook.
What's Inside?
I could have easily written a book with dozens of recipes but I wanted to keep this first book tight and concise. Inside I've mixed things up. You won't find a recipe for chicken tajine with lemons but you will find over 25 of our favorite Moroccan recipes. There's really something for everyone! I've added in vegetarian Moroccan recipes, gluten-free Moroccan recipes, and classic dishes that rarely are found outside Moroccan homes.
Preview the recipes;