Whether you've already started planning or you're just considering a trip to Morocco keeping track of all the details can become a full time job. If you're like me you have notebooks of ideas, pictures saved on Pinterest boards and advice from friends scattered in messages all over the place.
That's why you NEED this workbook in your travel planning life!
I've created all the pages you'll need to organize your trip and have everything in a single place. Print it off or use it digitally. The choice is yours!
Morocco Travel Question Audio
I have taken some of the top questions that people ask me and recorded audio answers to help you get the answers you want while planning. Each file is available as an mp3 download and is accompanied by the audio text for those that prefer reading. Best of all they're really affordable at just $3 a download!
Marrakech Trip Planning Resource
Flight Booked to Marrakech?
OR CONSIDERING A TRIP?
Are you wondering what to do or how to even begin planning your stay? I've put together my very best information and resources in one place so that you need to spend hours researching. Whether you want to plan every detail yourself or you'd rather someone do the legwork for you – there are options for everyone with this interactive travel planning guide.
My Moroccan Kitchen Digital Moroccan Cookbook
My Moroccan Kitchen Digital Cookbook
$8.00
A combination of Moroccan family favorites and recipes that have been adapted for a variety of diets including vegetarian and gluten-free.
Description
One of the most common questions people ask me is, "so when are you going to publish a cookbook?" I've always had good intentions of putting one together but the timing has never been right. After a lot of work compiling a good mix of recipes, working with my amazing photographer friend Heidi Leon Monges and hours making things just so, I'm thrilled to share this digital Moroccan cookbook.
What's Inside?
I could have easily written a book with dozens of recipes but I wanted to keep this first book tight and concise. Inside I've mixed things up. You won't find a recipe for chicken tajine with lemons but you will find over 25 of our favorite Moroccan recipes. There's really something for everyone! I've added in vegetarian Moroccan recipes, gluten-free Moroccan recipes, and classic dishes that rarely are found outside Moroccan homes.
Preview the recipes;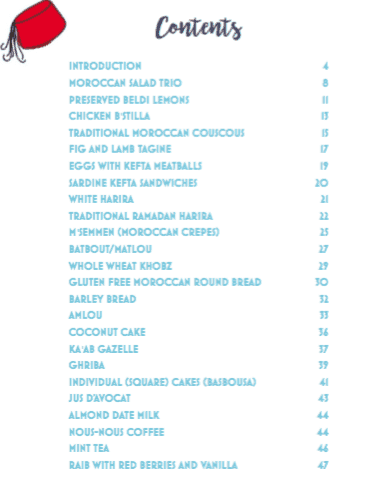 Hand Lettered Moroccan Proverbs Wall Decorations
I have worked with hand lettering artist Jenna Krosch to create these MarocMama exclusive quote blocks! They are a great wall decoration or could be used anywhere to decorate your home.
You also can pick up great map wall hangings with my favorite wanderlust quote or Moroccan proverb. If you'd like one of the other proverbs on a map to frame, this can be done too. Click the image and request a custom order!
For specific information on each quote, please click on the photo to learn more and purchase. .
Group of 4 Quotes available in monochrome red or blue – $82 
Individual Quote Blocks – available by request $25 each.
Flat Map Quotes – $20
Shipping is not included and will vary depending on where in the world you are located.