You know that I always try to be honest with you, so here goes. Every time that I have visited Eastern Europe it's been a challenge. I really just haven't been able to get beneath the surface and discover the appeal. So, when I went to Riga I wasn't expecting a lot.
I was here to speak at the Women in Travel Summit and didn't have a lot of time to explore the city but I did do my best to get out and see a few things, and of course eat too.
Overall I found Riga, and Latvia in general an approachable destination. I was surprised at the number of people (mostly younger) that spoke English and thanks to my friend Kathi who I was here with, we managed a bit of Russian to get us by when we were lost or out of our element. As always hand signals serve as a decent backup when languages fail!
The Riga Central Market
If you're a food lover you just can't visit Riga without visiting the food hall. The building was an aircraft hanger when it was built in the 1920's, and you won't be surprised when you visit to realize that was its original use. The buildings are huge!
As someone that loves food I could have easily spent all day here and this would be my regular stomping grounds if I lived in Riga and needed to do my shopping. I also thought it was really interesting that you can find a huge variety of products from across the countries that used to be the USSR.
I bought some of this Uzbeki bread and was not disappointed! You could also find all kinds of prepared foods, fish and seafood, and of course caviar. I would later encounter one of the most well known aquatic creatures here – the lamprey eel.
Historical Riga
Riga was found in 1201 and is a UNESCO world heritage site. It also has some really amazing art nouveau architecture which is my favorite time period for architecture. It has been ruled by numerous different peoples; the Germans, Swedes, and most recently the Russians. It enjoyed a period of independence from 1918 until 1941 when Germany invaded. It fell under Soviet control at the end of the Second World War and only regained independence in 1991.
The House of the Blackheads is perhaps the most recognizable building in Riga. It was erected first in the 14th century and blackheads was the name given to a guild of unmarried merchants, shipowners and foreigners living here. What you see today is not the original; the Germans bombed in 1941 and the Soviets demolished what was left afterwards. It was rebuilt in part during the '90's with donations from citizens. It is possible to visit the museum here.
The Riga Orthodox Cathedral was directly across the street from the hotel I stayed in and while the inside is nice, the exterior was really beautiful. I especially loved watching the dome glisten as the sunset each night – it looked like it was on fire!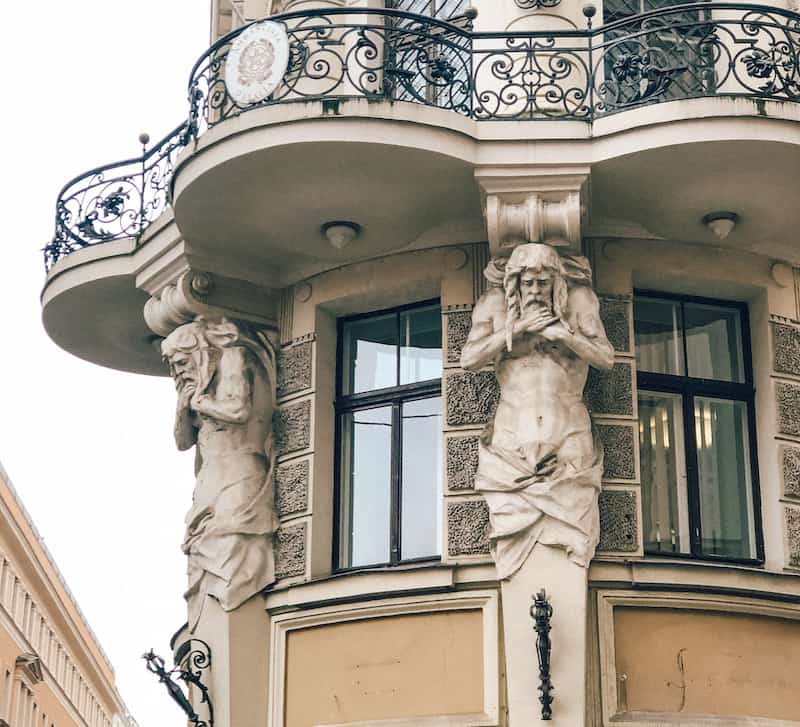 The old town of Riga is compact and very walkable. I only used a taxi to get to and from the airport and while there are public transportation options it was very easy to walk anywhere we wanted to go.
I had wanted to visit the Latvian Occupation Museum which is dedicated to remembering the history of the German and Soviet occupations of Latvia in the 20th century however with the limited time I had I didn't make it. For those interested in history a visit to the Riga Ghetto and Holocaust Memorial is also a visit to consider.
We also found a lot of shops to walk into and admire Latvian handcrafts. As this was in November it was already quite cold so we took advantage of opportunities to go inside!
Eating in Riga
There are no shortages of coffee shops with great pastries in Riga and that certainly made me happy! I was able to get some gingerbread treats for my kids as it was around the holiday season. We also ate plenty of cakes and warm drinks to stay warm.
XL Pelmeni
If you've ever wondered what it might have been like to pop into a Russian cafeteria 25 years ago this will give you a decent idea. Pelmeni are dumplings that have different fillings and can be cooked different ways – though usually they're boiled. There was no English instruction here but we figured it out. Grab a tray, grab a plate or bowl and pick your pelmeni. Toppings are at the end of the bar so load it up and you pay by the weight. I had a big bowl + a Coke and it was around 4 euros.
Lido
So this is the equivalent of a chain restaurant in Latvia BUT hear me out – the food was actually really good. If you want to try some more authentic Latvian dishes at a reasonable price without ordering one item off a menu go here! They have several restaurants around the city and honestly the one we were in had mostly Latvians eating there which I consider a good sign!
Latvian Food Tour
The other activity that I did was a full day tour that took us across the country (remember it's small) and we tried quite a few different foods.
Lamprey are really popular in Latvia and it's safe to say I've never had one. They are an eel but as you can see if you look close at their lips they're a bit vicious – they suck the blood from their prey. In Latvia they are prepared a lot of different ways but grilled is popular in winter. You eat them with some salt and lemon juice – and a shot of whiskey vodka helps too.
I did try them but not being a big fish fan to start with it turned out it wasn't my thing.
But ice cream is my thing so this stop was fantastic! We went to the family farm of the family that makes Gogelmogel ice cream and ate ice cream until our hearts were content! Gogelmogel comes from the name used to describe a Jewish dessert made with egg yolks and sugar + an additional flavor. The family moved from Riga to the family farm and decided on a bit of a whim to start making their own ice cream – and I'm so glad they did.
The final stop was at Malpils Manor Restaurant where you feel like you've stepped back in time a bit. The head chef, Aija Gabrāne, who uses Latvian seasonal flavors and ingredients to build the menu. While all the courses were good the dessert was my favorite! As well as the restaurant you can actually stay in the manor house as it is a hotel.
The food trip was organized by The Latvian Element however when checking their calendar I didn't see if this would be offered to the public yet. They do offer numerous tours however so take a look if you're planning a Latvia trip.
Day Trips from Riga
Because Riga is a small city it's easy to visit in a short time and also use as a base for further travels into Latvia. Keeping this in mind I asked a few people to share their favorite day trips from Riga for you to consider when planning.
Jurmala
If you are looking for an easy day trip from Riga with a beach then Jurmala is a great choice. It's an easy 30 minute train trip from Riga which transports you from capital to Baltic beach town. The town has a great stretch of sand, a nice downtown area and a great forest park.
While the weather wasn't warm enough for swimming on our visit in early July, the beach is nice and wide with playgrounds, restaurants, bars, ice cream stands, jumping castles and portable toilets right on the beach. It's very accessible and was even easy to push a stroller on! It had a party atmosphere and it was fun to hang out here.
The main street in town is pedestrian only and a nice place to wander and soak in the atmosphere as well with small parks, shops and restaurants. If you are travelling with kids, I highly recommend the Dzintari Forest Park which has amazing playgrounds, climbing areas and flying foxes.
from Sharon of Dive Into Malaysia
Liepaja
When thinking of going on an exciting day trip, Liepāja may not be the first Latvian city to come to mind. This is the third-largest city in Latvia located a little over 200 kilometers south-west of Riga. You would need to leave the capital of Latvia early in the morning to have enough time to fully experience everything Liepāja has to offer.
The city has incredible opportunities for outdoor exploration and experiencing white sandy beaches. There's also Karosta military prison if you're adventurous enough; get locked into a cold cell for a night or take a guided tour around the prison walls to catch a glimpse of Soviet-era prison life.
Known as "the city of wind", Liepāja sits on a stretch of land between the Baltic Sea and the Liepāja Lake, connected by the Trade Canal. The city has rich cultural, artistic and sports traditions. Summer is the time for festivals in Liepāja and whether you're into art, music, beach activities or culture, there's bound to be something to peak your interests.
Starting from the crazy "Summer Sound" beach party to the "Rally Kurzeme" speed festival, you will see Latvians and foreigners flocking to the city.
The highlight of any trip to Liepaja is the internationally recognized performances of the Liepāja Symphony orchestra. Spend an evening at the Great Amber Concert Hall, which boasts outstanding acoustics as well as modern architecture. Opulent interiors of historical churches and cathedrals are mind-boggling.
The laid-back atmosphere of the local cafes and restaurants is capable to rejuvenate and restore the body, mind, and spirit. The cool thing about Liepāja is that you can really see and do a lot of things, whether you are visiting Liepāja for a day or staying longer. Consider spending here at least two days to fully appreciate numerous lush parks, open-air markets, traditional wooden houses, charming cobbled streets, and a smattering of beautiful Art Nouveau architecture.
from Ivan of Mind the Travel
Salaspils
Salaspils was a former forced labor and concentration camp in the town of Salaspils, Latvia. The camp was in operation between 1941 and 1944 and saw approximately 12,000 pass through its gates. Although it was not an extermination camp, around 2,000 of those 12,000 prisoners died during their interment.
The camp was particularly notorious for its harsh treatment of children, over 600 of which died within the camp. Today, a few of the memorials on site are dedicated to the children who died at Salaspils.
In addition to the memorials dedicated to children, there are several other powerful monuments around the former camp in remembrance of the victims.
This day trip from Riga won't be for everyone. But for those interested in learning more about one of the darker periods of Latvian history, it is certainly an important trip, and one well worth making.
To get to Salaspils you can drive (most straightforward), take the bus or train. The bus leaves Riga city center every hour, get the bus to Dārziņu iela, and alight at the final stop (about 30 minutes). It is then an additional 30 minute walk across the highway to Salaspils. If taking the train, Dārziņi station (7 stops) is the closest. However, it is an hour walk from the train station to the camp, and the terrain is a little rougher.
from Dagney of Cultura Obscura
Cēsis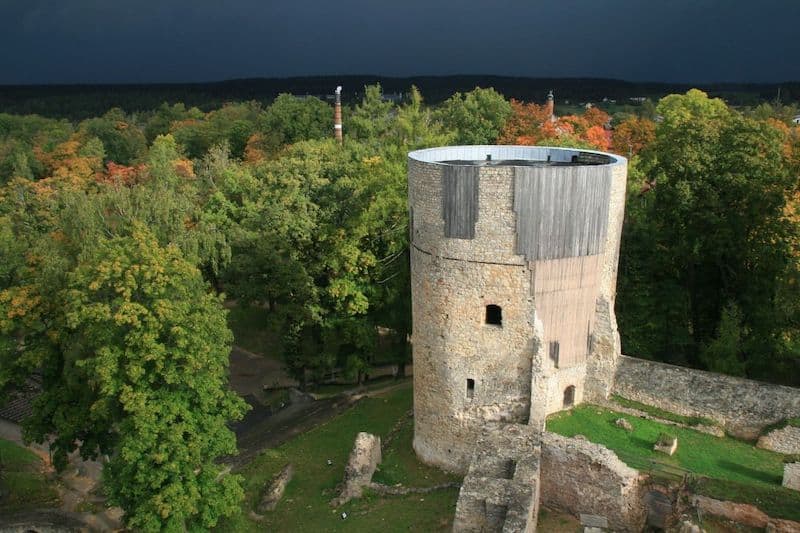 This small town is a very pleasant place to stroll around and has lots of green spaces. It's particularly beautiful in the autumn, when all those green trees turn lovely shades of red, orange and yellow. But the real reason to come to Cēsis is to visit its atmospheric medieval castle, which dates from 1209 AD. Much of the castle now lies in ruins, although restoration is underway. You may even be handed a candle-lit lantern to guide you as you climb the dark, spiral staircase to explore the Western Tower.
In the grounds outside, be sure to look for the statue of Lenin that used to stand proudly in the town's main square but now lies recumbent in a plain wooden box. It's quite a contrast with Russia, where people still queue for hours to get a glimpse of Lenin's embalmed body. The journey from Riga to Cēsis is just shy of 100 kilometers and can be made by train or bus. Trains are a bit quicker, but buses leave more frequently.
from Wendy of The Nomadic Vegan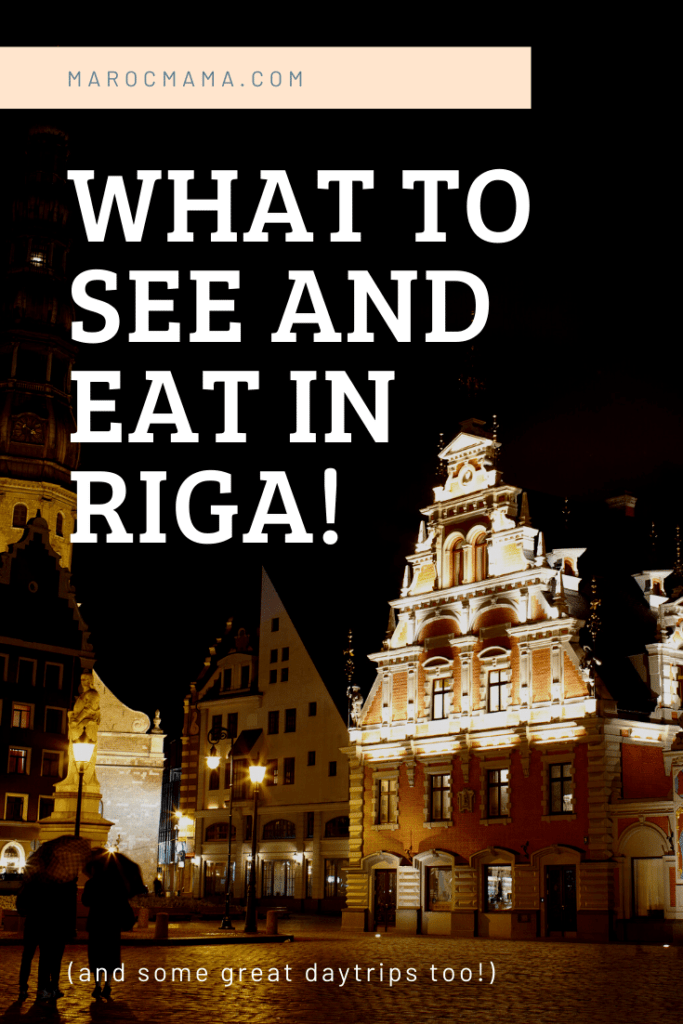 Be a part of the MarocMama family!
Do you want access to all things MarocMama? Join our community of readers to get updates on new posts, inside information that won't go on the blog and so much more!
Sound good? Pop your email below and you're in!