I didn't have high hopes for Finnish food. Frankly, what I remembered about it growing up was that there was fish, and fish, and potatoes, and dill. That's about it. I don't like dill, I'm 50/50 on fish, and potatoes well I guess you can't really go wrong there. When it was time to sign up for tours on our Finland trip I wavered on whether I should stick to only culinary travel events. My logical thinking was if we're eating, we're inside, and that means it won't be as cold. Really. Did I mention MarocBaba is pretty picky? So this was going to go one of two ways. We were either going to be stuffed to the gills and happy as clams, or we were going to really hungry and crabby. Lucky for us, the first option came true.
For a full week we ate meal after delicious meal of Finnish inspired food. I had lots of comments on social media that this was "special" food and that real Finnish meals are not as amazing as what we were being given. I get that. A real, everyday meal in Morocco isn't as amazing as the special meal you'd get in a restaurant either – that's the nature of the beast! What I can say is that the Finnish restaurant scene is alive and well. The food is clean and delicious and I for one am a fan.
Almost every chef we spoke with told us a similar story. The Finnish food scene 10-15 years ago was nothing to brag about. People were eating basic foods that met a basic need to sustain them. I was surprised to learn that a lot of Finns have gluten allergies and sensitivities as well as lactose intolerance. Really, if you have either of these you'll be very happy in Finland. With an increasing number of people having special dietary needs, as people simply being more aware of what they're eating (I'm sure the rise of the popularity of Nordic food didn't hurt) a trend towards better tasting and healthier food is being established. Traditional foods are being remade.
In 2011 Helsinki began a concept known as Restaurant Day, where anyone can open a pop-up shop for a single day. The event happens 4 times a year and has encouraged young wanna-be chefs to see what the response is to their creations. The event is insanely popular. The use of local and organic produce as much as possible is popular – so much so that the Helsinki airport even has a grocery store that features fresh, whole foods!
Getting to Finland from Morocco is no small feat (it's a lot easier now thanks to direct flights on Norwegian from Marrakech to Helsinki), and it required an overnight stay in England on the way, as well as spending a good portion of the next morning camped out first in the airport and then at the Finnair Business Lounge (thanks Finnair we appreciated it!)
Once we kicked off our tour we were treated to lunch at the Finnair Pilot Training Center where we also got to fly a flight simulator. Did you know that one of my career "dreams" was to be a pilot? It's true! I liked seeing what meal time was like at a workplace, and this was certainly different compared to what would be found in the US. From Helsinki we headed to the small town of Porvoo where dinner was waiting for us at Bed and Breakfast Ida-Marie – our home for the next few days. Along with us was Adeline from France, Janicke from Norway, and Andre from Brazil.
Maggie and Georg welcomed us warmly with a home cooked, top quality meal set out on the table. It was amazing. So amazing that I think MarocBaba and Andre might have snuck back downstairs after it all was cleaned up to rummage for leftovers in the fridge. The food was such a fusion of ingredients that are local to the region but reinvented. No one was hungry afterwards but we sat around the table chatting, sipping tea, and taste testing some of the local soda that was left behind before heading to bed. Morning came too early but we were again treated to a huge breakfast that included Kerelian pasty's – perhaps Finlands' most famous contribution to the culinary scene. A full day in Porvoo was ahead of us.
We walked through old town Porvoo and then finished the walk with a stop at Bistro Sinne situated in an old art factory that has been remade into work and restaurant spaces. By the time we arrived, my feet were frozen, quite literally. Temperatures were so cold and I was ready to warm up. It took the entire meal for my feet to return to normal temperatures! This restaurant is ranked one of the top in Finland and the food was great. Dessert was my favorite course – and I don't even like carrot cake! We also found out that the restaurant has Crazy Tuesday's where you can let the staff choose your meal and then you decide how much you would pay for it. Love the concept!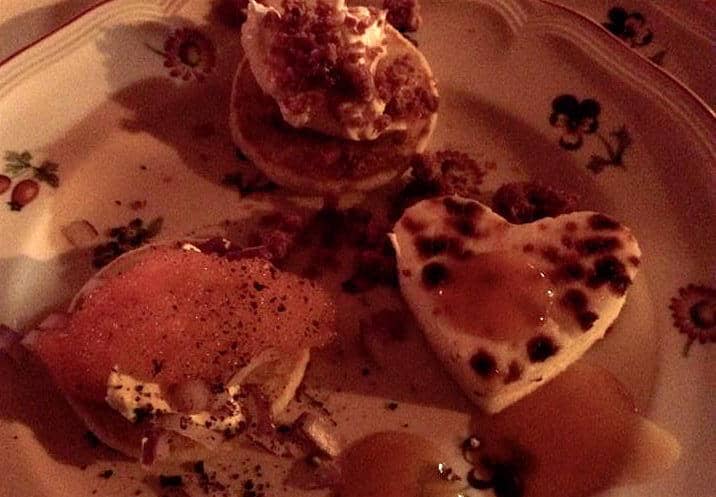 My very favorite meal was the dinner we were treated to at the home of mother and daughter, Mervi and Johanna. Our hosts from the Porvoo Tourism Office told us they had put a post up on their Facebook page looking for someone who might be willing to host us. Mervi responded in under 1 minute! Her previous career at Finnair and love of travel made her want to play host for us. What a treat it was!
Not only was the food great, the conversation lovely, and her home impeccable, we made a new friend. When people ask me where the best restaurants in Marrakech are my answer is almost always "in someone's home." Unless you're welcomed into a locals home you really only have a partial feel for the culture and food. I promised Mervi that should she ever make it to Morocco, she's got a place in our home!
Lunch the following day treated us to Georg's food again. Zum Beispiel operates in old town Porvoo as a take away deli and restaurant. The food rotates daily and focuses on organic, local produce. Georg is East German but has traveled all over the world and it shows in the food he creates. It's really a neighborhood restaurant and it was easy to see why. The mayor of Porvoo was having lunch alongside mom's and their kids who stopped in for a bite. My favorite part? All you can eat bread and butter – including gluten-free!
Our time in Porvoo had to come to an end and we were on our way back to Helsinki. We spent two nights and three days in the city attending the MATKA travel fair and, on our last day, enjoying a food tour of Helsinki. Elisabeth of Visit Helsinki was our hostess. We hit the streets and first stopped at the Hietalahti Market Hall. I loved the art deco design of this building (in fact a lot of Helsinki has retained their art deco buildings- LOVE!). The market is covered and operates year round, selling seafood, meats, produce, and baked goods. I enjoyed the smoked salmon but it was a little too early for me and seafood.
The Glass Palace. This restaurant is quite famous in Helsinki. It's housed along with office buildings, shops, and other restaurants in a building known as the glass palace due to its design. It dates from the 1930's and was left abandoned with plans to be torn down but it never happened because Helsinki residents opposed its destruction. In 1998 it was finally restored and renovated. Restaurant Lasipalatsi has a rotating menu that changes with the seasons. We were incredibly lucky that January is blini season. Oh. My.
Hands down this was my favorite meal. It's one of the only times post weight loss surgery I've wished I had more stomach space to eat more. This food is a nod to the Eastern Slavic and Russian influences in Finland. Finnish blini's are gluten free – they're made with buckwheat but they have a ridiculous amount of butter. I'm not even going to tell you how much butter because if you ever have the chance to eat these, I don't want you to be scared away! Let's just say Paula Deen would be proud. Not everyone gets 10 toppings to choose from (you can go for a smaller number) but I loved trying all of the toppings. No favorite here, but I skipped the onions. I think these are best enjoyed hot the moment after they're cooked.
With two stops left I wasn't sure how I would hold up. A quick visit to the market Anton and Anton was followed by a final meal at Restaurant Ask. It was small and unassuming. We were told ahead of time the chef aims for minimal waste, purchasing just what he needs and keeping portions in check.
As you can see they were. It was the perfect serving size for me, but MarocBaba was left scratching his head and wondering "that's called a meal?" Everything we ate was delicious but my favorite was the lamb that was moist, tender and delicious. We also had coffee with our dessert and I can say it's the only time in my life I've ever drank a cup of coffee black. It was so good! My only regret is that we had to keep our eyes trained on our watches in order not to miss our flight home.
So can you eat well in Finland? I'd give a resounding yes!
Be a part of the MarocMama family!
Do you want access to all things MarocMama? Join our community of readers to get updates on new posts, inside information that won't go on the blog and so much more!
Sound good? Pop your email below and you're in!