What do you know about Estonia? We didn't know a lot, but when we were in Finland, we learned that it was really easy to go from Helsinki to Tallinn via ferry. Of course we decided it would make for a great day trip and scheduled a full day during Tallinn's Music Week. With lots of special events and experiences happening it was a great time to go.
The Tallink Silja Line operates the Tallinn to Helsinki ferry with multiple sailings per day. It is VITAL that you arrive at the departure port an hour before your sailing. The gate closes 30 minutes before sailing and you won't be allowed entry. There is a direct tram that drops off right in front of the port in Helsinki, and there is a bus that departs from and drops off at the port in Tallinn. It is VERY easy to use public transportation in both places to get to and from the port to the main city areas.
Tallinn Cafe and Sweets Culture
Did you know that chocolate, and sweets in general, are loved across the Baltic areas? In both Helsinki and Tallinn we couldn't escape chocolate and marzipan but there were no complaints from me. Marzipan especially is important in Tallinn as they claim to be the ones who created it, though as with all good things many other countries also claim it for their own.
If you want to bring home some Estonian chocolate's Kalev is one of the premier brands. My biggest secret for finding and bringing home food items is to go to the local grocery store. You'll find all kinds of treats for much more affordable prices than in specialty stores. In Estonia that is no different. The chocolate in Estonia is just as good, if not better than what we bought in Finland and 25-50% less expensive. Big chocolate bars were under €1 at the grocery store.
If you do want to enjoy a bite or two check out these two cafes;
Chocolala – a great variety of different chocolates (including hot chocolate!)
Reval Cafe – this is right in old town Tallinn and where I had the gorgeous lemon pie above. They also had several gluten free pastries including some almond cookies that MarocBaba was over the moon for.
What is Estonian Food?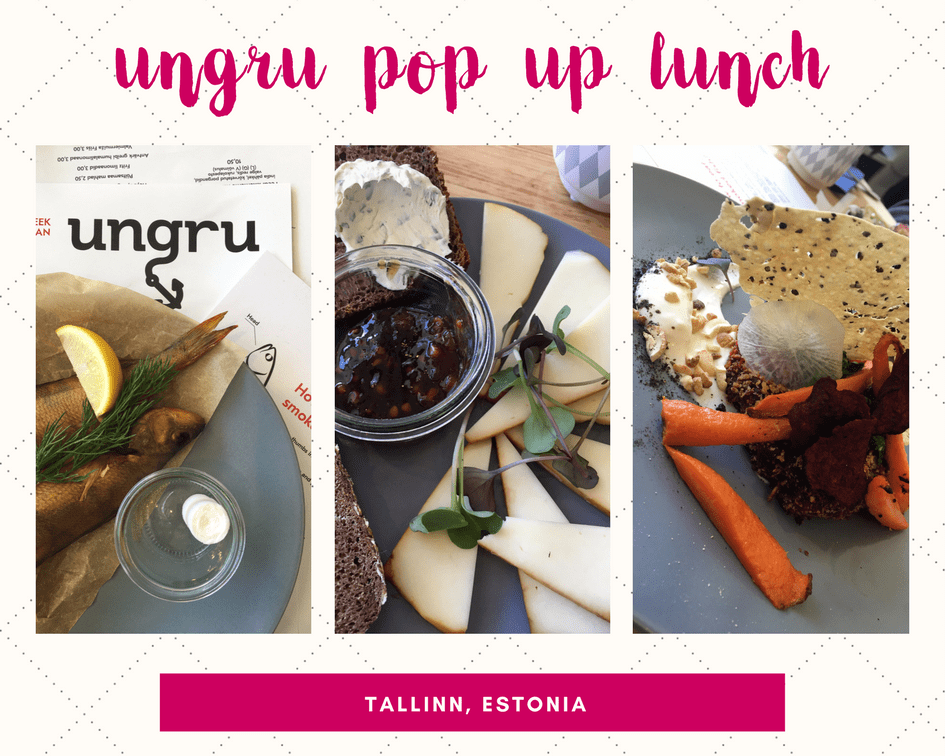 Traditional Estonian food is probably what you expect; meat, potatoes and fish. But, today you will find a lot of influences from other countries and cuisines. There are also many restaurants taking traditional Estonian ingredients and cooking techniques to take food up a notch. One of the defining characters I experienced was "black bread" and I loved it.
For lunch, we ate at the Ungru pop up restaurant that was happening in conjunction with Music Week. Normally the restaurant operates on the island of Hiiumaa, Estonia's second largest island. The traditional flavors of the island are used to create modern, delicious dishes. We enjoyed smoked fish, an amazing smoked cheese with cloudberry jam and so much more. It made me a big fan of modern, Estonian cuisine and told me Estonia is a good destination for culinary travel.
Tallinn Street Food
With only one day to explore Tallinn I am certain we barely skimmed the surface of the food culture here. In the Old Town area we didn't find any street food aside from vendors selling roast nuts. We wandered towards the design district/Creative City of the city and found a grocery store (chocolate!). Then around the corner I saw this sign that said "DEPOO" and was curious what this could be.
It first looked like lots of shipping containers but we soon discovered each one had a little restaurant, coffeeshop, or other food related business inside. They are so cool! There was even an old train engine that had been transformed to a restaurant. It was still early in the season so many places weren't open yet but I can imagine when the weather is warmer there is a lot more activity here.
I wish that we would have had another day or two to eat more but this was a really good introduction to the food of Estonia. If you do go, we recommend getting a Tallinn Card that not only gives you access to free public transportation (which is quite good), but also a free city tour and access to 40 museums and sites for free.
Be a part of the MarocMama family!
Do you want access to all things MarocMama? Join our community of readers to get updates on new posts, inside information that won't go on the blog and so much more!
Sound good? Pop your email below and you're in!