If Rotterdam isn't on your travel radar yet, it should be! This Dutch town in southern Holland is not only Europe's largest port city but also a foodie dream come true. The city isn't huge, with a population just above 600,000 people so getting around is easy. Like many port cities there's a huge mixing of cultures and diversity that flavors the food scene. There are over 176 nationalities that have made the city home! Finding good restaurants in Rotterdam is almost as easy as tossing a stone and going wherever it lands!
Rotterdam is a modern city, having been rebuilt almost completely following the bombardments it faced during World War II. If you compared pictures of the city before the war and today you'd struggle to find too many similarities. In a lot of ways the city is still undergoing transformations and forging its identity, which makes it an ideal spot to visit if you're looking for something different.
And if you love food?
Yup, Rotterdam is where you want to be!
If you travel for food like we do, then you'll love this eater's guide to Rotterdam. Plan your day around what to eat, and toss in a few things to see around the city too.
Day One
Arriving in Rotterdam is easy via the multiple rail links to the city. In just 25 minutes you can leave Amsterdam-Schipol Airport and be at Rotterdam Centraal. There are easy connections from Brussels and Antwerp as well. If you prefer a bus Flixbus is an option with multiple routes running everyday from major cities and if purchase in advance it can cost as little as €5. From Rotterdam Centraal you can easily make your way anywhere in the city. Pick up the Rotterdam Welcome Card for access to public transportation in the city and discounts on attractions across the city.
When choosing where to stay there are many options. We stayed at Premier Suites Plus directly across from the Centraal Station. This hotel/apartment was a great fit for our family. With plenty of space for two to four people and an in-room kitchenette we had everything at our fingertips to make for a comfortable stay.
Rotterdam Food Markets
Once you've gotten settled it's time to set out and explore! Head directly to the Markethal to kick off your food adventures.
Markthal
The most famous food market in Rotterdam is the Markthal, I'd also guess it's one of the most Instagramed locations in the city. This mixed use space is not only creatively designed but aesthetically appealing too. The walls are completely covered in a giant mural (11,000 m2!) which depicts fruits, vegetables, fish, flowers, and more. The 4,000 panels really make the inside of the market come to life.
Inside you'll discover 96 stalls and 20 shops and restaurants. You can purchase whole food items to take away and prepare your meals at home or you can have a snack or meal in one of the restaurant and prepared food stands. There truly is a mix of everything here! If you plan to prepare food during your stay you can pick up anything you might like here.
Stay for lunch and try a Dutch dish like the kroket, or make your way back after exploring the cube houses.
The Cube Houses
Just a stones throw from the Markethal you can't miss the cube houses, perhaps the most unique architectural feature in Rotterdam. These houses designed by Piet Blom are certainly eye-catching! People do live in these homes and there are also several workshops and shops in the nearby area. You can visit and take a walk through one of the model homes if you'd like. Expect it to be fairly crowded as this is a popular attraction.
You're not full yet are you? Hop on the D or E tram and head south for more food discoveries! There are far fewer vendors here but what they lack in quantity the gain in quality. These are true food artisans. If you're too full already than pick up a fresh stroopwafel and great cup of coffee. For something more substantial pop into The Kaapse Kitchen where each week the kitchen is taken over by chefs who feature a different type of cuisine.
As mentioned, Rotterdam is a port city so it makes sense that there is plenty of activity on the water. The Spido cruise is a 75 minute waterfront cruise where you'll learn a bit about the city while enjoying a relaxing cruise. There are multiple cruise times depending on the time of year. Of course there is some onboard snacking if you need a little something!
Evening on Witte de Withstraat
This is the heart of Rotterdam's art scene and chock full of great restaurants, shopping and cafes. It's really worth a visit during the day and at night as the vibe is completely different. If you're looking for a place to grab dinner, we tested out Supermercado a South-American style cantina. Our family are true lovers of Central and South American cuisine so we had high hopes. They have a full drinks menu as well as a curated menu of classic flavors and some interpretations as well. I was very happy with my tacos, the empanadas were a hit with the kids, and salmon burrito bowl didn't disappoint MarocBaba. Enjoy a dessert here or take a stroll and grab some ice cream on your walk!
Day Two
Breakfast in Rotterdam
Breakfast is my favorite meal of the day. Get a late start if you opt to make something in, or check out one of the great options we discovered near the Centraal Station.
One of my favorite breakfasts is Turkish so I sought out a Turkish restaurant in Rotterdam to try and have a giant breakfast. Ilya was within easy walking distance to our hotel and once I saw the menu (and that the restaurant had lots of Turkish patrons) I had a feeling we'd stumbled on something good. Everything is made fresh in their open kitchen including the fresh, warm bread. When my Turkish breakfast plate arrived, I was in complete heaven – this is what I had been dreaming of! Even though the service can take a little while, it was worth the wait!
If you'd like something a little quicker and perhaps more mainstream and lighter, Bagels & Beans is another option. This is a chain restaurant but the food was good. There's a lot of variety on the menu so the kids could get something they really wanted and there's both savory and sweet options.
Rotterdam Street Art Route
While you eat make sure to download the app to walk this route. The aim of this project is to curate many of the street art installations found throughout the city in a way that is explorable to visitors and locals alike. For each artwork there is background information and provided through the app as well as walking directions to view more works. Start with the piece closest to you and work your way around exploring. Not all of the street art in the city has full information but there are green exclamation marks pointing out additional works. Once you download the app you don't need to have WI-FI access, just follow along! There is a small fee attached to the app of $0.99 which still makes it a bargain!
Oude Haven
If you want to see Rotterdam how it once was, then head to Oude Haven. This is a very small part of the city but old wooden sailboats are docked along the canals and there's several cafes and restaurants to sit by the water and feel like you've stepped back in time.
Snack time!

You can't leave the Netherlands without trying poffertijes, or puffed pancakes. Rumor has it the best are at Seth Poffertijes. This family has been making poffertijes for decades! Try the classic pancakes Located on Hoogstraat 147 near the Rotterdam Blaak station.
In the afternoon check out some of Rotterdam's great art museums like the Netherlands Photo Museum, Witte de With Center for Contemporary Art, or the Dutch Pinball Museum if you're looking for something a bit more lighthearted!
Our final suggestion is for dinner. Some friends of ours gave us the name of a restaurant they frequent when in Rotterdam and while I wasn't sure our kids would like it, we decided to give it a try.
Bocas
I love restaurants that let you order bites and order more if you need them. Variety is the spice of life and makes for a great dining experience. There are ala carte items on the menu, small sandwiches and other bites but their signature are the "snack platters."
Choose whether you want meat, fish, or cheese and you'll get a plate with a variety of different options plus plenty of bread to make your sandwiches. Don't worry if you don't eat everything, for example we asked for our meat platter without pork and they made a substitution for us no problem. Start small and order more if you're hungry but don't underestimate the quantity!
Where Else to Eat in Rotterdam
Because our stomachs can only fit so much I asked others for their best suggestions on where you should try in Rotterdam!
Bazaar
Bazaar in Rotterdam is one of the best restaurants if you are looking for Middle Eastern or Persian food. The interior decorations alone make this restaurant worth a visit and will make you wonder whether you are still in Rotterdam or in Tehran.
The fact that it is always busy is because the food is great too and reasonably priced. Their best dish is the royal persian lamb, but they also serve sizzling kebabs, humus, falafel and couscous. All their meat is halal and they have vegetarian dishes too.
Ellis of Backpack Adventures
Rozey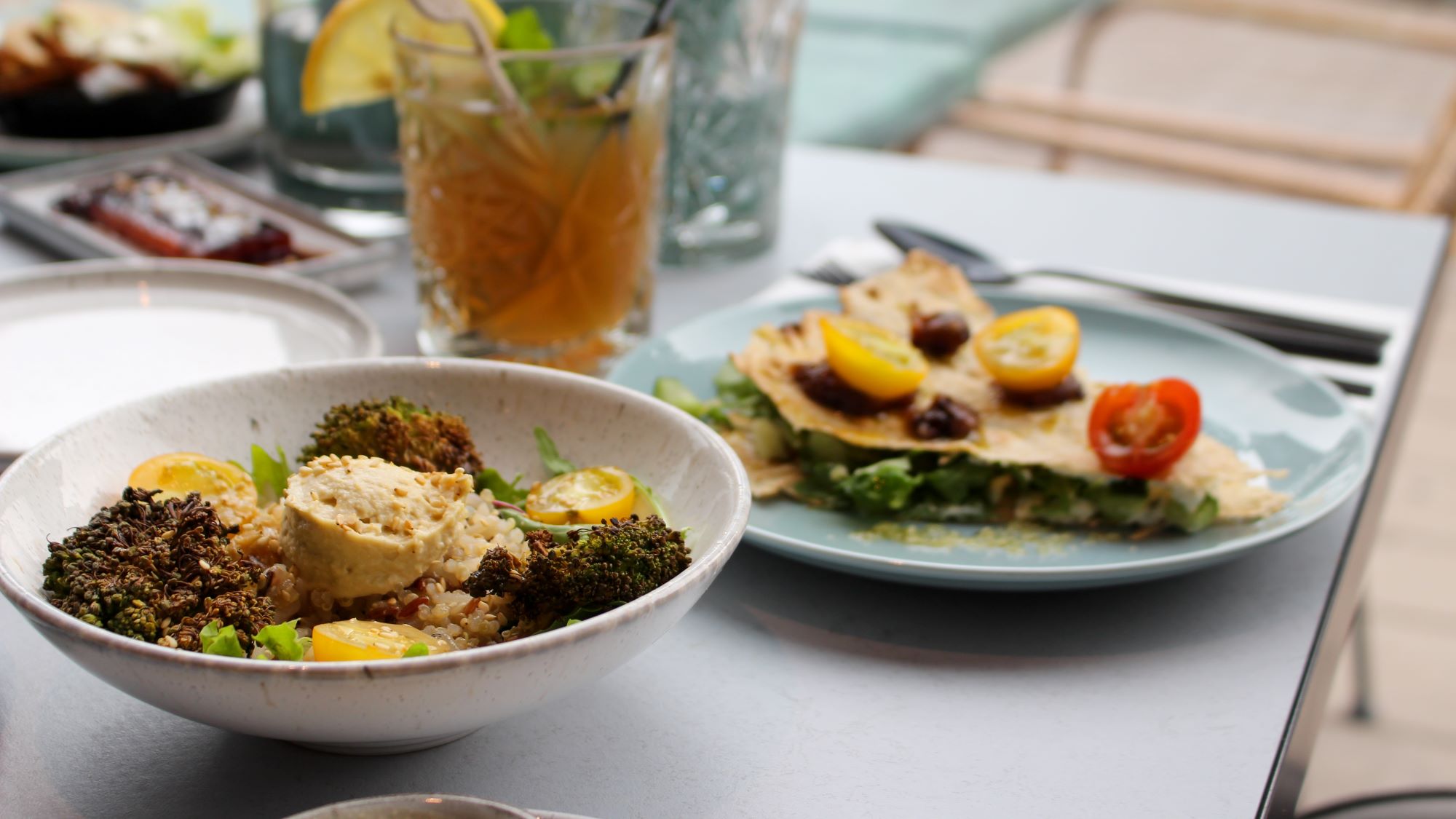 When staying in Rotterdam, make sure to make a reservation at Rozey, one of the vegan-friendly restaurants with a menu that focuses on vegetarian and vegan dishes. It's promoted as an all-inclusive concept, which just sounds a bit better than all you can eat. The stylishly furnished and decorated restaurant serves small 50 dishes and you can pick 2 per person for each course while enjoying as many courses as you'd like.
Maartje of Sebastiaan and The Orange Backpack
Little V
Little V is a beautifully decorated Vietnamese restaurant in Rotterdam city center where you can enjoy authentic south-Vietnamese cuisine. I highly recommend the Surprise Menu as you'll get a variety of small dishes from the Dinner Menu. We had the 3-course Surprise Menu, which was plentiful. All dishes were beautifully presented and (most importantly) absolutely delicious!
Lotte of Beste voor Kids
Fermin
Fermin is a Michelin-Star restaurant located in Rotterdam. They specialize in organic and home-grown ingredients and have a fantastic menu with a great variety of dishes. They offer set menus with up to 5 courses and their asparagus entrees are absolutely to-die-for.
Victoria of Guide Your Travel
There you have it, some great suggestions on how to eat your way through Rotterdam for a few days! We never realized this was such an interesting city and a fun place to explore for a family of food lovers. I only wish we could have stayed longer to eat more!
Our stay in Rotterdam was assisted by Rotterdam Tourism. All opinions are our own!
Be a part of the MarocMama family!
Do you want access to all things MarocMama? Join our community of readers to get updates on new posts, inside information that won't go on the blog and so much more!
Sound good? Pop your email below and you're in!