Scandinavia is a very expensive part of the world to visit. We had always thought a cruise to the Norwegian fjords would be completely out of our budget range. Even now that we are in a better financial place to take this trip we wondered if it really was worth it. We could spend that money on even more travel! But, with a little bit of luck and planning we were able to not only make it happen but do it for much less than we thought possible. I saved all of our costs so that I could show you just how it worked out.
These prices are per person.
Cost Breakdown for 10 days in Norway and Denmark
If you've never priced a fjord cruise or a trip to this part of the world you might be thinking that this price is already steep BUT, based on average costs we were able to cut costs in half (if not more). One other important point before I explain each budget item. We are not budget backpackers. We appreciate a great deal but we're not going to sleep in a hostel or hitchhike to save money. Costs are for a mid-range budget trip.
The Cruise
This is the biggest chunk of our budget and also where we found the best deal. Were it not for this, we likely wouldn't have gone. We booked our cruise one month before sailing and the cruise itself was $520 each, with taxes and fees it came in at $604. The average cost for a Norwegian fjord cruise sits somewhere around $1200 per person (our entire budget!). We opted for an interior room for the biggest savings and because we like the dark room to sleep.
How we did it: We booked the first sailing to the fjords on Norwegian Cruise Lines. It really was just good luck that I was looking at cruises and this came up. We later learned the first and last sailing of the season are the best deals. Our ship was also half empty and the port stops weren't overrun by tourists. I would absolutely do this again.
Airfare
I will preface this by saying if you're coming from outside of Europe this is going to cost you more, considerably more money. I booked our flights on Ryanair for $125 per person round trip from Marrakech. I tried to fly Norwegian directly to Copenhagen but the flight is once a week and didn't line up with our dates.
How we did it: I already had the cruise booked so this was a matter of finding dates that worked. I had wanted to see Copenhagen but our original plan was to go on the cruise and come home. It ended up being a small cost difference to stay two extra nights in Denmark. If you want to find good flight deals check out this post I wrote about the topic; 10 Ways to Score Great Airfare Deals
Shore (Extra) Activities
We truthfully didn't do a lot of paid activities off the ship. The one expense was when we rented an electric car in Geiranger. This cost $92.50 per person and we could have done it for about half that price if we would have chosen a shorter time or different route. Not choosing shore activities wasn't a budget consideration, but that we decided we would just see what was available when we got there.
We found out that a lot of activities are free anyway. The high cost of living in Norway means that people find ways to entertain themselves in nature. We took quite a few hikes. We walked through the towns we docked in. We popped in random coffee shops and restaurants to grab something to eat. It was very unplanned and in the end worked out wonderfully.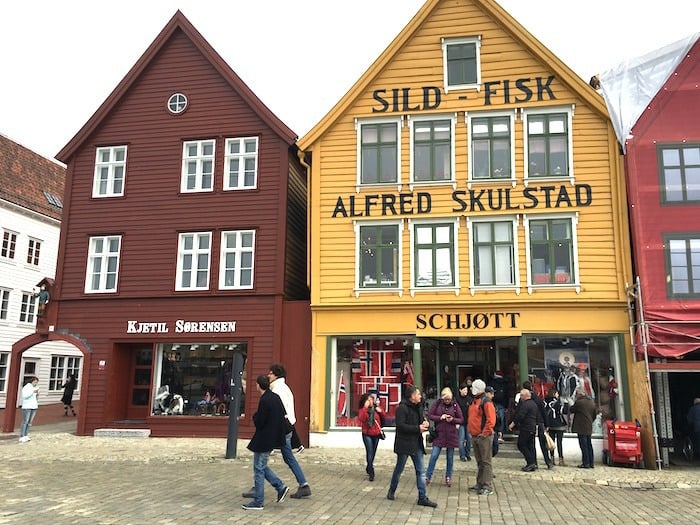 How we did it: We first looked at all the shore excursions offered by the cruise line and what looked interesting to us. We then researched the options to book privately. In the end there were very few excursions we wanted to do and instead opted just to explore the cities instead.
Copenhagen Hotel
Talk about sticker shock! While there are no shortage of hotels in Copenhagen they are not cheap – at all. Even hostels are quite expensive. We ended up staying slightly outside the city center at the Radisson Blu Scandinavia Hotel. While it was a standard hotel, it had a great breakfast and was right on one of the main bus lines that also went to the airport. This ended up saving us a lot of money in transportation costs. Our room was $150 a night and included breakfast (with gluten-free options). We would eat a big breakfast and would take a piece of fruit or sandwich for a snack later.
How we did it: I reached out to several hotels before we went with the criteria of breakfast included, good location, and transportation to the airport. Radisson is a part of the Club Carlson loyalty program making it a good option if you're someone who collects points for free stays.
Copenhagen Activities
With only two days in Copenhagen we didn't plan too much. (You might want to check out this list of free Copenhagen activities though!) The one thing we had on our radar from the very beginning was a Copenhagen food tour. This not only gave us a good overview of Copenhagen, it provided one of our meals for the day and we learned about the food culture of the city. This was by far the most expensive activity at about $110 per person
After the tour we walked to Nyhavn the picturesque harbor area of Copenhagen. We didn't plan to take a boat cruise but the price was right and we had time. It was $12 per person and we saw the city by water and learned even more about the city. After having spent a lot of time walking this was really nice!
Our final activity cost here was entrance to Tivoli Gardens at $15 each. We didn't ride any of the rides which would have been extra. It was a little steep and I am not sure I would pay it again, if the kids were with, for sure. We could have watched some of the shows that are included with the entrance fee to stretch the entrance cost a little further.
How we did it: We booked the food tour ahead of time, you might be able to find special deals running throughout the year. The other two activities were spur of the moment and we didn't seek out any additional discounts. If you purchase the Copenhagen Card you can get some additional discounts on activities and free public transportation.
Transportation Costs
We didn't have a lot of transportation costs because we walked a lot. We didn't have any transportation costs during the cruise. All of the ship stops were in town. The costs we did have were in Copenhagen and are as follows;
shuttle from airport to cruise port – $25
public bus from cruise port to city center and to hotel – $4
public bus to meeting point for food tour – $4
public bus to airport – $8
How we did it: We were going directly to the cruise port when we landed in Copenhagen. I hadn't had much luck sorting out how to get there so we just booked the ship shuttle after checking the price of a taxi. This worked out just fine. The other costs were bus fares. We used the bus to go far distances and walked the rest of the time.
Extra Food
The only food costs that we technically could have had were when we were in Copenhagen BUT as we travel for food this really wasn't going to happen. We didn't eat off the ship a lot but we did try local specialties whenever possible. We opted for small local bites for lunches or snacks. We also frequented various grocery stores to grab a few things here and there to eat. This budget item will vary a lot depending on the person but we stuck with our usual eating patterns of splurging for a nice meal here and there and filling in the gaps with less expensive meals like sandwiches. Also should you want to drink alcohol know that your food and drink budget will go up.
So that's how it all worked out! I am so glad that we were able to see the fjords and discover this part of Scandinavia.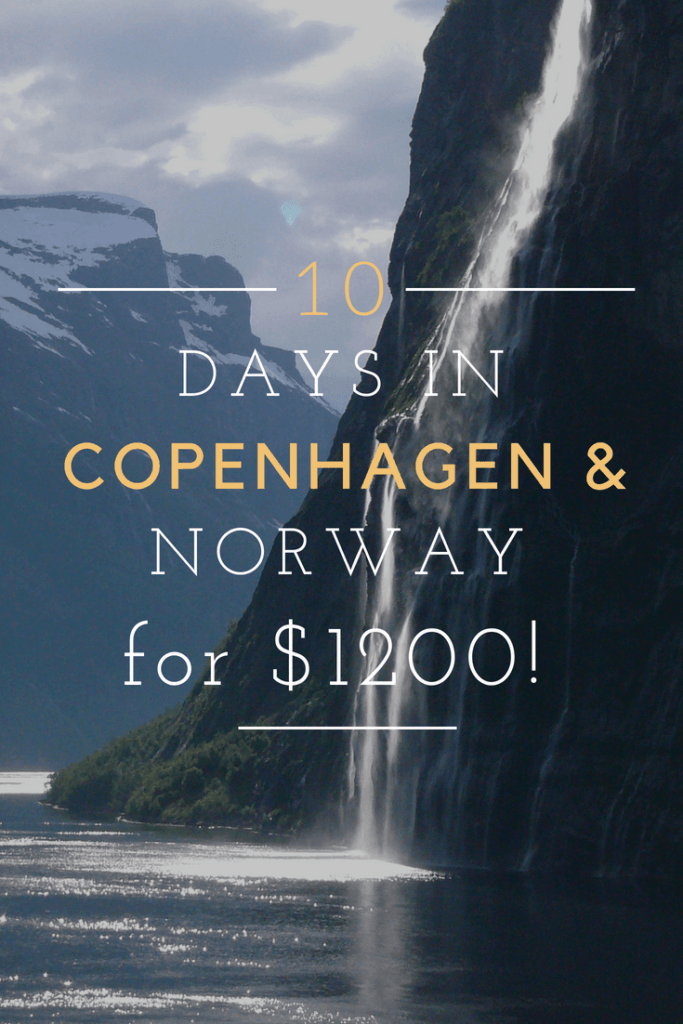 Read All Our Posts about this Trip:
Getting Lost in Geiranger, Norway
An Art Nouveau Adventure in Ålesund, Norway
Create Your Own Shore Excursion in Bergen, Norway
Going Danish on a Copenhagen Food Tour
48 Hours in Copenhagen with (or without!) Kids
Be a part of the MarocMama family!
Do you want access to all things MarocMama? Join our community of readers to get updates on new posts, inside information that won't go on the blog and so much more!
Sound good? Pop your email below and you're in!